Stocking stuffers are something I always forget about until last minute. This year I decided to search for fun and useful stocking stuffers under $5 early so I wasn't scrambling at the last minute. The stocking is the first thing your kids will see on Christmas morning and one of my favorite parts is watching their faces as they search through it.
I hope these give you a bunch of fun ideas to add to your kids stockings this year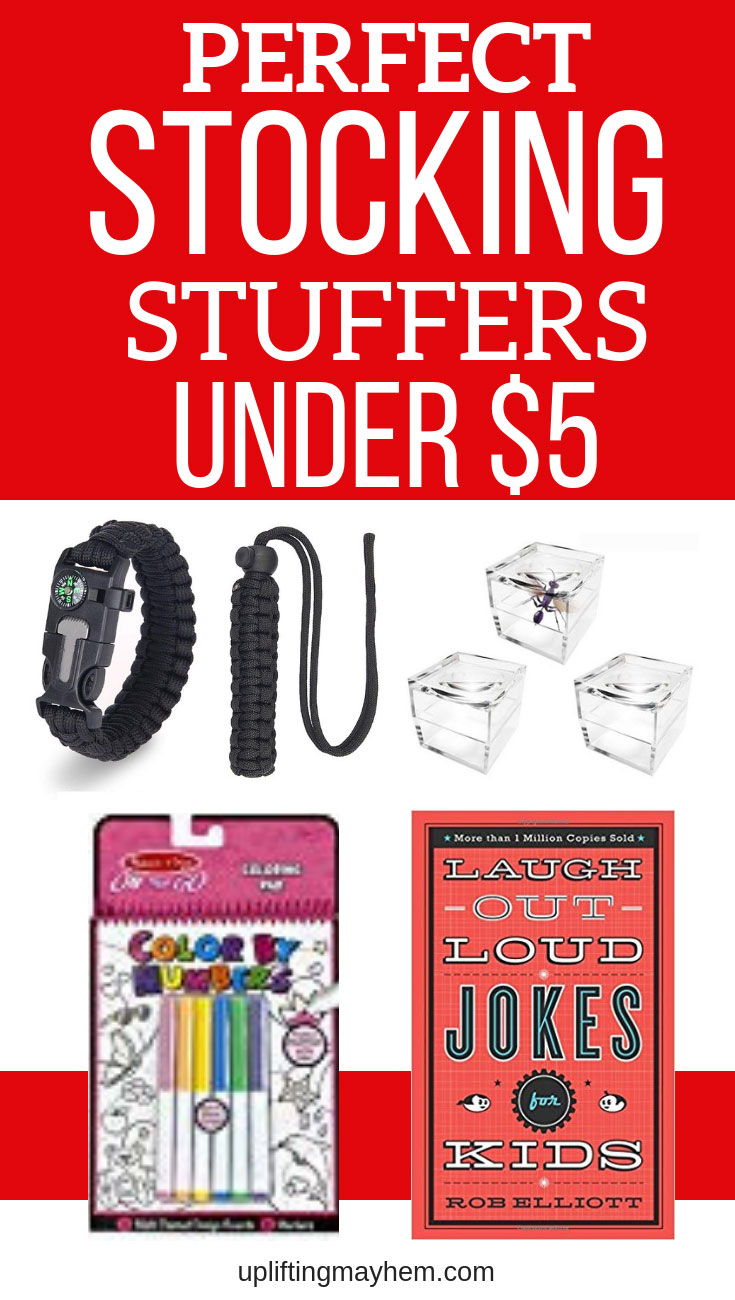 43 Stocking Stuffers under $5
This post contains affiliate links which means I get a tiny portion of whatever you may buy at no extra cost to you! Just click on the picture to take you to the product.
#1 – Slinky
Can you ever go wrong with a slinky? I don't think so! Hours are played with these toys until it gets bent and then they are history. However they are super fun until that happens!
#2 – Slime
Slime for me is a love/hate relationship. I only let my kids get this stuff out at certain times, which makes it something new and fresh each time they do.
#3 – Monopoly Deal
This is such a fun game and a shortened version of monopoly.


#4 – UNO
What kid doesn't like UNO. My boys have some rough looking UNO cards that could be refreshed.
#5 – Math Magic Cube
If you didn't already know I love puzzles and items that make my kids use their brain!
#6 – Melissa & Doug Sticker Dress Up
So cute and fun!
#7 – Monster Truck
Always a good one! My boys never tire of monster trucks.
#8 – Modeling Clay
My boys have just gotten into molding things with clay! The possibilities are endless.
#9 – Melissa & Doug On the Go Color by numbers
This occupies my kids for at least 30 minutes.

#10 – Bracelet for Girls
I saw this and thought it was adorable. There are different bracelets for little girls that would be a perfect stocking stuffer under $5.

#11 – Survival Bracelet
Okay, if this doesn't scream BOY I don't know what would! My boys would love this bracelet with all of its capabilities.
#12 – Inspired Bracelet
Here is another bracelet I found with an inspirational quote inscribed on the inside. I love it.

#13 – Magnifier Box Bug
This is something every kid would love. Instead of killing a bug to observe it, you can capture it in this little magnifying box and get a closer look. After your done set it free!
#14 – Punch Balloons
I know these are over $5 but if you split them for each of your kids, it will be less than $5. My boys love these things and the great thing about them is that they are used hard….they pop and then they are gone. HA HA

#15 – Kinder Eggs
These again are more than $5 because they come in a bunch. Walmart has these for sail and you can just buy one per kid if you want. These bad boys are a favorite in our house! Lots of bribery is done for these kinder eggs and their little toys inside.

#16 – Fidget Spinner
My husband told me these are dead….Ha Ha. My kids still ask for these when theirs break. They always seem to show up.

#17 – Harmonica
When my boys went on a hike we had a bunch of harmonicas and they were awesome!! It kept their mouths busy and their minds on other things other than getting tired! Did you know Benjamin Franklin invented the harmonica??

#18 – Harry Potter Jelly Beans
These never get old and are hilarious to watch your kids play this game! This is another one of those, enjoy it until its gone, stocking stuffers under $5.

#19 – Brain teaser puzzles
I love toys that makes my kids brain work! Especially when it's under $5 for a stocking stuffer!

#20 – Crayola Twist Crayons
Sometimes these are a nice change. I like to keep these in their church buys bag to take to church as something different.

#21 – Laugh Out Loud Joke Book
I gave this to my son last year and it is a favorite still. There are some funny jokes and I haven't come across any that are crude or mean.

#22 – BOOKS!
Books are always a great idea! Kids enjoy picture books at any age and are so good for them. Especially when there is a great discussion that can follow the story like this one.

#23 – Lego Creative Boxes
There are so many different kinds of these creative boxes. This is so perfect! Who knew these would qualify for our stocking stuffers under $5.

#24 – Lego DUPLO
There are also kits for DUPLO legos too. So great!

#25 – Melissa & Doug Reusable Sticker Pad
#26 – Melissa & Doug Make a Face Sticker Pad
We had these and had some good laughs with them. The faces your kids can create are great!
#27 – Sparkling PlayDoh
What isn't better with SPARKLES! LOL
#28 – Melissa & Doug Decorate your own car kit
I just love anything from Melissa & Doug! Love this!

#29 – Hidden Pictures Activity Book

#30 – Melissa & Doug Mix and Match Dress up
#31 – Lego Figurines
There are several Lego figurines under the $5 mark.

#32 – Lego Accessories
There are also several Lego Accessories like this Light Saber. My boys love all the accessories.

#33 – Toy Dinosaurs
#34 – Skeleton Dinosaurs
Or there are these awesome skeleton dinosaurs for your stocking stuffers under #5.

#35 – Fingernail clippers
Here is a practical gift that will hopefully prevent your kids from stealing yours. HA HA! They keep each of theirs in their room.

#36 – Flashlight
My boys like to use their flashlight at night and when we go camping. We set a limit on how often we renew the batteries. I've seen headlamps for sale at Walmart before Christmas for like a dollar.

#37 – Glow in the Dark Stars
These are always fun for your kids!

#38 – Sunglasses
We like to keep all of the sunglasses in the car

#39 – Mini Foam Football
#40 – Soduku Puzzle
I love to play Sudoku! It is such a fun game. We like to copy one page and have a bunch of people race to see who gets it first.

#41 – Cool Crossword Puzzles
These are always fun to have around.

#42 – Airplane Glider
If there was one toy I would pick for a stocking stuffers under $5, this plane would be it. These planes are really fun. They do flips and glide pretty far. I was super impressed with them. They come from China so they are not on Amazon Prime but worth trying to get.

#43 – 6-1 Card Game
The classic games our kids need to always learn and teach their kids when they are older!

These stocking stuffers under $5 are great options for your kids. I hope you found a new idea you hadn't thought of! Enjoy and Merry Christmas!
Here are more stocking stuffer ideas that aren't necessarily under $5 but there are ideas for toddlers and different age groups up from there.
Here are Star Wars Themed stocking stuffers as well as Harry Potter themed stocking stuffers.
Last but not least here are some practical stocking stuffers ideas for His and Hers and some Gag Gifts for your husbands stocking.