Take a peak of what a Well Educated Heart day may look like with the Well Educated Heart in Action: Oceans and Leaves. REMEMBER, the Well Educated Heart is a very personal, led by your heart and the Spirit. There is not just one way. This post is to help inspire you to discover what is best for your family.
Sarah Jensen has started to share what the Well Educated Heart educational philosophy looks like in her home. She is a mother of younger kids ages ranging from 8 down to 2.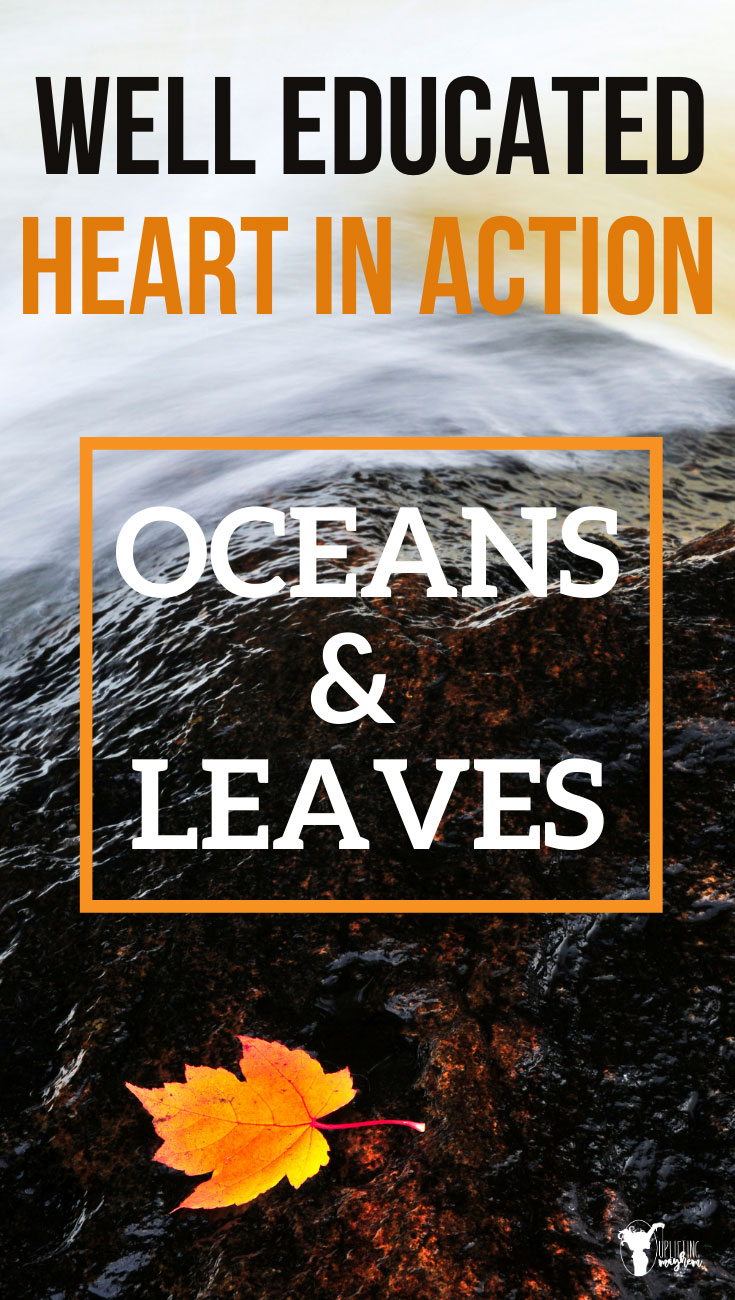 We have been busily learning about the oceans and leaves during the month of October. If you are following the rotation schedule for nature (or science) studies, the focus for October is oceanography. I don't know about you, but we do not live near the ocean. We have been to a beach before and miss it when we are reminded of its beauty, healing nature, and expanse.
When we read stories about a sandy beach, we can remember all of our "sense impressions." In the Well Educated Heart learning philosophy, we learn about sense impressions. Pestalozzi taught that children learn much more from their senses than they do through learning the facts.
Would our children rather memorize names of constellations and stars or have an experience with us under the starry sky at night? Would they like to look at pictures of flowers, or pick and smell them? My children did not get the sense impressions I truly wanted for ocean studies, but we did what would could to make the topic come alive for them.
Ocean Activity Ideas
We pulled out a flannel activity board with all kinds of oceanic animals. They had so much fun playing with this during this last month! I found this one on amazon that is slightly different than mine.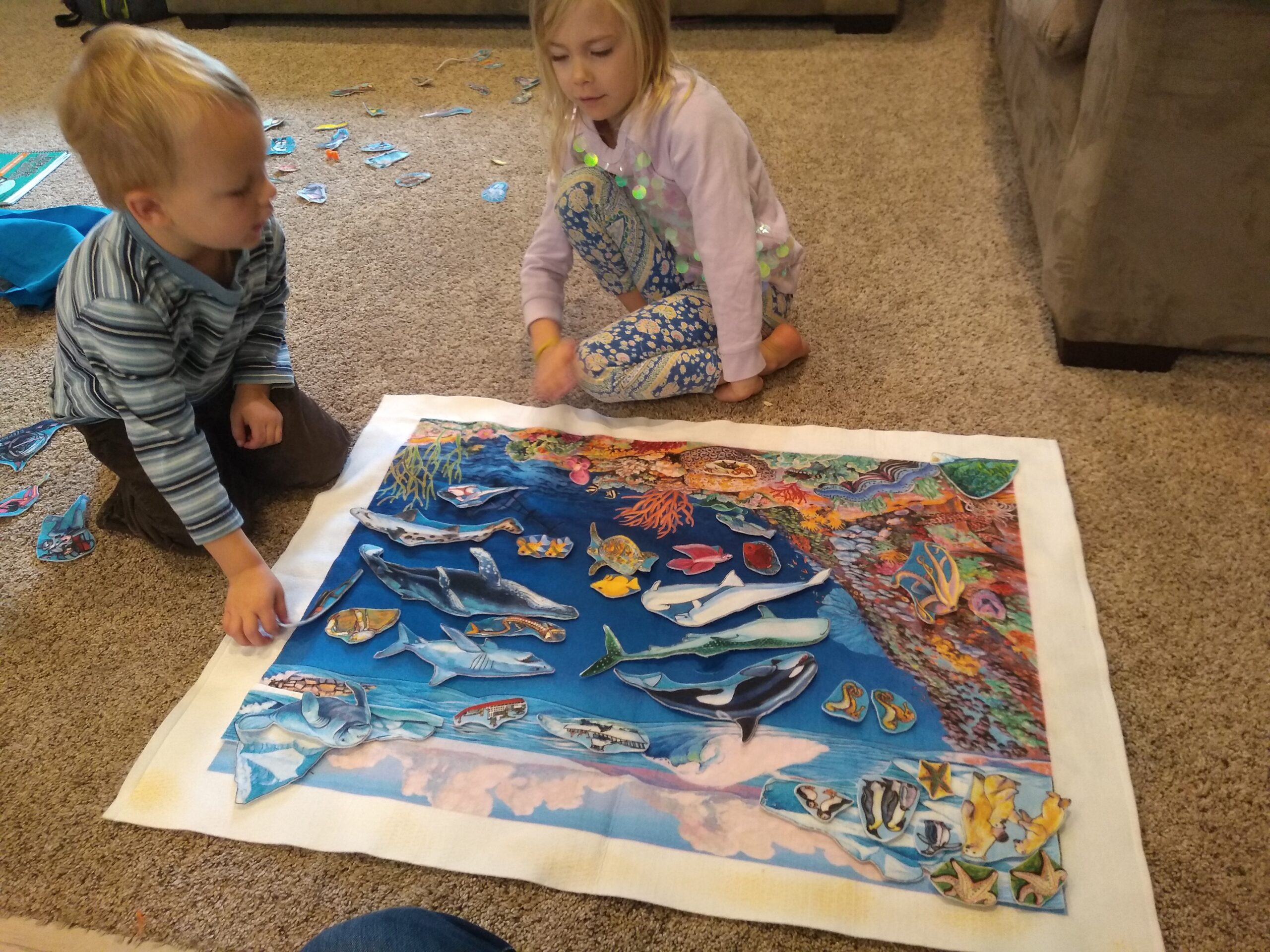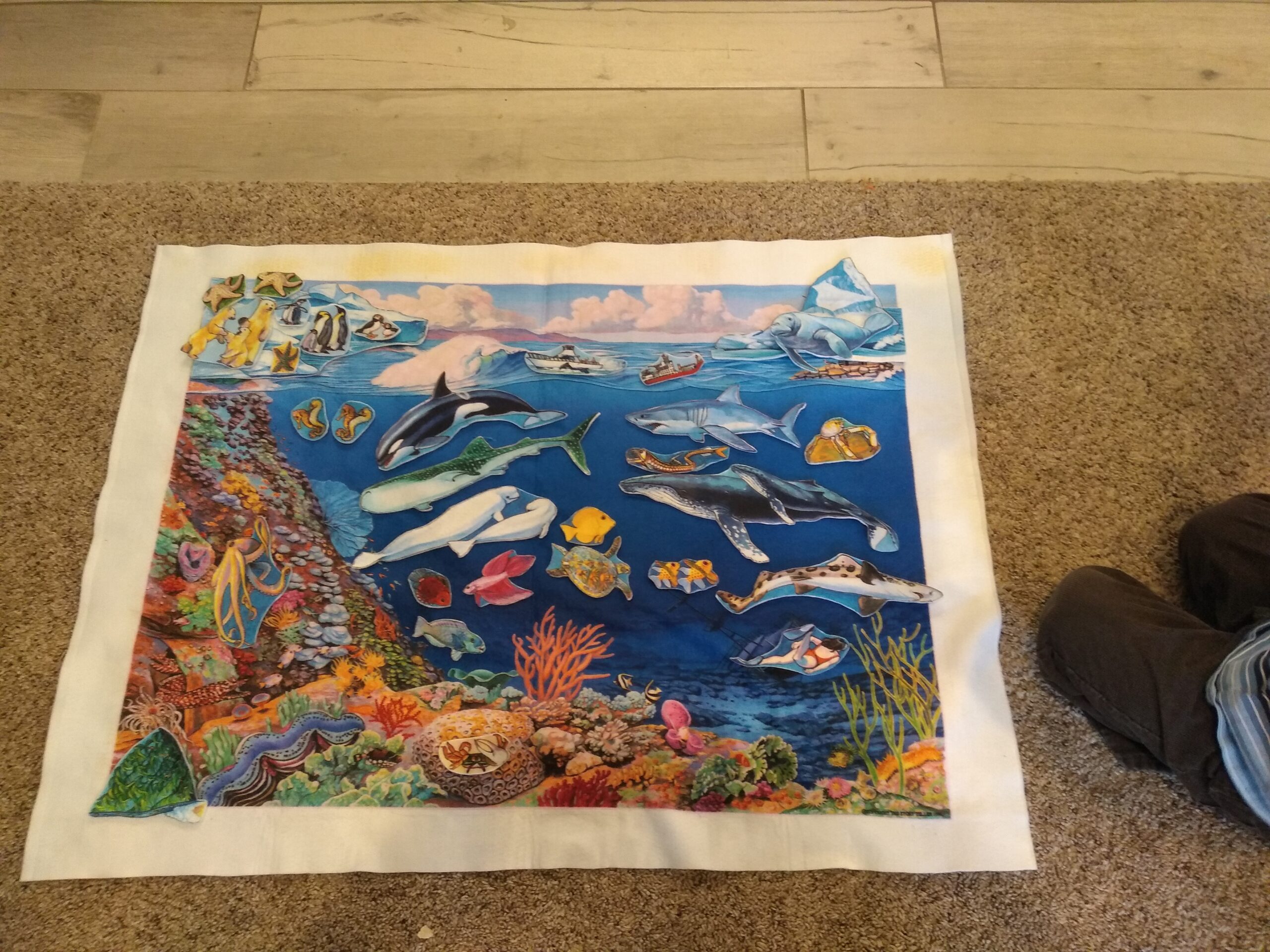 Pictures are as Strong as Words
We enjoyed two books with beautiful images of oceanic life. My children looked through these several times on their own. We also sat down together and enjoyed reading about some of the animals together. We found these books at our local library.
The first one was The Ocean by Miranda Krestovnikoff & Jill Calder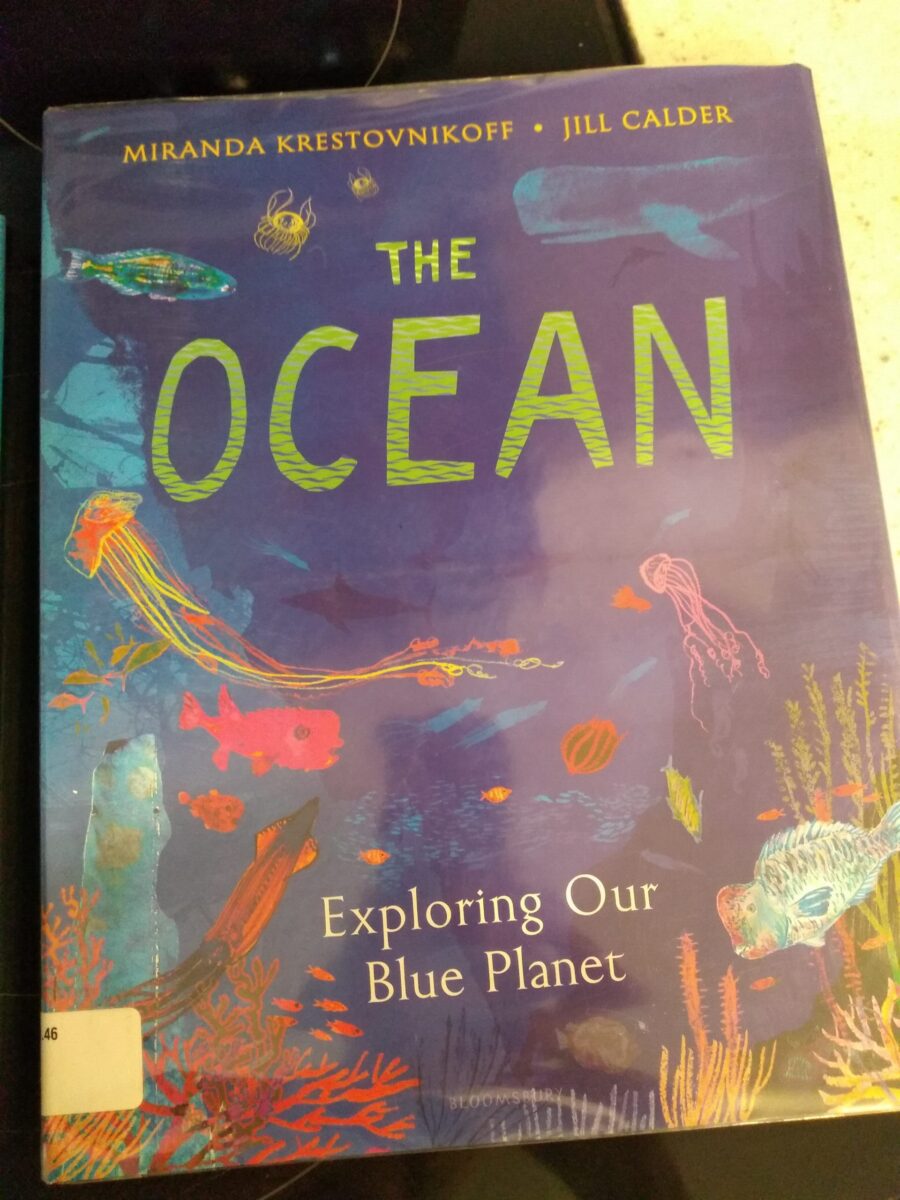 The second one was Ocean A Visual Encyclopedia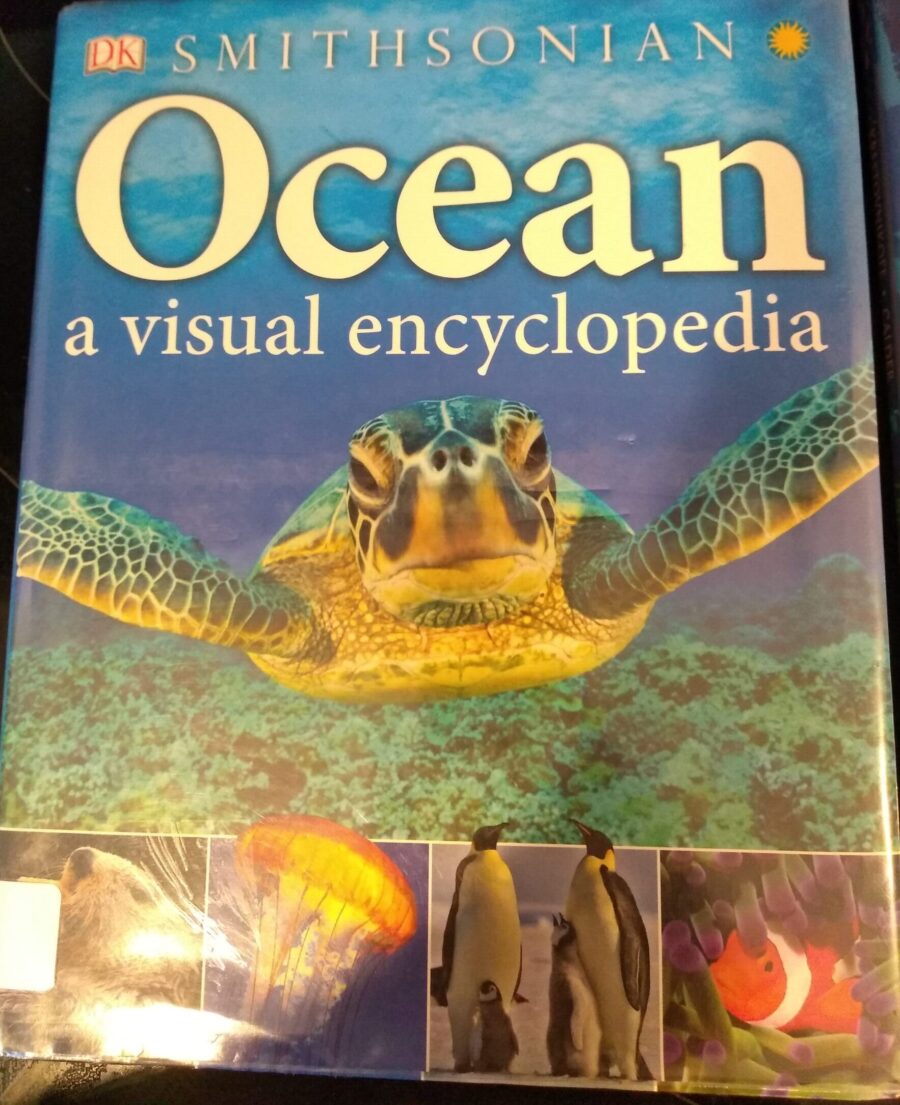 October Craft Ideas
One thing I have enjoyed about the Well Educated Heart is that you really cannot go wrong with your learning. If you and your children spontaneously are enjoying something in nature, your focus can naturally turn there. We are enjoying the leaves falling off of the trees right now.
They are so beautiful and we enjoyed a nature walk to collect some of our favorites. My children enjoyed touching them, inspecting them as they looked at them more closely, and then gluing them on paper plates.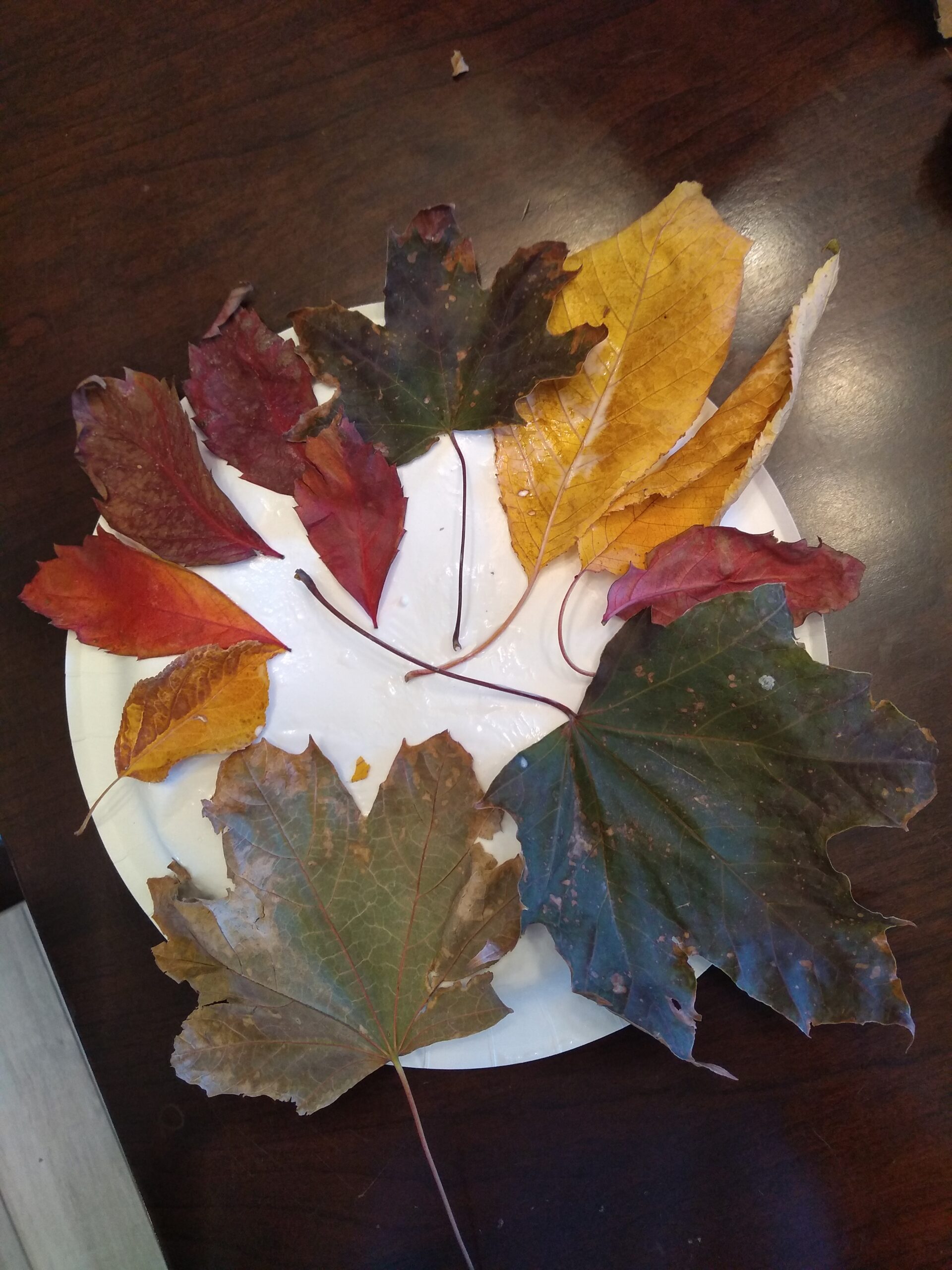 We also love October for visiting pumpkin patches and doing fun crafts while having treats. We made these creepy, crawly spiders using Oreo cookies and pull apart Twizzlers. All you do is take the cookie apart and cut your Twizzlers so that you will have four medium sized pieces. You lie them across the cookies so that each end sticks out as a leg. You will then see your eight spider legs when you put the cookie pieces back together.
We did this outside at a pavilion with a small group of children. You can use icing to draw eyes and a mouth for your spider face if you would like to.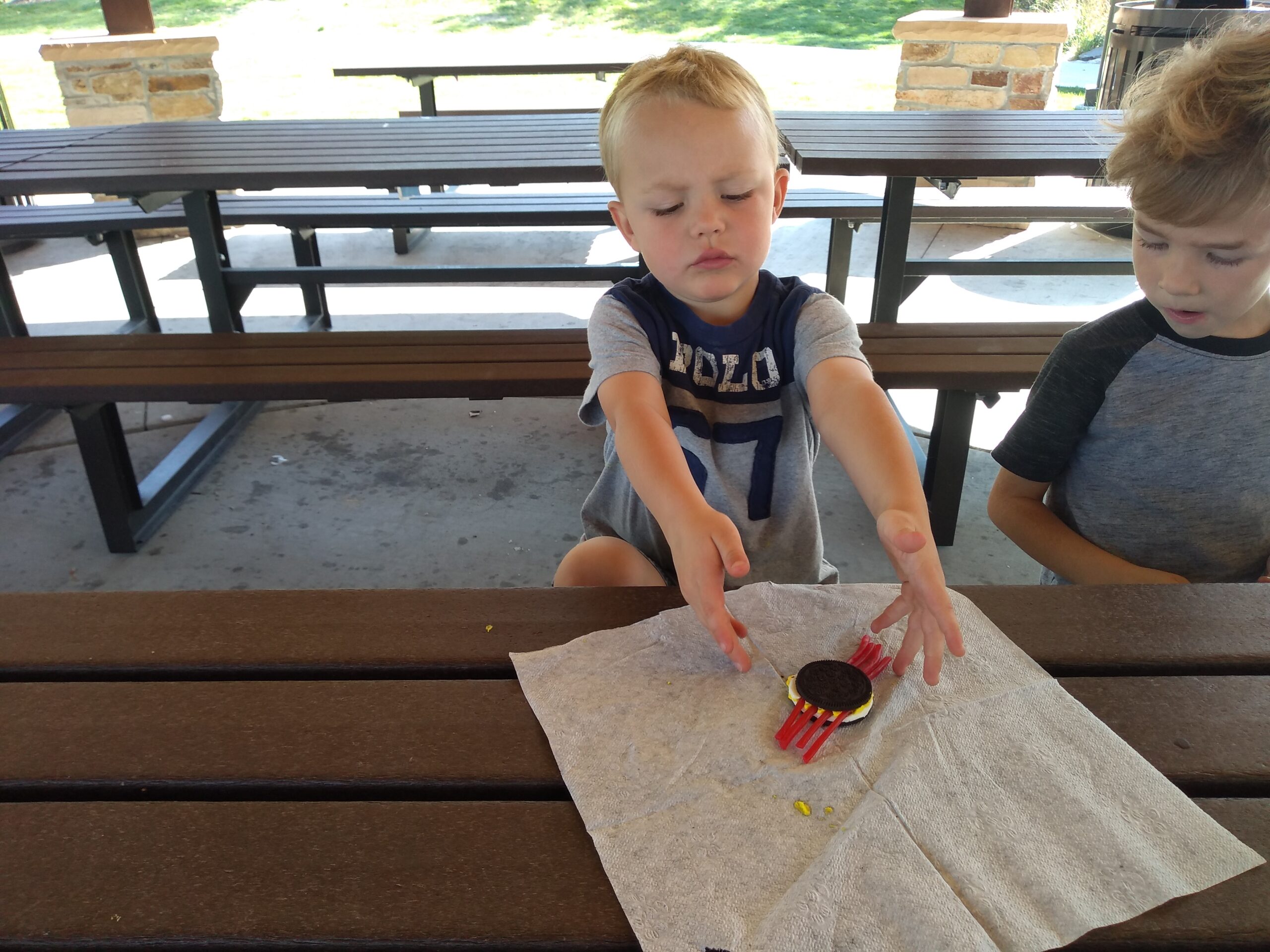 We enjoyed doing leaf rubbings by collecting leaves that were not too crunchy yet. We placed them under a piece of paper and used crayons to color over the paper and rub the pattern of the leaves onto our paper.
Fall is a beautiful time where so much is changing outside. It is a time that we like to spend much of our learning time outside. There is so much to learn by observing the changes around us. Why do leaves fall off of the trees? What do birds look like when they are migrating south? We have seen many geese flying and migrating.
Know that every moment can be a teaching and learning moment. The more you fill your own heart as a mother, the more you will see in every day life and be able to point out to your children. As they see you loving these things, they will begin to love them too.
Nature Study Inspiration for the Mom
Here is a great video that will inspire you to make nature studies a permanent part of your learning? We can never know all things about the beautiful creations around us! There will always be something to observe and discover. We really do "have mines of joy to be discovered, if only we knew where to find them."
I hope you have felt a little bit of how the Well Educated Heart can bring joy in your home as you learn about something simple as oceans and leaves.
Learning the Well Educated Heart way is simple and heart warming. It is not about feeding your children pure facts but filling their hearts with stories, beautiful pictures, music and heartwarming activities. If you would like other examples of the Well Educated Heart in Action, check this post out or this post.