Nothing says home more than homemade salami! Homemade salami takes me back to my childhood of car trips, picnics, hot goodness right out of the oven, and delicious sandwiches. This salami recipe is one of the best you will ever try! It doesn't matter who tastes this homemade salami, it will sure to be a hit!
We love this salami on sandwiches, crackers and cheese, or simply just plain. It is great to freeze and still tastes great! This homemade salami is delicious right out of the oven, or cold coming out of the fridge. You can't go wrong!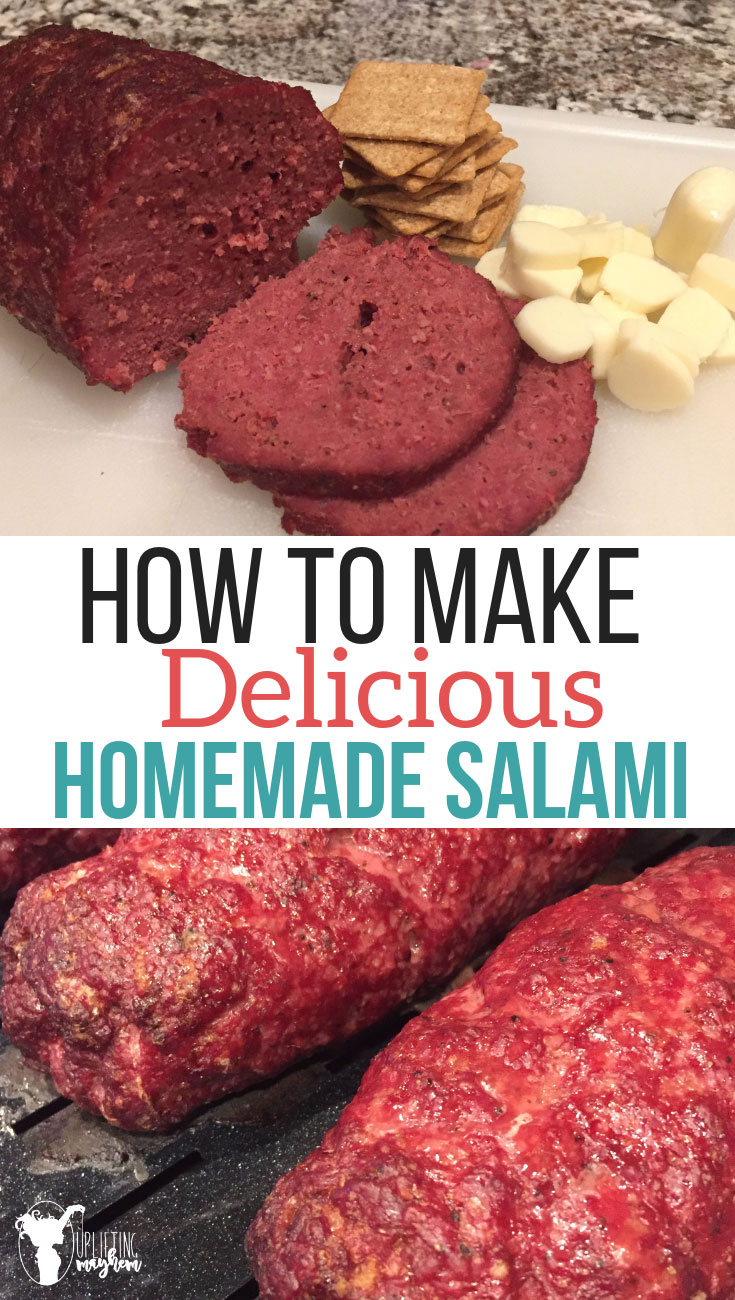 Here is how to make your own HOMEMADE SALAMI! 
Step #1  – Get 4-5 pounds of hamburger. 
This can be beef, elk, deer etc. I have used all 3 of these before and it is delicious with any of them! If you use deer or elk, I like to use one pound of beef to add some fat to hold it together a little better. Otherwise it can get a little crumbly because of the lack of fat in elk and deer (which isn't a bad thing-actually healthier- just doesn't hold together as well).
I have a freezer full of beef, so I took my hamburger out and defrosted it. Once it is defrosted, place in a big bowl.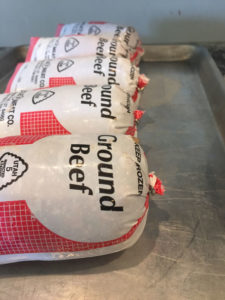 Step #2 – Add Curing Salt
Add this Morton's Tender Quick Curing Salt to the hamburger and with your hands, mix the salt in really good.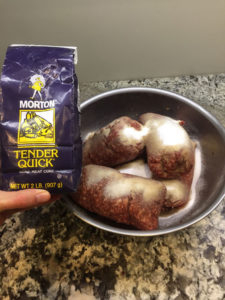 Step #3 – Place plastic wrap and refrigerate
Once you have the salt mixed in really good, cover it with plastic wrap and place it in the fridge overnight or at least 8 hours. I like to mix the salt in at night and let it sit in the fridge over night. Make sure you cover it so it doesn't dry out.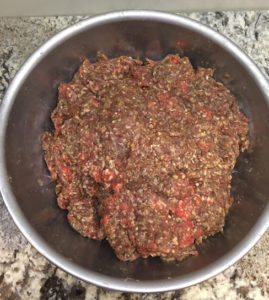 Step #4 – Remove hamburger from fridge, add ingredients and MIX together! 
This part can be a little painful. Seriously though! The meat is really cold and if you never thought you could get a brain freeze through your hands, think again! Ha Ha!! I started to put on 2-3 disposable gloves to help. If you don't have gloves, use one hand at a time and switch off. This allows your other hand to defrost for a bit. 
Mix liquid smoke, coarse pepper and garlic salt in really well.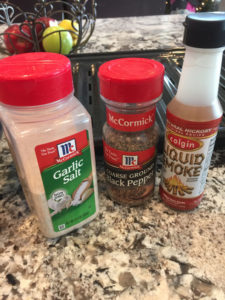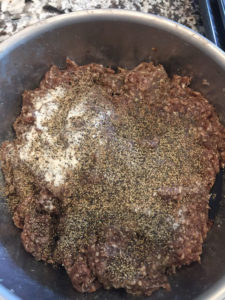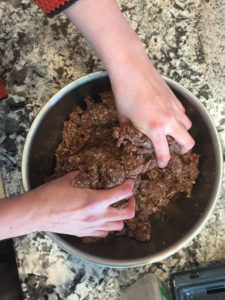 Step #6 – Once mixed thoroughly separate into thirds
Using the counter, shape into 3 long cylinders like the picture below. I like to put my cylinders on an oven broiler rack. If you don't have one of these, place your salami cylinders on a rack on top of a cookie sheet. This allows the fat to drain as it cooks.
Look that this deliciousness!!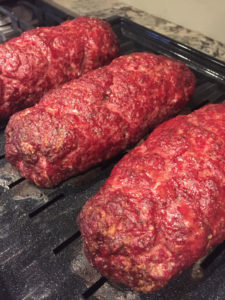 Step #7 – Cook at 250 degrees for 3 hours
The smell in your house is going to be heavenly! I like to put it in the oven around 9:00 am just in time to pull out for lunch time. You can have it on a sandwich or crackers and cheese like the picture below!!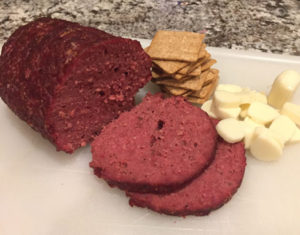 If you are wanting to do neighbor gifts you can also make smaller cylinders and give to neighbors with crackers and cheese for Christmas. Recipe is below! ENJOY! 

Homemade Salami
Homemade Deliciousness
Ingredients
4-5 pounds hamburger - Can be beef, elk, deer, etc
¼ cup Mortens Tenderquick curing salt
2 TBSP Liquid Smoke
2 TSP garlic salt
2 TSP fresh ground pepper corns OR coarse ground pepper
Instructions
Defrost hamburger and place in bowl
Add Mortens Tenderquick curing salt to hamburger and mix together really good
Place in fridge overnight or 8 hours
Next add the liquid smoke, garlic salt, and ground pepper to hamburger and mix in really good!
Separate hamburger into thirds and roll into loaves about 2½ inches in diameter.
Place on broiler pan or rack to allow for drippings
Bake at 250 degrees for 3 hours
Slice and ENJOY!!
Another family favorite are these amazing breadsticks! Seriously oh so delicious!