Are you taking a trip to South Padre Island? Are you want to find the best South Padre Island RV Parks and what activities there are? We spent a week visiting South Padre Island and loved it! We stayed it the Isla Blanca RV Park and we had a great time! This post will share about other RV parks and activities you can do while staying on the island.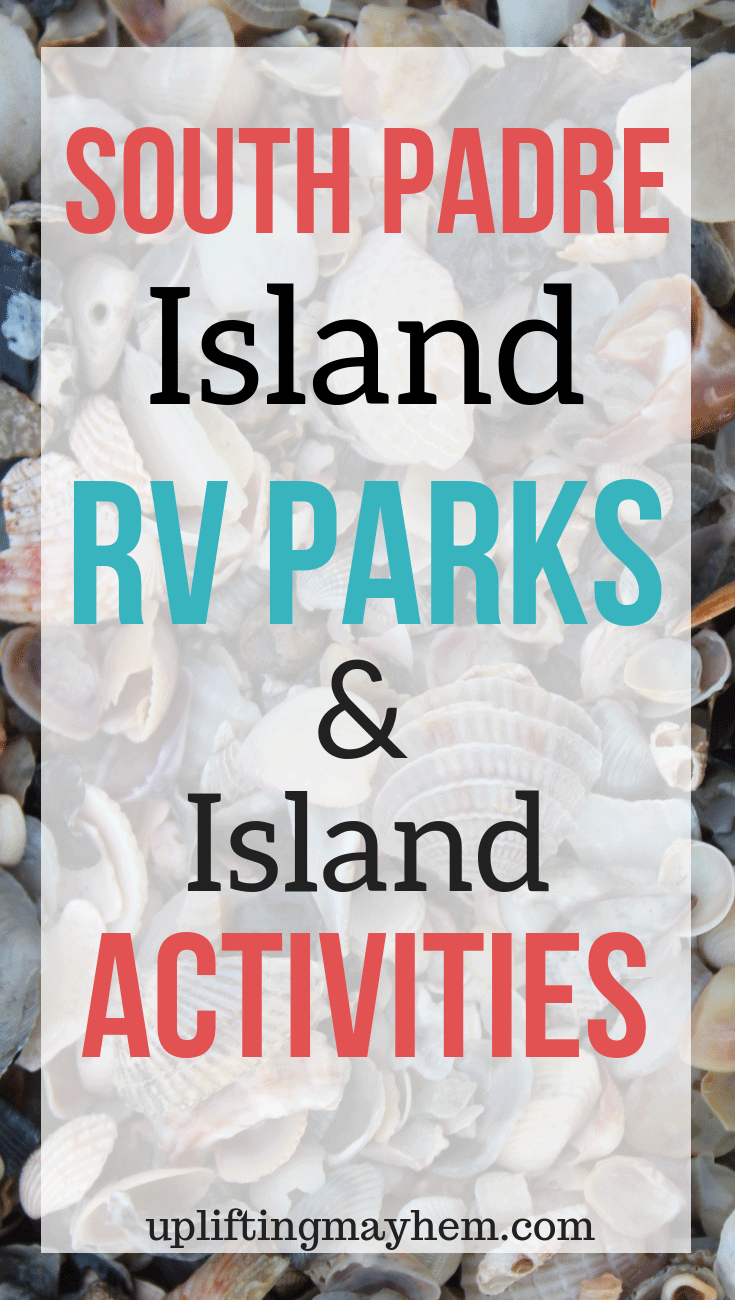 South Padre Island RV Parks
We stayed in the Isla Blanca RV Park that is located at the very most southern tip South Padre Island. This park is huge and is currently under lots of construction to make it even better. As of January 2019, they were constructing some buildings and a board walk. It is a little difficult to get to the beach but it should only get better from here on out.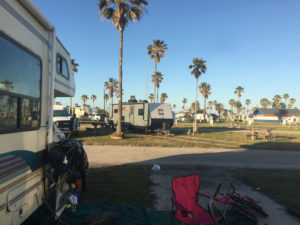 We came in the wintertime, but this park was considerably cheaper than the KOA next door. There are a lot more spaces as well. For 1 week we spent $200 for our RV space. SUPER AFFORDABLE!! This was for winter prices which is $10 cheaper/night that the summer months. There are over 500 RV spaces in this park as well.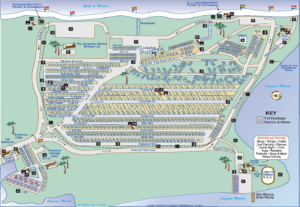 I didn't mind the construction for the most part. If you stay in a space that is more inland you won't even see the construction unless you walk to the beach. It will be really nice when it is all done.
The check in process was a little crazy. Even if you reserve your spot online, you still need to fill out a bunch of paperwork when you get to the park. They will have you pay an electrical deposit of $15. When you arrive to your space you need to take a picture of your electrical meter when you arrive and again when you leave. This will determine how much of your deposit you get back.
Wifi is available if you need it. You can purchase it for 1 week for $20 or it's $10 per day. We did not get wifi so I'm not sure how well it worked. Also, be aware that there are lots of stickers all over the ground. Make sure you bring a rug or carpet for outside of your trailer. If you are diligent on picking them up and throwing them away they won't be as bad. One of our neighbors used a paint roll to pick them up everyday. HA HA!
This is a nicer campground but is costs more and availability is a little harder. However, it has a pool and hot tub that you can enjoy along with some other amenities. Check it out over on trip advisor. Prices range from $55 and up during the off season and $63/night and up during the summer months. Check the website for the most recent updates.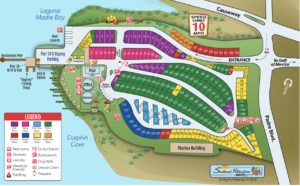 This is a much smaller park but is another option.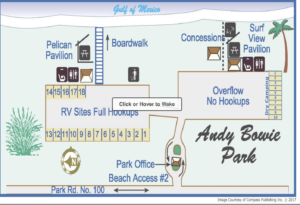 Things to do on South Padre Island
This place was one of my favorite places to visit! It was so fun to see the turtles they have saved but will never be able to be released for one reason or another. One turtle, named Alison, has only one fin. A prosthetic was made for her so she could not just swim in circles. They had recently had a turtle come in that was hit by a boat prop. The shell was cut open and they were in the process of helping that turtle to get better to be release again into the ocean.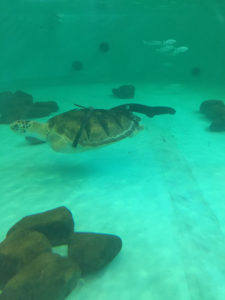 I love places that work hard to educate you as well. This place has a brand new amphitheater where they teach you about turtles and what they specifically do. I thoroughly enjoyed it. Adults are $6/person, kids are $4/kid 4 and up.
This is a really nice trail/board walk that you can get up close and personal with all sorts of birds.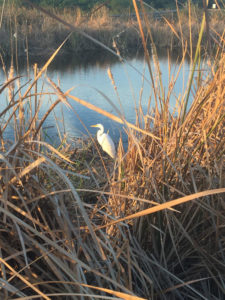 Adults $6,

Students 13-18 & Seniors 55 yrs+ $5

Children 4-12 yrs $3

Under 4 yrs FREE with paid adult
If you don't want to pay, you can go to the convention center which is right next door and to the left of the center is a trail/boardwalk that you can take for free. You don't have the resources available like at the birding center, but if you want a relaxing, beautiful stroll, this is perfect!
There are a lot of different options for tours. Lots of different companies to choose from. Word of warning with these tours. Pictures are deceiving and isn't always as amazing as it says it will be. We went on a day that was cloudy and windy and didn't see many dolphins.
The Eco Tour consists of dragging a net behind the boat and bringing up what ocean life is caught. We caught a star fish, jelly fish, squid, some small fish and even a sting ray. The kids were able to touch and hold whatever they wanted. The squid inked a couple times which was cool to see and the kids were enthralled with them all.
This excitement lasted about 10 minutes and the rest of the trip was a little dry. They released the marine life we caught and we went off to find some dolphins which we only saw the fins of two. However, the day before during a fishing trip, my boys saw dolphins, and they were playing in the wake of the boat.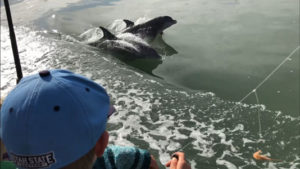 #4 – Fishing trips
My husband and two oldest boys went on this fishing trip. They had a lot of fun and each person caught a fish. Going in December they didn't catch as many fish. The entire boat caught 18 fish, but during the summer they say they catch 100 fish at times.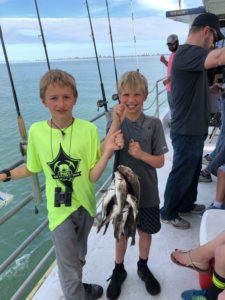 The boat provides poles and bait along with help on hooking the bait, and removing any fish you catch. You have the option to keep the fish, or the company sales it to a local restaurant. They will fillet the fish and put it in a bag for you as well.
#5 – Fishing on the Jetties
There are some jetties, which are rocks that extend out into the ocean, that is great for fishing. We saw multiple people catch sting rays, someone accidentally caught a sea turtle on the fin (which they unhooked and released). The fish that were being caught the most were whitings, ribbon fish, pompano, and of course cat fish. The whiting fish is very good, and doesn't taste very fishy.
The largest sand castle is on the island, and we saw numerous sand sculptures all over. At the convention center they had a tent set up with fun sculptures to check out.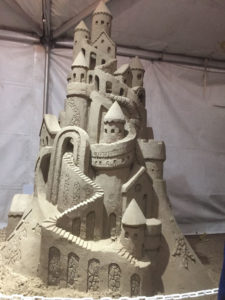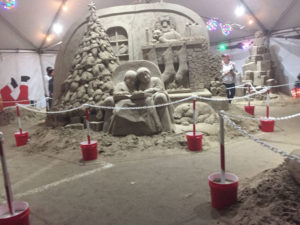 We did not come here because we enjoyed the beach, but I'll put it here for you so you know that it is an option for you and your family!
The bus system on South Padre Island is FREE!! Yep you heard right! This is our crew waiting to catch the shuttle.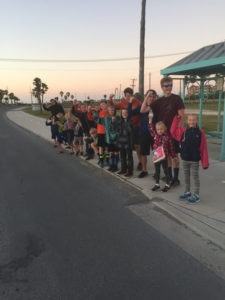 They have shuttles that go up and down the main roads of the island and it is all free. You can download an app, called Ride Systems, that has a live tracker of where the shuttles are that was very convenient.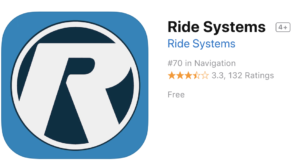 I hope this information help you and your family have a fantastic vacation! We loved it! I hear it gets really busy during the summer months, but when we went in December it was very slow. The weather was all over the place. One day was calm and 74 degrees, and the next was windy, overcast and 60 degrees. Be prepared to do some sight seeing and activities along with the beach!
For things to do and places to see in Corpus Christi which is north of South Padre Island check this post out!!