You can never go wrong with a recipe handed down from Grandma. This festive Christmas Chex mix recipe is a perfect rich and salty snack to share with the whole family this Christmas season.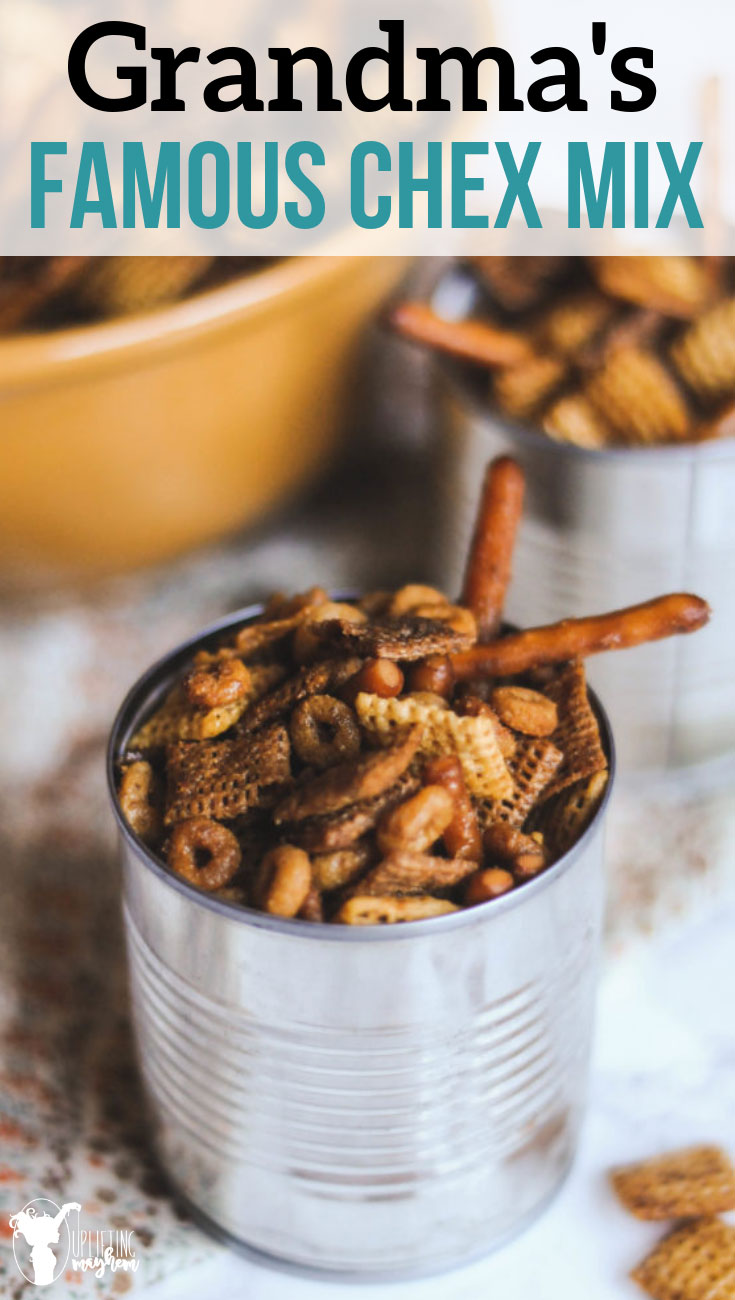 Growing up my family moved around a lot. We often lived far from any extended family which usually meant Christmas was spent at home with my parents and siblings. Christmas was always a special time with just us, but the times that we did travel to visit relatives was always a fun memory filled Christmas.
One of those memories includes my Grandma's Chex Mix. Every time we visited my Grandparents for Christmas their home would be filled with the delicious smell of baked treats. She would bake so much in anticipation for our visit I remember finding a whole food storage bucket filled with Chex Mix one year just waiting for us to dig in.  
After making a batch for my husband and I this year I completely understand why a whole bucket was necessary. Just the two of us finished off a batch in about two and a half days! Its the holidays so its ok…. right? 🙂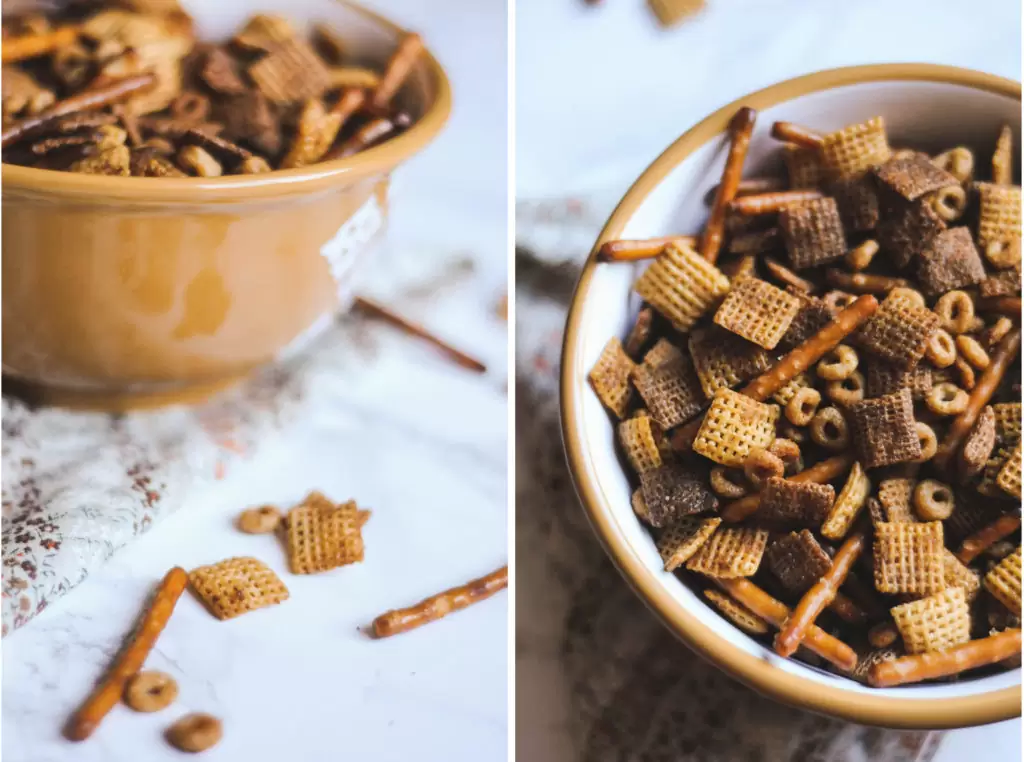 Another memory including my Grandma's Chex Mix comes later, Thanksgiving 2011.
I was a newlywed of about two months and was exploring new recipes for the holidays. I found my Grandma's Christmas Chex Mix recipe in a family cookbook and a flood of fond delicious memories filled my head.
I set out to make it for the first time and was confident it would taste just like hers. Everything was going great until I steered from the recipe. I thought to myself, there's no way you actually need all that butter (you do, you really do) so I poured some out into the sink.
The sink. Lots of melted butter down the drain. In the sink. I soon found my kitchen sink clogged; and with no dishwasher, lots of dirty dishes. We hurried out and bought a "snake" tool which to no avail, the sink stayed clogged.
With Thanksgiving the next day I felt depressed that the first Thanksgiving, I would be cooking, would be ruined and likely include washing each dish in the bathroom sink. In a moment of genius I took a hot hairdryer to the pipe beneath the sink where I assumed the solid butter must be, and waited. Within a couple minutes my sink began to drain! My tears dried and Thanksgiving continued as planned.
I soon attempted the Chex Mix recipe again and this time I listened to Grandma and included all the butter required. While it baked in the oven, my house was filled with the delicious rich smell that I remembered from Christmas's years before.
All I need was Grandma in my kitchen and the memory would be complete.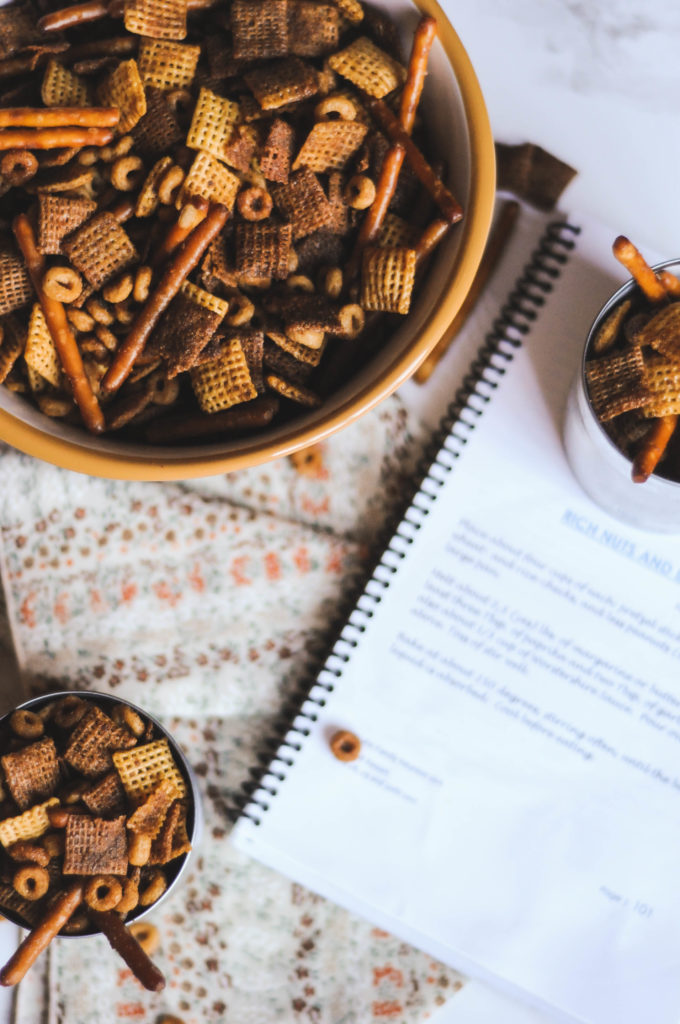 I hope you enjoy. And remember, never put melted butter down the kitchen sink! 😉 
Here is my Grandma's Famous Christmas Chex Mix! 
Grandma's Christmas Chex Mix
A deliciously rich salty treat for the whole family to share.
Ingredients
4 Cups Cheerios
4 Cups Corn Chex
4 Cups Wheat Chex
4 Cups Pretzel Sticks
2 Cups Salted Butter
3 Tbs Paprika
2 Tbs Garlic Powder
⅓ Cup Worcestershire Sauce
Instructions
Preheat oven to 250 degrees.
Combine Cheerios, Corn Chex, Wheat Chex, and pretzels and divide among 2 or 3, 9x13 inch pans.
Melt butter and combine paprika, garlic powder, and Worcestershire sauce.
Pour evenly over each pan and mix with a spoon.
Place in oven and cook for 1 hour mixing occasionally (about every 15 mins or so) until almost all liquid is absorbed and Chex Mix is no longer soggy.
Let cool and enjoy. Store leftovers in sealed container.
Do you have any family recipes that include fond Christmas memories? Or what about Holiday cooking gone wrong! Share your stories below.