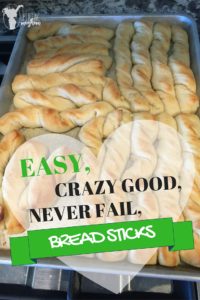 I received this bread stick recipe from a neighbor after I ate a whole pan of them! If there were two words to describe these bread sticks it would be DI and VINE!! Seriously! My boys chow these down so fast, I always make a double batch! I can always make these bad boys in under an hour. It takes about seriously 5 minutes to gather and mix all 5 ingredients. You let it raise for 20 minutes, or however much time you have. (I have rolled the dough out when it had barely raised, and they were still delicious).  Once it rises, it takes about 10-15 minutes to roll out, twist, dip and sprinkle them! 15-20 minutes in the oven and VIOLA you have deliciousness at your fingertips!
1 TBSP yeast (one packet)
2 TBSP sugar
1 TSP Salt
3 1/2 cups flour
1 1/2 cups of very warm water
1 cube of melted butter
Grated Parmesan cheese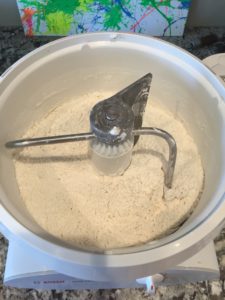 You mix the 5 ingredients together: Yeast, sugar, salt, water and flour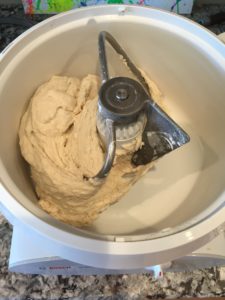 You can leave the dough in your mixer or transfer it to another bowl.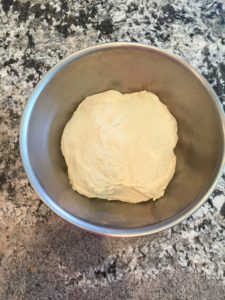 Cover it with a moist paper towel or a clean hand cloth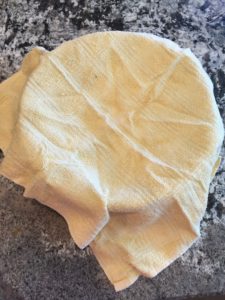 Set aside and let rise. I place mine outside on hot days or by the heater or our fireplace during the winter. I have even turned on our oven to the lowest temperature. Once it gets to that temperature I turn the oven off and place my bowl in the oven with the door open and let rise. This makes it rise a bit faster.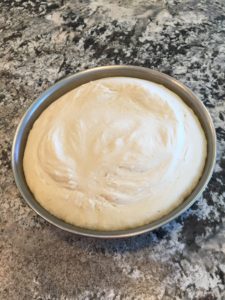 Once it rises its ready to be rolled out!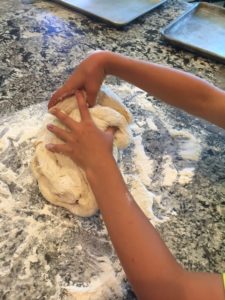 While your child is kneading the dough….:) grab 1 stick of butter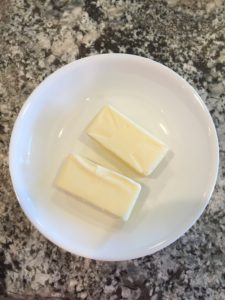 Put it in the microwave and melt the butter (note: I have 2 sticks because I doubled the recipe)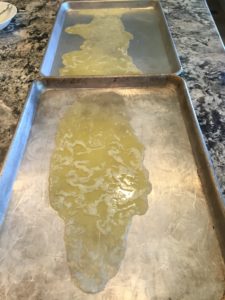 Pour the butter in a cookie sheet pan with sides.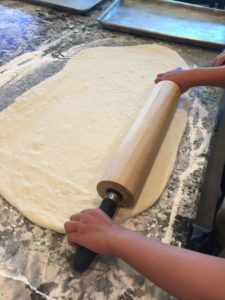 Roll out the dough into a rectangle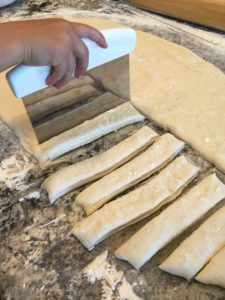 and cut the dough into the size you want your bread sticks.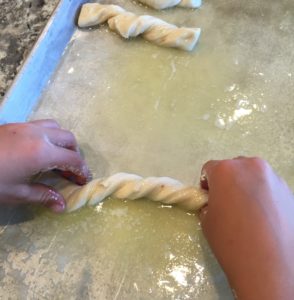 Now for the fun part! You TWIST, DIP, and SPRINKLE grated Parmesan Cheese on top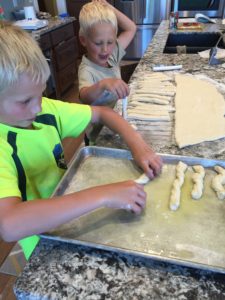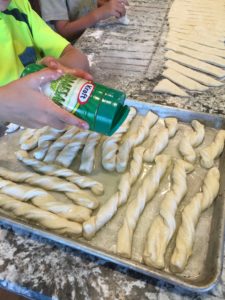 Sprinkle with parmesan cheese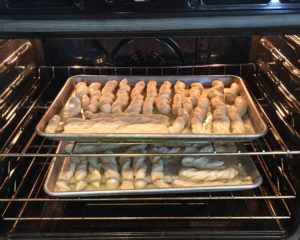 Cook at 375 F for 15-20 minutes. They are done when they begin to get golden brown!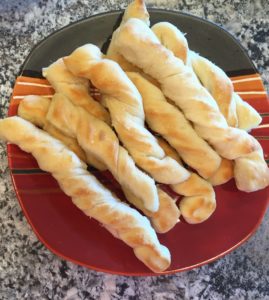 Oh so Yummy! This makes my mouth water just writing this post. My favorite part is scraping up the Parmesan cheese and butter with my bread stick! I hope you enjoy them as much as my family does!