The Mesa Verde Cliff Dwellings are INCREDIBLE!! They are awe-inspiring structures made by a people that built around nature and used this for their advantage. In modern construction if there is a rock or tree stump in the way, we just move it or blast it out. Not the Ancestral Pueblo people. They built their homes where nature would best protect them thus building around nature.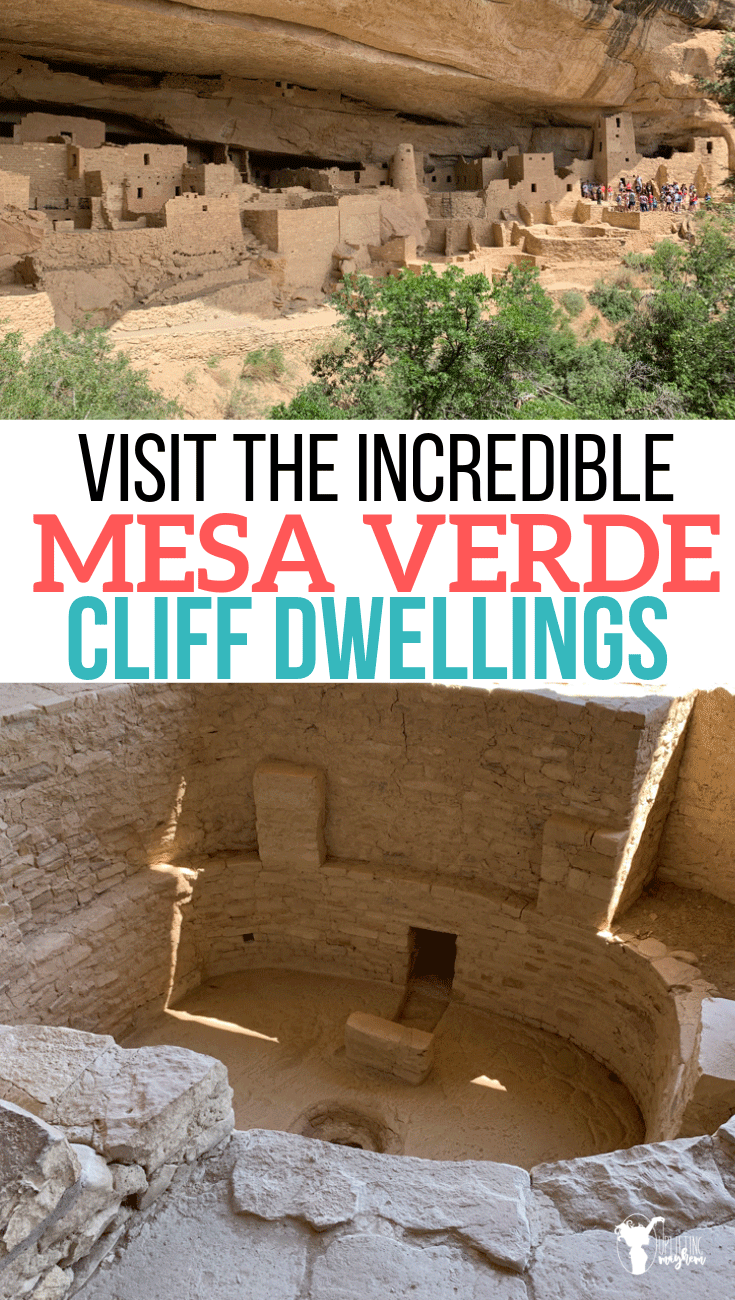 The Mesa Verde cliff dwellings are located in Colorado near the four corners region. In Mesa Verde National Park almost 4000 sites have been discovered with 600 of these being cliff dwellings. If you are planning on visiting Mesa Verde National Park, here is everything we did and how everything works to help you make your journey a little bit easier!!
There are many FREE things to do within Mesa Verde National Park. Hikes are plentiful and you can see a lot of the big cliff dwellings from the road across from the canyon. However, if you want an up close and personal view of these dwellings (I HIGHLY RECOMMEND) you will need to purchase a ticket for a guided tour.
If you have a 4th grader, you can get into any National Park for free as long as your 4th grader is present. Head to this website and have your 4th grader answer some questions and boom….done! It is fast and easy! For tips on how to travel on a budget check this post out.
BEFORE YOU GO
There isn't a lot of preparation that needs to be done in regards to tickets or reservations before you head to Mesa Verde. You cannot purchase tickets online and can only be purchased within the park. We bought ours at the visitor center at the opening of the park. It is a first come, first served basis, so if you are planning on coming over a busy holiday, I would arrive early to ensure you get tickets. You can purchase tickets the day of or for the following day so don't sweat too hard. The chances of you not getting a ticket is slim.
Here are a couple things you need to know about. There are two main canyons that go into the park. One leads to the Museum and the cliff dwellings of Spruce Tree House, Cliff Palace, and Balcony House. There are a handful of other sites that you can see, but these are the main attractions.
The other canyon leads to the cliff dwellings of Step House, and Long House. They will not allow any motorhomes longer than 25 feet. I am making this red and bold because this is something we did not know about. We traveled in our motorhome and it is 28 feet long so we were unable to go down this canyon. We tried to rent a car in Cortez, but there were no cars available. The moral of this story is: If you have a motorhome longer than 25 feet and want to see down this canyon, I would call the rental company in advance to book your car.
Here is a map so you can visualize the roads and parks better. You can save it on your phone so you have it whenever you need it.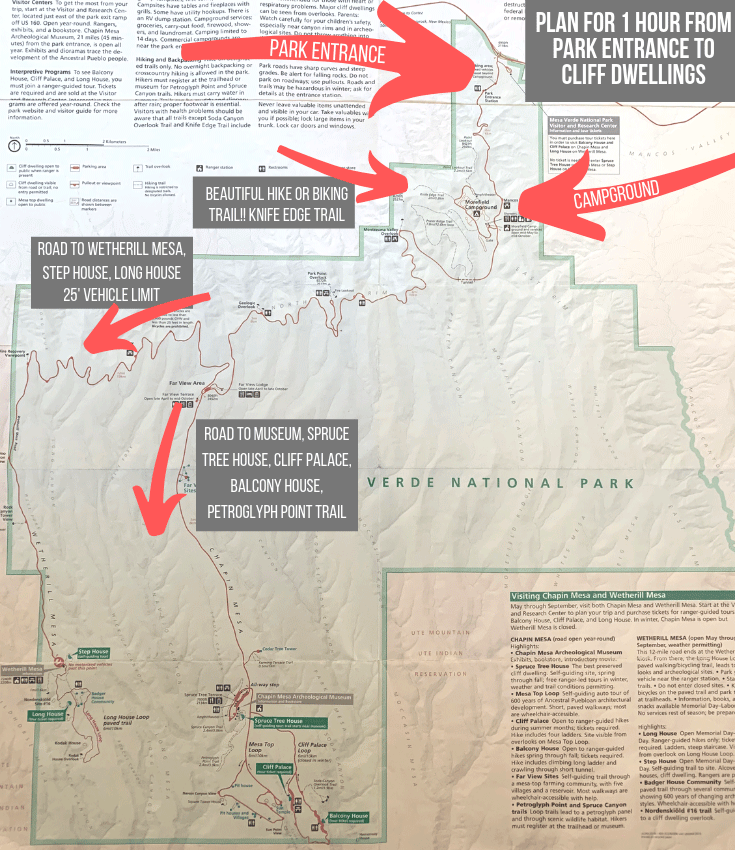 Also before you go, think about getting some books that teach you and your kids about the Ancestral Pueblo People. This one is great along with this one that talks about life in the pueblo. The rangers do a good job on teaching about these people, but we really enjoyed digging a little bit deeper.
As far as packing, bring lots of water, hats and cooling rags you can hang around your neck. These neck coolers are awesome and were very nice to have! They kept us cool during the heat of the afternoon. Mesa Verde is up in the mountains, so it doesn't get terribly hot there. However, it still gets hot so stay hydrated and cool.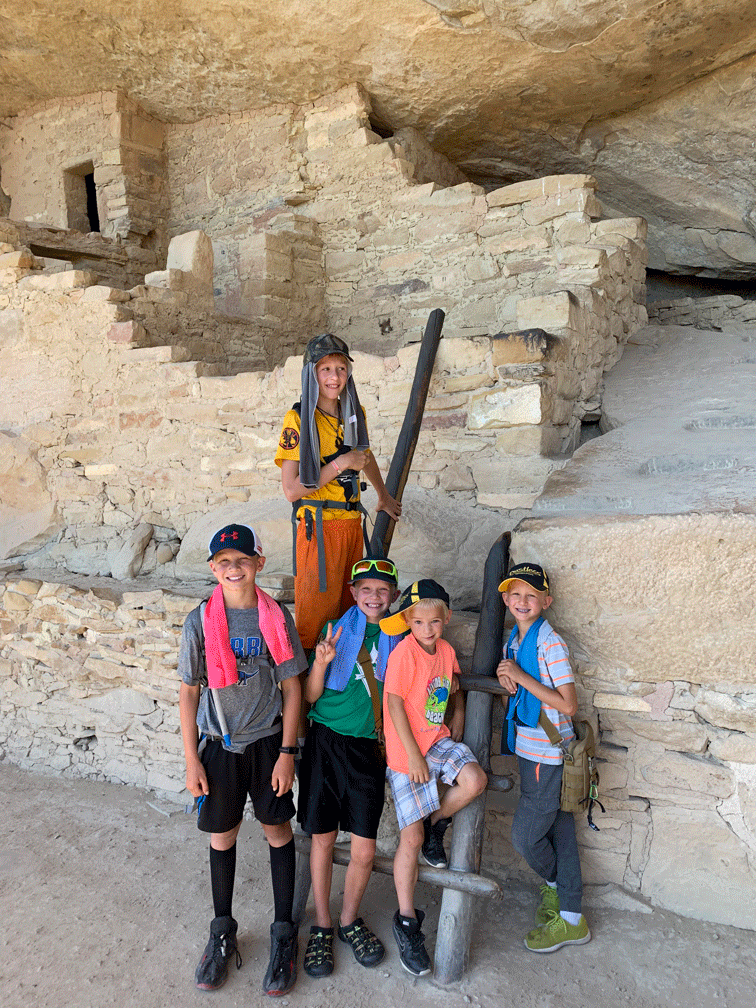 Camping
If you are camping you have a couple options that are great. The first night we stayed in Morefield Campground that is within the National Park. There were showers and lots of options and open space. We went on a mountain bike ride and also on a run to the Knife Edge Trail. IT WAS BEAUTIFUL!! This trail was a highlight of our stay.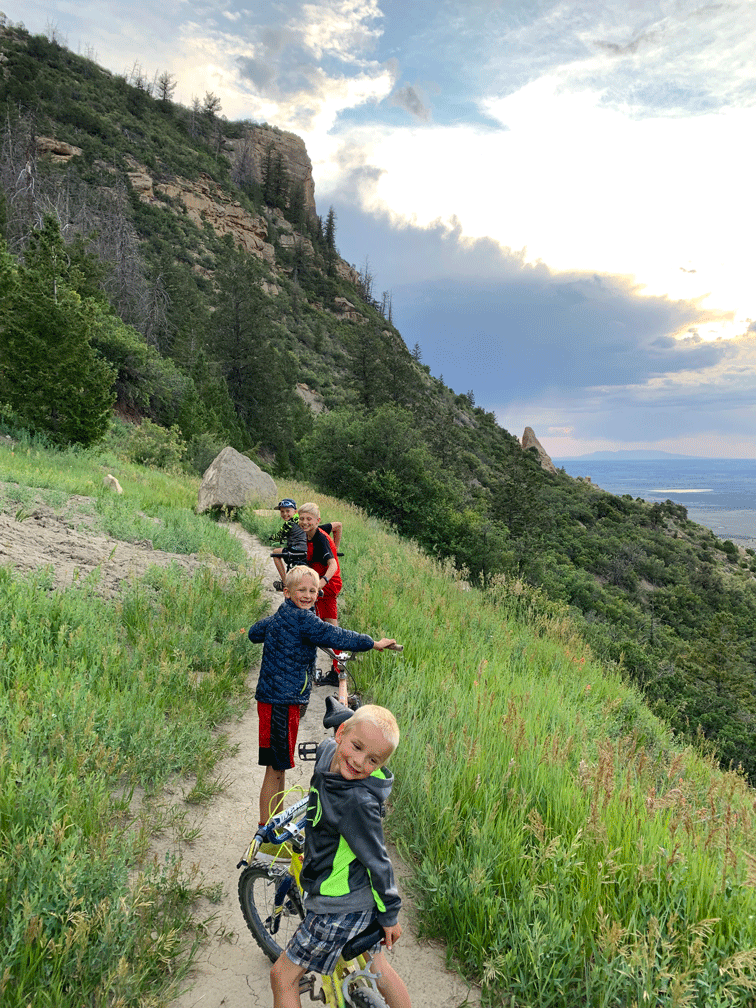 Across the road from the entrance of the park entrance is another campground called Ancient Cedars. This has a pool that was a great break from hiking all day. My boys loved it.
During your visit to the Mesa Verde Cliff Dwellings
When you arrive to Mesa Verde National Park, head to the Visitor Center to purchase your tickets. Tickets are $5 a person and are a first come first serve. We booked one tour for the day we arrived, and another tour the following day. The tour only takes about one hour and isn't very intense. However, since we had 5 boys with ages 12 and under we decided we wanted to do one tour a day with a longer hike.
Along with the cliff dwellings, there is also the Visitor Center and the Museum that has lots of great information about the Ancestral Pueblo People who built the cliff dwellings. There are also various hikes that are fun and beautiful. Our favorite was a 2.4 mile trail to Petroglyph Point. The trail head is by the museum and Spruce Tree House (check out the map above).
If you have to choose between the cliff dwellings, our favorite was Balcony House. You have to climb an extremely tall ladder and crawl through a little hole up in the cliff dwelling.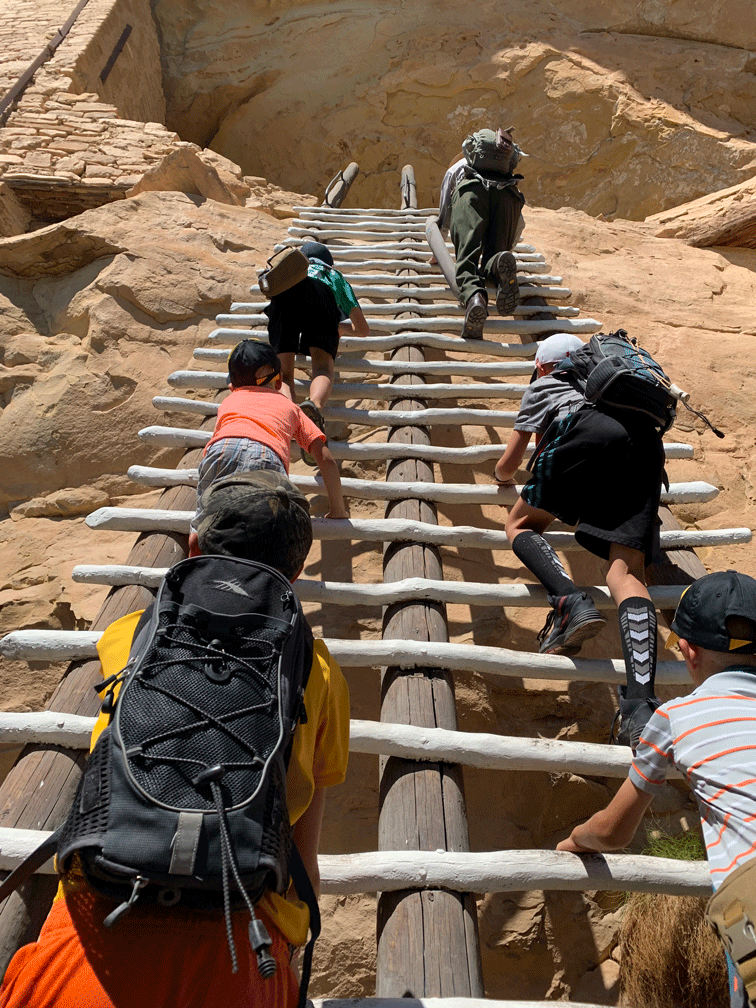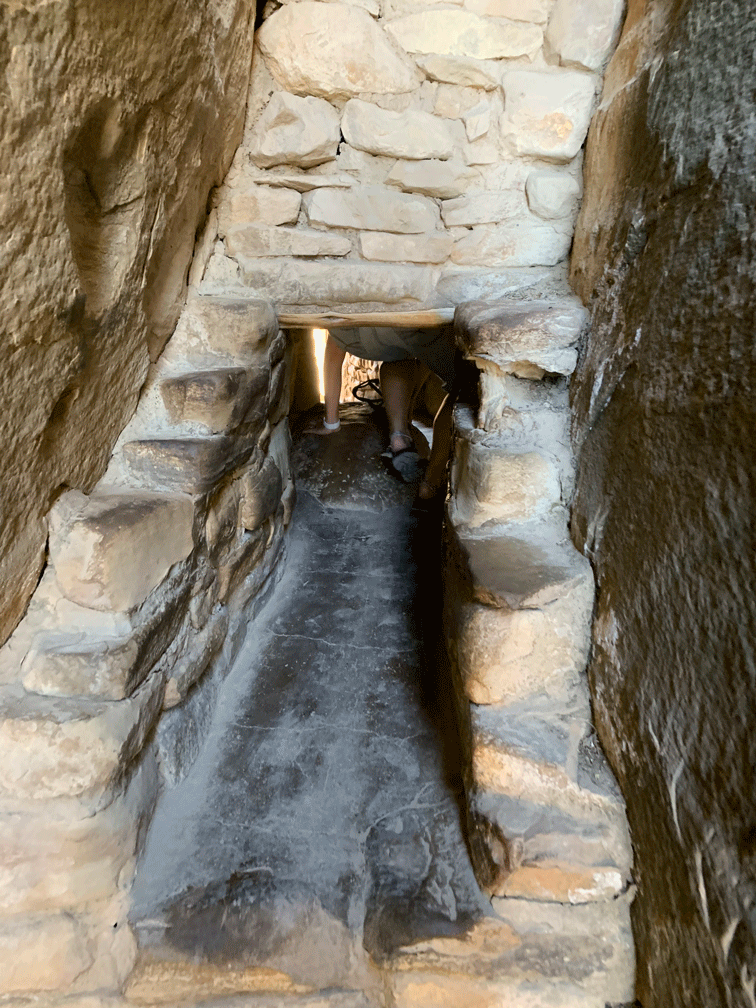 It was a lot of fun and my boys loved it. We had a 5 year old that did great with all of the ladders and climbing.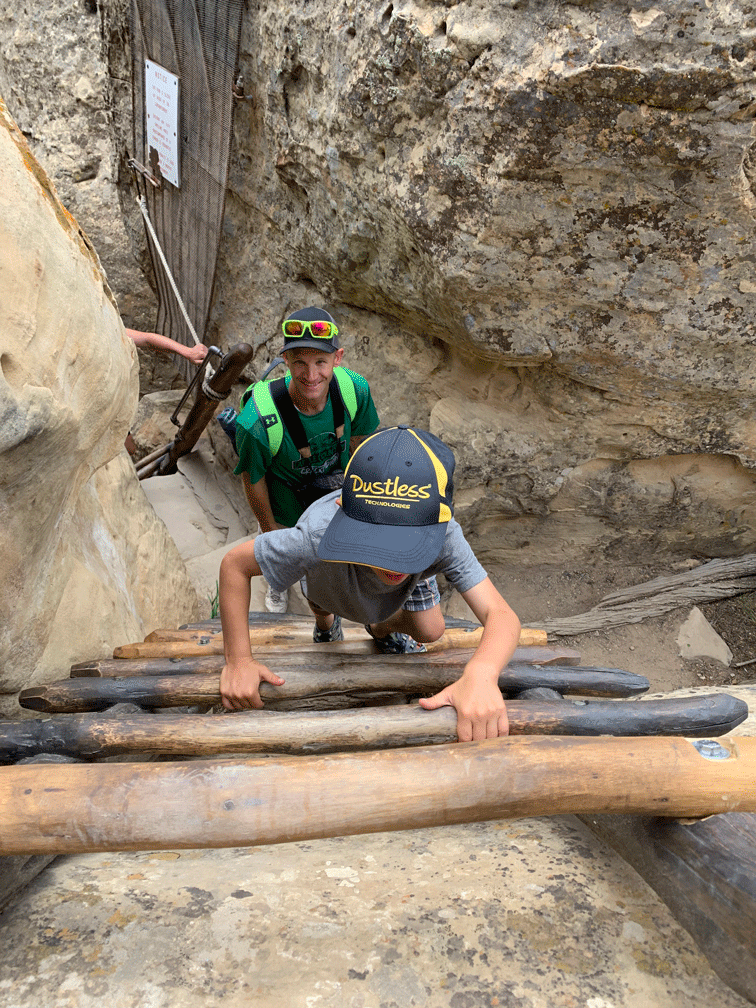 Check the weather before you come because it can get pretty cool at night. Even though it was in the high 80's when we went, the nights dropped to the high 40's. Be prepared for a jacket or something to stay warmer during the evening.
I loved learning about these people and returned home so grateful for air conditioning, running water and food that we can buy at anytime at the grocery store. I was initially slightly envious of the simplicity their life must have brought, however the average person lived to be in their 30's. This tells us that even though it appeared they lived a slow paced life, I'm not sure it was. Growing all of your food and relying on rain to come for a plentiful crop would cause enough worry to take off years of my life.
I hope you have a fantastic trip and enjoy everything that Mesa Verde National Park has to offer!! If you are looking for other fun things to see as a family, be transported even further in time and visit the Dinosaur National Monument. Yellowstone is another fantastic option!!