Is money holding you back from taking a family vacation? Has it been awhile since your family went on a trip together? These tips for traveling on a budget can help you plan a fun vacation without breaking the bank!
I firmly believe that every family should make travel a priority–even if it's exploring your own state. Family memories are more important than material belongings, and studies have shown that family vacations stick heavily in a child's memory. I wanted to share some tips for traveling on a budget, because not all family vacations have to cost thousands of dollars. Don't let money hold you back from planning a family vacation!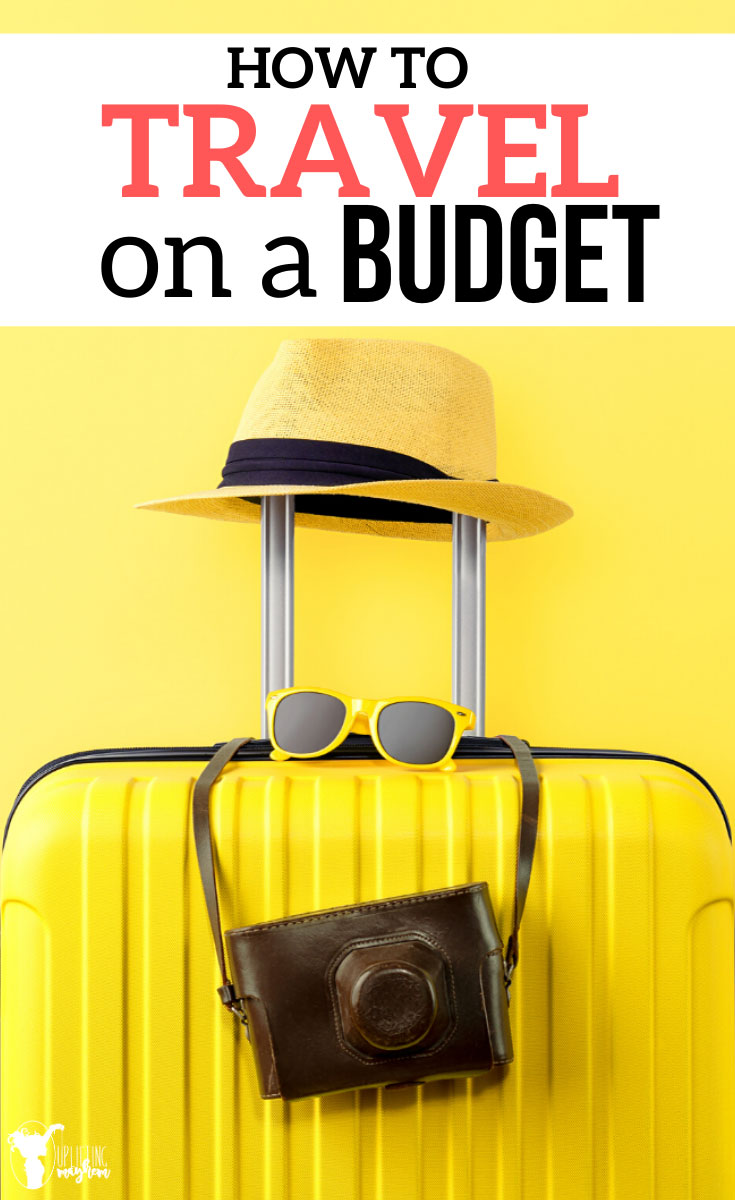 Tips for Traveling on a Budget
#1 – Travel in the Off-Season
One of my first tips for traveling on a budget is to travel in the off-season if possible. You will pay half as much or even more on most of your expenses. You will also have less crowds. We just traveled to Gulf Shores, AL in October and because it was the off-season we paid 1/3 of the price on hotels (and avoided crowds at the same time). The beaches weren't crowded and we never had waits at restaurants. It was awesome, and a much more affordable way to travel.
#2 – Pack your own food
Food is a big part of vacationing, and of course you are going to want to try the local cuisine, but most of the time we are traveling on a budget so we try to stick to ONE out-t0-eat a day. The rest of our meals come from our hotel breakfast and snacks that I have packed.
Some of the snacks that pack easily are: applesauce pouches, fruit leathers, trail mix, popcorn, cereal, apples, and granola bars. Also, here's a favorite hotel hack: Every hotel breakfast we have been to offers bread, peanut butter, and jelly, so oftentimes we will make a sandwich to go for the littles. Making sure your hotel offers a free breakfast will save you quite a bit.
#3 – Travel Hack
This isn't for everyone, travel hacking with credit cards is a huge way to save on traveling. If you already use credit cards anyway, use ones that have good travel perks. We have flown our entire family multiple times on airline points earned from credit cards. Traveling on a budget gets a whole lot easier if you cut out the cost of airfare or hotels.
#4 – Plan a staycation
You may think your own home isn't that exciting, but one thing we have learned from our many travels is that there is so much beauty and adventure EVERYWHERE.
Seriously, everywhere.
If going somewhere far isn't in the cards, then plan some adventures in your hometown and create some memories. Traveling on a budget can be done very easily if you are spending the night back at your own home, or staying with relatives.
#5 – Research free activities
Not only is there beauty and adventure everywhere, but there are also free things to do everywhere. Some of the highlights from our last trip involved lingering at a city park where our kids ran around and rolled down the hills, over and over again.
It was an unplanned stop, but we just let our kids live in the moment and they spent a solid hour or two just running around and exploring. I'm always amazed when we spend money on a trip and then our children's favorite things end up being playing in the sand, throwing rocks, etc.
If you are traveling on a budget, start with a google search: "free things to do in _____." I promise you will find some ideas. Trip Advisor is another great resource for traveling on a budget. There are all kinds of forums for almost any place you can imagine.
I hope these tips for traveling on a budget have given you some motivation to start planning a family trip (or staycation), and to get out and make some memories with your family. Consider setting times on your vacation when "electronics" are set aside and you bask in the time spent together.
REMEMBER, just because it's a vacation doesn't mean everything will go perfectly. Kids will still be kids (aka arguing, fighting or whining). Just enjoy the journey. For fun education games you can play while traveling, check out this post!
What tips do you have for traveling on a budget? We'd love to hear how you save money traveling!