Yellowstone National Park receives more than 3.7 million visitors every single year! Holy moly, that's a lot. As a veteran park-goer myself, I can see why. Yellowstone is an awesome place. But as we all know, vacations can be intimidating with kids. Lots of crowds and driving is not a good combination when it comes to toddlers. So I am here to help you discover some kid-friendly sites in Yellowstone that are a bit off the beaten path and totally fun. Check out this Map of 7 kid-friendly activities in Yellowstone to see where they are located in the park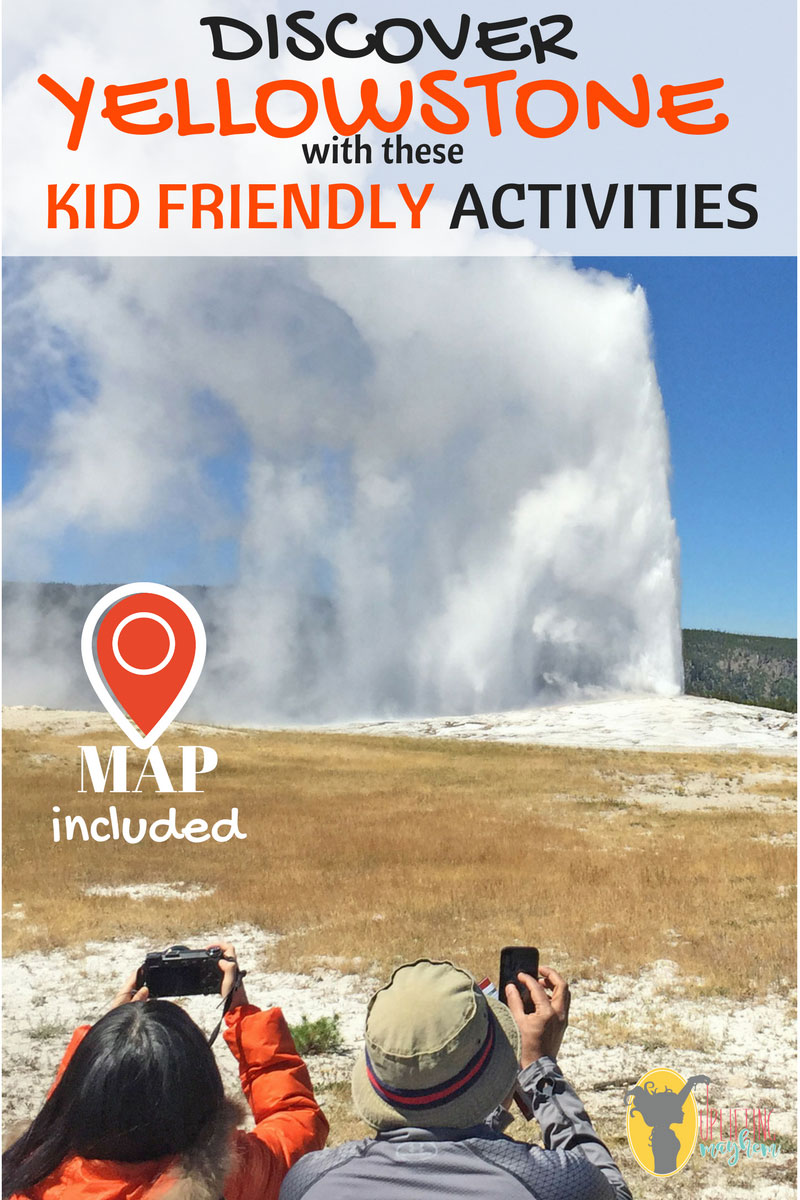 #1 Enjoy the thermal waters of the Boiling River
You are not allowed to swim in the geysers in Yellowstone (nor would you want to). But there is one spot where you can safely enjoy the thermal waters of this magnificent park. Our family calls it the 45th Parallel because the parking lot is located next to this sign just north of Mammoth Hot Springs. But it is officially called the Boiling River. Since the river's temperatures are way too to hot swim in, you can swim in the "pool" where the Boiling River falls in to the much colder Gardiner River.
It's a short 1/2 mile walk from the parking lot and definitely worth it. But this spot isn't listed on the map they give you at the visitor's center, so be sure to ask a park ranger how to find it.
#2 Earn a Junior Ranger patch
For only $3, you can purchase this colorful Junior Ranger workbook at any visitor center in Yellowstone. The activities in the workbook are perfect for ages 4 to 13. Complete the steps outlined in the booklet and any park ranger in the park will give you child a Junior Ranger patch to take home. It's a great way to get to know the fun and interesting facts about the park and get your kids involved as well.
#3 Take a stroll to the Morning Glory Pool
There are many, many, many geysers and boardwalks to explore throughout Yellowstone. However, this short hike (a little over a mile) leads to a beautiful hot pool that resembles a Morning Glory flowering plant. The trail offers several geysers and hot pools along the way as well. The hike is not very long or crowded. My sister-in-law was even able to push her baby in their umbrella stroller the entire way.
#4 Venture down Uncle Tom's Trail
I have to admit that this is one of my most favorite places in Yellowstone. This trail takes you from the top of the Grand Canyon of Yellowstone to the base of the 308-foot high Lower Falls waterfall. You will walk do a staircase that has 328 steps down and 328 steps up. Totally cool. As you can see from the picture below, kids can easily venture down as well. The are many vantage points of the Lower Falls, but this one is definitely the best.
#5 Take a dip in the Firehole River
It's just torture to drive past so many rivers in Yellowstone and not get in any of them! Well, the perfect place is the Firehole River. There's a perfect swimming hole for all ages located along the 2-mile Firehole Canyon Drive. There's facilities for changing into your swim suit and the beach area is large enough for people in your group who don't want to swim. Despite its name, the Firehole River swimming area is not hot or even a little bit warm.
#6 Ride the Yellowstone stagecoach
If you are willing to shell out a little bit of money, the Yellowstone stagecoach ride is super fun. There's room enough for the entire family. They take you on a horse-drawn stage coach on a beaten trail near Roosevelt. The bouncy ride provides opportunity to see wild life up close and get the authentic feel of a western adventure. My kids really loved this. Definitely one of the highlights. Check out this website for other activities including an Old West Dinner Cookout and horseback riding.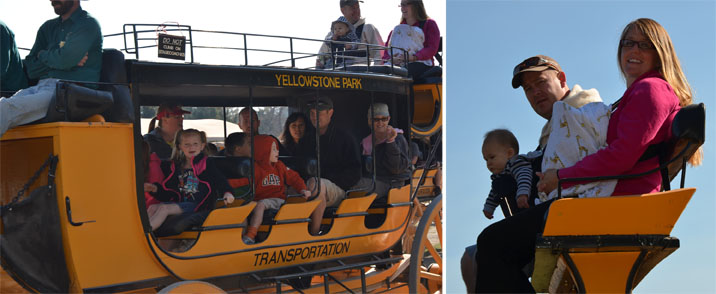 #7 Play at the Yellowstone Lake Beach
This is one place that I never really explored until I was older. Yellowstone Lake is the largest high-elevation lake in North America. It's huge. But, on a hot, sunny day, its beaches are a great place to relax and have fun. With 141 miles of shoreline, there's plenty of places to play. The water's average temperature, however, is about 41 degrees Fahrenheit. So, I recommend playing in the sand.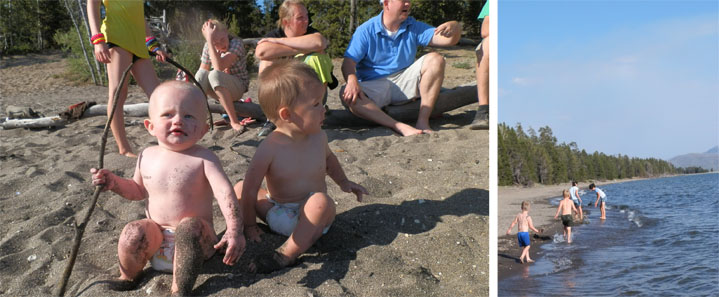 Have you explored any fun and exciting places in Yellowstone? Tell us more in the comments below.