Are you headed to Vegas and looking for fun attractions in Las Vegas for kids?? As I was planning our trip I scanned over blogs and trip advisor but I kept finding information about different entertainment going on up and down the strip. This was the last place I wanted to take my boys even if the show was clean, the walk to the show would most likely not be.
I initially began thinking that we would just go soak up the sun and hike since the weather has been so cold where we are from. We also didn't want to spend a fortune seeing museums and shows all week. With five kids and an adult, it gets expensive fast. I am all about traveling on a budget!
My plan with a week and 5 boys is Las Vegas??……..Not a whole lot! (HA HA)
THEN my awesome friend of mine had me call her sister who lives in Vegas and she gave me all sorts of great information. Let me just tell you YOU ARE WELCOME right now.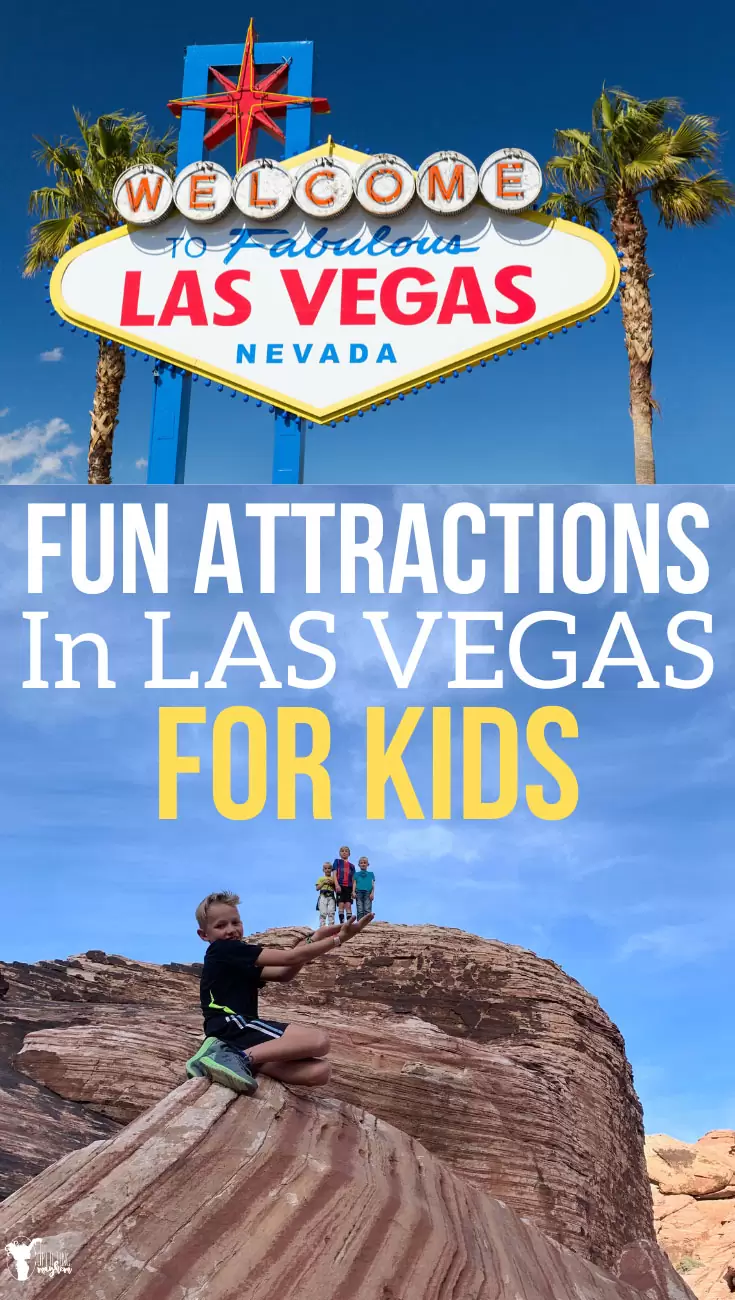 She introduced me to what is called a POGO Pass. It is a pass you can buy that includes one time passes to a variety of museums and activities that are fun and perfect for your kids. Each day was something different and unique that it left my kids saying, "TODAY WAS AWESOME!!" The Pogo Pass is perfect for when you travel to Las Vegas with kids.
You can buy this pogo pass HERE for $39.98 per person by using this link. If you attend 1-4 of these activities you pay it off and all the rest is just extra. Make sure you buy this ticket 1-2 days in advance so it will have time to process. We didn't do this, and we had to wait awhile to get it to activate which was a little frustrating.
There are also other pogo passes for different areas in the US such as San Antonio. You can visit Corpus Christi too which is a fun place!
I have detailed each visit below so you can have an idea of what each one is and any information you may need to know about each of these visits. You can also see more details here from their website.
One visit to Cowabunga Bay Waterpark-
This park is seasonal so it was not open when we went in February. It is open between March through September. If you are visiting when it is open than this one activity alone will pay for your pogo pass. SWEET!!
One visit to Springs Preserve –
This is a huge museum that is very informative on how Las Vegas came to be and how a huge city was settled and continue to thrive in the Mojave Desert. There is an old Boom Town that my kids enjoyed walking through and there is also a fun live action demonstration of what a flash flood would look like. If you stand too close you will get wet.
Two Las Vegas Aviators baseball games –
We did not attend a baseball game during our visit.
One visit to the Discovery Children's Museum –
My boys LOVED this. We were here for hours! My oldest was 13 down to 5 years old and there was something that each of them liked. My boys wanted to keep going back. There are hands on experiences all over to help your child understand how things work.
One visit to BattleBlast Laser Tag-
My boys LOVED this. It is only a 15 minute game, but the setup is really cool and if you want to keep playing it is $5/person for each additional game. This was a great evening activity.
One visit to TPLV Trampoline Park-
We did not make it to this place, although if we had a couple extra days, we would have definitely went. We just filled our time with so many other things and this one didn't fit in our schedule.
One visit to Bouncy World Indoor Bounce Play land-
Again we didn't go here but would have if we had more time.
Six visits to Nevada Climbing Centers for indoor rock climbing –
We went to this and my boys fell in love with rock climbing. The pogo pass only lets you into the doors. You still have to pay for the equipment which is $4 for the harness and $4 for the shoes. This can still get a little pricey, but it was a ton of fun. We spent a good 3 hours here. My 5 year old could go up and down the wall by himself with the rope system they had. It was great.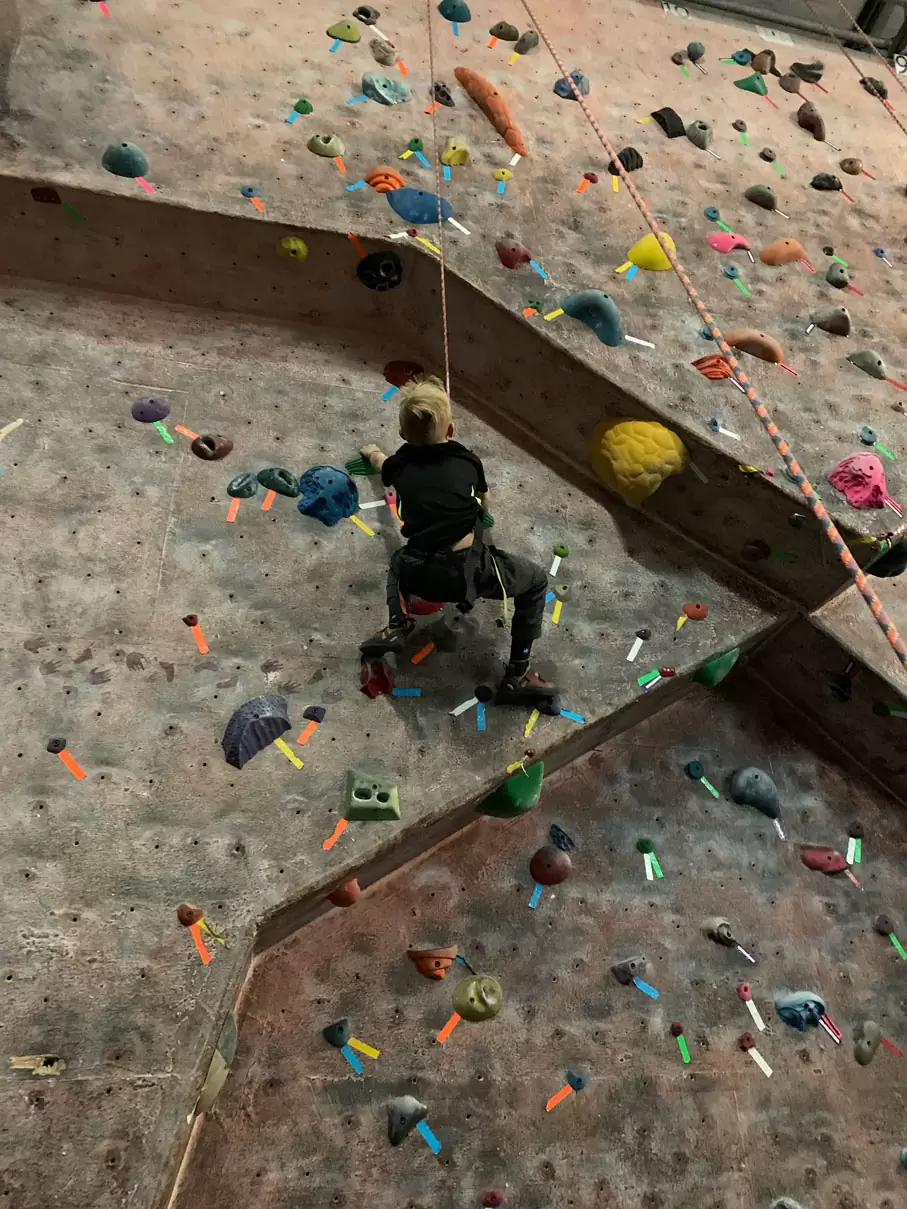 Two visits to Las Vegas Mini Gran Prix (Each visit good for 2 ride tickets)-
This was a RIOT! If you have young kids this is a bonus because they can't ride by themselves on the big carts. We had such a fun time racing each other, it was loads of fun. My younger boys also got to ride some smaller go carts that aren't as fast and the track is smaller. It was pretty fun.
Three visits to GameWorks for Bowling and Games-
We didn't do any bowling, but it would have been fun if we had time.
One visit per month to The Orleans Bowling Center
We didn't do any bowling, but it would have been fun if we had time.
One visit per month to Sam's Town Bowling Center
Did you notice all of these are one visit per month?? I believe you still have to pay for the shoes though.
One visit per month to Gold Coast Bowling Center
More bowling!!
One visit per month to Suncoast Bowling Center
One visit to Kids Tyme –
This is a child care place where you can drop your kids off for 5 hours or so. Check it out if this interests you. I didn't check into it a lot, but since you are in Las Vegas with kids, you could drop them off and go on a date!
One show to the Dome at Container Park –
We tried to go to this show but it only shows on the weekends, so be aware of that.
One visit to SeaQuest Aquarium –
This was another favorite. This place is a hands on aquarium. You walk in and you see a sign on a cage that says, "Come in and feed me". We were a little unsure as we stared at the iguanas on the other side of the door, but we bought some tokens for food and began feeding them. It was so much fun!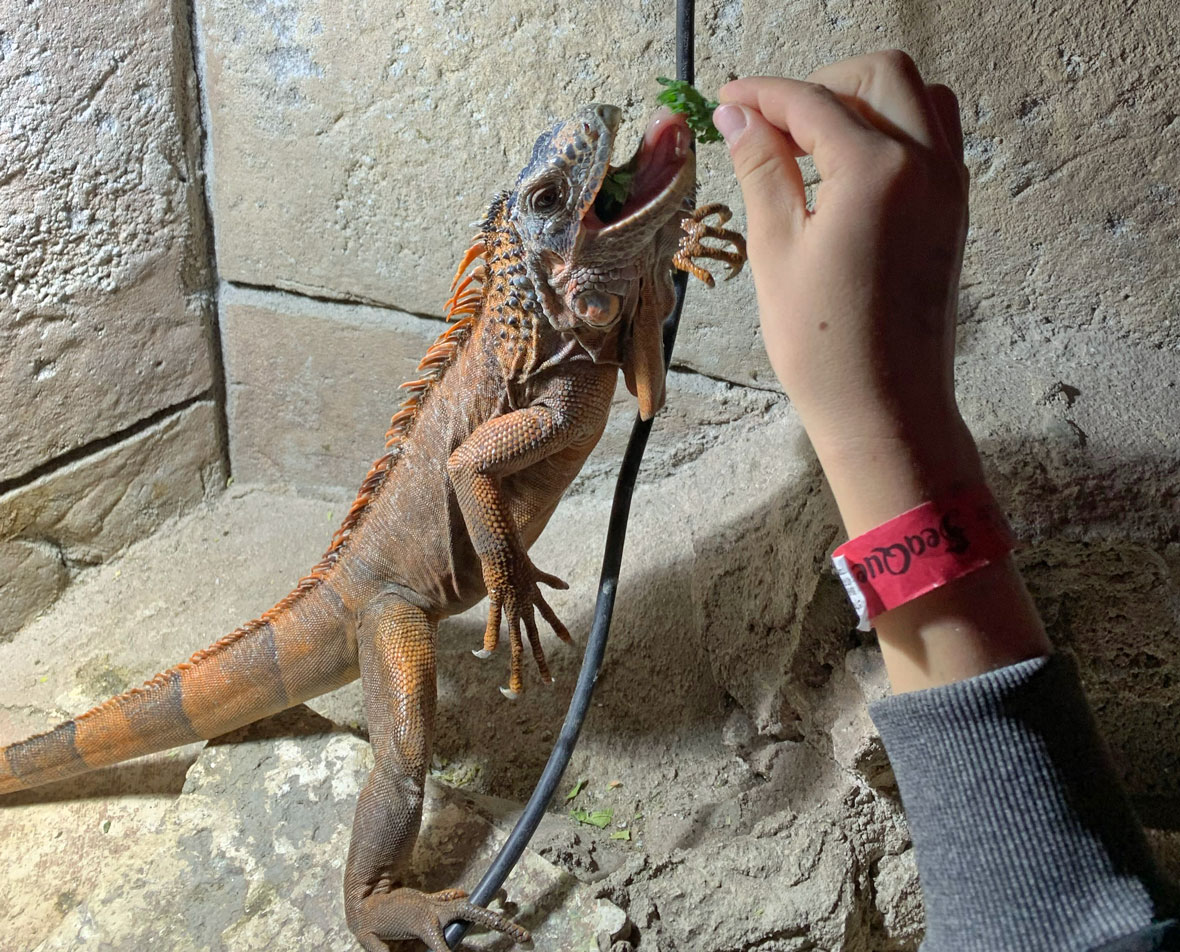 You do have to pay for the tokens which I believe was $10 for 6 tokens. We would buy one package of food per animal and split the food up among the boys. It worked out great. There are a lot of animals and fish you can feed through this aquarium. You may want to get more tokens.
We fed the sting rays, which was really really fun. They come right up to you and some almost jump out of the tank. My boys enjoyed feeding the sharks and Moray Eels, especially since we just studied them recently.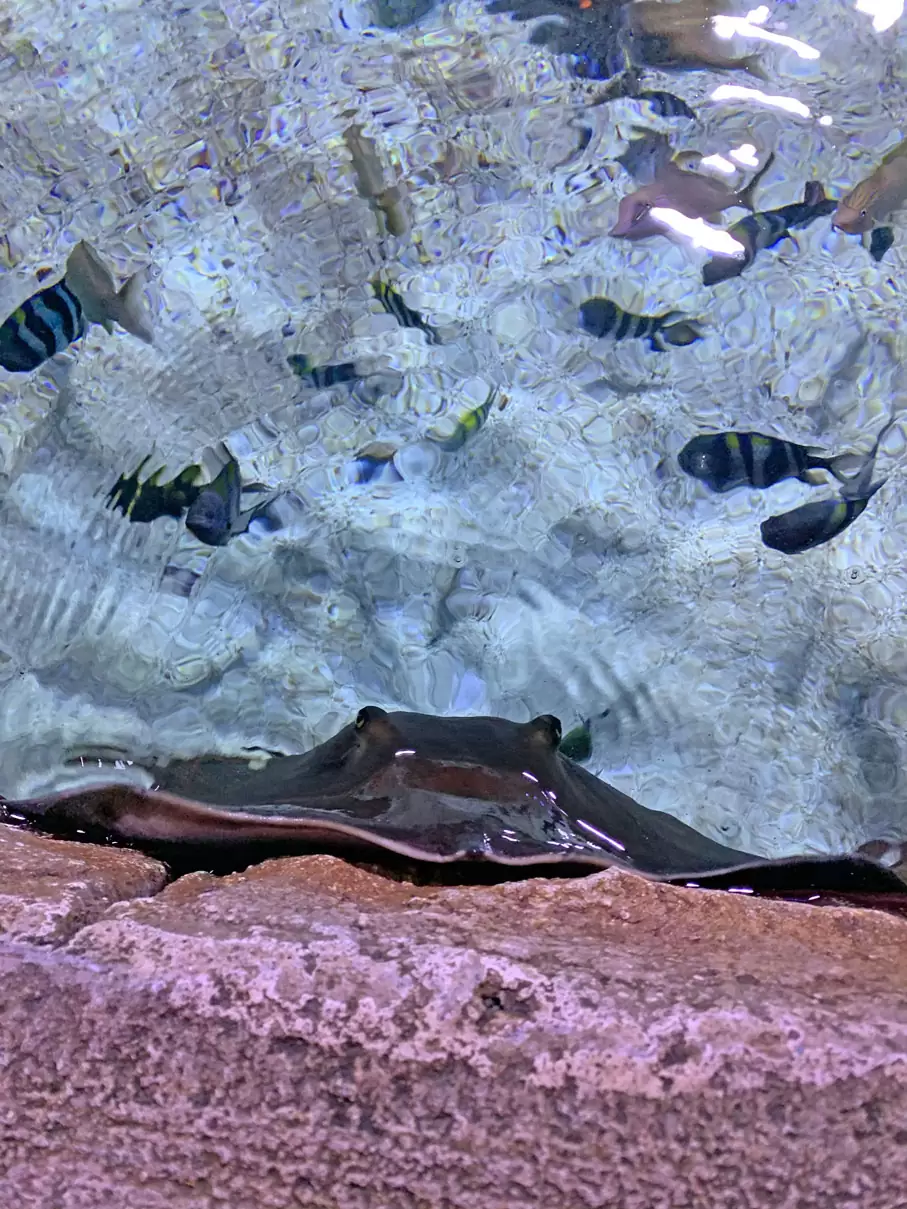 One visit to UpTown Jungle Fun Park –
This was another one we didn't do because of lack of time, but would have been fun for the boys.
One visit to the Lion Habitat –
Another favorite place right here!! You get up close and personal with lions, that roar, move around and eat. There are scheduled feedings that a lion trainer does that is fascinating. They also have a giraffe that paints pictures for you that was fun to watch. We learned so much about lions here and loved it. They are massive animals.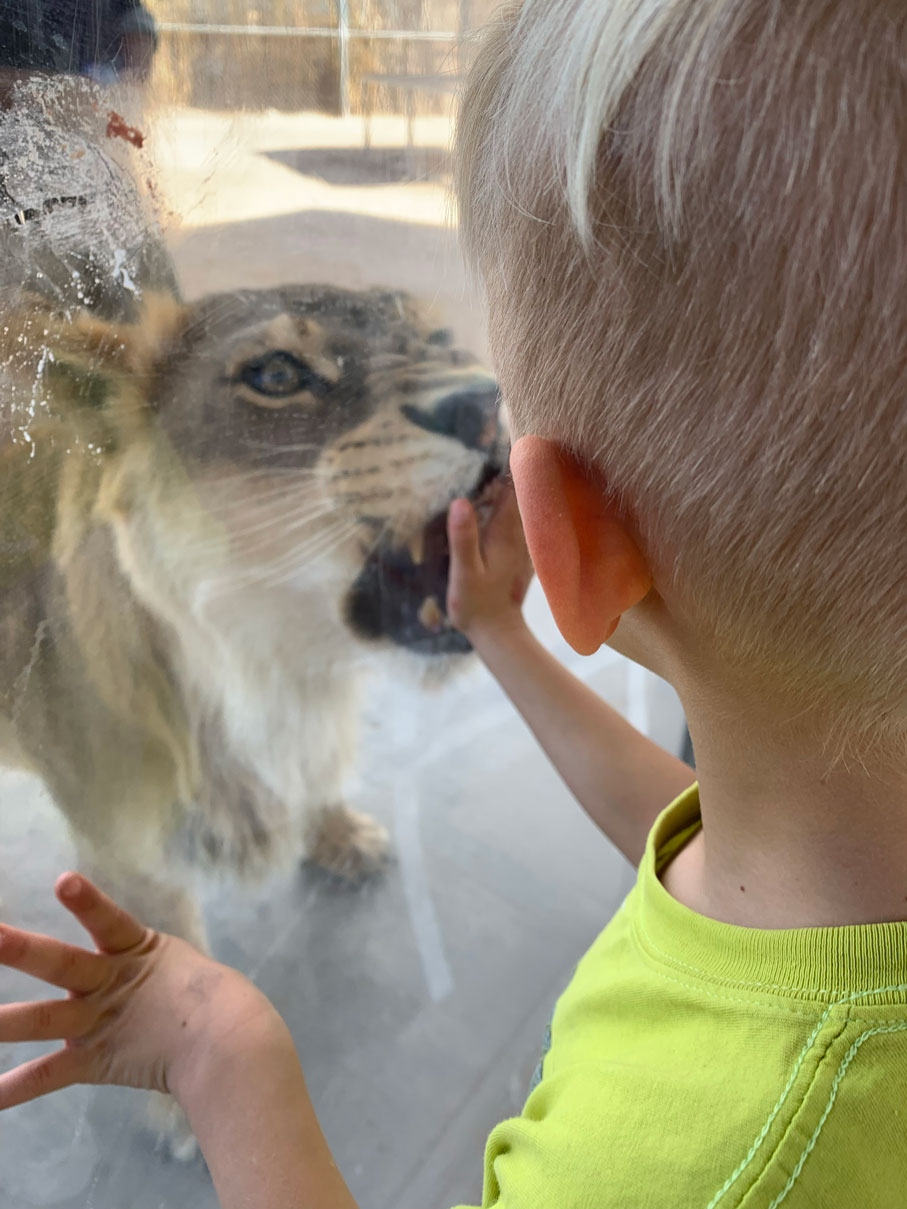 Hiking in Las Vegas
We also went on a couple hikes while we were there that we really enjoyed. I loved the variety of activities we did. It made traveling to Las Vegas with kids fun and exciting.
Arizona Hot Springs
The first day we hiked to Arizona Hot Springs. It is about 6 miles round trip, and we had a great time! My boys were exhausted by the time we got back and my youngest was pretty done by the time we had about a mile left, but we did it and would definitely do it again.
If you put in Arizona Hot Springs trailhead in Google Maps, it will lead you to the turn off on the highway. Coming from Vegas you will make a left onto a dirt road that will lead you to a parking lot. The trail starts by going under the highway. There are three hot spring pools at the end of the hike and a beautiful waterfall with a ladder that you can climb up and down.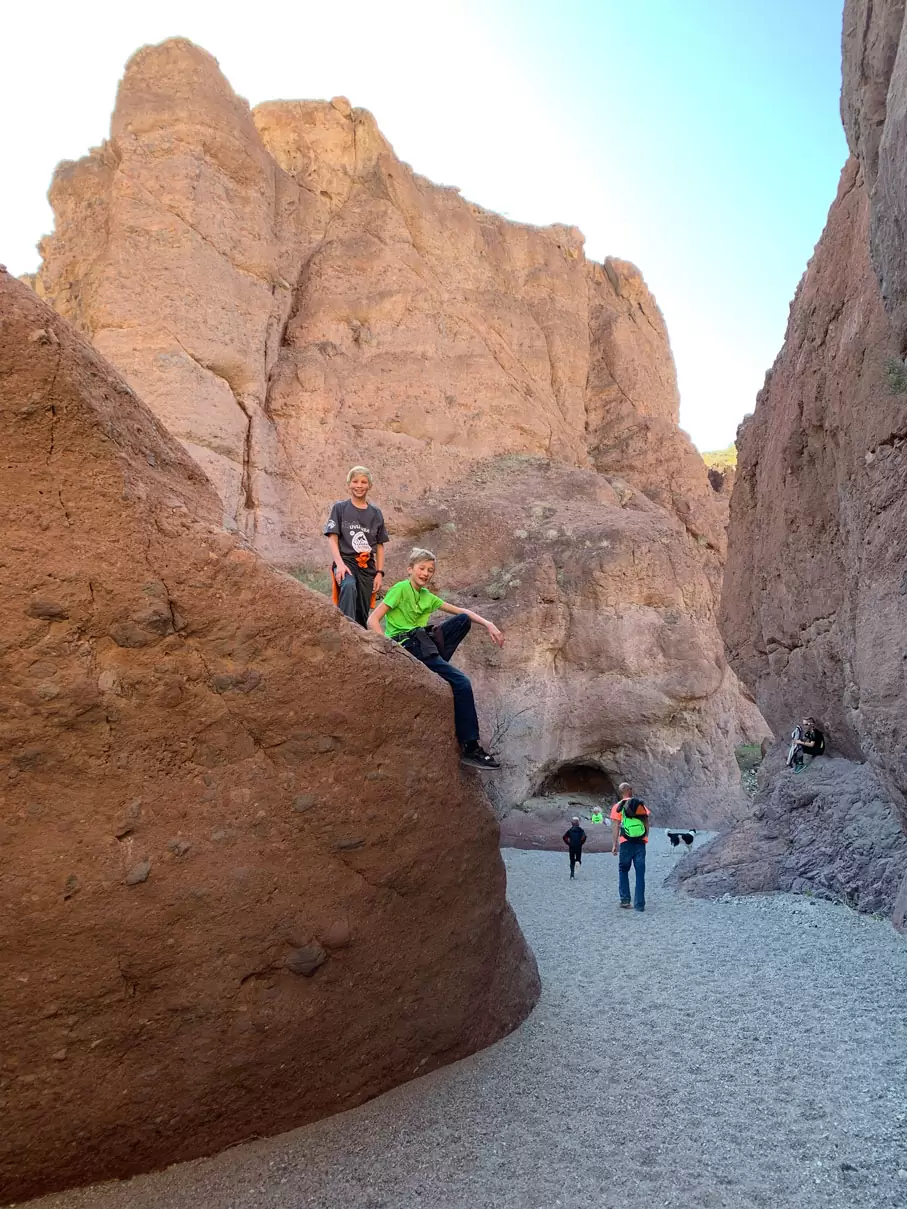 They say just don't put your head in the water as there is some kind of bug that may or may not get you sick. I just told my boys to not put their head under the water. The water felt wonderful, and the hike was beautiful as we hiked through narrow slots to get there. If you like hiking, this is a definite must!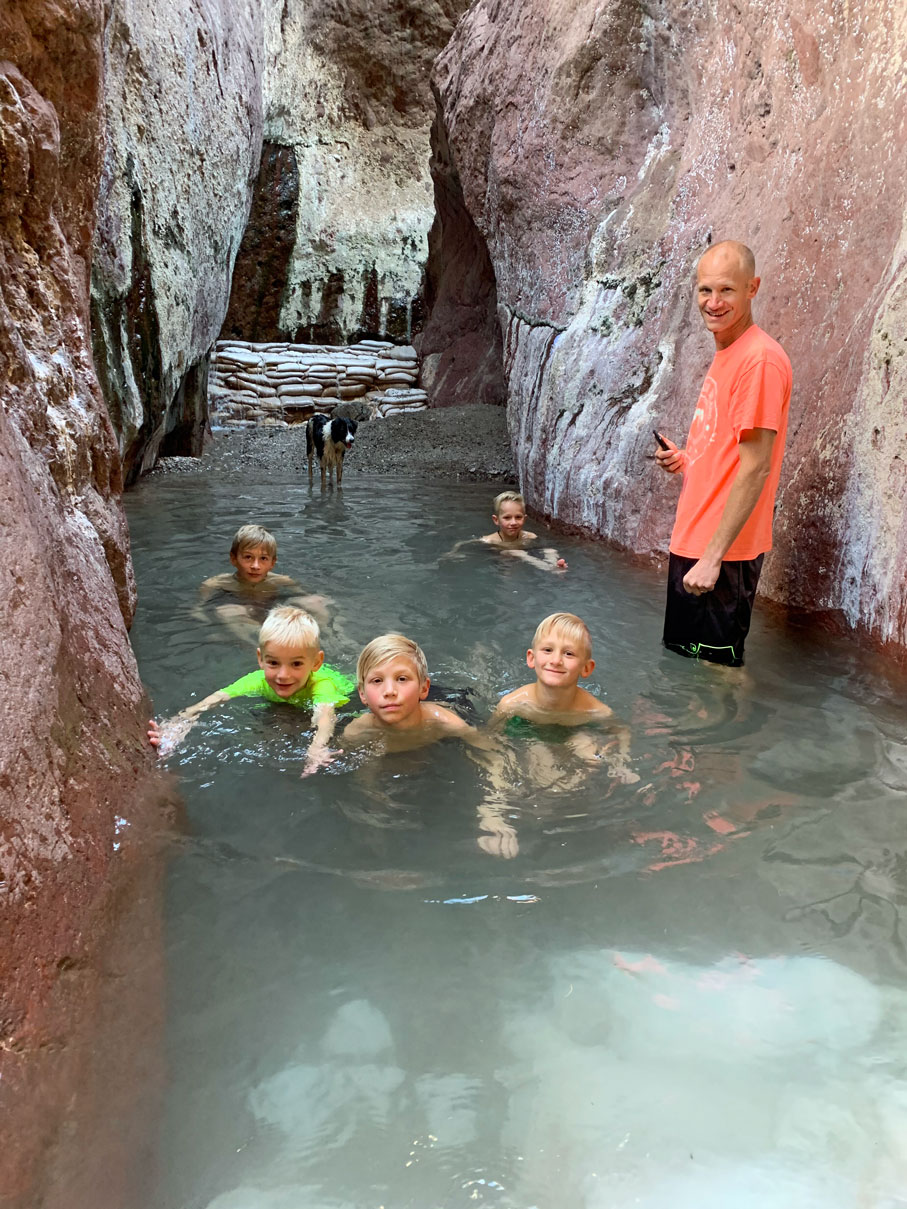 Calico Basin at Red Rock
Red Rock is a State Park and has lots of hikes you can do. We were only able to do one hike here since we didn't have a lot of time, but we would have loved to do more. We turned right onto Calico Basin before you enter the Red Rock State Park, so you don't have to pay and entrance fee. Drive all the way down to the end of the road until you can't go anymore (on Google maps it says Calico parking).
Park in the dirt parking lot on the left and you will find trail heads to a couple of different hikes. We loved them. The rock is unique and fun to climb on. We took the hike that goes to the right. Straight ahead out of the parking lot there is a hike called Girls Scout that someone told us is a pretty easy hike. The hike we went on hikes right up the mountain.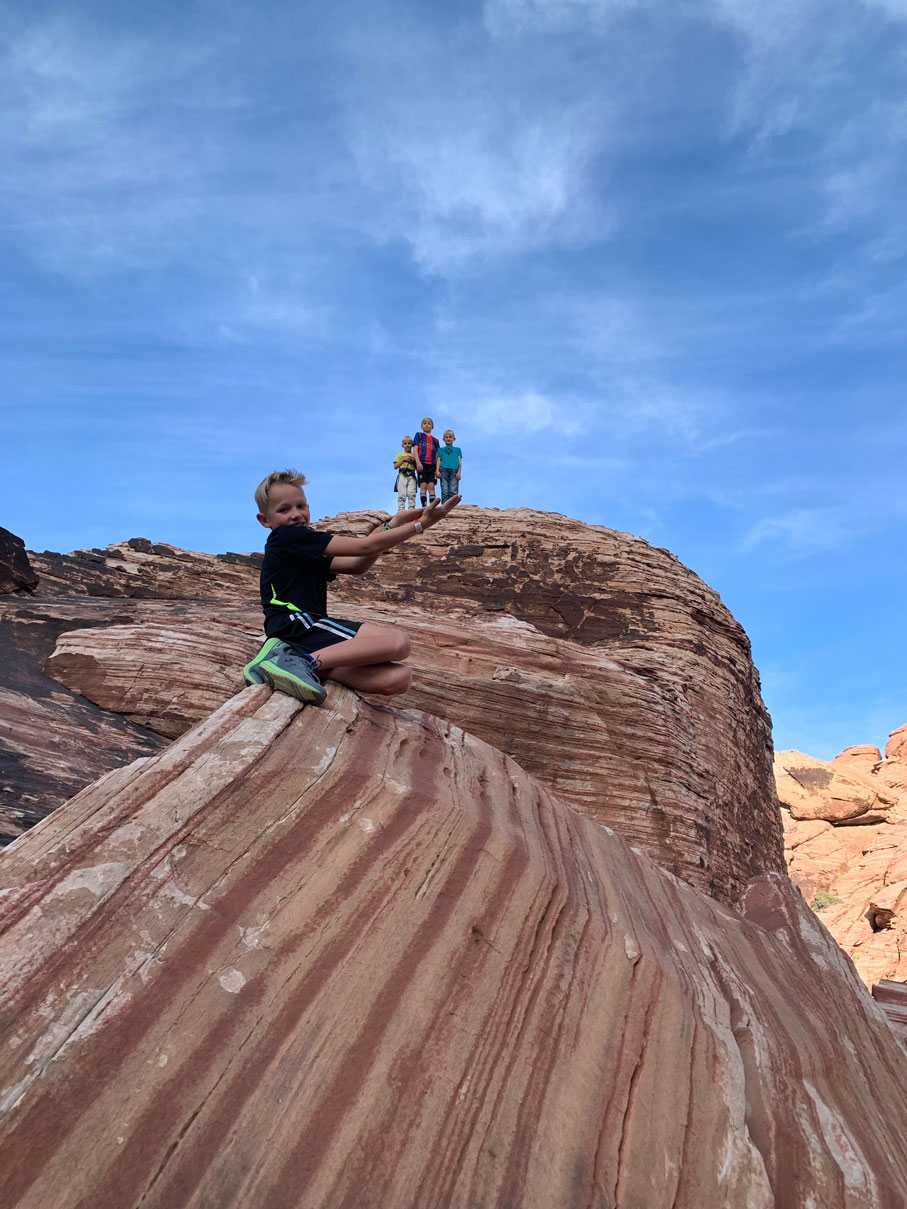 On the top we met some rock climbers who were rock climbing. It was a lot of fun to watch them climb.
Other Activities
Yes there are lots of shows on the strip that are family friendly, but we did not go to any so I am of no help in that arena. We kept ourselves busy though and had a blast! As you can see, Las Vegas for kids is not only possible, but can be a lot of fun!!
Another place we attended was The Las Vegas Temple of The Church Of Jesus Christ Of Latter Day Saints which was so great and peaceful! We loved it. Here is why we believe temples are so important for families.
We also visited Ethel's Chocolate Factory which was free until you just have to buy some of the delicious chocolate at the end!!
I hope you found some activities that would be fun for you and your family when you travel to Las Vegas with kids!! Do you know of any other fun activities in Vegas that you would add?
If you ever get to the 4-corners area by Colorado and New Mexico, you NEED to visit Mesa Verde! It was incredible!