A few years ago, I had an aunt die suddenly and I had to go out of town for a week to attend the funeral. It just happened to be the week of Valentine's Day and I felt bad I wouldn't be there to have fun with my family. I wanted my family to still feel loved even though I was in another state. I came up with a brilliant plan! I bought a bunch of fun treats and fun cards to go with each of them and then labeled them by number for each day I would be gone. I then stuffed everything into a big sack and took it to my neighbors house. I asked them if they could secretly deliver one thing (treats+cards) each day I was gone. I made sure to include a cute note and treat for my husband each day too. The result was better than I expected. My husband said my kids got so excited every day when their 'secret person' delivered their fun valentines!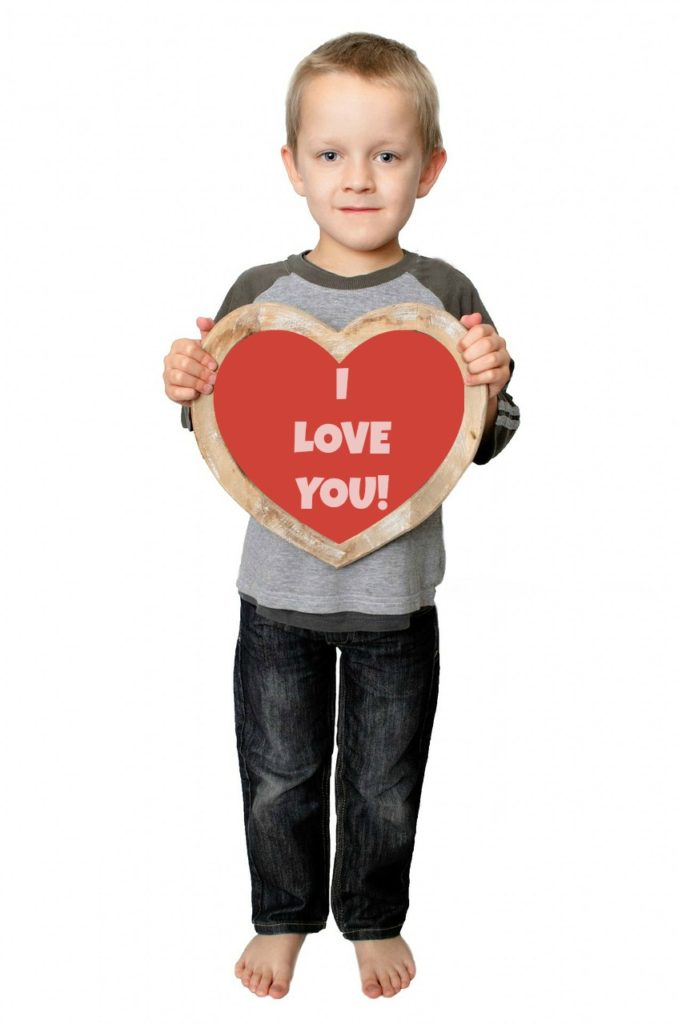 I was thinking about that today and it got me really excited for this post! What if we did fun things like this for our family all year long instead of just Valentine's Day? After all, who needs a holiday to show love, especially to our families! I went a little crazy and started looking for as many ideas as I could for fun ways to show love to your family! I tried to find ideas for kids, teens, and spouses as some things just work better for different ages. I hope you find some fun ideas for your own family and that you use them ALL YEAR LONG!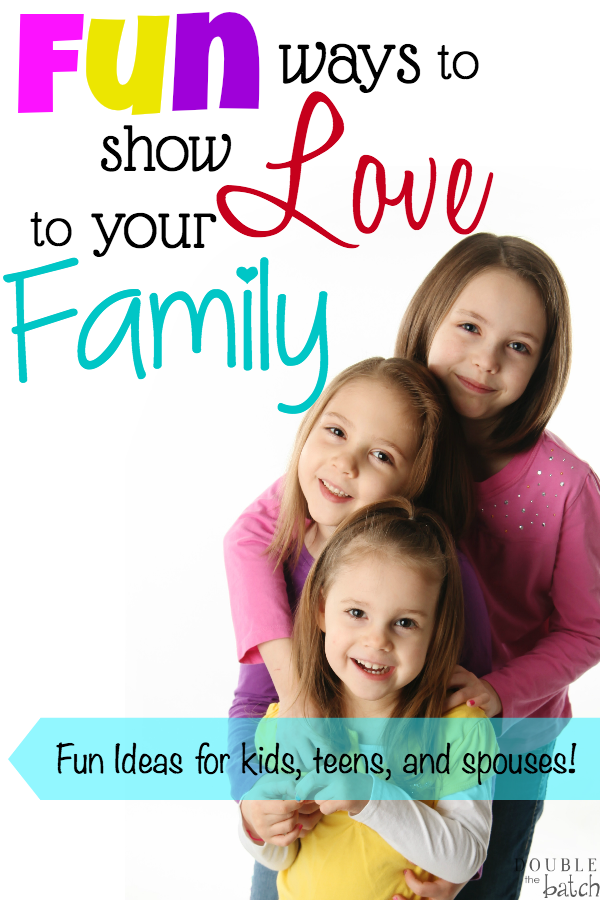 KIDS
Kids love just about ANYTHING that you do to give them attention as long as it's positive. It's 10 times better if it's fun too!! It doesn't have to take a lot of preparation either. Sometimes the last minute ideas are the best! Here are some ideas my kids have loved in the past:
Read their favorite books with them! If they are old enough, let them read their favorite pages to you!
Play a board game and actually focus on having fun! (that means put the phone away and engage!) My kids are old enough to tell when I'm really playing with them now. No more multi-tasking for me!
Make mailboxes with your kids out of leftover cereal boxes. Let them go crazy decorating them and then give them fun paper, stickers, markers, glue, tape, etc to make letters and then secretly deliver them to each other all month!
Buy some balloons (wal-mart has bags for $1) and write little notes with all of the reasons you love your child. Put the notes in the balloons and scatter them on your child's floor to find when they come home from school.
Be Completely Goofy! My kids feel loved when I put aside my stress and just get goofy with them! If you can't beat 'em, join 'em, right? I found the cutest ideas for goofy games! You can find them here at 101homeschoolideas.com.
Have an "OOF" Day! My friend, Mindy, gave me this idea and my kids love it! On an OOF day, no one has to do chores. We all hang out in our PJ's, play games, watch movies, eat high calorie snack food, and just enjoy each other!
Bake something and actually let them HELP you. Yep! even if it requires toddlers on counters sticking their fingers in the ingredients, flour on the floor, and licking bowls and spoons. Just do it! Here are some great ideas for baking with kids!
Take time to ask them about their day. You could say, "What was the best part of your day?" and "What was the worst part of your day?" Those 2 questions alone can turn into a 20 minute conversation! 🙂
Make your kids "Joy in a Jar." Actually you could use a bag, box, or whatever you have. The point is to fill it with things that you know your child loves. This is especially great when they are sick or just having a rough week! Mother's Niche even has some free printable gift tags you could use!
DANCE PARTY!
For even more great ideas for showing love to your kids, go here.
TWEENS and TEENS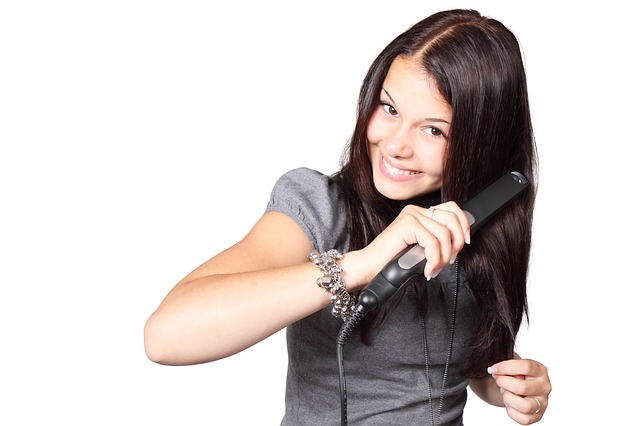 Showing love can sometimes require a little different approach for this age group as they are suddenly concerned with looking 'cool.' As you may well know, being a 'cool' parent is NOT an easy task, but you don't have to be COOL to show them you love them (unless you're doing it in public 😎 )
Go out to eat! What teenager doesn't love to eat out? To make it fun, you could even buy them a gift card to their favorite restaurant and put it in a card with a cute note telling them the time of your 'night out.' Use that time alone with them to catch up on their life.
Games. You don't have to play candyland anymore with this age group! (Hallelujah!) Break out the strategic games! My daughter loves it when her dad takes the time to play Ticket to Ride or Pandemic or Settlers with her…and she's only 10!
Text them…often! Just let them know you're thinking about them and care about their lives. Teens love to watch funny video clips. Find some good clean ones that will make them laugh and send them to them. (this is obviously for kids old enough to own phones. We're not there yet at our house, thank goodness)
Work along side them. The great thing about teenagers is that they can handle more responsibility. This is a great time to build relationships and talk. They will also think it's pretty cool that you took time out of your day to help them. Surprise them one day!
Joy in a jar also works great with this age group. Just fill it up with different stuff! Gel pens, fingernail polish, gift cards, candy, movie tickets, basketball cards, or whatever will make their day! (can you tell I love this idea?)
Just hug 'em! They need it!!
Show love to their friends. Friends are a BIG deal at this age. If they feel like you care about their friends, they will be more likely to be friends with YOU. If you don't like their friends, invite them over more. Not only will you get to know them better, you'll be able to keep a close eye on what they are doing.
For more ideas on how to connect with your teenager, here is a GREAT post!
SPOUSE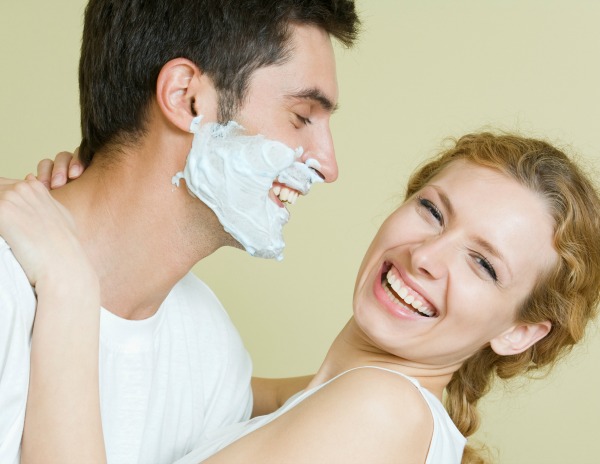 This is where it gets really fun! 😉 If you've been married long enough to have kids, you've been married long enough to know how to love each other, right? I know, only in a perfect world, right? Parenting can be draining and sometimes it feels like there is nothing left to give your husband (or wife) at the end of the day. Show your kids that you love your spouse too! I've even got some fun ideas to help you out!
Assume that they DON'T already know you love them and tell them…frequently! Here are 100 different ways just in case you're feeling tongue tied.
Leave special treats. My husband LOVES it when I buy him treats. You could even add a cute & corny note (which they will LOVE.) The Dating Divas have some REALLY cute ideas! You can find them here.
GO.ON.DATES. Whatever it takes…Just DO IT!
Put the kids to bed early. If your husband likes to watch movies like mine does, and you can't afford a babysitter, put the kids to bed a little early (or stay up a little later) and snuggle with your man while you watch a movie you both like.( Throw in some snacks and you've even got yourself an official date!) I love this date night in a box idea by The Dating Divas!
Make them breakfast in bed. I LOVED breakfast in bed as a kid. It always made me feel special. I'm 37 and I still feel just as special when my husband makes me a meal. (He just brought me dinner while I was blogging tonight and I feel like a queen! (Thanks babe! You make the best bean dip on the planet!)
Heart attack their car! I know it sounds immature but sometimes you gotta pretend like your twenty-two! Write sweet nothings and stick them ALL OVER their car! Even

better,

do it while their car is parked at work so all their co-workers can envy how much they are loved. 🙂
Surprise them! Out of ideas? My sister Karine has some GREAT ONES! Check them out here!
For more ideas on how to show love to your husband, read this post. The same ideas apply to wives too. 🙂
What are YOUR favorite ways to show your family LOVE?