If you've never had the opportunity to try a soft, gooey, chocolate mint brownie, you haven't LIVED! When I lived in Utah, I always made it a point to buy one of these if I was ever on BYU campus. They were my favorite treat and it's really hard  to just eat one. Well, I don't live in Utah anymore, so I have had to recreate these luscious bars at home. The good news….I still get to enjoy one of my favorite treats. The bad news…when you make chocolate mint brownies at home, there's a whole lot more to enjoy! 
You might want to find someone to share with!
If you are in a rush, you can use store-bought brownies or make some from a mix. These will still taste amazing with just the frosting.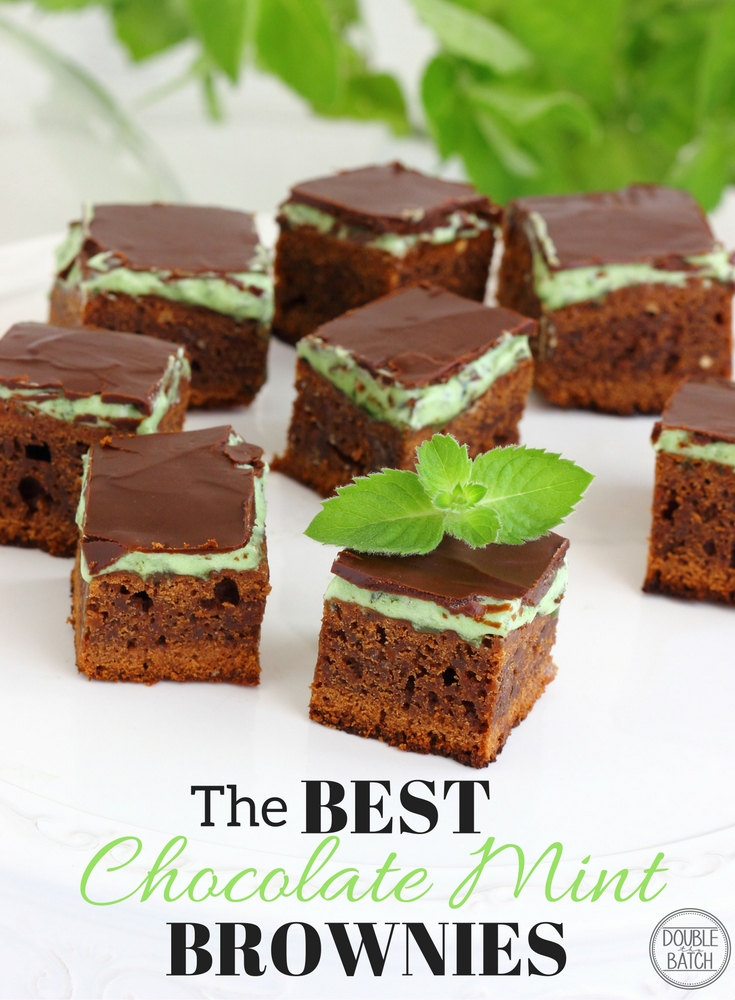 The Best Chocolate Mint Brownies
Ingredients
Brownies:
1¼ Cup Butter
2⅔ Cup Sugar
6 Eggs
⅓ Cup Cocoa
1 tsp Salt
1 tsp Vanilla
2 Cups Flour
Mint Frosting:
3¾ Cup Pwd. Sugar
¾ Cup Butter
⅓ Cup Evaporated Milk
¾ tsp. Mint Flavoring
Green Food Coloring
Chocolate Frosting:
½ Cup Cocoa
¾ Cup Butter
¾ tsp. Vanilla
3 Cups Pwd. Sugar
⅓ Cup Evaporated Milk
Instructions
Brownies:
Cream the butter and sugar together in a mixing bowl. Add eggs and vanilla and mix well. Add flour and cocoa then mix again. Bake in a greased 12x18 inch cookie sheet @350 for 20-30 minutes. Cool. Frost with mint frosting first.
After frosting brownies with mint frosting, let frosting set up hard before frosting with chocolate frosting. Put in fridge for an hour.
Chocolate frosting:
Melt cocoa and butter together, then add remaining ingredients and mix until smooth.
Frost with chocolate frosting carefully.
ENJOY!!