This post may contain affiliate links. Read my disclosure policy here.
My least favorite time of the day is around 4:00 pm. It's usually around the time I start thinking about dinner. Actually, let me rephrase that. I think about what to make for dinner ALL DAY! I don't do anything about it until 4:00 pm, sometimes later. Figuring out what to make for dinner is a daily obstacle. Having the right ingredients for what you choose is yet another obstacle!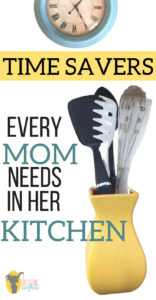 I am all about quick and easy dinners. Anything that I can do in advance, to help save my sanity later, is a must! I love it when my husband says, "WOW, you made this fast, and it is delicious!" I have learned many different tricks to make dinners a little less stressful. They save me so many times! Here they are in no particular order.
Cook and prepare your meat ahead of time.
This is a big time saver! I have become a HUGE fan of bottling chicken! Seriously, this stuff is amazing! I buy fresh chicken in bulk, usually a 40 lb box, and bottle most of the box. It is so simple and there are many blogs out there telling you how to do this. (Like this one). When my husband first saw the bottled chicken on the counter, he wasn't sure what to think. He wasn't sold until he tasted it. It is so tender and shreds so easy. When you bottle the chicken you don't add any water, so the liquid in the bottle is pure chicken broth! Perfect for soups, sauces, tacos, and even sandwiches.
If you don't want to bottle chicken, I also freeze chicken that has been cooked, cut and cubed! This serves the same purpose and works great! Before I bottled chicken, I did this all of the time. I cooked up a lot of chicken, cut it in cubes and put them in freezer bags. I don't do this as much anymore because it takes up room in my freezer. It is still a great option.
Another way to prepare your meat is to buy hamburger in bulk and cook it all up. Measure the hamburger in quart or gallon bags depending on how much you use for dinner, and then freeze it. I use a quart bag and put in just under 2 cups. Whenever you make tacos, sloppy jos, soup, spaghetti, all you have to do is grab a bag of cooked hamburger and warm it up! SAVES A BUNCH OF TIME!
SERIOUSLY people!! It is also on sale HERE. I got mine for $100.00, so this is a great price! This bad boy saves me so much time! I can turn frozen chicken breasts into pull apart deliciousness in 12-15 minutes. Frozen roast cooks in an hour, and you have a delicious meal ready in a short time! I use this to cook chicken in bulk to freeze, as I mentioned above. There are different settings you can use such as, saute and simmer. I make A LOT of soups. I saute some onions and make the base. The rest of the ingredients are added and then the settings are changed to simmer. After it's all cooked I turn it to warm and it can sit on my counter until dinner time.  When I know I will have a busy evening, I will make a sauce or soup and just keep it warm, ready to eat at a drop of a hat!
I have a crazy good recipe that I received from a friend that calls for RAW NORTHERN BEANS! It is a white bean chicken soup and it is ready in 70 minutes! DID I MENTION THAT IT HAS RAW BEANS IN IT?? It is delicious and takes about 10 minutes of your time to put together!
If you do not have one of these you need to get one! They are fairly cheap, and are so great! You can make rice in 30 minutes and stays warm. You can steam veggies that are amazing! My rice cooker also has a delay timer on it. When I am out running kids to various activities, I turn the delay timer on and our rice is warm and ready when we get home! The rice is perfect every time! I don't know what I did before getting this!
My family went to my parents house for dinner one night. My mother had made a new recipe that contained PERFECTLY TINY CHOPPED VEGGIES IN IT! I laughed and said, "Wowsers! This must have taken forever!" She laughed and pulled this chopper out! Seriously so amazing! It cuts all kinds of things from fruit, vegetables, and potatoes! It comes with different sizes too! Just cutting a tomato is so fast and easy and worth every penny! CHECK IT OUT . Yes it cuts efficient and fast, but cleaning the lid on this can be a little tricky! I still use it though.
The last time saver I will mention here is this EZ Rol GARLIC PEELER
If you cook with garlic a lot, this is a great time saver. It is so fast and simple. Instead of peeling garlic with your fingers and getting garlic under your fingernails, you place garlic cloves in this roller and roll it back and forth a couple times. This will peel the garlic for you! Really cool!
What time savers do you use? I would love to hear about them!  [contact-form][contact-field label='Name' type='name' required='1'/][contact-field label='Email' type='email' required='1'/][contact-field label='Comment' type='textarea' required='1'/][/contact-form]