Who wouldn't love a waffle for breakfast, lunch and dinner?? Sometimes Pinterest can inspire even the worst cooks. I don't consider myself to be amazing when it comes to culinary arts. In fact, the reason why I browse Pinterest is for EASY recipes that taste AMAZING. I was absolutely inspired when I came across WAFFLE recipes. We're not just talkin' breakfast here folks! I was floored at just how many meals you can actually use a waffle iron for. I mean, who needs an oven??
Evidently, the waffle iron can do things I never thought possible! If you don't have a waffle iron, I guarantee you might be adding one to your cart after browsing through these amazing recipes.
For a Round Belgium Waffle Maker check this one out
For a Square Belgium Waffle Maker check this one out
This is just the cream of the crop too! If these recipes inspire you like they did me, just search waffle recipes on Pinterest and you'll see there is no shortage of more ideas for this little countertop appliance.
Enjoy these Waffle Recipes!
Instead of scrolling down, we have made it easier for you to view these recipes. All you have to do is click on the link below. This will take you to a site where I have compiled all of my favorite waffle recipes so you can pick which one appeals to you quickly and easily. But first here is one of my favorites to give you a sneak peak
Pumpkin Spice Waffles with Apple Cider Syrup OH MY YUMMMM!!!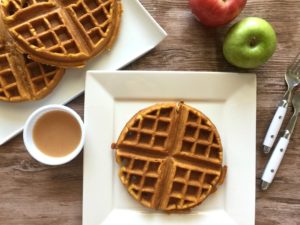 Click here to view more amazing recipes

So, if your family has been complaining (like mine) that your meals are getting a little boring, maybe it's time to pull out that hot iron and make a little WAFFLE LOVE! Not only will you change your meals up, you might just make meal time a little easier and less time consuming too!
What are the best waffle recipes you've tried?