You can't go wrong this holiday season with this award winning pie crust and two amazing pie fillings! It is the best pie crust you will ever eat!
Ok- so here's the deal. I am not a big fan of pie. In fact, I never get excited to eat pie… UNLESS it is my mom's. Her pie crust has this flaky, buttery, savory quality to it that I have never tasted anywhere else. Most pie crusts are too dense and flavorless and leave me unimpressed. But, her crust makes my mouth very happy! And I am not the only one. She has entered her pies in the county fair baking contests several times and wins the first prize ribbon every time she enters, so this is not just me being partial or nostalgic. In fact, men in her neighborhood have been known to impregnate their wives just so they can get a pie from my mom when the baby is born and she brings them dinner. Really. It is that good. And it should be on your holiday table.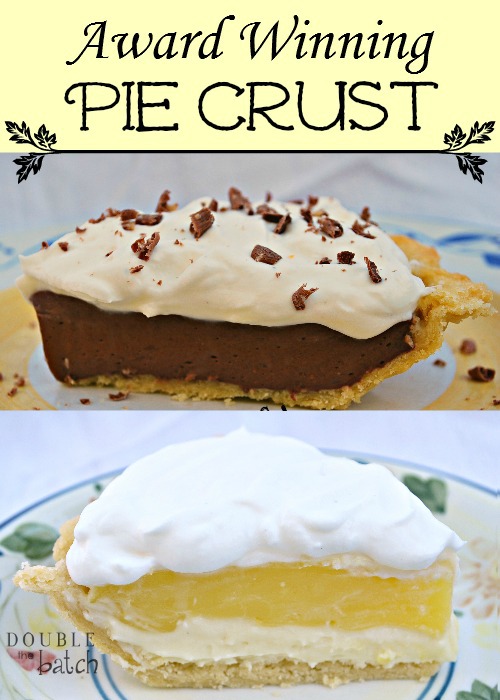 Never Fail Pie Crust
Ingredients:
3 1/2 cups flour
1 1/2 cups shortening (I prefer butter flavored)
2 scant tsp. of salt
1 Tbsp of sugar
1 egg
1 Tbsp. white vinegar
4 Tbsp. cold water
Sift dry ingredients together. Cut in shortening with a pastry blender until dough crumbles in pieces the size of a pea.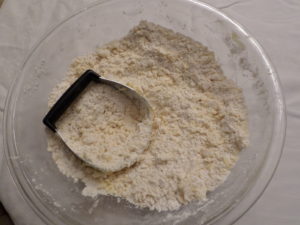 Whisk egg, vinegar, and water together. Make little bowl shaped indentations in the crumbled dough and pour the liquid mixture into them.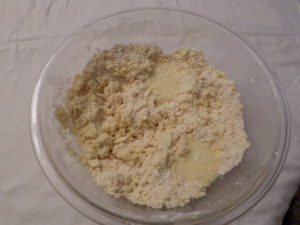 Use a fork and blend the crumbles and the liquid until you have a soft dough.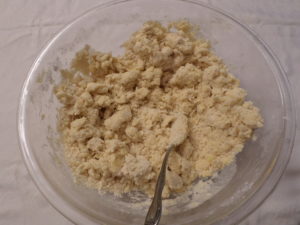 Divide into 4 or 5 sections (depending on the size of your pie pans.) Place a sheet of plastic wrap on your counter. Put a ball of dough in the center.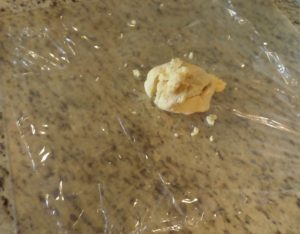 Place another sheet of plastic on top. This technique for rolling out the dough is what makes this crust so light and flaky. It allows you to roll it out without adding in a lot of flour to keep it from sticking to you counter top- which is what causes most crusts to become dense and lose their flakiness.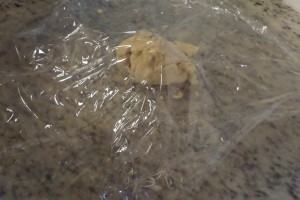 Use a rolling pin to roll out the dough until it is a thin circle at least an inch and a half wider than your pie pan all the way around.
Remove the top layer of plastic wrap and place rolled dough sticky side down into the pan, giving it plenty of slack as your mold it into shape in the pan.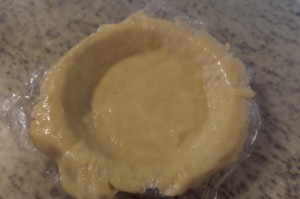 Remove the second layer of plastic. Use a knife to cut away the excess dough around the edge of the pan. Place index finger of one hand on the edge to create equal spacing while you pinch the dough with the thumb and index finger of your other hand to create the decorative edge.
Use a fork to poke holes all over in the crust to prevent bubbling when it bakes.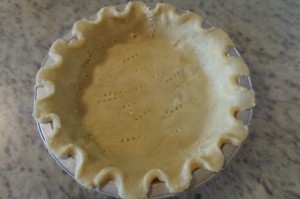 Bake at 400 degrees until the crust is just barely light, light brown. This doesn't take long. 6-10 minutes depending on your oven and elevation.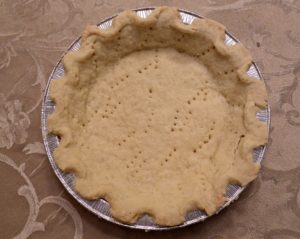 (Note: What makes this pie crust so good is that it is light and flaky. But, this also makes it more susceptible to crumbling when you cut and serve it. If you are looking for flavor and texture-this is the crust for you. If you are looking for presentation and durability- this might not be the best option. You have to sacrifice flavor and texture, generally, to get a solid pie crust.)
As an added bonus, here are the recipes for my two favorite pie fillings she makes. While everyone else is making the traditional pumpkin and apple pies, give the people what they really want- chocolate and anything involving cream cheese! (-:

Bavarian Chocolate Pie
Ingredients:
1 envelope unflavored gelatin
1 cup milk
2/3 cup sugar
6 Tbsp. cocoa
1 Tbsp. Karo syrup
1 tsp. vanilla
2/3 cup milk
1 cup of cream whipped
In a large bowl, whisk sugar and 1 cup of milk together and sprinkle gelatin over the top. Let sit 10 minutes to soften.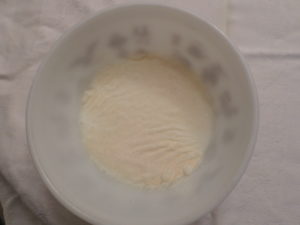 Whisk in 6 Tbsp. of coca until well blended. Microwave for 2 minutes. Remove and stir with a whisk. Microwave for 1 more minute. (Watch it while it is in the microwave to ensure it doesn't boil over.)
Stir in Karo syrup, 2/3 cup of milk, and vanilla. Refrigerate several hours or overnight until set- like chocolate jello. (If you are in a hurry, put it in the freezer to speed up the process.)
Whip 1 cup of cream and set aside. Whip chocolate mixture until smooth. Fold in half of the whipped cream, mixing until well-blended.
Pour into a baked pie crust and refrigerate several hours.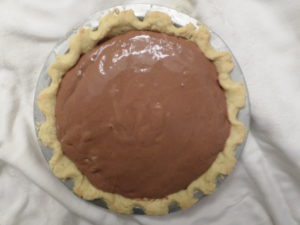 Sweeten remaining cream and use to garnish pie
Optional: Add nuts and/or shredded coconut to pie filling if desired.
Lemon Cream Cheese Pie
Ingredients:
1 small package of lemon pie filling
1/2 package of cream cheese
1/2 cup of powdered sugar
1 cup whipped cream
Zest of 1/2 lemon (optional)
Cook lemon pie filling according to package directions and allow to cool. Soften and whip cream cheese and sweeten to taste with powdered sugar. Grate in lemon peel. Mix 1 cup of the lemon pie filling, half the whipped cream, and the cream cheese mixture until well-blended. Spread evenly in baked pie shell.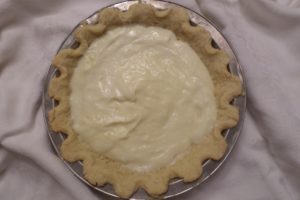 Spread remaining lemon pie filling over cream cheese mixture.
Refrigerate until set. Sweeten remaining cream and use to garnish pie.
Enjoy!