I just finished off the last of my favorite body wash but didn't want to drive all the way to the store for just 1 item. I've also been in a money saving mood so I thought I would try making a batch of my own. Best case, I would save some money, worst case, I could just use it for hand soap for the kids, right?
My favorite body wash is Nivea's Touch of Happiness because it doesn't dry out my skin and has a beautiful citrus scent. It's a little on the pricier side for body wash (at least for me.) I also love Do Terra's Citrus Bliss essential oil blend, and even use it for perfume sometimes.
Soo…I did some research and found a recipe that looked good and tweaked it with my own scent. If you love Dove Body Wash, you'll probably love this, especially since it costs 50% less. Without the addition of essential oils, it'll cost you 75% less! I love the combo of the dove but with a lighter natural fragrance. So here we go! Let's make some Citrus Bliss Body Wash!!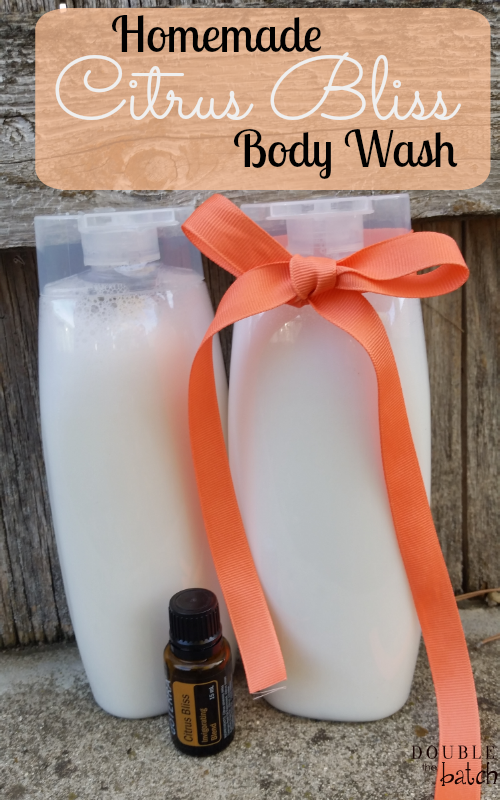 I bought a 3 pack of sensitive skin dove beauty bars at Walmart for $3.47.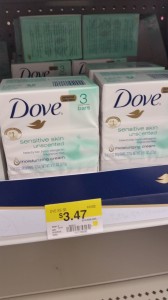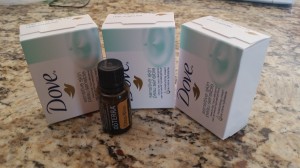 I already had some Citrus Bliss since I use it all the time. Guess what? The only other ingredient you need is…WATER! That's right. I took the 3 bars, grated them with a cheese grater while 6 cups of water slowly warmed up on the stove. I then added my grated soap to the water and let it continue to heat up on medium, until all the soap had dissolved completely. (Use a slotted spoon or fine mesh strainer to make sure it has all been dissolved).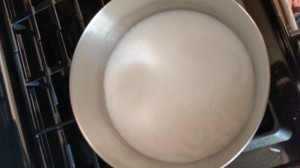 Then I let it cool down for about an hour, added my Citrus Bliss essential oil blend, stirred till it was fully incorporated, and then poured the liquid into some other body wash bottles I had saved.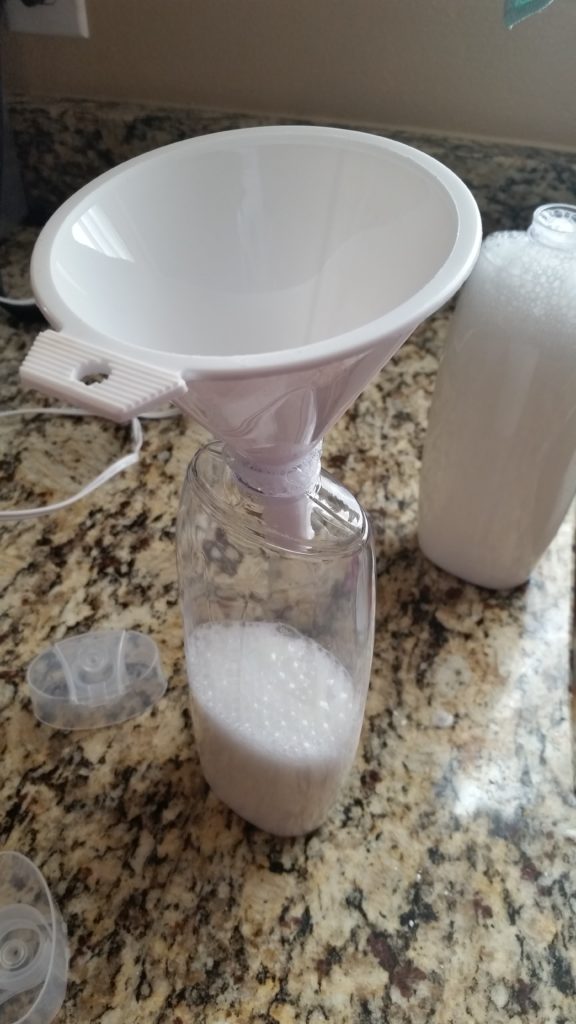 It will be a really runny consistency at first, but after letting it sit for 24 hrs, it thickens up perfectly. It's not as thick as the Dove body wash that you buy in the store, but I prefer it that way because I never liked my body wash being that thick.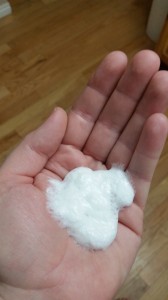 You're probably asking yourself, "Yeah, but does it lather up?"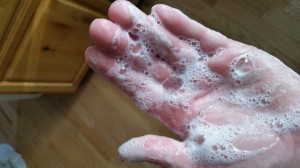 Yup. It sure does!
I used it in the shower with my body poof and loved it. The scent wasn't over powering, and it left my skin feeling soft. Now, obviously you can add whichever kind of essential oils you want (I'm trying lavender next!) and you can add as little or as much as you want.
I added about 40-50 drops to my entire batch which made 48 oz of body wash. I figured that cost me about $3. With the cost of the soap, that's a savings of 50% compared what you would pay at walmart for Dove Body wash. If you love the original Dove scents (they give me a headache!) then you can just buy the scented bar soap and skip the essential oils for a savings of 75% or more!
So, if you want the luxury without the cost, give it a try! If you really could care less about saving some dough or making your own body wash, well, that's fine too. Hopefully, I at least entertained you for a couple of minutes with my crazy home-made frugalness! (: Thanks for stopping by!