Every newborn baby loves a good swaddle. It's like giving them a big hug. They feel like they are back in the womb. But that's not the only benefit of swaddling. Keep reading to learn how to swaddle and why it's important.
This post may contain affiliate links which means I may get compensated at no extra cost to you! Thank you so much!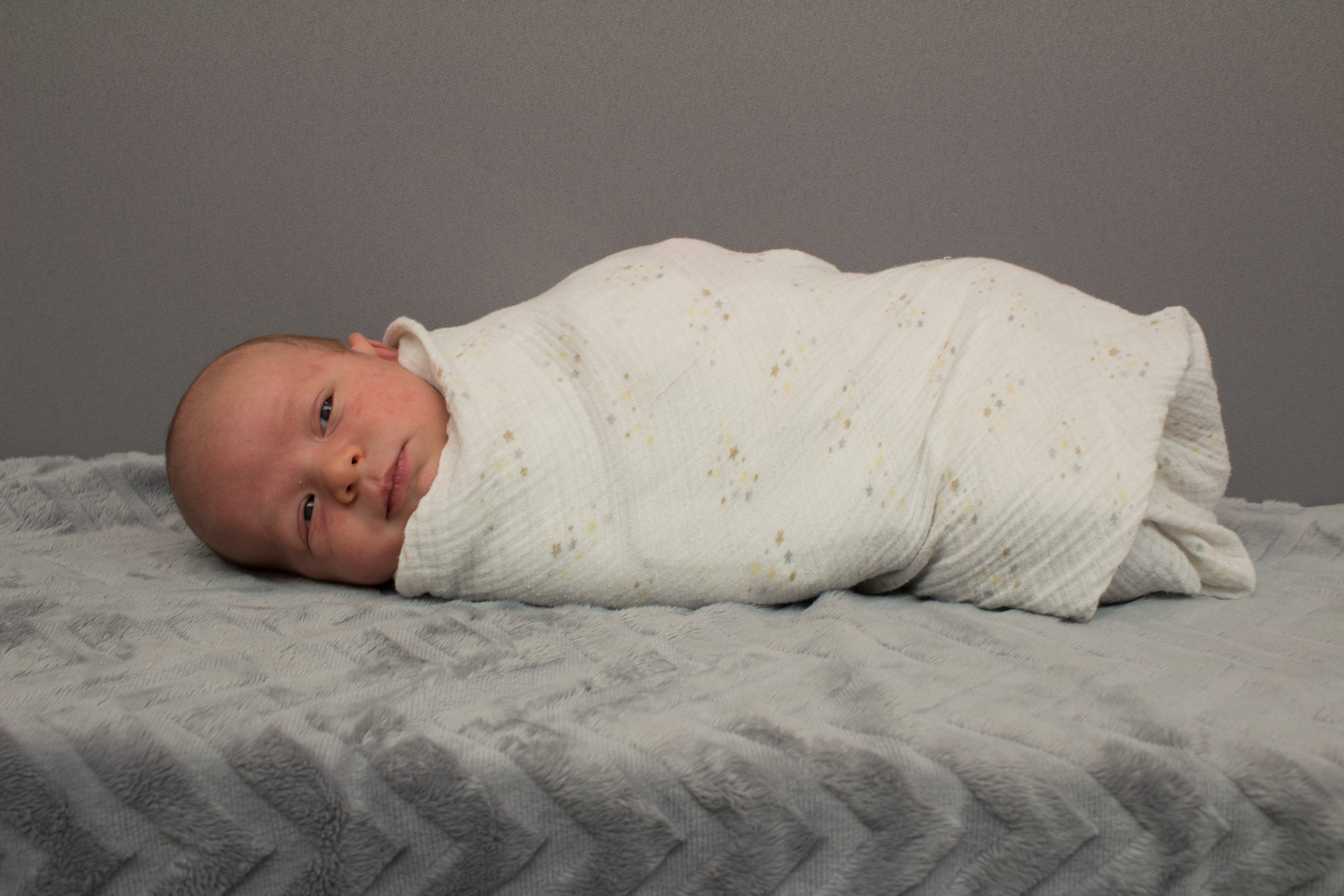 Why swaddle your baby?
I swaddle my babies for as long as they will let me. They sleep better, cry less and are overall more content. I can't tell you how many times my baby would be fussy, and as soon as I swaddle them, they calm right down. Don't take my word for it though. Here's some benefits from swaddling your baby (according to American Academy of Pediatrics):
Baby sleeps better

Your Baby wakes up less during the night

Baby cries less

May reduce SIDS

Improves neuromuscular development

Especially beneficial for premature babies
A swaddle mimics the womb. Immobilizing their arms actually helps them to develop better motor skill organization. Plus they feel safe and therefore are happier. I've heard many, many moms say that their babies just don't like to be swaddled. Your baby may "fight" the swaddle momentarily. However if you swaddle a baby as a newborn, you are encouraging self-soothing techniques that will make your life a lot easier at nighttime.
How to swaddle your baby
When your baby is born, every single nurse at the hospital will swaddle your baby. So, don't worry, you'll have plenty of people to help you. If you have your baby at home, or need a reminder, here's a short lesson on swaddling in four easy steps:
Step 1: Lay out a big swaddling blanket! I got mine off of Amazon and I LOVE them! You can find them here. These blankets have become my go-to baby gift for other moms.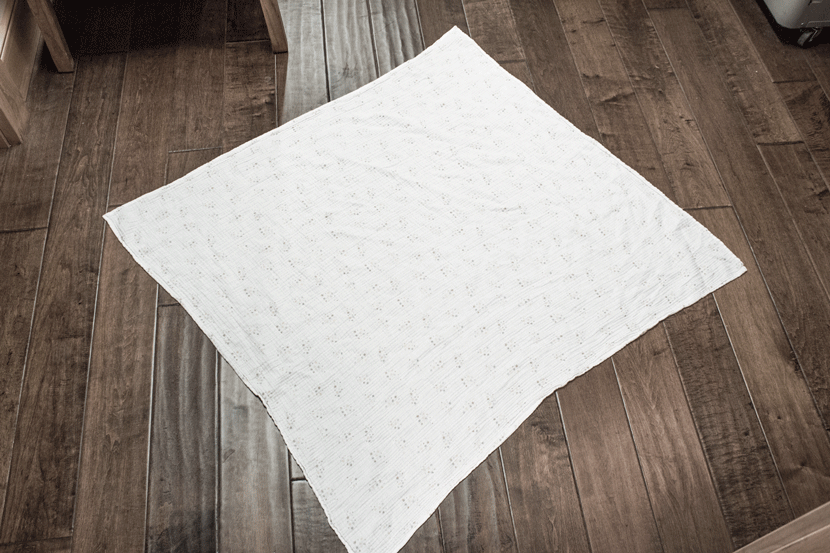 Step 2: Fold down the top corner to make a triangle/diamond shaped blanket. Depending on how big your blanket is will depend on how far down to fold your triangle.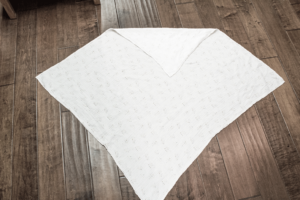 Step 3: Place baby in the middle of a triangle/diamond shaped blanket.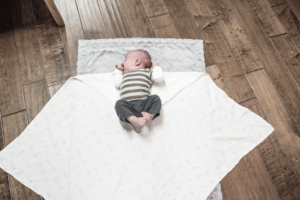 Step 4: Fold left corner of blanket across body and arms of your baby and tuck under the right side of baby's body. Make sure everything is smooth.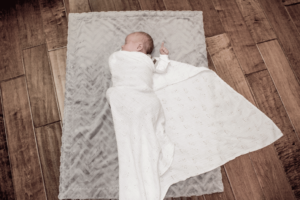 Step 5: Fold the bottom corner of the blanket up and lay it on top of baby's body. I don't pull it up too tight. Having their legs too constricted is not good for their hips.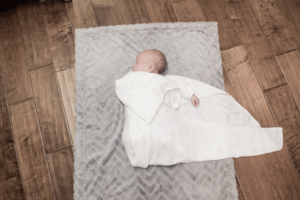 Step 6: Fold right side of blanket across baby to the left and tuck under baby's body. Voila! You're done.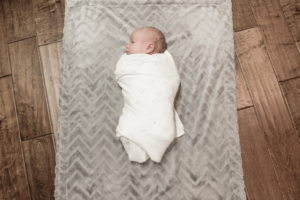 Make sure you keep the blanket tight and snug. You want to make sure your baby's arms don't wiggle free. This will also help to keep your baby on his back all night long. Of course, there's other ways to swaddle your baby, check out this video for ideas.
I cannot tell you how much I encourage swaddling. It is amazing to see a fussy baby calm instantly down by just swaddling them. It really provides so much comfort for them.
Choose the right swaddling blanket
There are tons of options to choose from when it comes to swaddling blankets. Basically, all you need is a square blanket that is made of stretchy fabric. Here's just a few:
Muslin swaddling blankets on Amazon or check out these cute muslin swaddling blankets from BuyBuyBaby
THESE ARE MY FAVORITE!! I wish they were around with my first, second, third and fourth baby!!! HA HA I only got to enjoy these with my last and I loved them!!
Some points to consider
Here's what Harvard Medical School recommends you consider before swaddling:
Babies don't have to be swaddled. If your baby is happy without swaddling, don't bother.

Always put your baby to sleep on his back. This is true no matter what, but is especially true if he is swaddled.

Make sure that whatever you are using to swaddle can't come loose. Loose fabric and babies is a dangerous combination.

For the healthy development of the hips, babies' legs need to be able to bend up and out at the hips. Swaddling for short periods of time is likely fine, but if your baby is going to spend a significant amount of the day and night swaddled, consider using a swaddling sleep sack that lets the legs move. In the above instructions on Step 5, I don't fold the end up tight. I like to leave room for the legs to have plenty of room to wiggle (As you can see in this cute picture).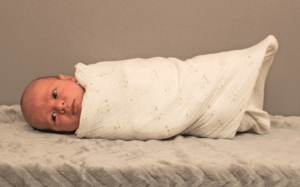 Do you like swaddling your baby? Leave your comments below.
Related link: Baby items I wish I had known about as a first time mom
PIN FOR LATER!!