Yes, I realize today is the first day of fall and I'm whipping out a total summer recipe! But my husband and I have been wanting to make these cupcakes for months now and we finally got around to it! So go ahead and tuck this cupcake recipe away for when summer hits again because you're going to WANT to try this! It's originally just a lemonade recipe but  you can throw some fruit into your frosting to add a different flavor. SO yummy!!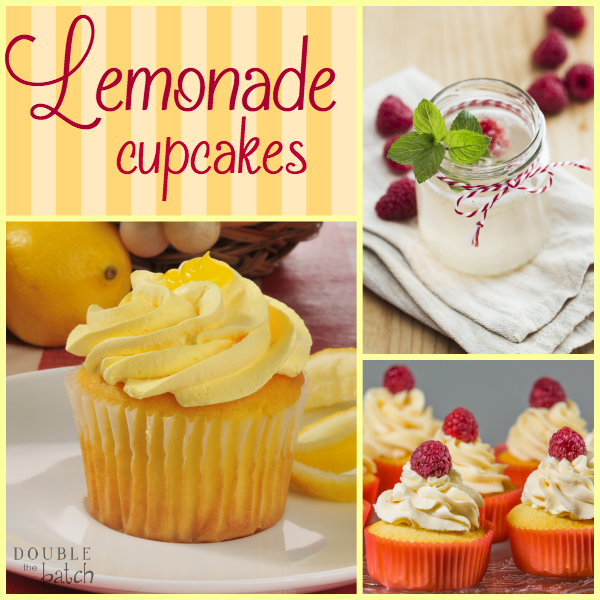 Cupcake Ingredients:

-1 1/4 Cup Water
-1/2 Cup Sweetened Lemonade Drink Mix
-1 box of Yellow Cake Mix 
-1/2 Cup Softened Butter
-3 eggs
Frosting Ingredients:
-Another 1/2 Cup  Softened Butter
-1 Package of Softened Cream Cheese (8oz)
– 3 Cups of Confectioners Sugar
-Another 1/2 Cup of your Sweetened Lemonade Drink Mix
-3 Tablespoons of Milk
*-Strawberries or Raspberries (I like to use fresh but you can use a flavoring if you prefer)
*You can substitute the strawberries and raspberries for whatever fruit you think would taste good with the lemonade cupcakes. (Ex:Blackberries,  peaches, etc…)
Cupcake Directions:

1. Turn oven on to 350, and place cupcake liners in your muffin tin.
2. First Mix the  1 1/4 Cup water with the 1/2 Cup Lemonade drink mix until dissolved. Then add in remaining ingredients and mix it all together  with your electric mixer on medium speed until smooth and creamy. 
3. Pour batter into cupcake liners (about two-thirds full)
4. Bake 20-24 minutes or until the fork you poke in the middle comes out clean
Frosting Directions:
1. Mix together your cream cheese and butter until smooth
2. Add in Confectioners Sugar, Lemonade Drink Mix, and Milk and then mix together on medium speed until well mixed and smooth. 
3. Cut up your strawberries or raspberries to the consistency you would like and mix well into your frosting. (optional)
Enjoy!!