This post focuses and gives you great examples on different notebooking pages that you can do in your home with your kids.
The Well Educated Heart embraces the notebooking method for learning and retaining information. You might have many questions about how to make this work as you teach your young children! There are so many ways you can approach notebooking.
A good mom helped me understand this as she reminded me about the purpose of notebooking. When we know the WHY to something, the action becomes a little easier. The purpose to notebooking is to preserve what you are learning. Preserving what you learn can warm your heart and the hearts of your children.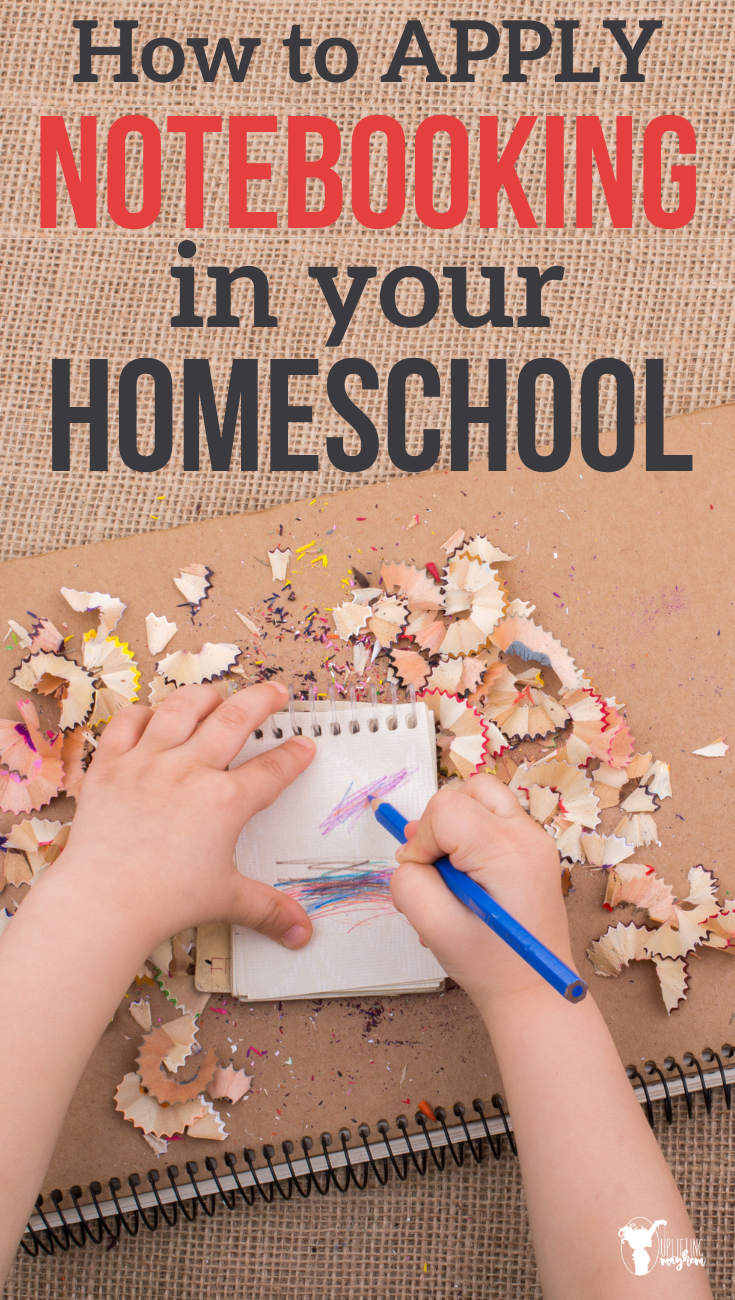 How To Get Started
You can use blank pages to notebook anything, including favorite poems, historical figures, and nature topics. You might find it easier to have one book for notebooking, or to have several. I find that having one notebook with tabs for different topics is easier to manage for young children.
When studying the 1700's Paul Revere spoke to my heart as a mother, and I found myself learning with my children. This was my first notebooking page ever! I am full of joy as I discover and learn more. Learning is never finished, and it can become a joy! As I made my notebooking page, my daughter drew the British ships that might have come to the shore that night in 1775.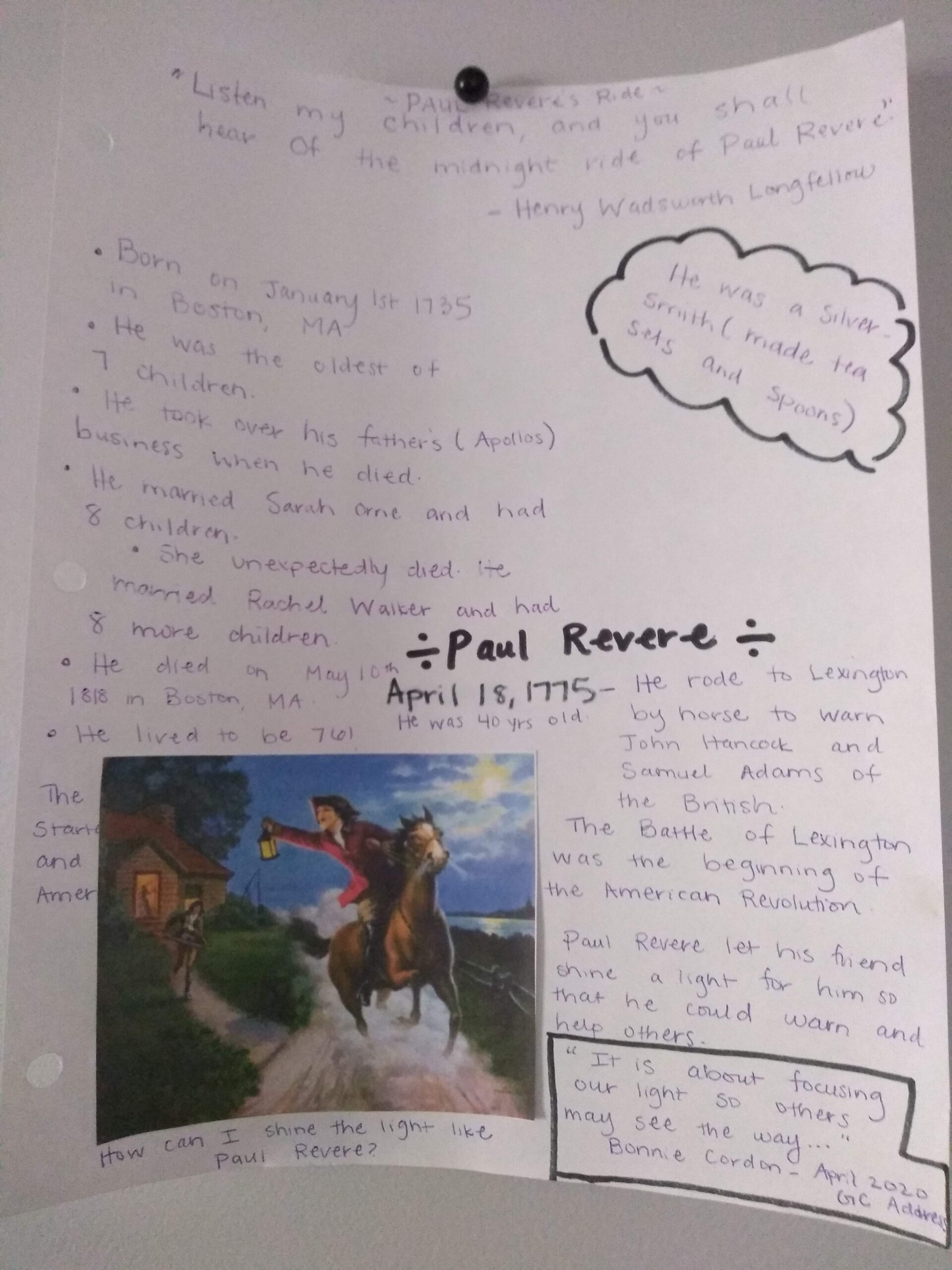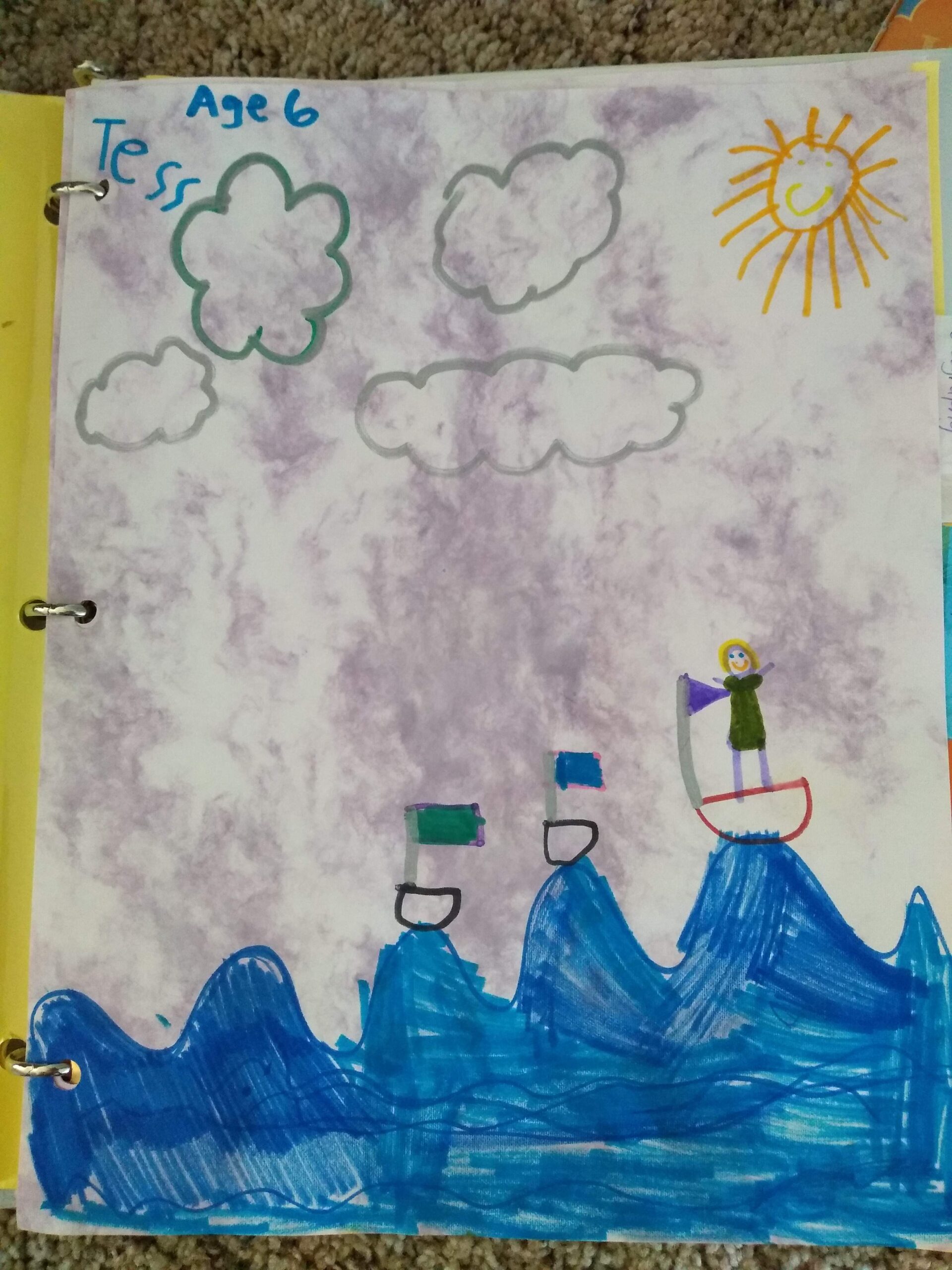 As I mentioned above, the purpose of notebooking is to preserve your learning. It also puts our thoughts and ideas on paper so that our mind is freed up to think even more thoughts on the subject. It is incredible what happens when you begin writing something, and the different "AHA" moments that begin to form.
There are many ways you can preserve your learning.
You might draw a picture.

Paint and craft together

Memorize a poem and then do a copy work page to write the poem in your poetry book.

Research an animal that you are reading about in a book

Print out a picture of a person or place and learn about it.
My children love to look back on their notebooks and see everything we have learned! All of these memories will be preserved in their "notebooks." You can also notebook on a piece of paper and keep it in a 3-ring binder. You might also choose to take pictures of their projects and make a photo album eliminating more "stuff". However, these notebooking journals, you will find to be treasures your kids will love looking through.
Here are a couple notebooks that we have used and have loved.
I have been listening to the American stories on My America Story Book. My American Story Book is a website that provides a story and pictures for everyday of the week Monday through Friday. This is a great introduction to what notebooking can look like.
My daughter simply cuts and pastes the pictures for me and then I write about what we learned from the story. She is learning so much just from viewing and talking about the pictures together. I am amazed at the power of a picture. She now recognizes people from history that she was not exposed to before.
All of this is notebooking!
Examples of Notebooking:
Example #1
My daughter learned about alliteration by drawing a picture and then writing words that started with the same sound next to her drawings. This will go in her notebook in the Language Arts/Literature section.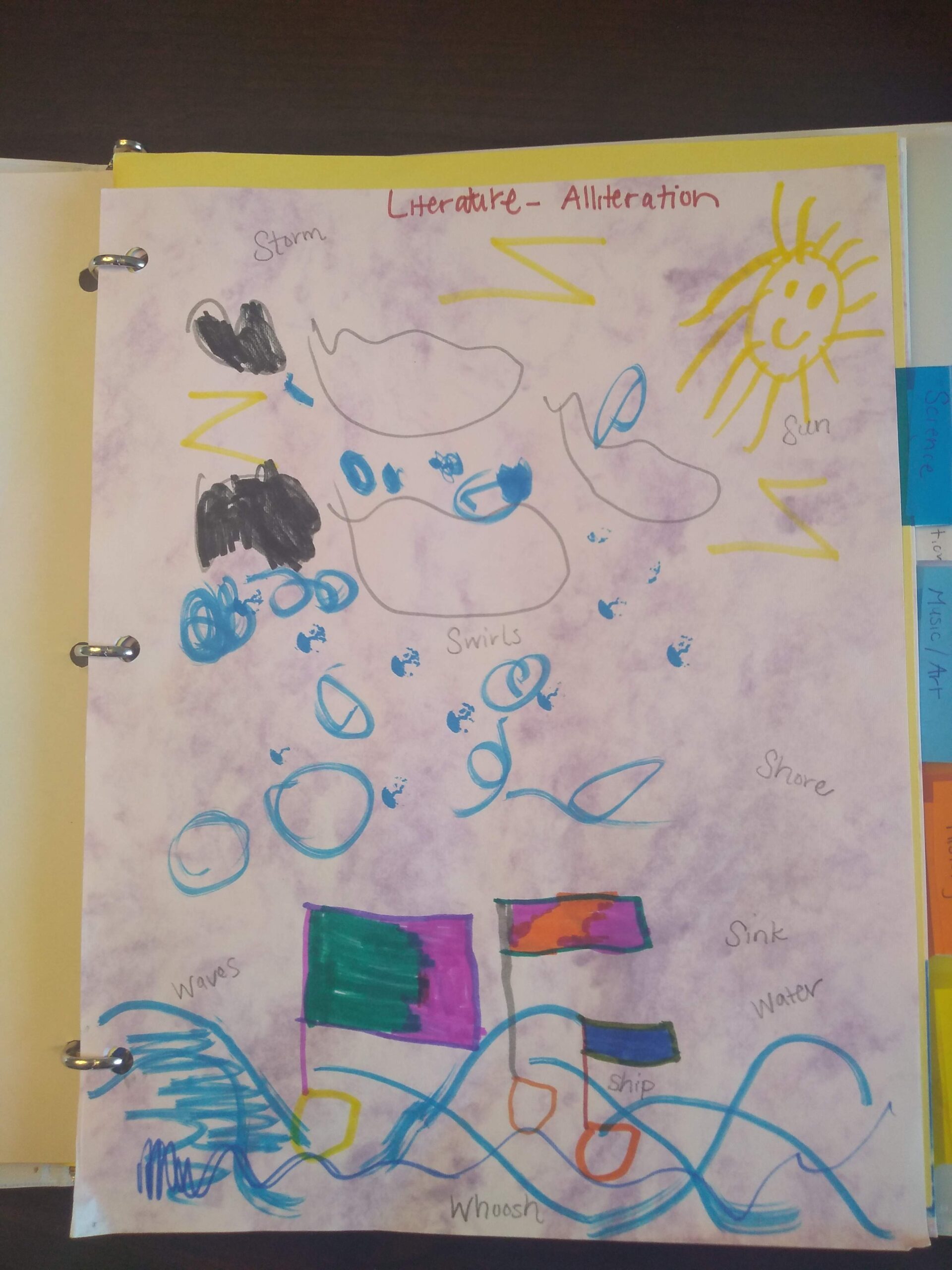 Example #2
This is a painting my six year old daughter did on canvas. I display them for a while and then use a picture that I take to preserve the memory.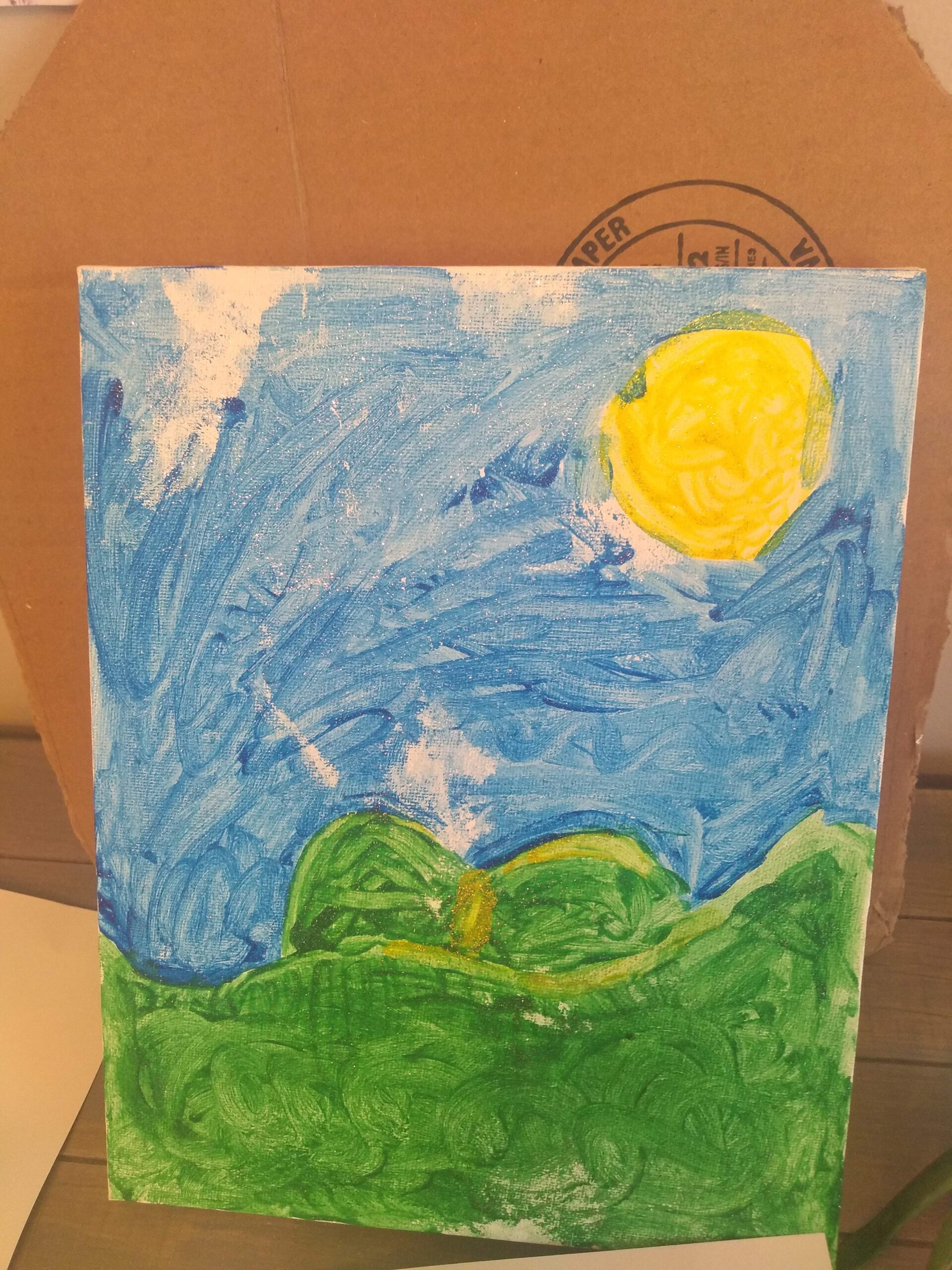 Example #3
This notebooking page was inspired from one of the explorer stories I listened to on the My America Storybook website. You can download any of the images that correlate with each story. My daughter cut the pictures out and pasted them on my page. I then took notes around her pictures. This is a nice way to help your children feel involved in something they may not do all on their own yet.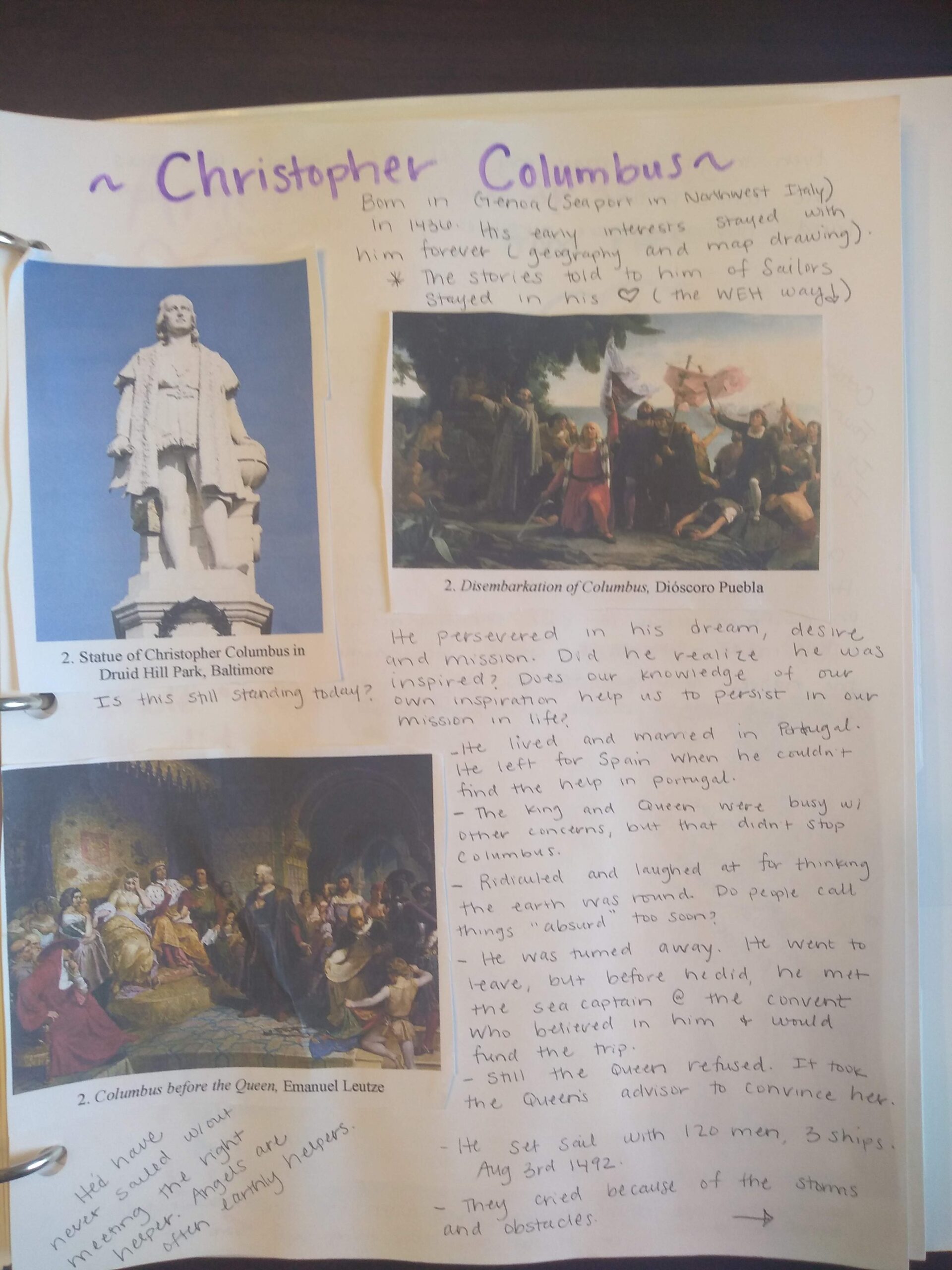 Example #4
Here is the notebook my daughter uses for her notebooking. It has tabs for Literature, Art/Music, Science (Nature studies), Geography (countries in the Well Educated Heart rotation) and History (American studies from the rotation)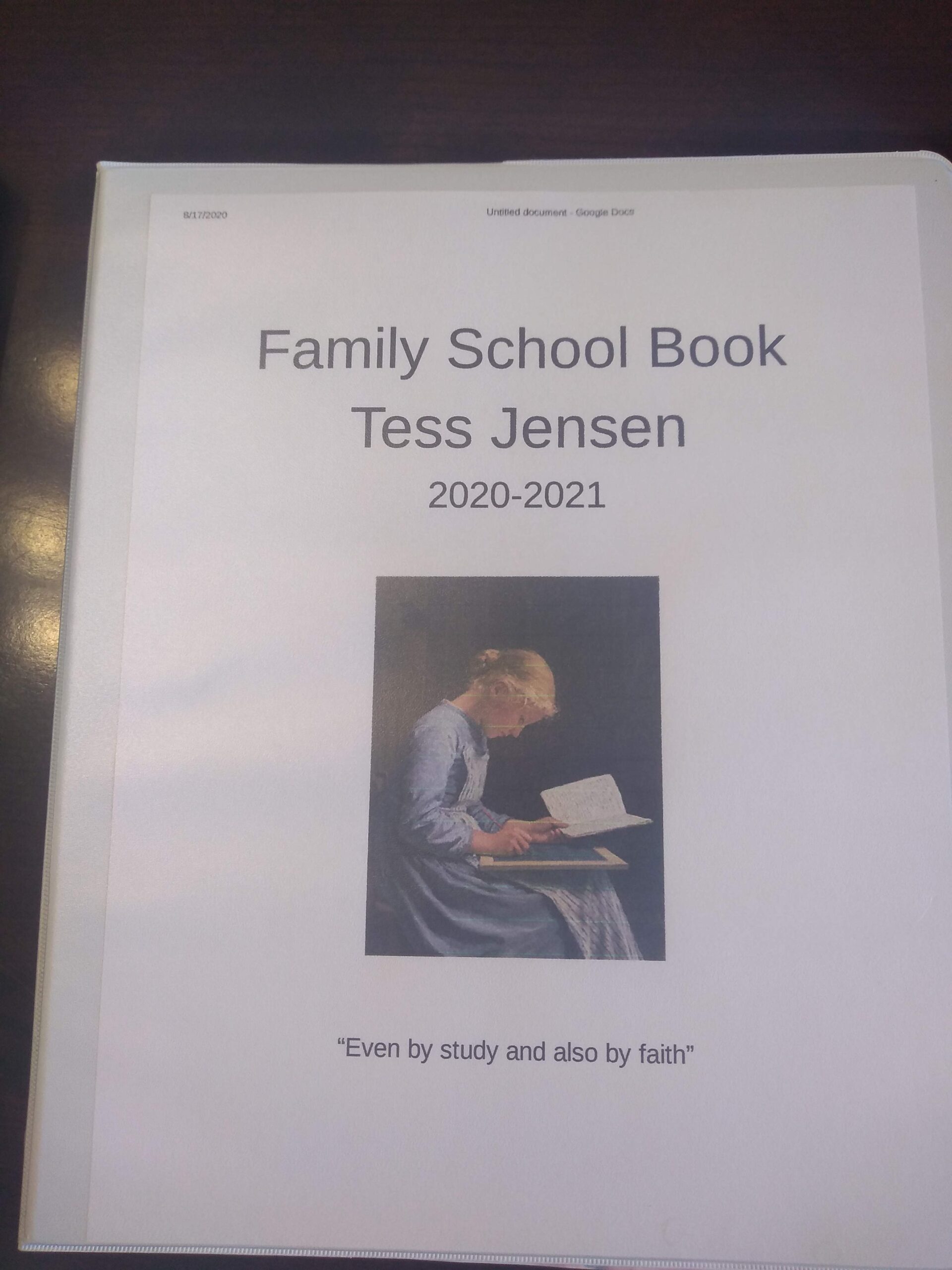 Example #5
Just an example of a world studies page. I helped her learn the continents with a song, and I did the writing for her. When they are young, this is a great idea. They are thinking and getting their thoughts on paper! Super powerful in helping them preserve those thoughts.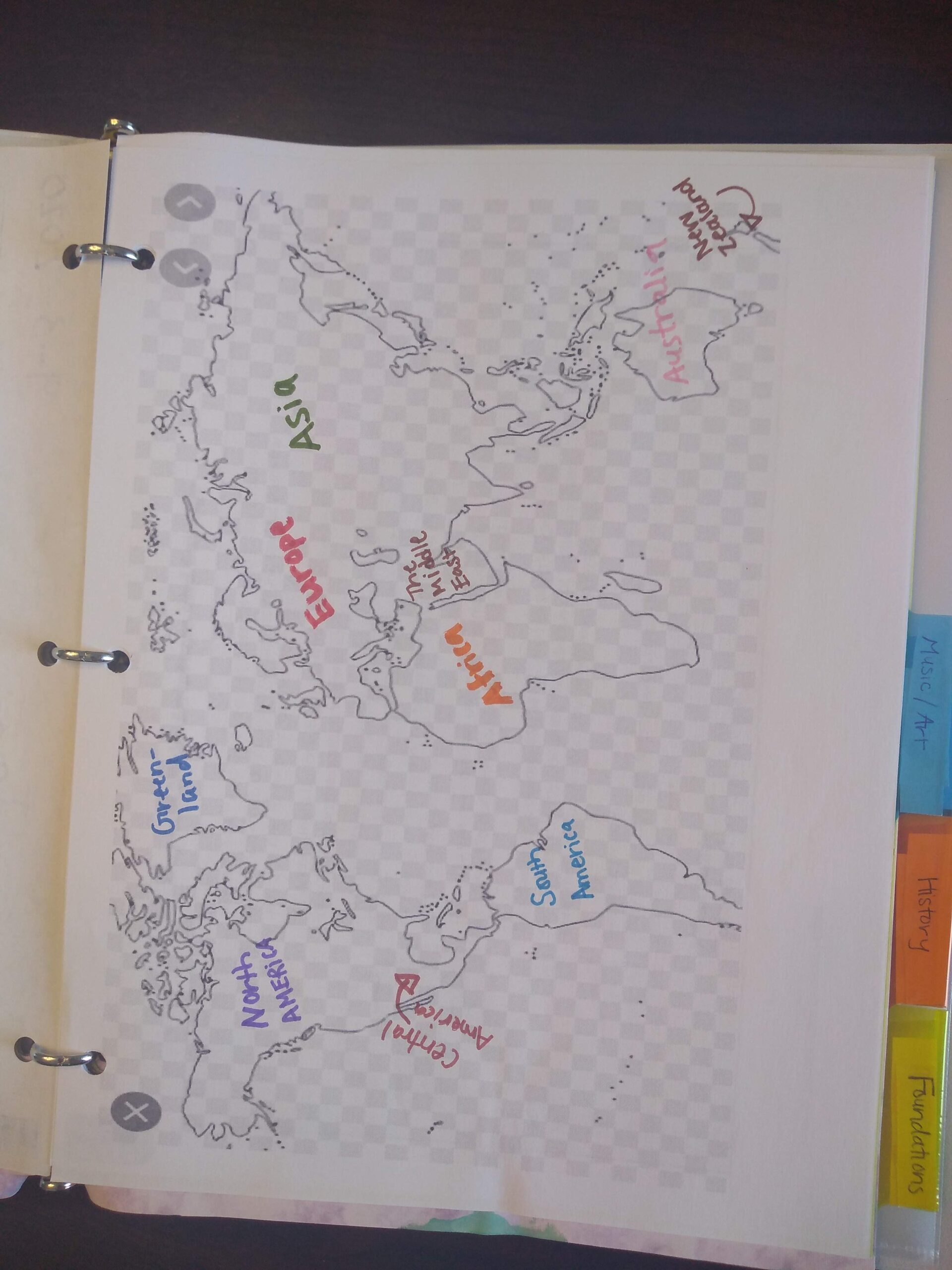 Example #6
Here is another example of a painting project. We were learning about animals and we wanted to paint a horse. This will be another picture that gets preserved by me taking a photo of the project.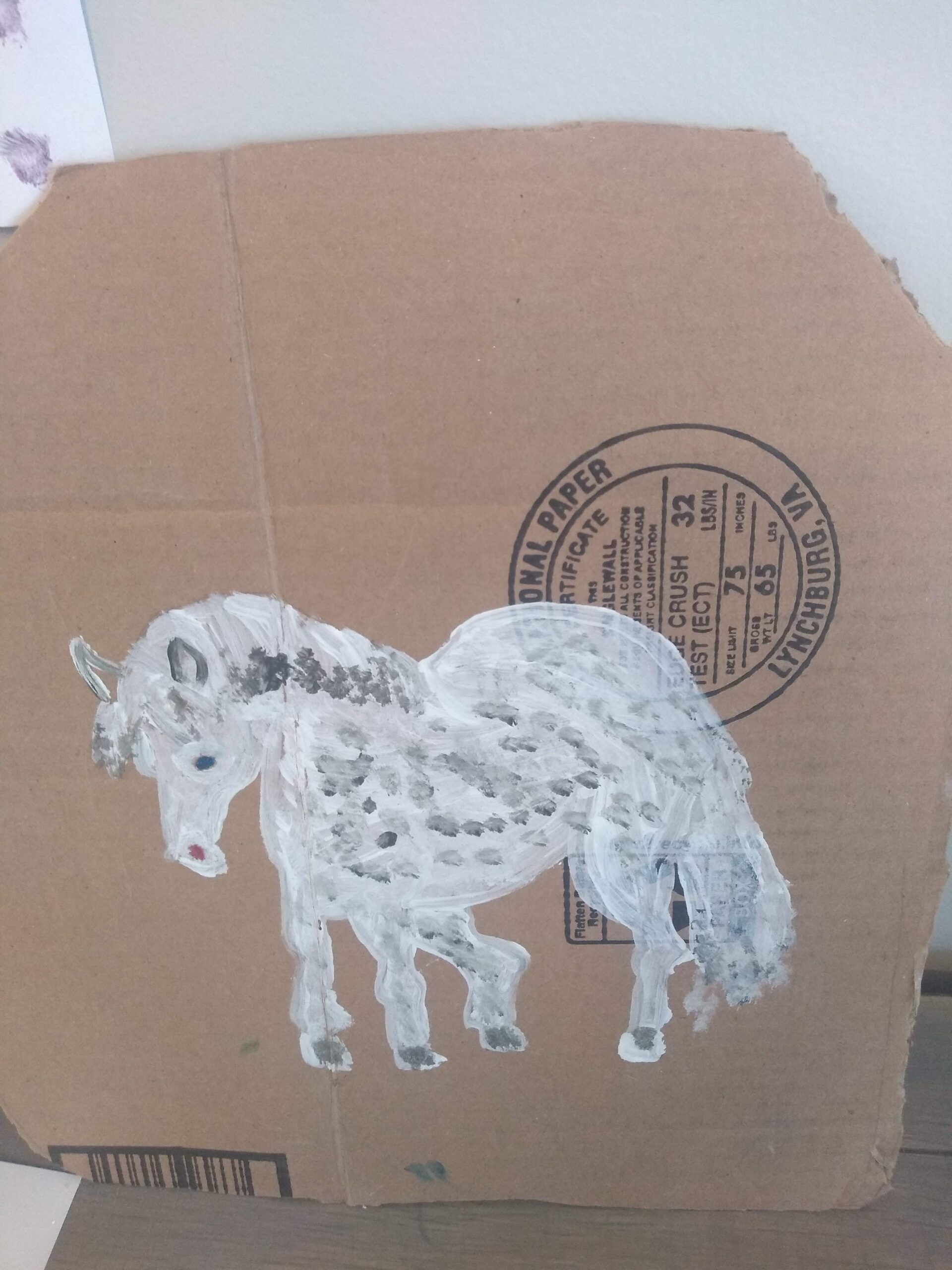 Example #7
This is an art project that I can put in a page protector and put right into her binder under the tab Art.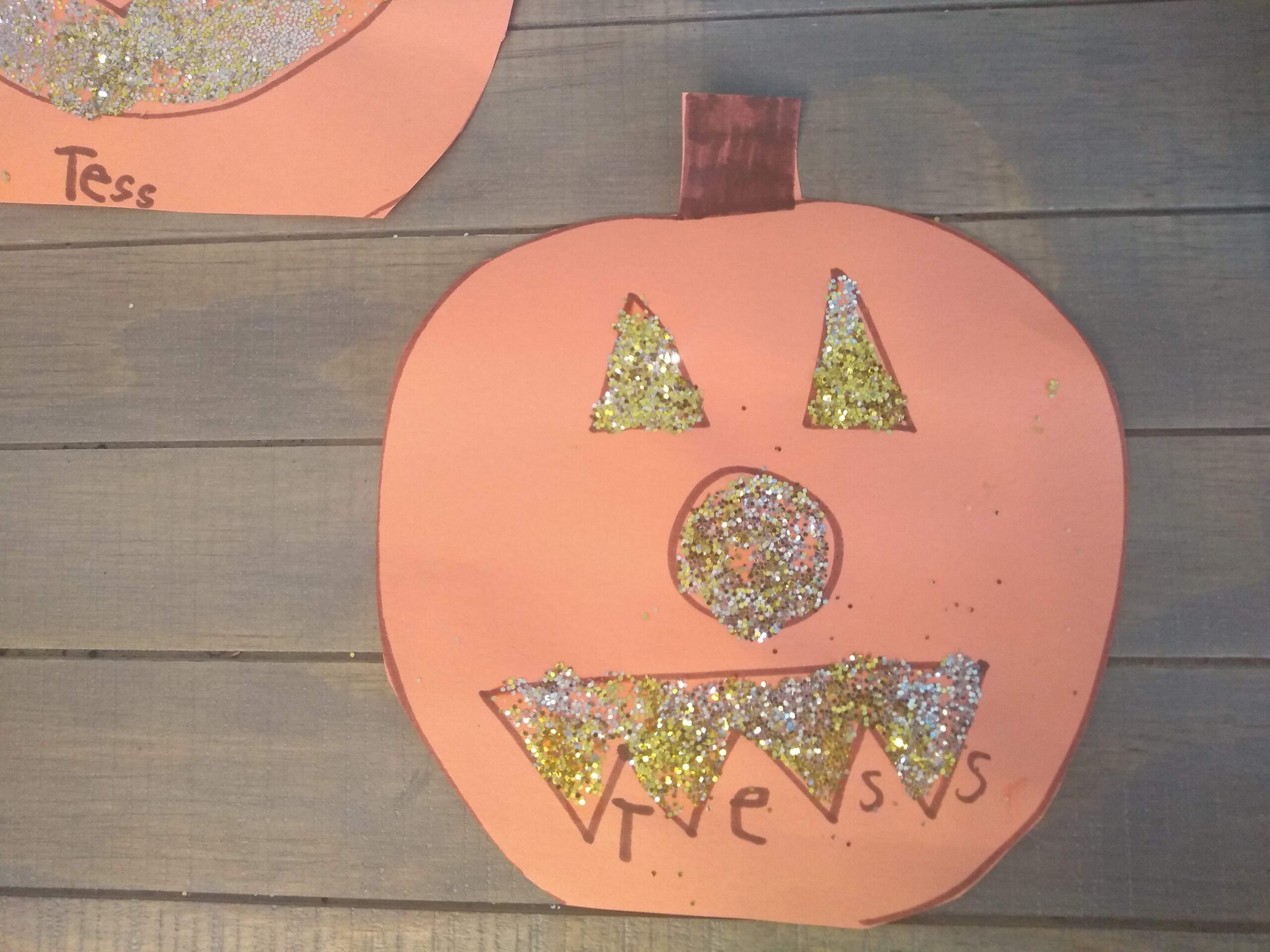 Example #8
One more example from My America Storybook.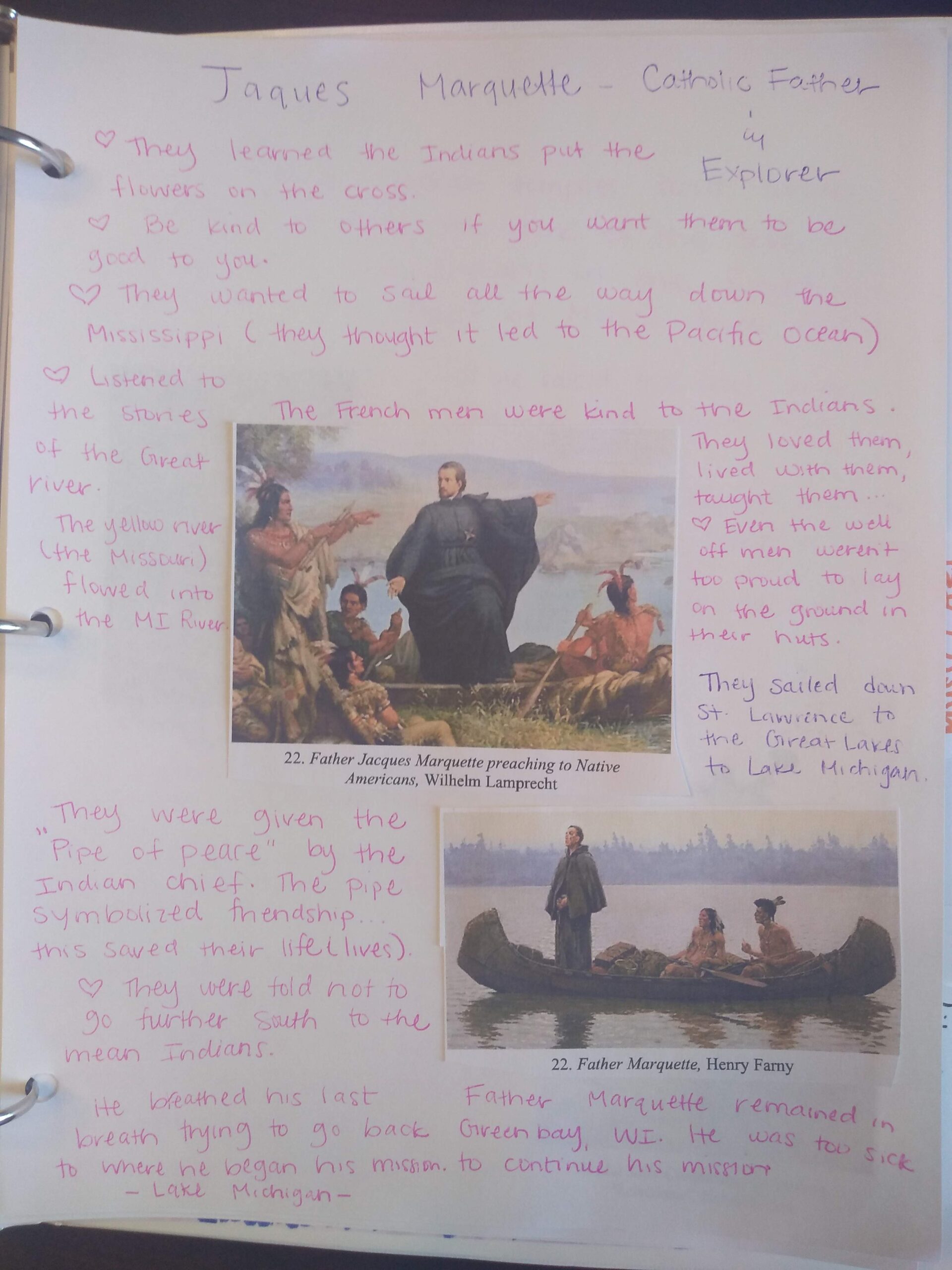 If you still need some more inspiration or knowledge about notebooking, this video was very helpful to me. I hope you enjoy it!
NOTEBOOKING Presentation
Above all, find joy in your learning!
Choose Joy (written by Nina Heyen)
It takes courage, to turn your back on the shore of a luring promise,
the safe land of strain and sacrifice,
leading you astray on an empty quest.
But the place that you seek is a sea of delight,
and only a joyful heart will make port in the haven of happiness.