Visiting the City of Light is a once-in-a-lifetime opportunity but navigating Paris and its complicated transportation system can be a little intimidating at first. My husband and I recently returned from a 8-day trip to Paris. Having served an LDS mission in Paris about 11 years ago, myself and one other former missionary in our group were deemed the official navigators. We learned a few tips and tricks along the way which I will gladly pass on to you.

Step 1: Buy the right Paris transportation pass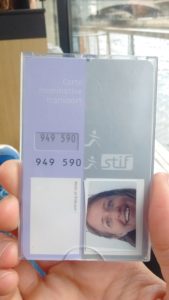 Pass Navigo Découverte. This week-long pass is the only transportation pass you will need while you're in Paris. Here are the details:
Valid from Monday to Sunday at midnight

Available to purchase for the current week until Thursday at midnight

all zones 1-5 plus one-time fee for card itselffor central Paris and

Zones 1-5 includes transportation to CDG Airport, Disneyland, ORY Airport & Chateau de Versailles

Allows use of Paris' train, metro, RER, tram and bus systems

Rechargeable at any station for the following week (see photo to the right)

Open to everyone, not just residents of Paris

Requires photo of yourself to be attached and visible on the front of the pass at all times.

For more details visit Paris' official transportation website: https://www.ratp.fr/
What if you are arriving on the weekend? If you are arriving in Paris on a Friday, Saturday or Sunday, you won't be able to purchase the Pass Navigo Découverte for the current week. In that case, you can purchase a day pass called Ticket Mobilis that covers zones 1-5 or a Paris Visite Pass that is good for 1, 2, 3 and 5 days and will cover zones 1 to 3 or all five zones. See the price comparison table below for more details.

How do you buy the Pass Navigo Découverte? When we arrived at the CDG Airport, there was a huge line of people waiting to buy their train tickets from the kiosks. You do not need to wait in this line. Instead, find a ticket office and purchase it there. This specific pass cannot be purchased at a kiosk. Make sure you indicate that you want the pass for the current week for zones 1-5.
Step 2: Understand the metro system

So, you're at the Paris airport. Now how the heck are you supposed to find your hotel? Not to worry. Before your trip, print off this metro map and circle the metro stop closest to your hotel. This will be your main point of reference as you travel throughout the city.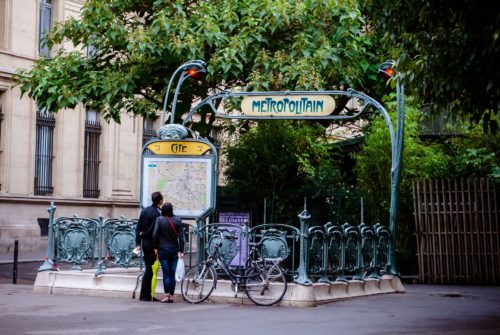 Follow these steps to navigate the Paris transportation system:
Where are you? Find the name of the metro/train stop you are currently at (i.e. Aeroport Charles de Gaulle)
Where do you want to go? Find the name of the metro/train stop you would like to go to (i.e. Jules Joffrin)
What lines will take you there? Determine which metro/train lines will eventually lead you to your destination. Don't forget to find the names of the last stops on each line that you will be taking so that you make sure you take the train heading in the right direction. (For example, if you want to take Line 4 to Chatelet Les Halles, you'll want to take the metro heading in the direction of Mairie de Montrouge.)
Click on the link below for an example of these steps above.
How to use the Paris transportation system
Fortunately, Paris signs everywhere directing you where to go every step of the way. And most of the people in Paris and very eager to help if you simply approach them with a friendly, "Bonjour!" I also purchased The Paris Mapguide which is a 64-page guide to Paris museums and places of interest. If you're lost, you can look up the name of the street that you're on and voila, the mapguide will show you exactly where you're at in relation to the nearest metro station.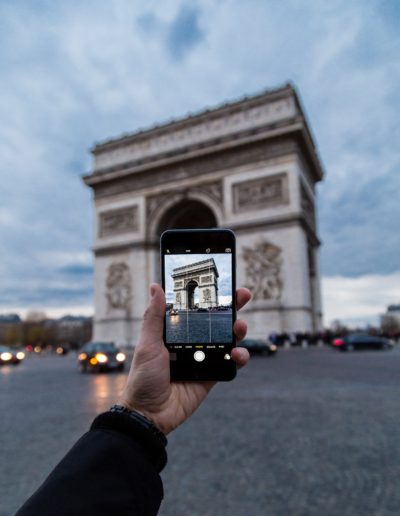 Step 3: Use your cell phone
Not only will your cell phone be helpful in navigating from Point A to Point B while in Paris, you'll find it invaluable as you search for hours of operation for a certain museum or how to say, "Where is the bathroom" in French. Here's a few apps that will help you immensely.
Next Stop Paris – RATP:
This free app is available in 10 languages and is designed to help you navigate the major places of interest in Paris and the surrounding region. Other features include, a detailed route planner, access without an internet connection, display route and geo tracking function, pedestrian guide and station and airport transfers.
Paris Offline Map: This is free and simple app is a map of the capital that doesn't require a data or internet connection. Its geolocation function will pinpoint your spot on the map, which updates as you move, making it quite difficult to get lost.
Vélib' officielle: This free app allows you to check the availability of the nearest Vélib bike station. There are 1,800 bike stations throughout Paris situated about 300 meters apart. Traveling by bike through Paris was my preferred mode of transportation. It is so much fun to ride around all the tiny streets and breathe in the city air.
For help to cover every aspect of your vacation visit Trip Advisor who is a great company to work with!