This healthy chocolate peanut butter oat bar recipe was passed down from my grandmother, and they are SO GOOD! "energy bars" is another great name for them. It's not often that I love the "healthy" version of one of my favorite treats (oatmeal no-bake cookies), but I CRAVE THESE. And I have no guilt eating these chocolate peanut butter oat bars for breakfast because all of the ingredients are AWESOME. Seriously though, make these and give them to your kids as "treats" and you will actually be doing them a huge favor!
Instead of butter, we use coconut oil and Instead of sugar we use raw honey. But you would never know. They are jam-packed with flavor and sweetness.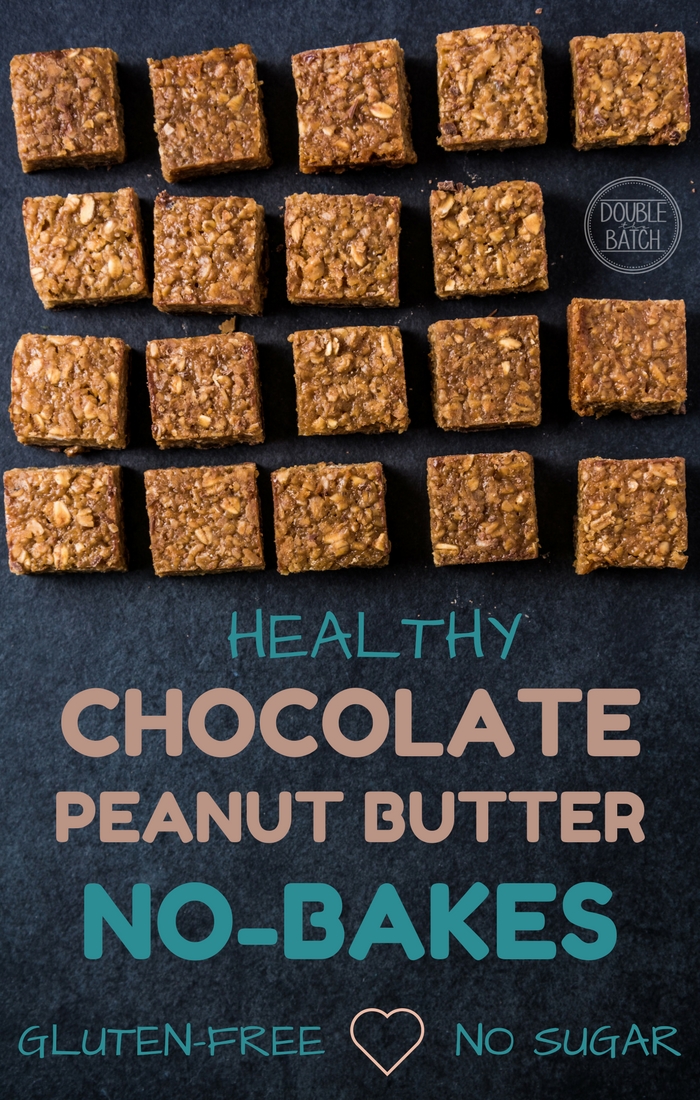 Chocolate Peanut Butter Oat Bar Recipe
Healthy Chocolate Peanut Butter Oat Bar Recipe (No-Bake)
Recipe type:
Dessert, snack
Prep time:
Cook time:
Total time:
these healthy chocolate peanut butter oat bars are gluten free and have no sugar, and make the perfect treat or post-workout snack
Ingredients
2½ cups rolled oats
1 cup shredded coconut, unsweetened
⅔ C raw honey
½ cup coconut oil
1 cup peanut butter or almond butter
1 Tablespoon flaxseeds, chia seeds, or hemp hearts
2 teaspoons vanilla
5 T Cocoa or carob powder
Instructions
In a large bowl, mis the oats, coconut flakes, flax seeds and cocoa powder together, set aside
In a medium pot, warm over medium heat: honey, coconut oil, honey and peanut butter. Stir continuously until mixture is melted and mixed evenly. Remove from heat and stir in the vanilla.
Pour into oats mixture and combine thoroughly. Pour into a 9 x 13 pan, or a jelly roll pan if you like thinner bars. You can also drop heaping tablespoons onto a cookie sheet and make them into cookies. Freeze for 20 minutes and cut into bars
Store in fridge or freezer.
Hope you enjoy this Chocolate Peanut Butter Oat Bar Recipe as much as our family does. They are awesome for satisfying a sweet tooth, and the protein makes for a great post-workout snack. I love adding hemp hearts to mine!