If you are looking for Mount Haleakala hikes, elevation or weather you have come to the right spot!!
Mount Haleakala! The name Haleakala is so fantastic! You can use the word in awe or in utter exhaustion as you climb that last ridge after 11 miles of serious hiking (OH MY HALEAKALA!!)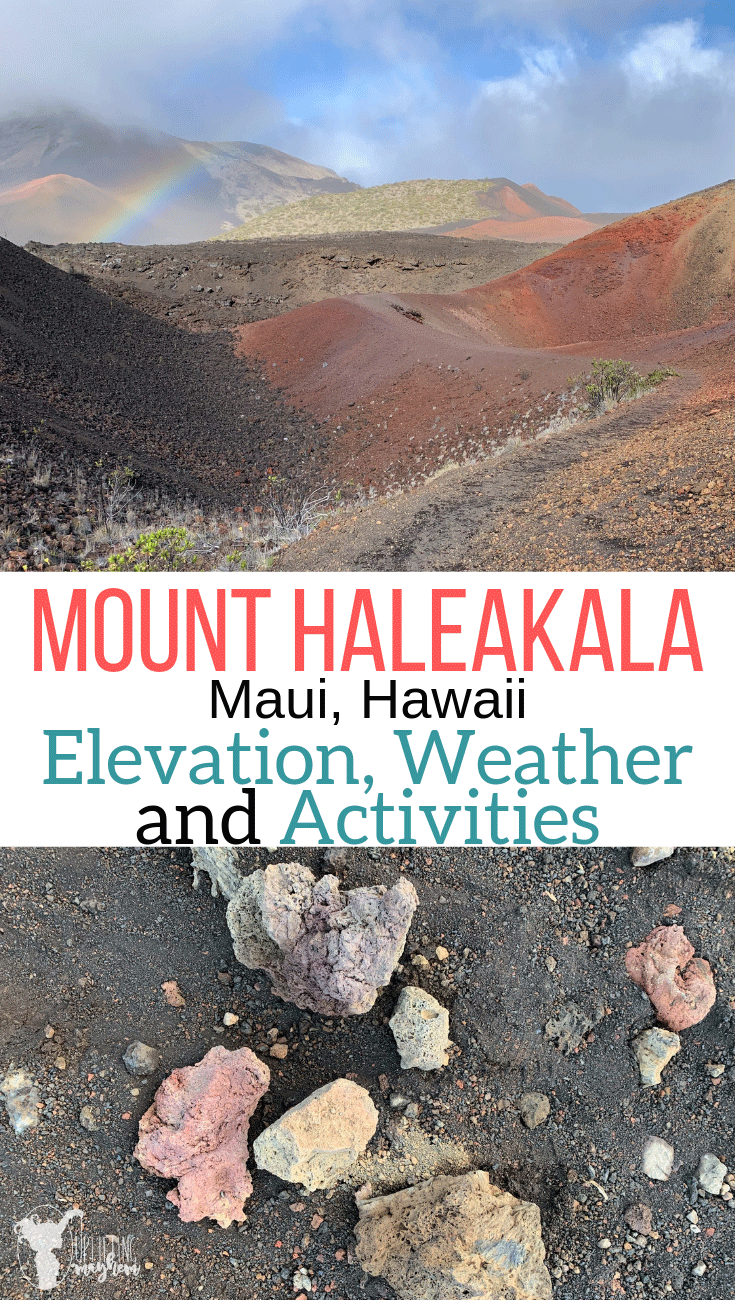 There is so much you can experience on Mount Haleakala from driving up and watching the sunset near Haleakala Summit, watching the sunrise just before you bike down the mountain in the wee hours of the morning, to hiking to any of the 8 cylinders within the volcano or simply driving up and back down in your car.
It is definitely a sight to see.
However you choose to experience Mt Haleakala, you won't be disappointed. Since Mount Haleakala is a National Park, there is a $20 entrance fee that lasts for 3 days. This pass will also get you into the 7 Sacred Pools located at the end of the Road to Hana if you choose to do the Road to Hana (I HIGHLY recommend it!).
Before you leave on your vacation, buy and download the Maui Gypsy Guide App. This app is awesome! As you are driving around, this guy will talk to you and tell you all about your surroundings. It is totally worth the $10.
Mount Haleakala Elevation
The highest elevation point is 10,023 with of an elevation drop down to 7300 down to the crater floor.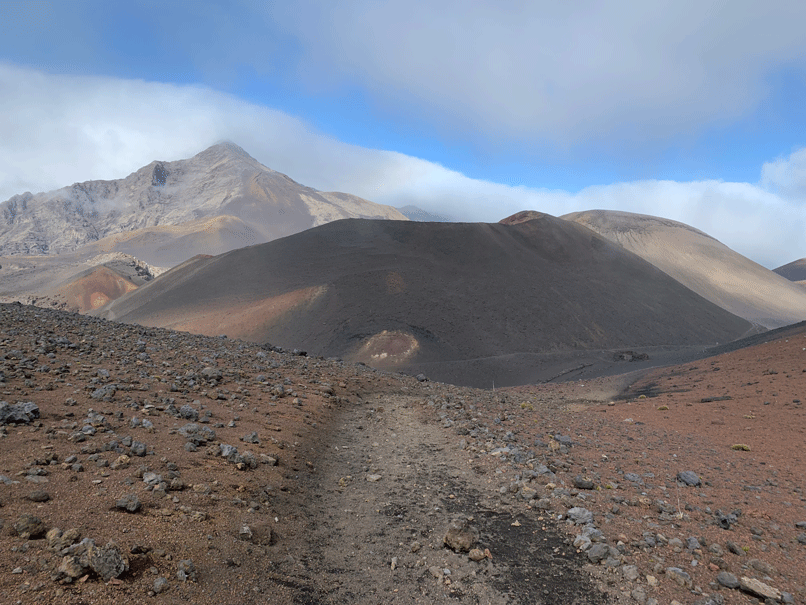 One thing that I found remarkable is the different terrain and landscape that lies on the island of Maui. The landscape ranges from lush beautiful greenery where everything grows to volcanic rock where nothing grows along with everything in between.
On your ride up Mt Haleakala, you will first start in semi green condition with not many trees. As you rise in elevation you will pass through a very green and lush area that is beautiful! You will pass eucalyptus trees that smell yummy.
As you climb higher, you will find more volcanic rock with plants growing through out the rocks, and then finally on top, you will have volcanic rock with sparse plants growing here and there. If you hike down into the crater, you will find an area that is black volcanic rock that is really fun and cool to see with no signs of life.
There is an endangered species called Silver Sword that grows inside the crater that was pretty cool to see.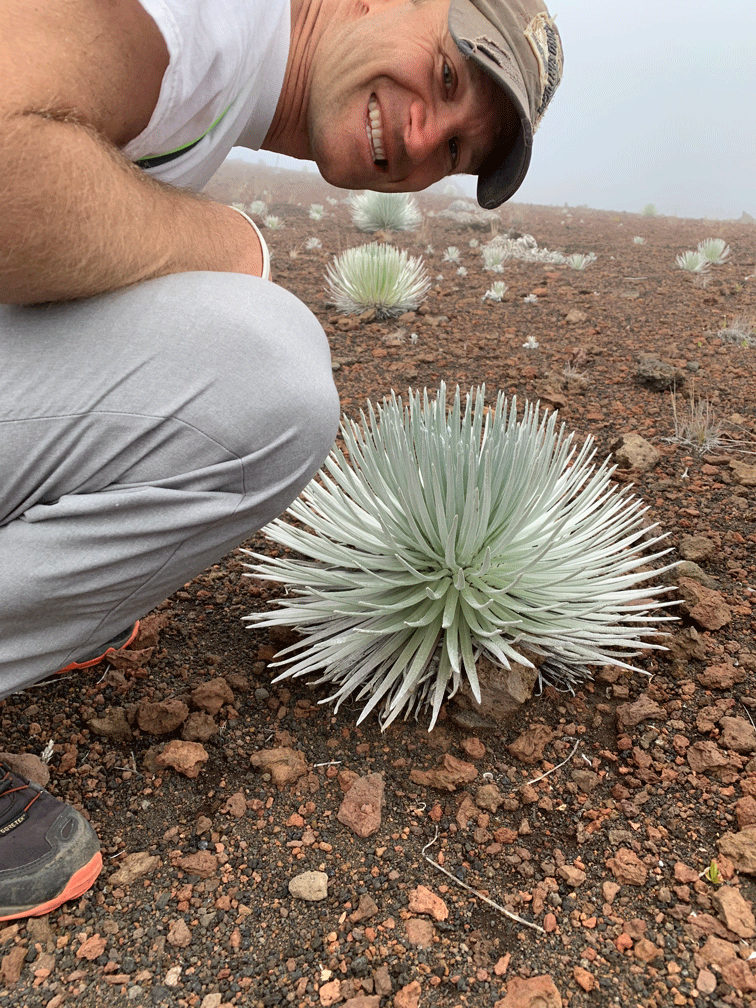 Mount Haleakala Weather and Temperature
The temperature can be anywhere from 30-60 degrees. Some locals were telling us to dress warm with bands to cover our ears and gloves. Not having any of these items at the time we headed up in shorts and jackets.
I was a little worried we were going to freeze, however, coming from Utah with below freezing temperatures often, we weren't cold at all. It was actually perfect weather for hiking. Near the end of our hike when the sun went down and the clouds moved in with a thick mist, my hands got cold, but that was it.
The weather on Mount Haleakala changes frequently. Don't fret if you are driving up in clouds, there is a good chance they will be blown away and you will have a clear sky for a time. This occurred many times.
During our hike and time on the mount, we experience sunshine, clouds, and all encompassing mist that made our clothes and hair damp.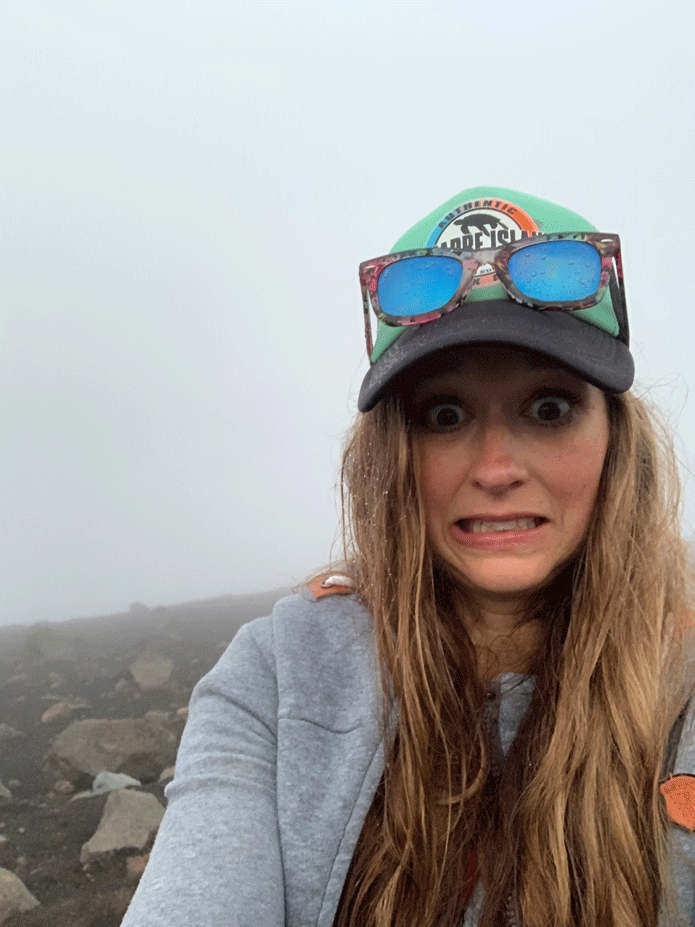 Be prepared for anything and make sure you wear good hiking shoes. There are some serious hikes that you can go on if you love to hike!
Haleakala Crater Hikes
There are various hikes and levels of difficulty that you can choose to take. There is a shorter hike that takes you to a lookout point over a crater with some ancient rock wall shelters. The hike is a short 1/2 mile trip, but gives you a good view of the crater below. The trail head is near the visitor center and heads up the hill.
We decided to do the Sliding Sands hike and see where it takes us. This hike can go on and on and on if you want. My husband and I just wanted to keep going a little further since we were told this particular hike was amazing. We ended up hiking 11 miles!!
Here is a map of the Sliding Sands hike.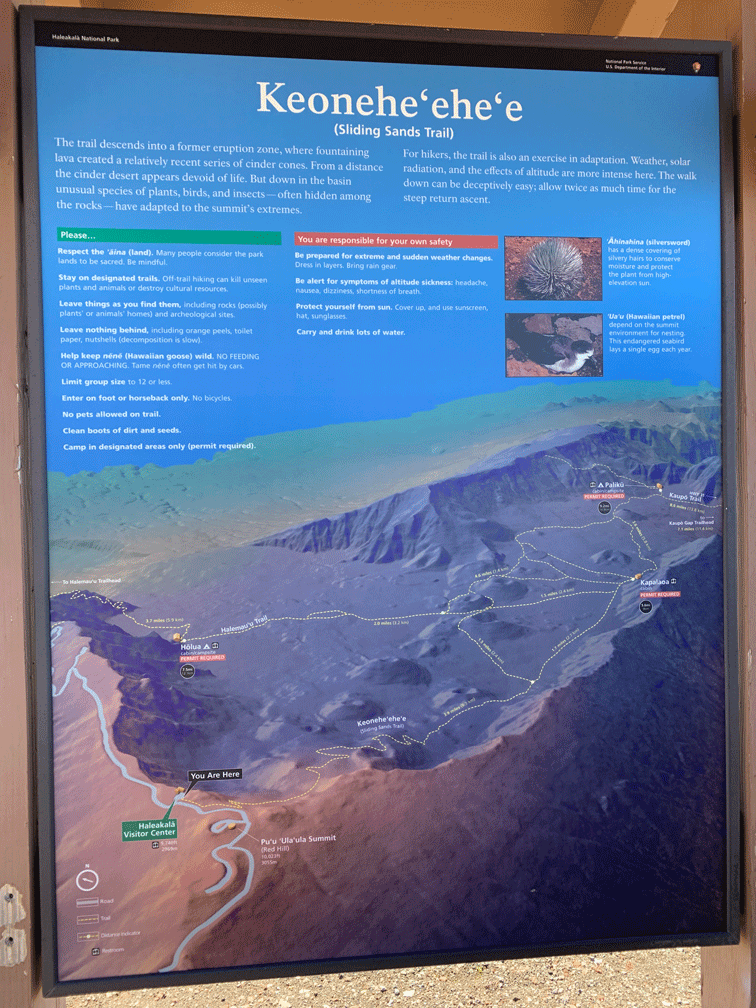 We started at the visitor center which is 9,740 feet in elevation. My husband had an elevation app on his phone that he tracked as we headed down into the crater. We dropped down to 7300 in elevation.
WHAT??
It was crazy! Getting down was the easy part. As we got to the bottom, we looked up behind us and I groaned a little bit thinking that I would have to climb that 2500 feet back out.
At the bottom of the crater we crossed over to climb one of the cylinders called Halali'i. We passed through a black lava field of volcanic rock. The ground was covered in black sand and rough shaped rocks stood all around us. I felt like we were on the moon which was pretty awesome!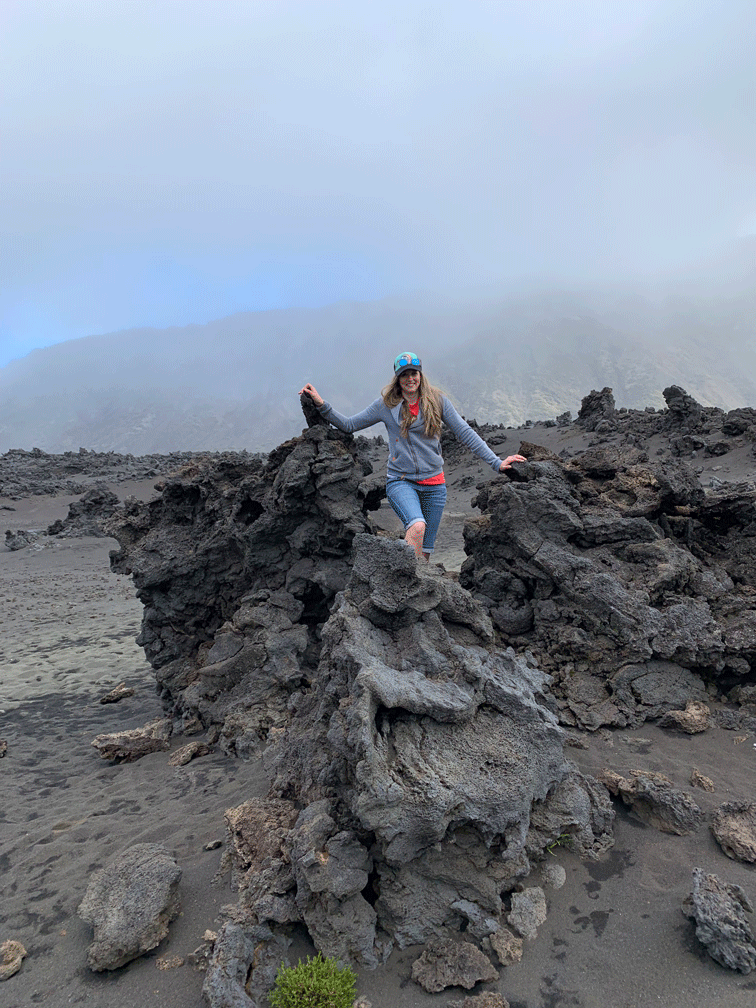 As we climbed up the side of the Ka Moa O Pele cylinder, the colors were amazing and a beautiful rainbow appeared.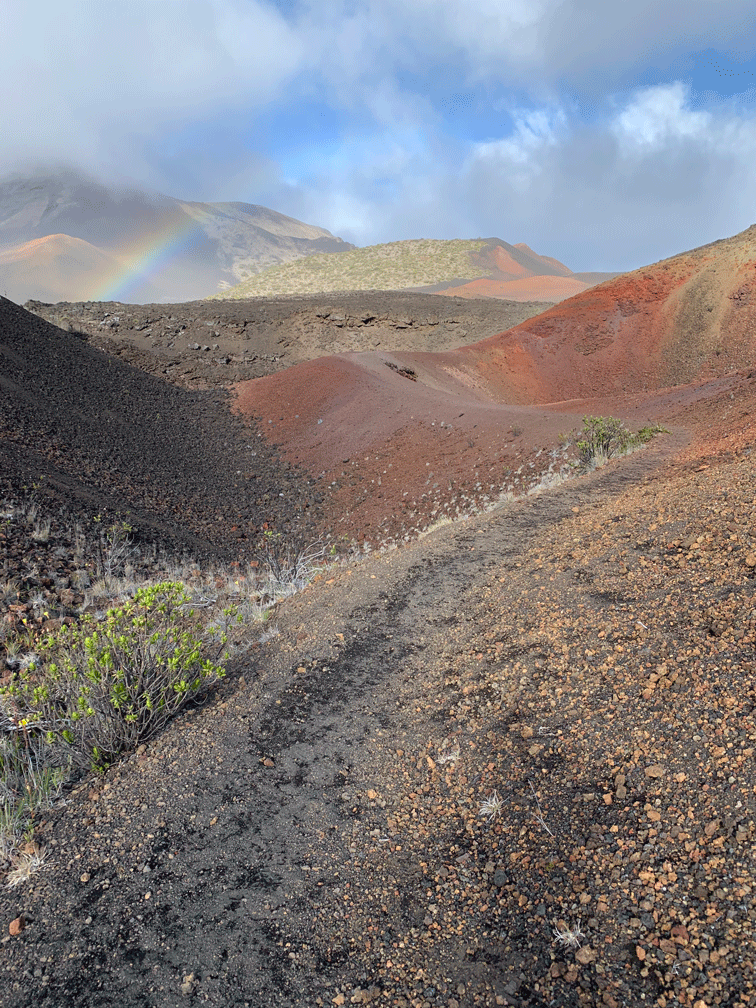 We hiked 11 miles and were pretty tired after the 2500 feet ascent back up to the rim. We began our hike just after lunch and arrived back to our car just after dark. When all was said and done, this hike was a lot of fun and was one of my favorite things we did. The colors were amazing and the entire grand picture of the crater was majestic.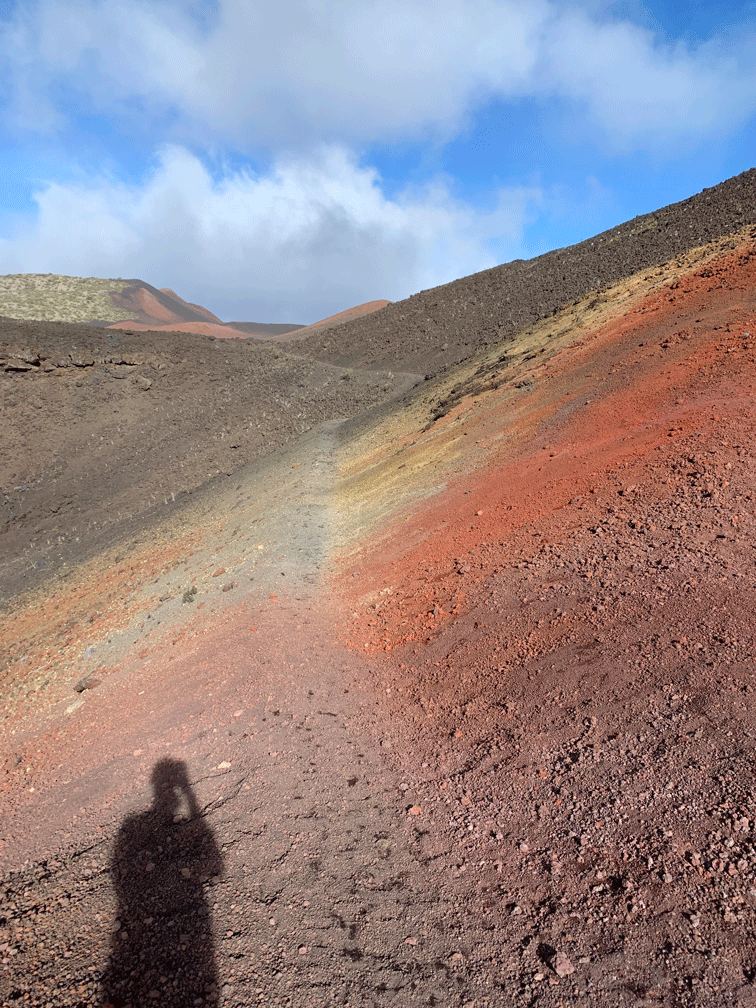 At different times of day the rock may appear slightly a different color. Here are some rocks that were all a different color.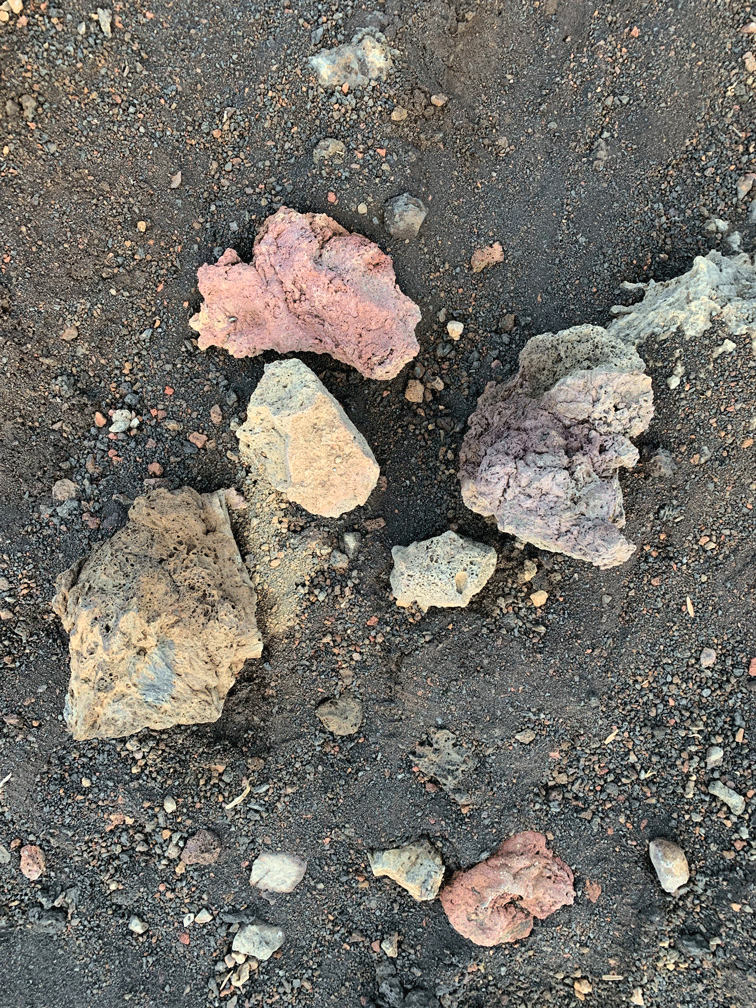 Biking down Mt Haleakala
Biking down Haleakala is a very popular adventure. You can check out prices and times here. There are various companies that do these bike tours so check around to see who has the cheapest option for you. The bike rides start very early in the morning so you are on the mount at sunrise. We did not do this option but I have heard various reviews about it. Some loved it while others say the sunrise was covered with clouds. There is no guarantee that it will be a clear sunrise, but I can imagine the colors to be fantastic either way.
The road is windy and has lots of curves. You wouldn't be doing much pedaling since you will coast most of the way down, but it looked like an exhilarating experience. If only we had more time!!! HA HA
Haleakala at sunrise or sunset
If you just want to drive up to the top, this is a great option. If you are wanting to hit the sunrise and enter the park between 3 am-7am, you will need to get a parking permit here. They only allow so many cars up the mount in the morning. If it is after 7 am, you do not need a parking permit.
When we were up hiking, there were a lot of people who came up to catch the sunset. The clouds were in the way blocking much of the sunset, but the colors in the sky were beautiful!
I highly recommend checking out Mount Haleakala if you can! The great part about it is that you can experience it for fairly cheap.
If you are looking for an authentic fun Luau while visiting Maui, check this post out and see why the Old Lahaina Luau is so popular!!