A nerf gun birthday party is so much fun and pretty easy to get organized and the kids LOVE it! My youngest just turned 5 and his party was a hit. The kids had a lot of fun and played hard.
A 5 year old birthday party can be hard at times because they are so young and their attention span is as long as a popsicle. Before you know it, it's gone! Going through 5 boys I have learned what works and what doesn't work for 5 year olds. I hope you get some great ideas and have so much fun for your party!!
Let's get started!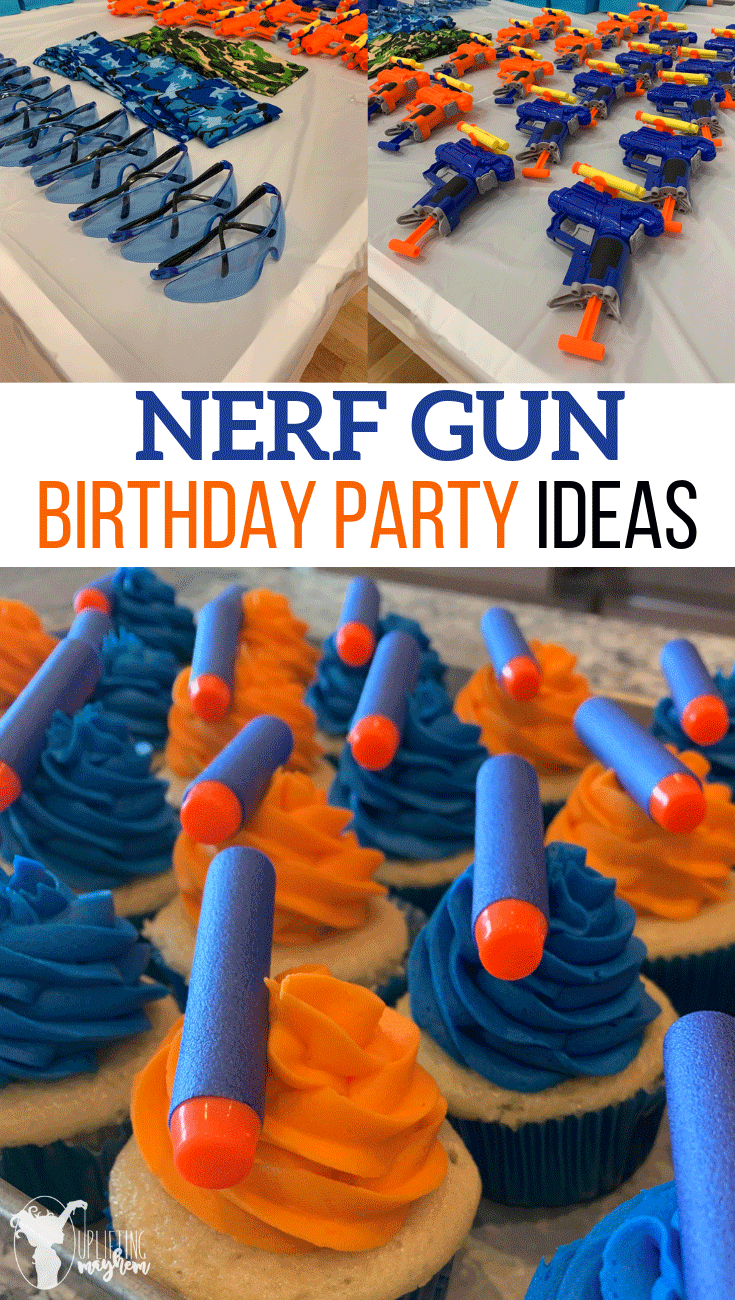 Nerf Gun Invitations
Invitations should be easy and simple. I didn't even send out invites or hand delivered them. Take a picture of your invitation and send out personal texts to those who you wish to invite. It ensures that it is delivered and the invite is not misplaced. Doing it this way also increased the amount of people who RSVP'ed (Is that a word?).
Here is a link to a simple invitation that you are welcome to use. You can open it and add text in the spaces available to customize your invite. If you have any problems downloading it or getting it to work, please email me and we will get it fixed.
The invite below is an example of how you can customize your own Nerf Gun Birthday Invitation.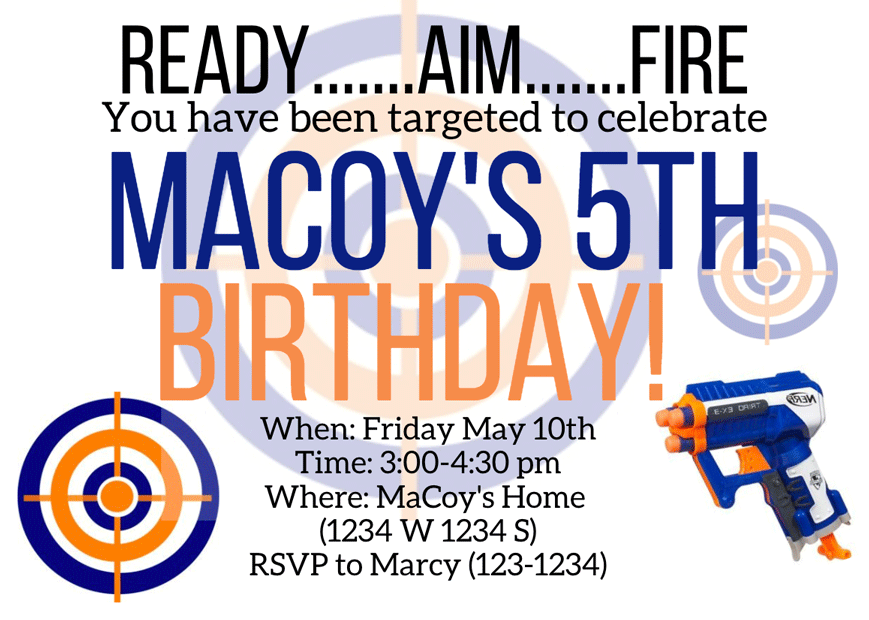 Nerf Gun Birthday Cake Ideas
I have done 2 nerf gun birthdays and I did a different cake for each one. Depending on your time that you have, either option was fantastic and the kids loved them both. They are both pretty easy and self explanatory on how to make them by just looking at the pictures.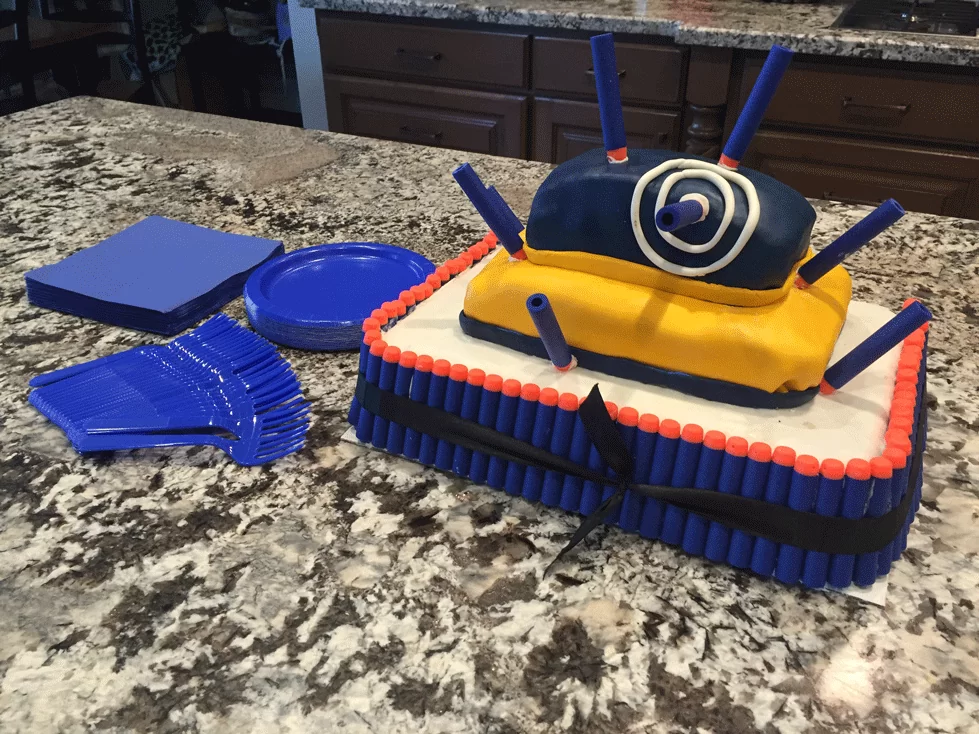 Awesome nerf gun cake with darts for your kids, or cupcakes with a dart on top of each one. Here are also some cupcake toppers that you can print out onto card stock if you would like.
Cupcake Toppers Nerf Gun Party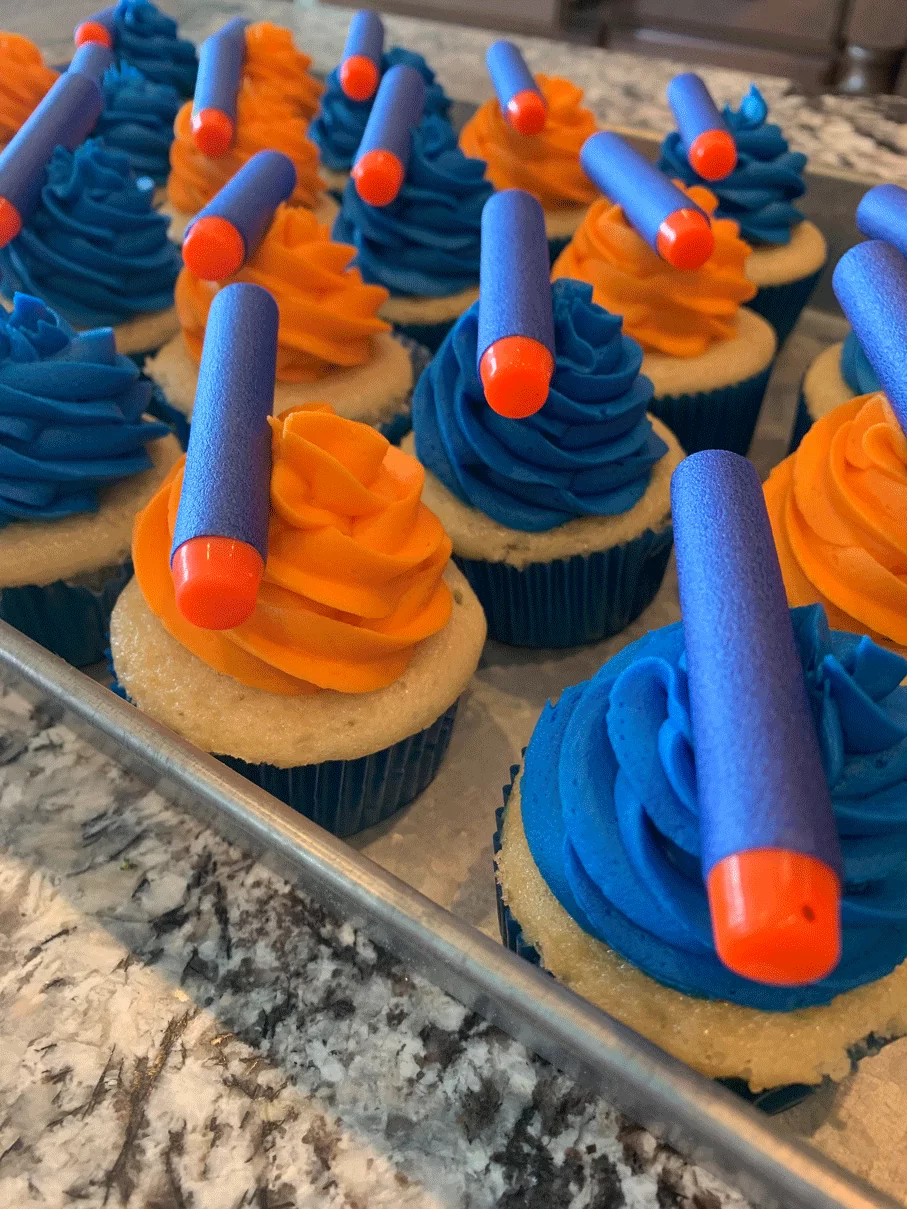 Nerf Gun Birthday Party Favors
Each child received a nerf dart gun, safety glasses and a ninja mask. I received all of these for a fairly good price on Amazon. I also got each child a paper bag for their items and also for the candy from the pinata that is shown below.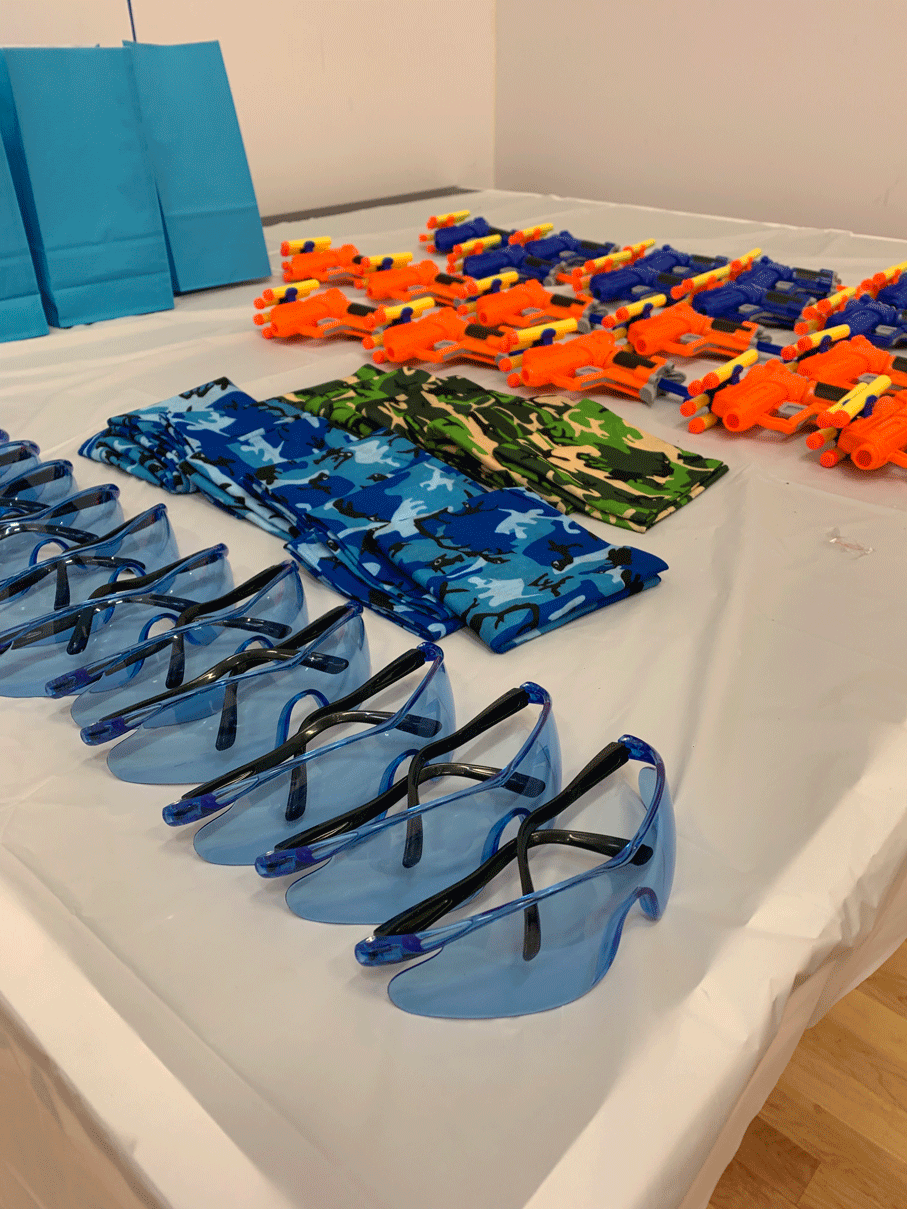 Nerf Gun Birthday Activities
Activity #1
I like to provide an activity that is calm and something everyone loves to do when they first come to the party to act as an icebreaker. Play dough is always a great option for this and is super cheap and easy. I separated the play dough into baggies so they were all ready for the kids when they arrived.
As kids came, I read a book called ISH (such a cute book) to the kids and then they created any creation they wanted to create! This was very entertaining. After everyone created something we had everyone else guess what it was. We had creations that were flat statues, to bowls, to a mouse.
In the past when I have done nerf gun parties, I have done a full on out battle with everyone against everyone. With 5 year olds this doesn't work out well, and someone usually ends up getting their feelings hurt one way or the other. Another thing we have done is nerf gun training, but long lines don't turn out very well. Again, their attention span is tiny.
This time, I did it a little different and split the kids up in 3 groups. There were 3 activities that involved shooting something. Each activity lasted around 5-10 minutes depending on the kids.
Activity #2
This activity was simple, yet fun. The kids had to try and shoot their darts into one of the holes into the card board box. You can make it fancy or whatever shape you desire. My son did a fabulous job making this one.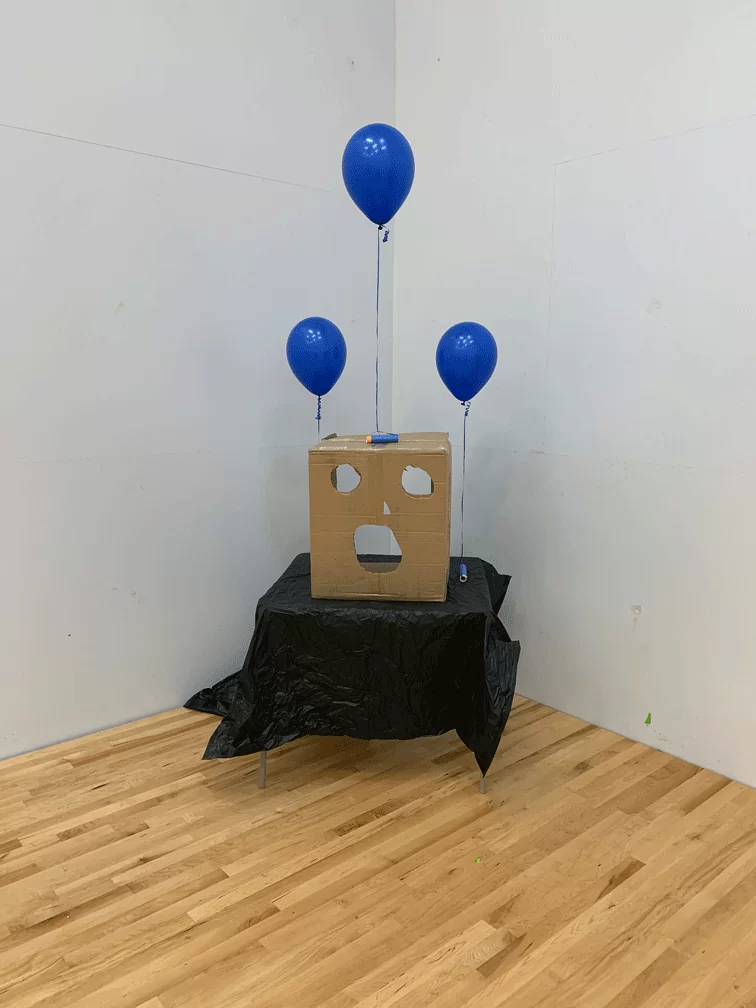 Activity #3
The next activity was shooting down nerf darts made out of rolled up paper. This is exactly like bowling, only with a nerf gun. The kids loved this. All you need to do is roll up colored paper, tape them, and set them up like bowling pins.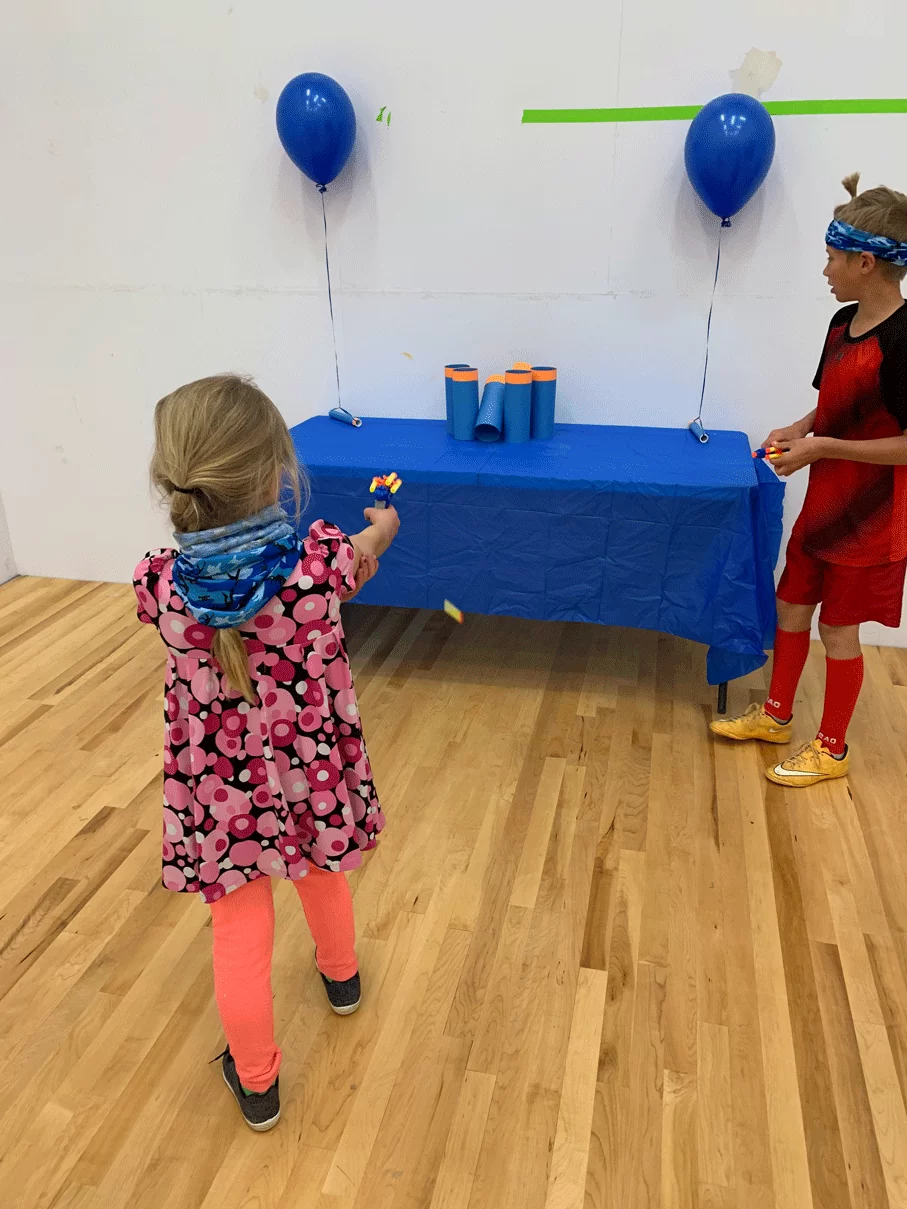 Activity #4
The next activity was shooting balloons full of helium. Each balloon had a nerf gun weight attached to it made out of PVC pipe. I covered each PVC pipe with paper to make them look like darts. Super cute, cheap and worked like a charm. The kids really enjoyed shooting these balloons and watch them bounce back (you could add targets to these balloons too).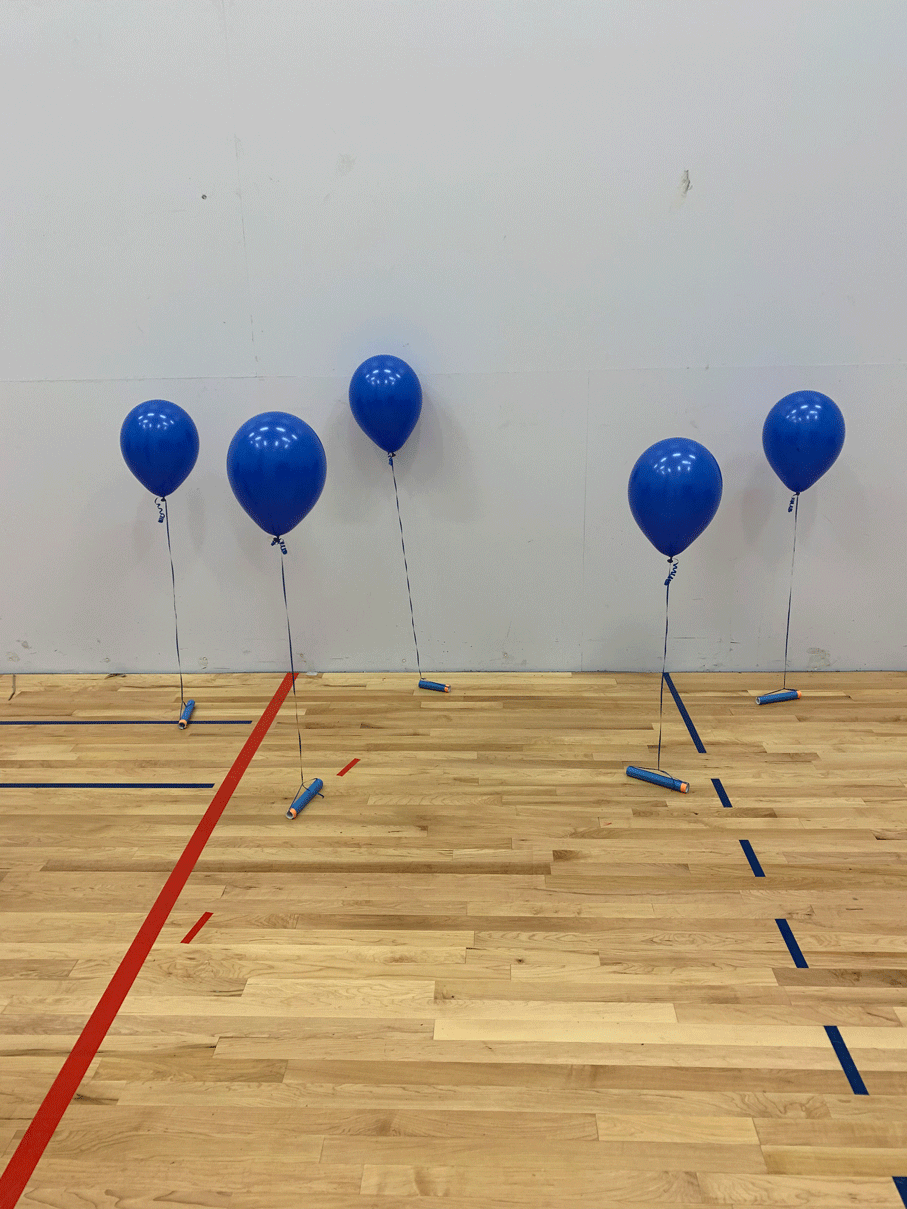 Here is a close up of the PVC nerf dart balloon weights that my son and I made.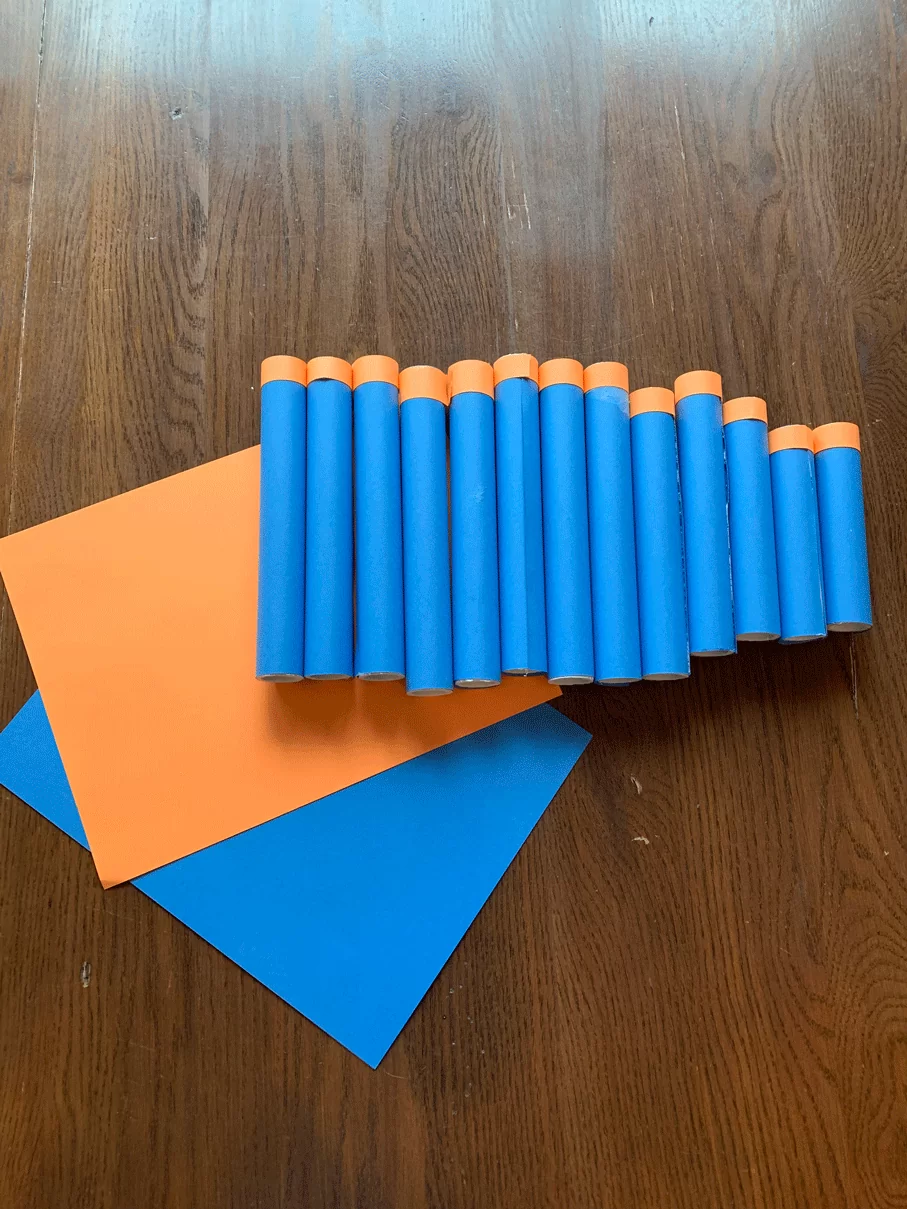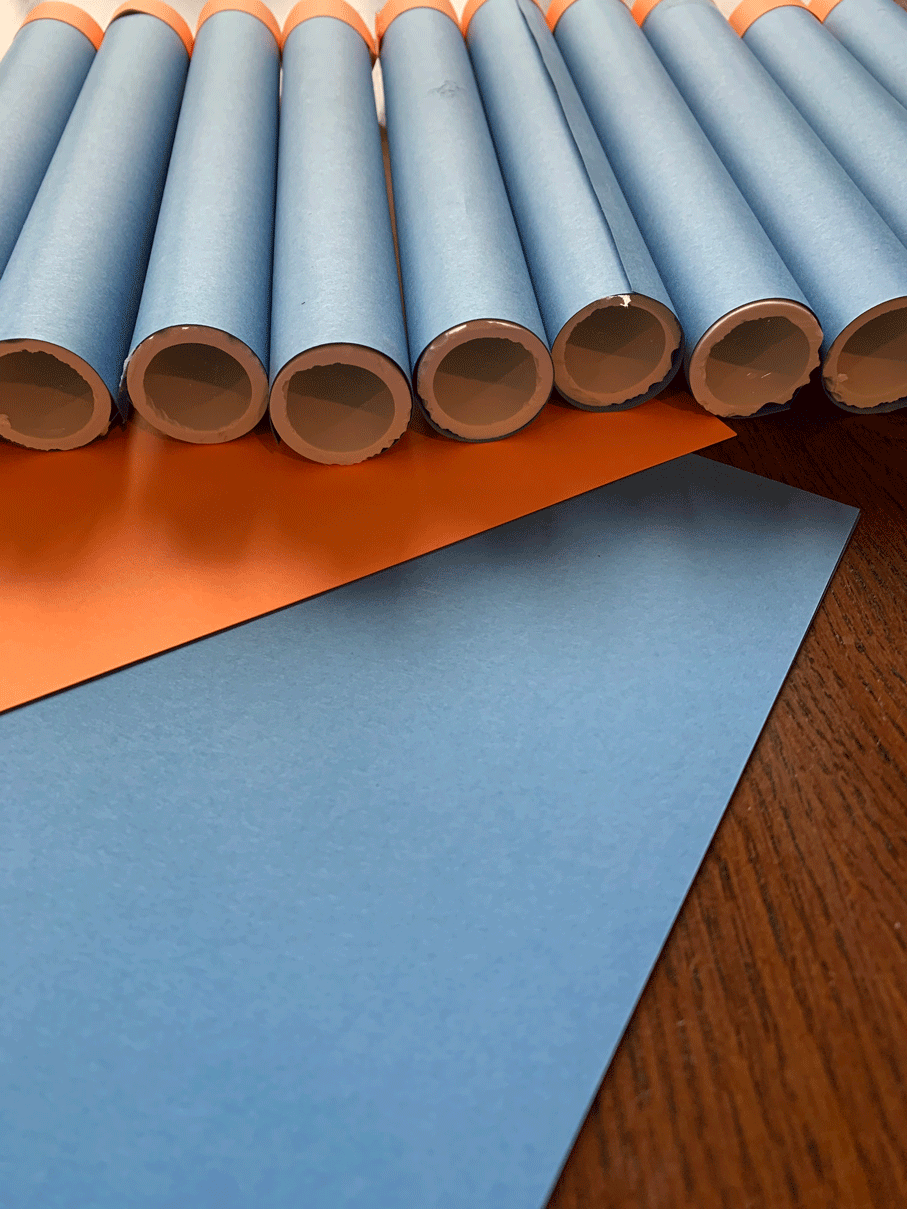 After we did those three activities, we brought out some balloons that didn't have helium. We all had a contest to see who could keep their balloon up the longest. Oh my goodness, the kids loved this and had so much fun trying to keep their balloon up in the air.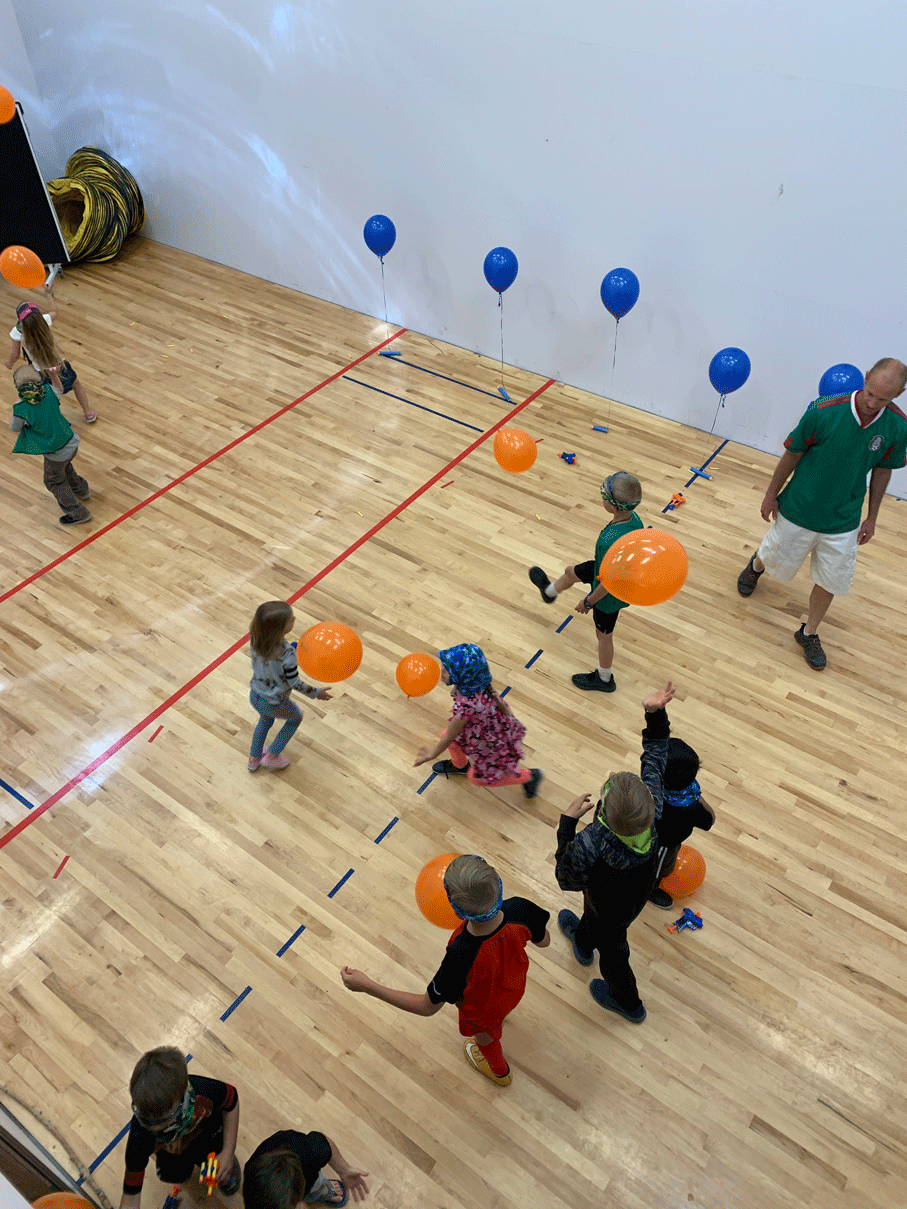 Activity #5 –
The piñata was next and is always a crowd pleaser for any age. It takes 15-25 minutes to break it open and the kids LOVE LOVE LOVE hitting the piñata. Fill it with some candy, balloons and other trinkets! The kids will love it.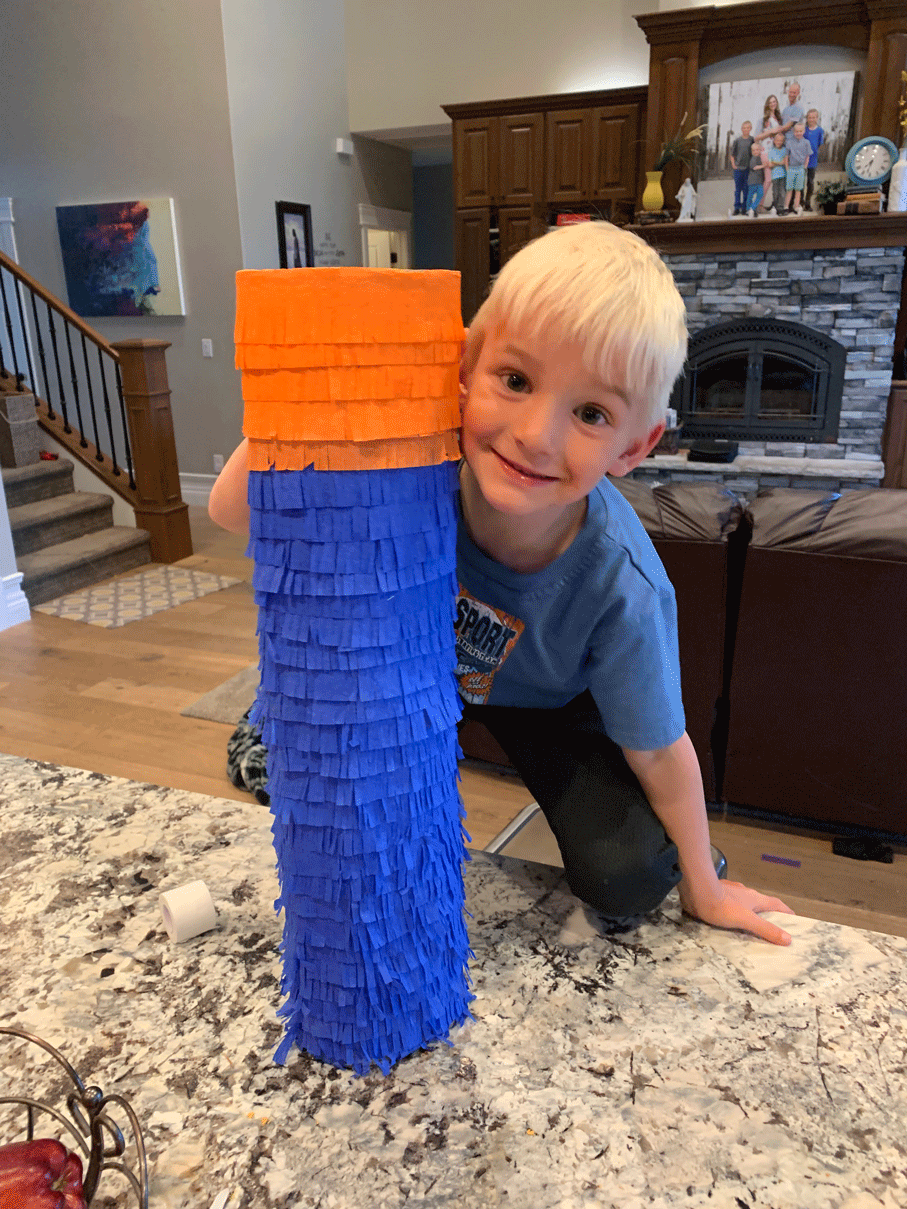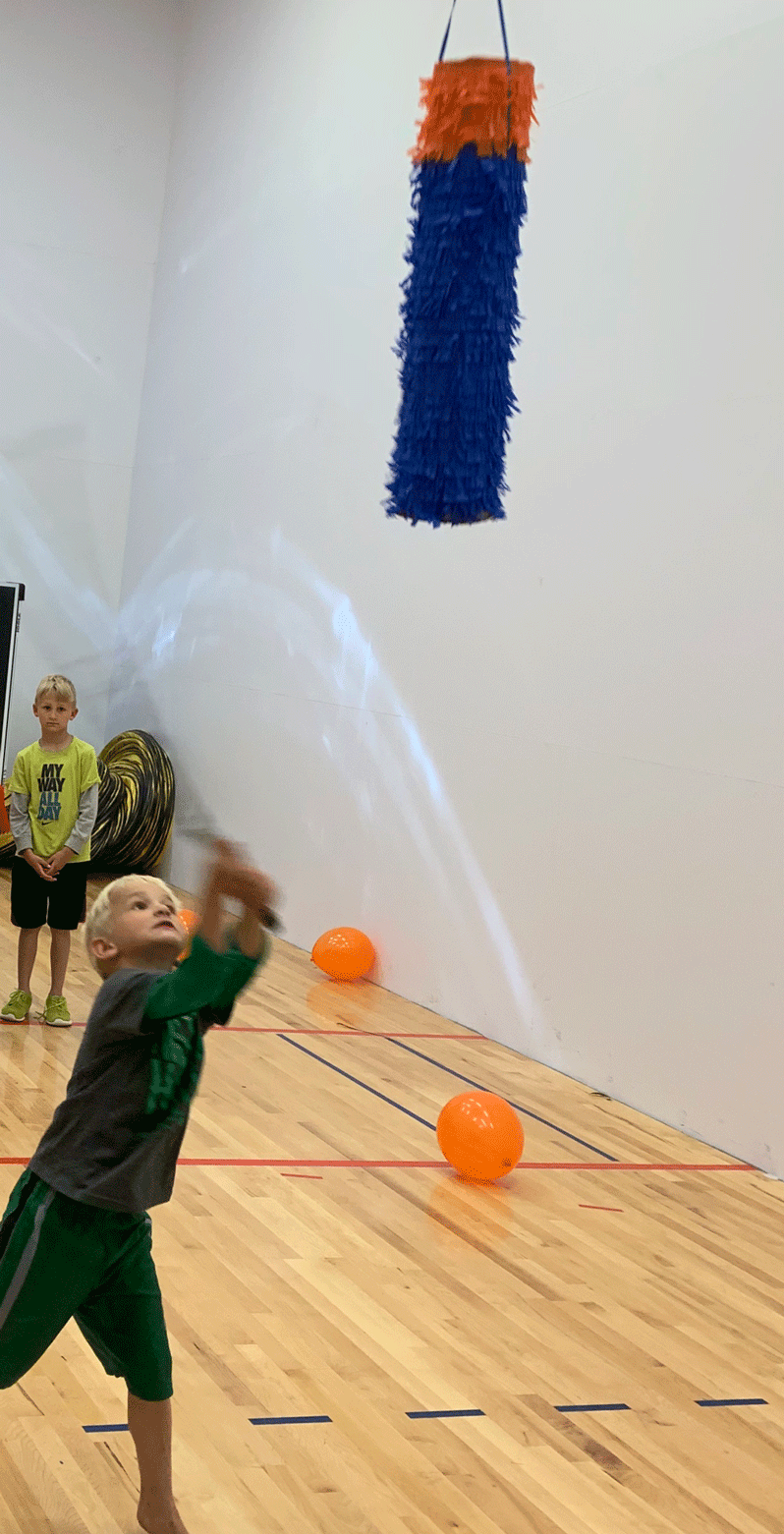 After we did the pinata, we sang happy birthday, ate cupcakes, followed by presents. The kids played outside while parents came to pick up kids. It was a fun party and my son loved it! I can't believe my baby is 5. I hope this gives you some fun ideas for your next nerf gun birthday party! Enjoy!!