Finding happiness through service is an amazing thing. I have struggled finding the right words to truly express my feelings on this topic. The reason being is that service should be done quietly and not shouted on the roof tops. However, I feel my experience may help someone receive the same kind of happiness I have discovered in my own life. My wish is to only inspire someone to do something more. Especially during this Christmas season! We can serve and #LighttheWorld together!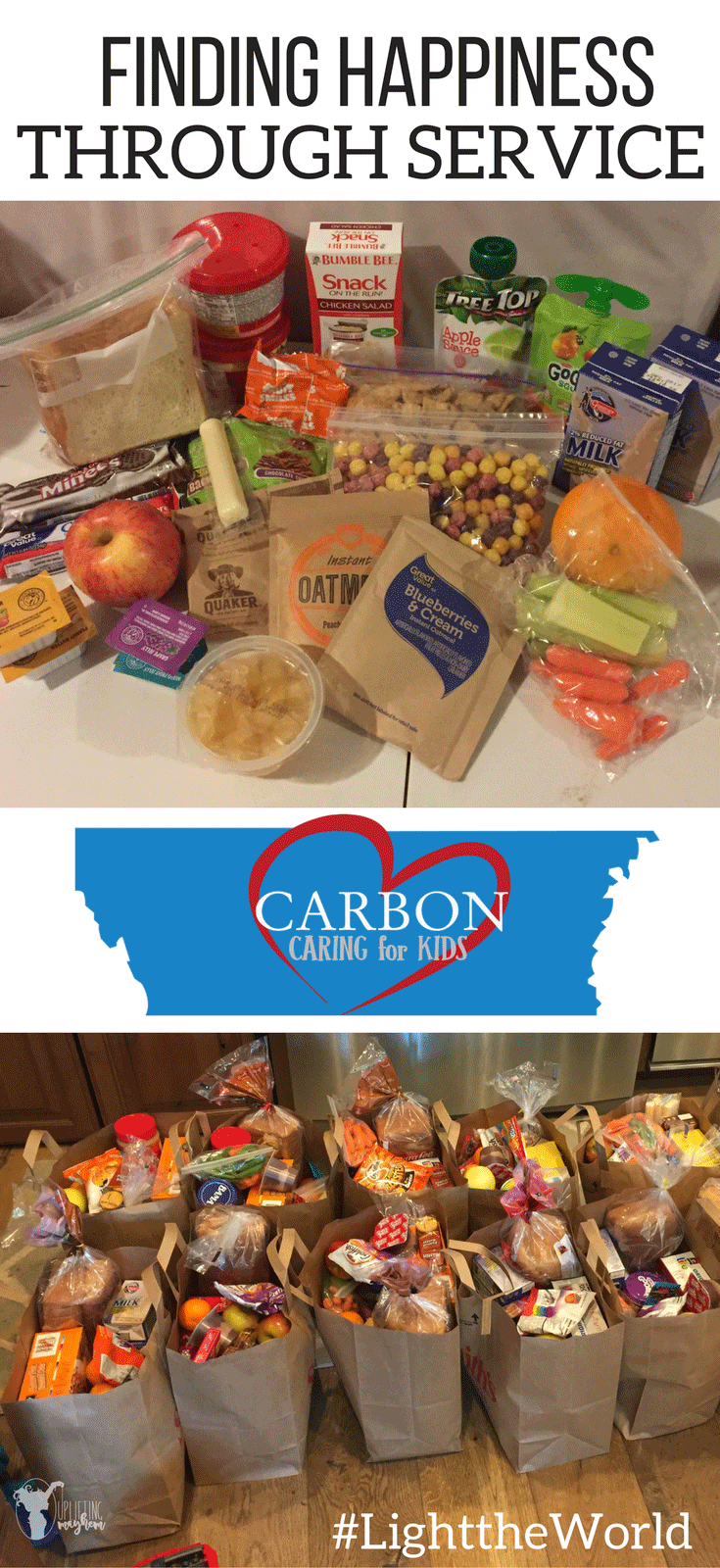 I first want to share a little analogy with you. I want you to get a spoon and raise it up so you can see your reflection. Turn the spoon so it is facing inward, towards you.
What do you see?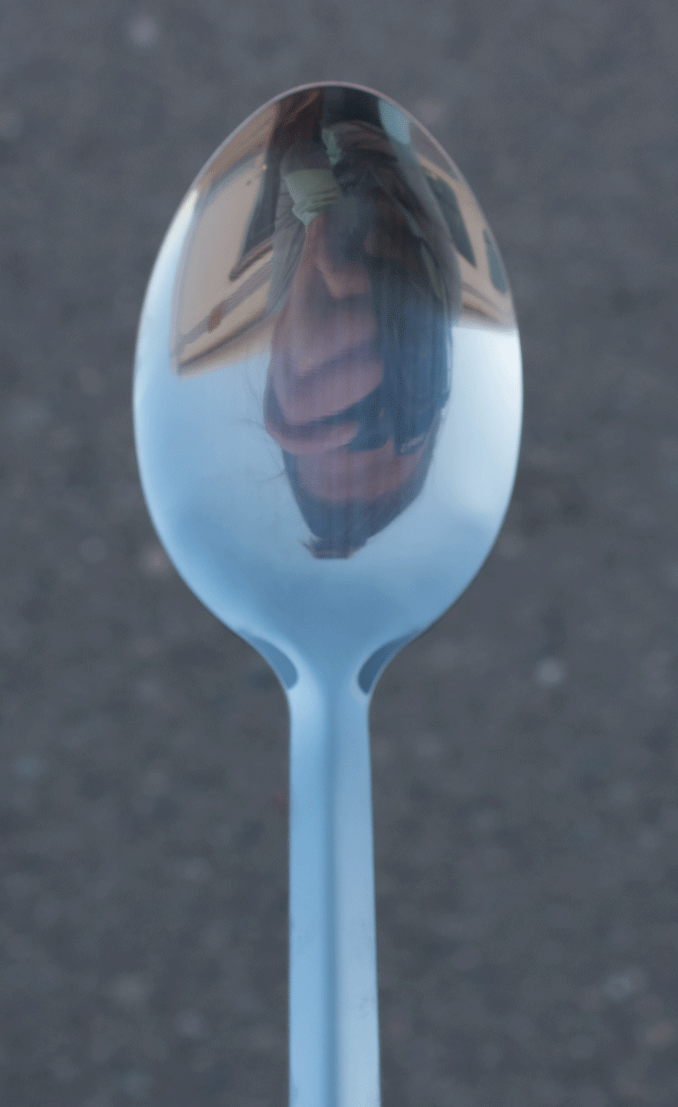 You will see yourself upside down and slightly distorted. Now I want you to turn that spoon around and face it outwards away from you.
Now what do you see?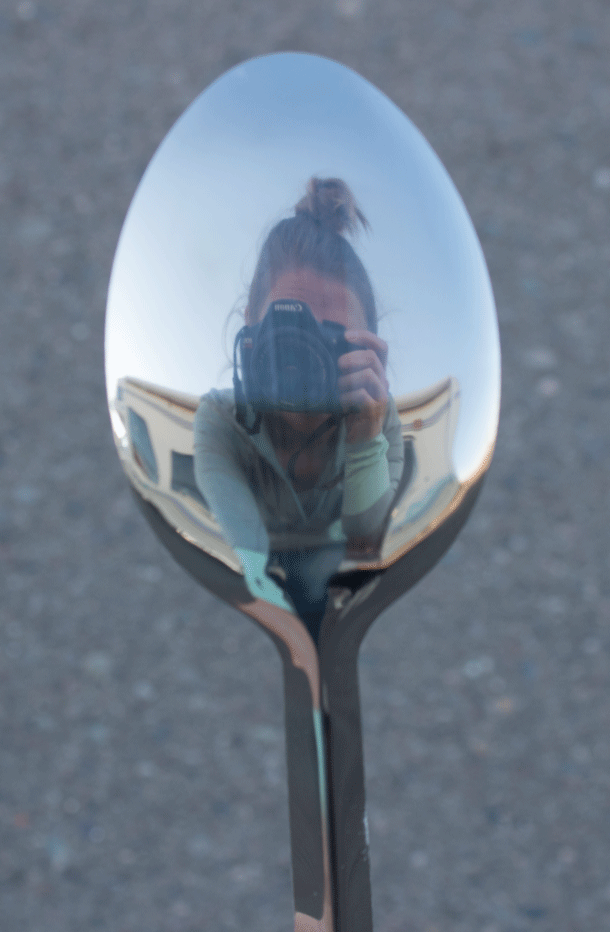 You will see yourself right side up, straight, level and recognizable. I want to use this analogy of this spoon to serving and helping others. Really it's simple. When you focus on yourself and get stuck in your own little bubble (which is really easy to do) your reflection of yourself and your life becomes upside down, distorted, and confusing. Once you "turn that spoon around" or outwards and begin to focus on people around you, you will find the reflection of your life right side up and you begin to discover a part of yourself you never knew. Mahatma Gandhi said it best:
"The best way to find yourself is to lose yourself in the service of others." Mahatma Gandhi
If there is one thing that I have learned in the past year and a half is that serving others and volunteering your time can be the answer to a struggling mother's prayer. Not very many people who know me, realize the struggle I dealt with daily just to get up everyday. I found little joy in the daily monotony of life and didn't look forward to much. I had 5 boys under the age of 8 and a wonderful husband. All whom I loved very much, but I still wasn't enjoying my journey.
A turning point in my life came when I had an opportunity to go serve a medical humanitarian mission in Ghana Africa. During this trip I experienced every single emotion every day. There were times of laughter and smiles. Shortly later I found myself struggling to breathe while trying desperately to hold back tears, as I witnessed heartbreaking circumstances. I came home different and changed. It was hard to process the feelings I came home with. Knowing what I knew and feeling the feelings I had felt, could I continue going on as I had.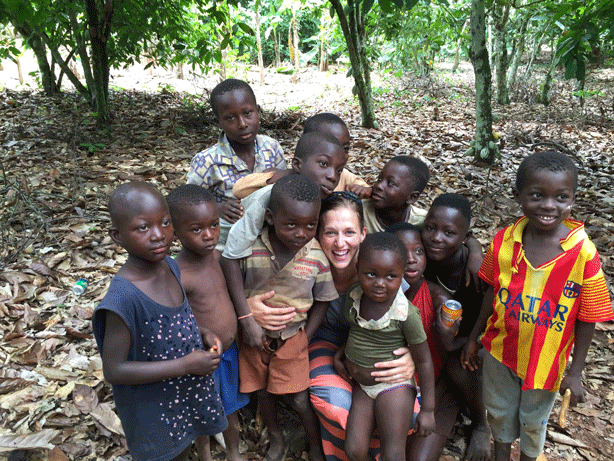 I began having many different feelings that I didn't understand and thought often of different ways I could serve and help others, but nothing felt right. I began reaching out to different individuals who might know of different ways to help families in our community. As a homeschooling mom, I wanted to take advantage of our situation and give my boys many opportunities to serve. However, these feelings and desires seemed to be at a standstill.
One night a couple months later, I went to be a substitute for a local volleyball team. In between games I was able to catch up with a dear friend I went to school with. We began talking and I shared with her a lot of the feelings I was having. This is where things started to really come together.
A few days later this same friend gave me a call. She shared with me a conversation she had with another mutual friend who is also a school counselor. This counselor was saying that there are many kids who go home on Friday and don't get much to each until Monday morning school breakfast. My friend thought there has to be a better way and decided to call me. She asked me if I thought there was a way we could feed 40 kids for the 5 day Thanksgiving Break. Immediately I knew that this is what I needed to do. At this point I wasn't even sure how, but I knew this was the direction I needed to go.
I texted 40 people in my phone, my friend reached out to her nursing friends and within 3 hours we had everything we needed for the 5 day break for 40 kids. The response was overwhelming. So many people were so grateful for the opportunity just to serve. Especially when it is for children in our own community. After this initial week of providing these kits, I had a strong feeling that it should continue. The hunger of these children wasn't going away, so I asked my friend her thoughts. She agreed and together we created Carbon Caring for Kids, now a non profit organization feeding over 100 children every weekend.

It takes $1000 every weekend to feed 100 kids. The fabulous thing about all of this is that 100% of this is donated from members of our community.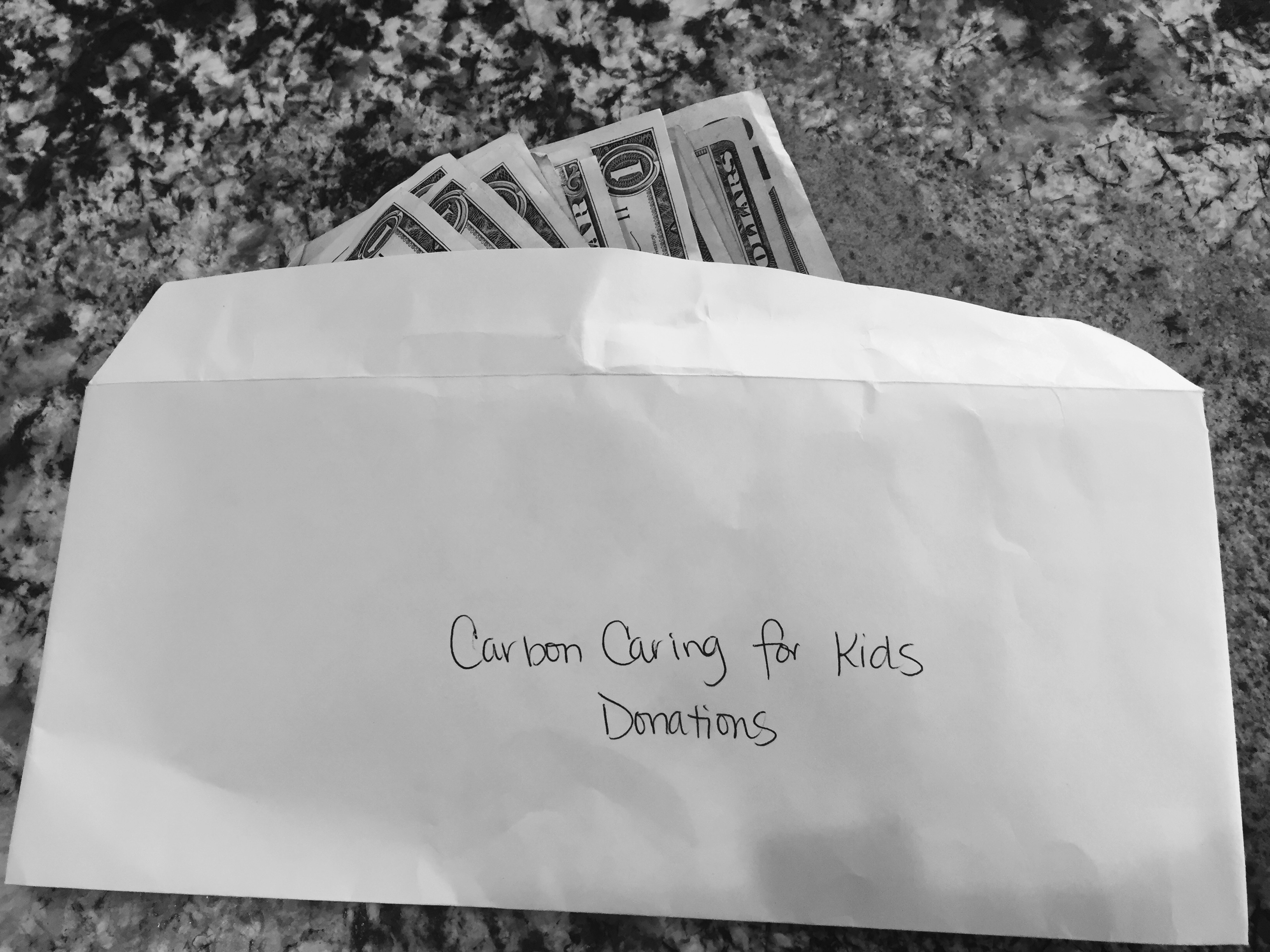 This is what makes this organization truly amazing! The part I get to play in all of this is simply to watch hundreds of people work together to feed children in our own backyard. You don't have to go to Africa to make a difference in someones life. You can make a difference and not only bless someone's life but also uncover a happiness inside of yourself that wasn't there before.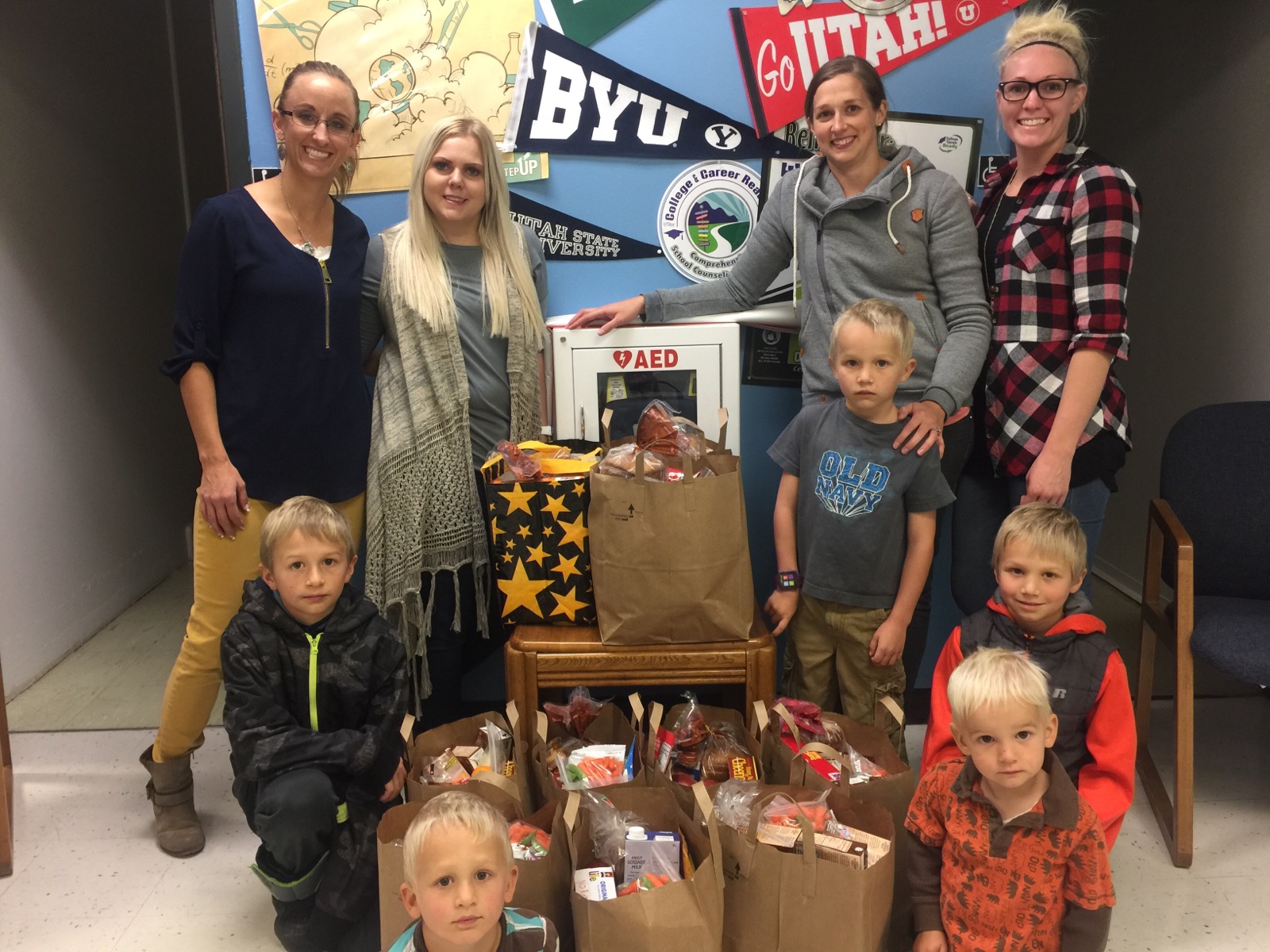 I get asked many times, "How do you have time to do this?"
I smile and agree that although I am busy I say, "Honestly I feel that I need this organization just as much as it needs me and everyone involved." I feel that the benefits of this organization has blessed my life, just as much as it is blesses each child who receives a kit each weekend. Simply because I have found a way to turn my spoon out. My focus is outward, and my reflection is upright and clear.
Here is a Youtube video we created of the our experience and the process that we go through every week.
It is proven that when you serve your body releases an endorphin that makes you feel good. Just like any other endorphin releasing activity this can become something you crave.
Here are 6 examples to get you thinking of ways you can find yourself, and a greater happiness, by serving others.
1- Volunteer at the local library.
This is a great option for those with or without kids.
2- Find widows/widowers or elderly individuals in your neighborhood.
A visit can brighten up someones day. I love my boys taking flowers to widows in our neighborhood on Valentines day.
3- If your community has a homeless shelter, go and find ways you can volunteer
Not every community has this option, but if you do take advantage of this opportunity.
4- Donate at the local food bank
Always a great option.
5- Visit

Justserve.org

for different volunteer opportunities in your area.
In my area they were looking for children advocates for the local court system. Different religions post many different opportunities from spaghetti dinners, to an event for local children.
6- Look and pray for opportunities help others.
This could be from watching kids of a mother who isn't feeling good, or bringing in a dinner of someone who had surgery. The possibilities are endless when your spoon is facing outwards looking for opportunities to serve.
For more ideas on ways to #LighttheWorld visit mormon.org. It gives daily ideas that you can participate in to help bring joy into someones life!