Are you always looking for more Halloween decorations for your home? These Halloween bat decorations will do the trick! They are so fun and so easy! Last year, my sister-in-law gave me a tons of paper bats that her co-workers used to decorate their office. There were hundreds of them. I tucked them away for an entire year. So now that Halloween is around the corner, I finally took them out of storage. Little did I realize how easy and fun it is to decorate my house with these festive and spooky animals.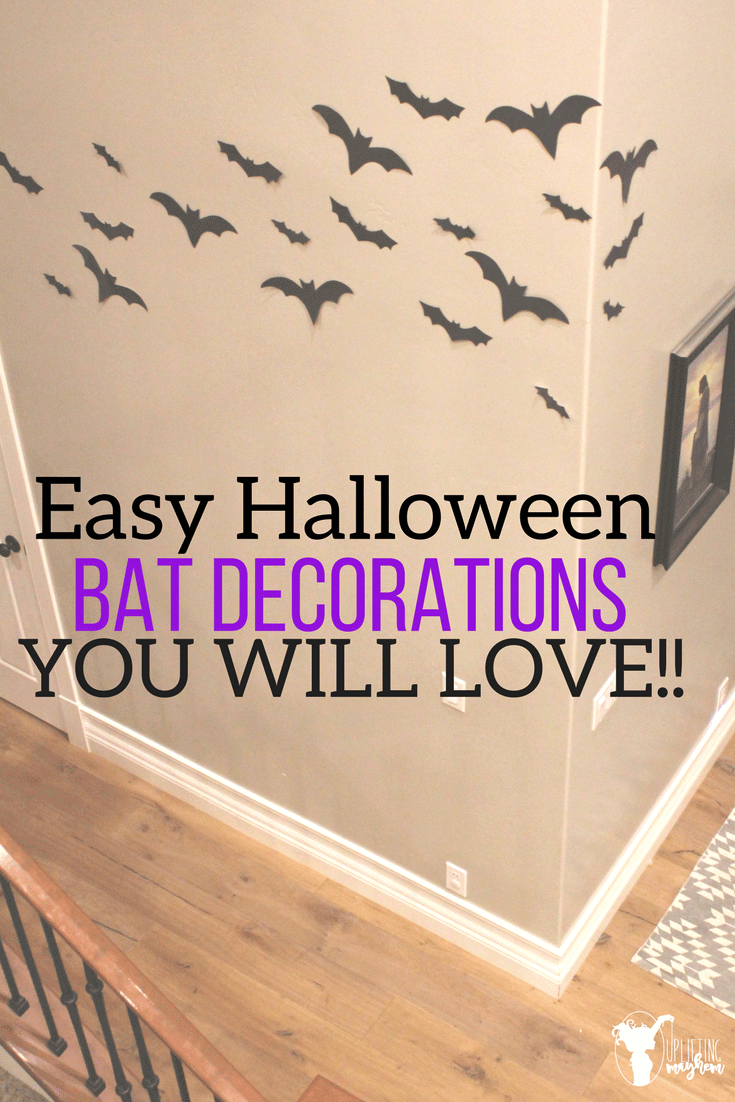 Print and cutout your Halloween bat decorations
All you'll need to start your decorating your home with these cutouts is some tape, scissors, paper and of course, your free printable below:
There are two options with this printable. You can print them on white paper using the first page of the printable or you can print them on black paper and print them using the second page of the printable. Either way, once you print them out, you'll need to cut each of them out. This might take some time, but you'll be able to use these year after year.
I printed mine out on regular printing paper, and then stacked 5 pieces of black construction paper underneath and cut out 6 layers of bats! Super super easy and way cute! It add so much to your Halloween Decoration in your home!

Hang Your Halloween Bat Decorations from the ceiling
A fun way to use your bats is to hang several of them from the ceiling with some string or thread. I hung them in the front room right next to the front door. It adds a spooky and festive atmosphere to your home when visitors come over.

Stick your Halloween bat decorations to your windows
This is a fun way to decorate your home because the bats create a silhouette that passersby can see from your window. They look great during the day and at night! You can put them in all your windows or just one or two.

Tape your Halloween bat decoration to your front door
You might as well add them to the front door for a fun effect. I taped half of my front door because I have little hands in my house that like to rip them off. They are also fun to hang on your kids' doors and the garage door as well.

Make a cave from your basement
To create the effect that bats are fleeing from a cave in your basement, scatter your Halloween bat decorations up the wall along the staircase. It gives the illusion that they have been hiding out in your basement and it looks pretty cool. Of course, most people don't have a giant elk head hanging above their staircase (see below), like we do, so it will look even cooler.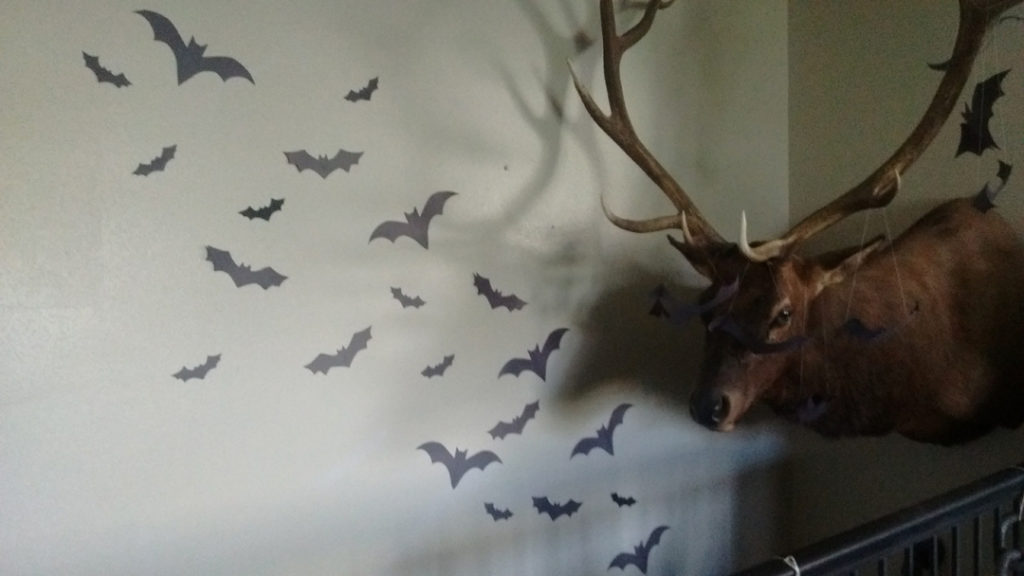 These are just a few fun ideas of how to use paper bats to decorate your house for Halloween. Do you have any other ideas to use paper bats? Leave your suggestions in the comments below.
Related links:
5 freaky, frameable Halloween printables
3 easy DIY fall porch decorations
30 Hilarious "Elf on the Shelf" Ideas for Your Halloween Skeleton