I LOVE Halloween! So naturally, I created these fun, freaky and frameable pictures to decorate my home. They are a simple DIY project to spice up your haunted home during this Halloween season.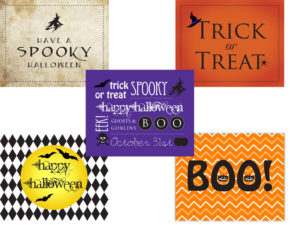 I originally designed these pictures for a craft during a girls' weekend with my sisters. I emailed all of them a PDF of the pictures and each of them chose their favorite. It was a huge success. So here's what you need to know to get started.
Print Halloween pictures and gather supplies
You can print the pictures in two different sizes: 8×10 and 5×7. Just click on the PDFs below.
Frameable Halloween pictures- FREE – 5×7
Frameable Halloween pictures- FREE – 8×10
These can easily be printed from your home computer or emailed to your local copy store. Then I went to my local dollar store and picked up some inexpensive picture frames and embellishments to glue on the picture frames. I was able to purchase all of my supplies for under $10! Or you can also find embellishments and frames online.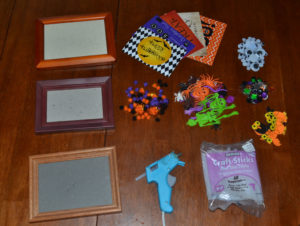 Assemble your spooky pictures
This was my kids' favorite part. The combinations are endless. One of my boys glued a plastic centipede eating a skeleton. Gross! But he loved it. Just make sure you have plenty of glue sticks. Although my kids couldn't use the glue gun themselves, they still enjoyed placing their decorations on their frames the way they wanted. Then each of them put their finished works of art on their dressers in their rooms.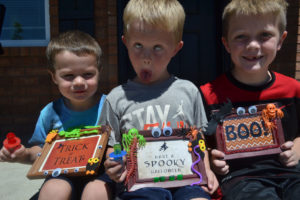 My favorite frame that I decorated was covered in multi-colored pom poms. It turned out so cute. Another idea is to glue googlie eyes all over the frame. If your house looks anything like mine during Halloween, you can't just stop after one. You will need a few of these in order to make your decorations complete.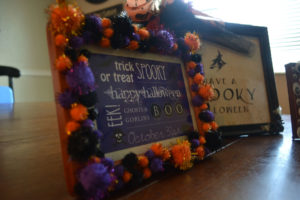 So, I want to hear about some of the fun Halloween crafts that you have done. Leave your comments below and Happy Haunting!!!