It's 8:30 p.m. and 30 minutes past bedtime. You've already asked your kids to get their pajamas on three times. At this point, you're willing to ditch the pajamas and even brushing their teeth. All you want is a few minutes of peace and quite. Mama Bear is about to come out and pop a gasket. Does this sound familiar? You're not alone.
I don't think there is one simple solution to your bedtime blues. However, I created something simple that might just be the motivation your kids will need. We call him "Dougie the Dragon" in our home, but you can call your bedtime sock puppet whatever you would like. So let's get started.
#1 Assemble your sock puppet
All you really need to make your bedtime sock puppet is a
You can make it however you would like. You can even get your kids involved. That way they will love it even more. One suggestion would be to not spend too much time on this. Your kids will love it whether it's fancy or not. If you want to go the easy route, you can buy sock puppets here.
As you glue on the pieces, make sure you put the sock on your arm so that everything is placed carefully. I try to make sure that the heal of the sock is the mouth of the puppet.
#2 Name your puppet
This may seem insignificant, but it's important to your kids. Ask them what they want to call him. Is it a dragon, a person or an animal? I originally got this idea from an older woman in my neighborhood. She made her own sock puppet named Sally for her kids when they were little. Now that her children are adults, her grandchildren have happily continued the tradition. She said that even though they can see your mouth moving, it's still very real to them.
#3 Put your bedtime puppet to the test
When it's time for bed, my husband and I tell our kids that they have five minutes to brush their teeth, put their pajamas on and get in bed if they want a "Dougie" story. Then we turn on the timer. The first couple of times we did this, our kids didn't take us that seriously. But there were a lot of tears when my oldest wasn't ready before the timer went off. Everyone got a story except for him. Stick to your guns. It will be worth it down the road.
Once the kids are ready for their story, make it fun. Our kids want original stories with a fun voice. You've got to own it. Pull out your high school drama skills. Your kids will love it. Like I said before, it doesn't matter if your lips are moving, these puppets are real to your kids. If you can't think of any fun stories, check out this website for ideas.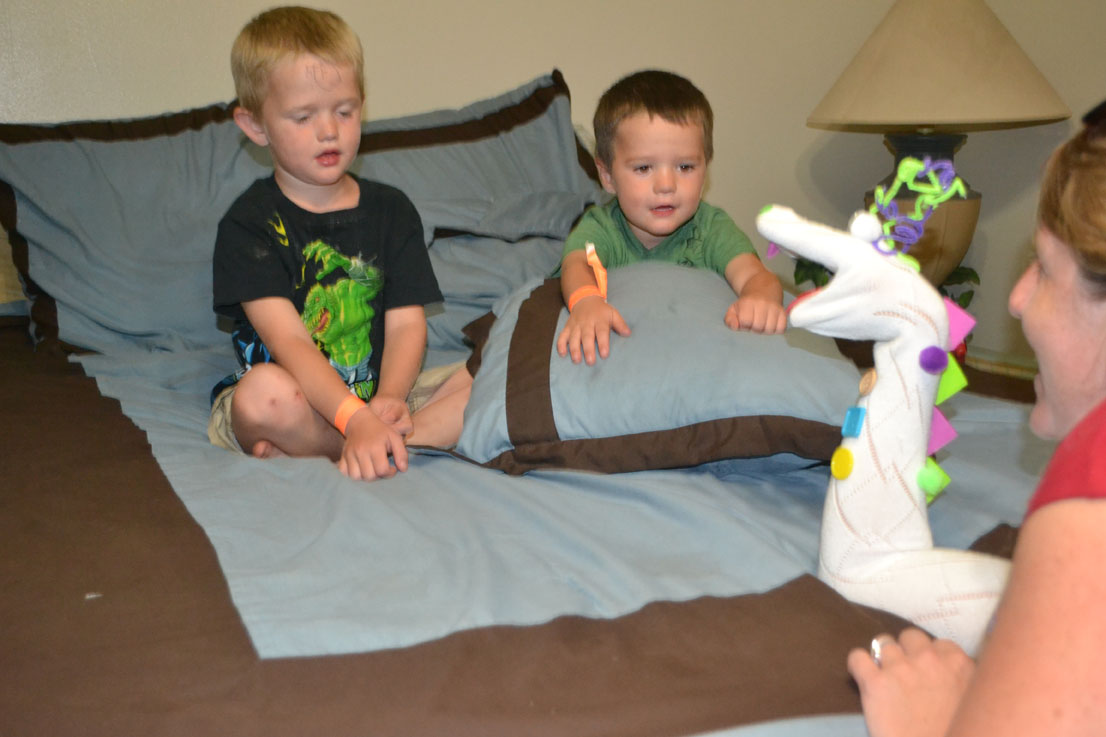 Hopefully this will make bedtime a little bit less stressful. I know it helped us and created some fun memories that I know my kids won't ever forget. What bedtime tricks do you have? Leave your comments below.