I grew a garden for the first time this year (yay!), and I have butternut squash coming out the wazoo over here! My favorite thing to do with butternut squash is make this amazing creamy butternut squash soup that involves cream cheese– which once you taste it in this soup, you will wonder how you ever lived with out it.  It also has a secret ingredient- (shhhh- it's cumin) that adds another layer of flavor that I think changes everything.  And, of course, there is butter involved because, let's face it, squash would be nothing without butter. So, if you are looking for a low-fat option, this probably isn't it.  But you can cut down on all the high fat items if you want to, and it will still taste pretty darn good.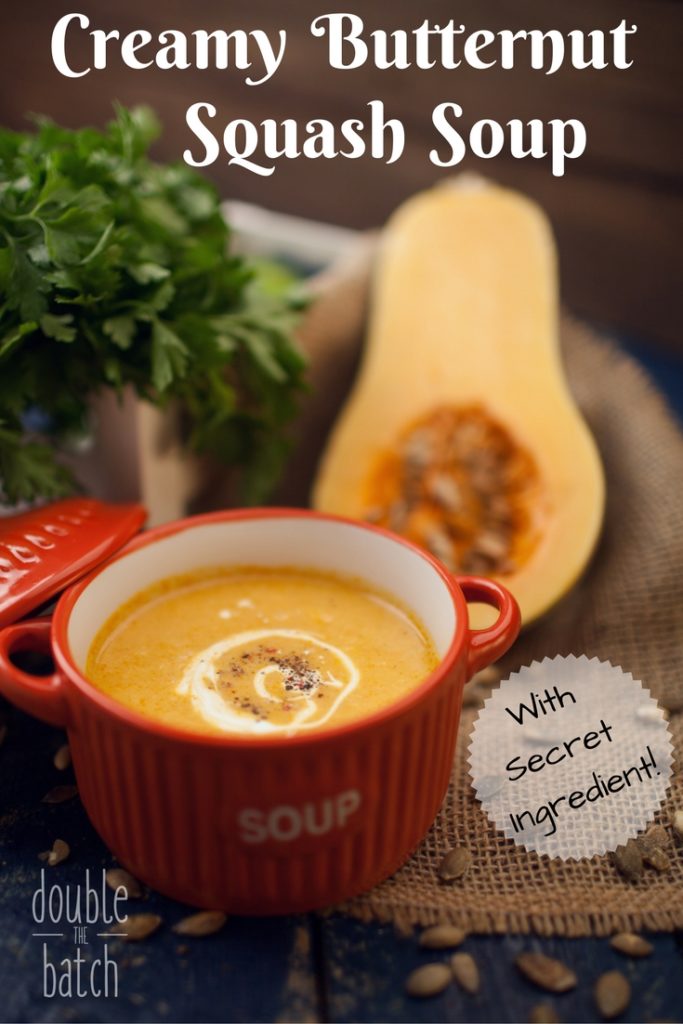 This is a variation on a recipe my cousin shared with me a couple years ago and I have loved it ever since. This soup just sings fall to me, and there is nothing I love more than the feeling of fall. Here is the recipe without further ado:

Creamy Butternut Squash Soup
Prep time:
Cook time:
Total time:
Ingredients
8 cups butternut squash cut in large cubes
1 onion diced
64 oz. chicken broth
1 stick of butter
1 tsp. cumin
¼ tsp. salt
¼ cup brown sugar
¾ package of cream cheese
Instructions
Remove the peel and cut a medium-to-large butternut squash into large cubes.
Dice onion.
Add 64. oz of chicken broth to a large pot and bring to a boil.
Add butternut squash and onion to the broth.
Reduce to medium heat and cook until tender. (25-30 minutes)
Ladle the cooked squash into your blender or food processor.
Whatever broth is ladled in with it will be the right amount.
Discard the rest.
Puree the squash/onion mixture to the consistency you desire.
Add back into an empty pot and heat to medium.
Add butter, salt, brown sugar, and cumin.
Soften cream cheese and add it to the pot.
Stir until smooth.
This a very forgiving recipe- you can add a little more or a little less of everything depending on your preference.  This is just what works best for me.  Enjoy!