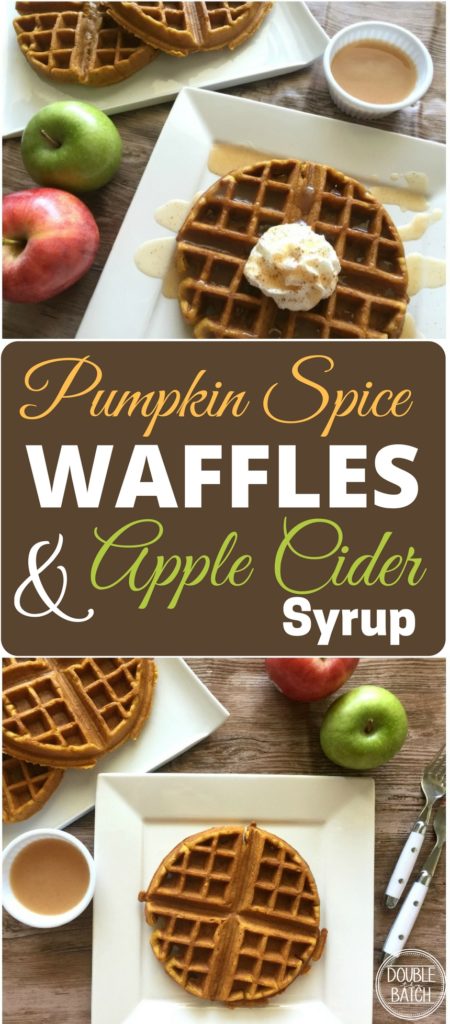 Listen, I've been dreaming about this recipe for months. Literally. We made it last fall and I thought I had died and gone to heaven. I've been SUPER sick the last 4 months (thank you morning sickness) and I STILL craved these waffles while I was nauseous. So even those the leaves haven't quite changed colors yet and the weather still seems blazing hot, I made this Pumpkin Waffle and Apple Cider Syrup recipe and ate it for breakfast, lunch and dinner. Welcome FALL!!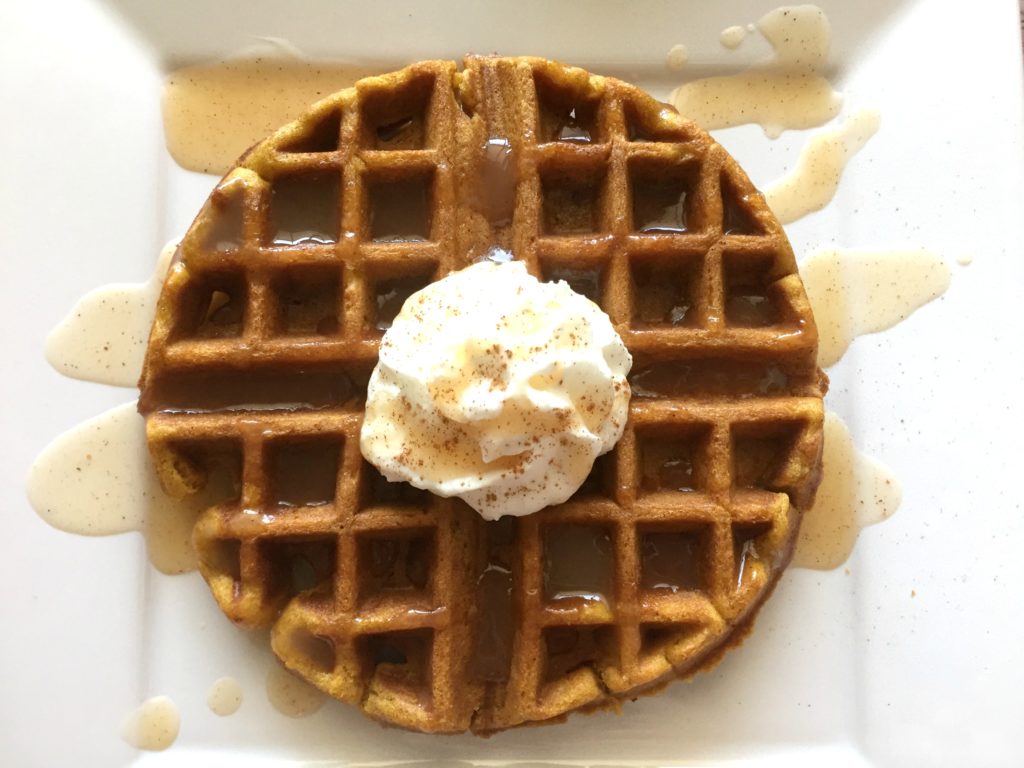 I had my best friend over the other day (still convinced she only came for the waffles) and my two year old couldn't help but climb up on the counter next to her and help himself to some of her waffles. He LOVES these waffles and well, I let him do it. We're really great to our house guests in case you can't tell. 😉
These waffles are so moist and full of flavor and I'm seriously obsessed with the apple cider syrup. I always have leftovers of the syrup and use it for dipping other delicious fall foods in. You'll want to print out this recipe to store for later because trust me, you'll want these again and again.
Pumpkin Spice Waffles and Apple Cider Syrup
2016-08-24 16:09:47
Pumpkin Spice Waffles Ingredients
3 eggs
1 lb can of pumpkin
3/4 cup oil (I used coconut oil)
1/2 cup water
2 1/2 cups of flour
1 3/4 cup sugar
1 1/2 tsp baking soda
1 1/4 tsp salt
3/4 tsp nutmeg
3/4 tsp cinnamon
Pumpkin Spice Waffles Directions
Beat together the eggs, pumpkin, oil, and water. Set aside. Then mix together the dry ingredients and beat in with the pumpkin mixture. You'll need to spray your waffle iron really thoroughly between each waffle to make sure it doesn't stick. Serve with whipped cream, cinnamon, and pecans to add some extra delicious flavor!!
Apple Cider Syrup Ingredients
3/4 cup sugar
1/4 cup brown sugar
2 Tbs cornstarch
1/2 tsp cinnamon
1/4 tsp nutmeg
2 cups apple cider (I just use apple juice and it works great)
1 Tbs lemon juice
1/2 tsp vanilla
1/4 cup butter
Apple Cider Syrup Directions
Mix together the sugars, cornstarch, and spices. Then add in the apple cider (or juice) and bring to a boil. Once boiling, allow it to continue to boil for just under a minute while continuously stirring. Remove from burner and stir in vanilla and butter. I always have leftovers, which last just fine in your fridge for a week or two.
Uplifting Mayhem https://www.upliftingmayhem.com/