Is it possible to control your thoughts? Can you become better at controlling your thoughts? Last week we came across an article that we loved. The answer to both of these question is YES and YES! We had a great discussion as a family and I wanted to talk with you about it. It is titled Powerful Ways to Control Your Thoughts.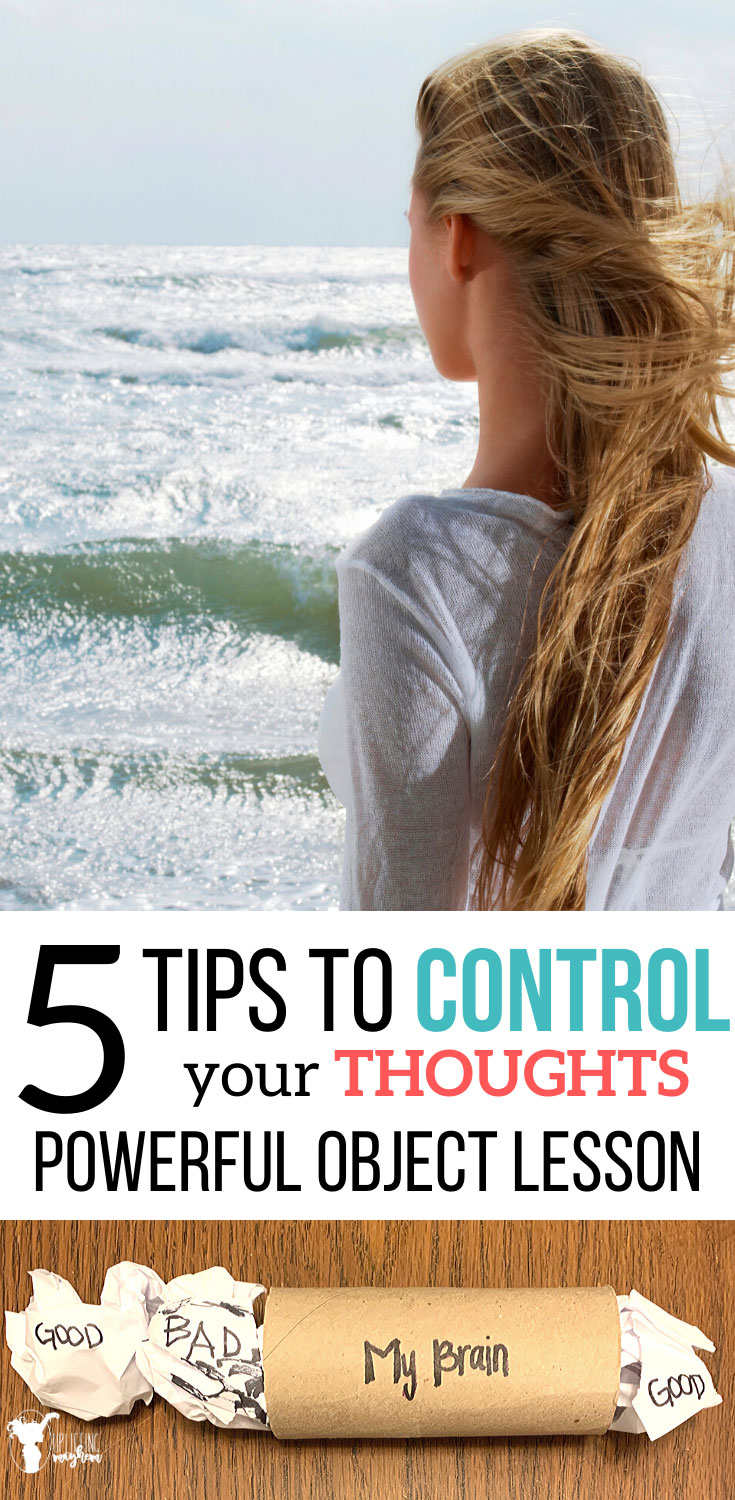 It begins with this:
"Whatever you do, do not think about a purple elephant…
Don't do it….
Think about anything except a purple elephant…
I'm not a mind reader, but I'll bet you're picturing a purple elephant right now."
We did this experiment with my boys and it was quite comical. Isn't is so true that when we try to stop thinking about something, it is harder to forget. This is my problem when it comes to food! lol You can tell yourself to forget it, but that "pesky purple elephant" "tiptoes back in, this time bringing his whole purple family."
Gandhi said this that I think pertains to this topic:
"Your beliefs become your thoughts,
Your thoughts become your words,
Your words become your actions,
Your actions become your habits,
Your habits become your values,
Your values become your destiny."
It all starts with your thoughts. If you can control your thoughts, we can better shape our destiny.
Here are 5 ways to help control your thoughts. They are:
Pray for help – We all know God is more than willing to help us in our righteous desires. Especially in bettering our weaknesses.
Focus on our Savior – I have come to know the truth of this more and more over the years. If our thoughts begin here we will find greater joy.
Know you have a choice – Some thoughts just pop in our head without any kind of invitation. You can ask them to leave just as fast as they came.
Feel your mind with good things – This is one reason we focus on memorizing scriptures and poems with our boys. When your brain is idol moments, it can fall back on those good memories.
Try to recognize patterns

– Begin to recognize when these thoughts surface. You did you feel and what were you doing. When you do this you can begin to avoid triggers that start the chain reaction that follows.
Here is a fantastic quote given by Boyd K Packer that this article ends with:
"I have come to know that thoughts, like water, will stay on course if we make a place for them to go. Otherwise, our thoughts follow the course of least resistance, always seeking the lower levels. Probably the greatest challenge and the most difficult thing you will face in mortal life is to learn to control your thoughts. In the Bible it says, as a man 'thinketh in his heart, so is he' (Proverbs 23:7). Those who can control their thoughts have conquered themselves"
Isn't that AWESOME!!
So after we had this great discussion with our boys my husband leaves and heads to the bathroom and comes back out with some more awesomeness!!
He had an empty toilet paper roll and some wads of toilet paper in his pocket. He then begins to explain his visual.

The toilet paper roll represents our brains. We can fill our brains with good things like… (He pauses and waits for the boys to answer). My boys respond sharing their ideas of good thoughts such as scriptures, compliments, scripture etc. As my boys say each of these my husband puts in a wad of white toilet paper into "our brain".
He then asks about some negative thoughts that we may have and inserts another wad of toilet paper into "our brain" that has black all over it.
The question he asks the boys next was, "How can we get that negative thought out of our brains?". The answer we came up with is to fill our brains with more positive thoughts to push the negative thought out.
WOWSERS!!! It was such a powerful visual!
We had one of those silent moments as we let it all sink in for a moment. Ultimately, we need to fill our minds with good things and then we can begin the chain reaction that follows: Thoughts, words, actions, habits, values and finally our destiny. It all simply begins with our thoughts. Here is another fantastic article on the power of your thoughts as a mother!