You are probably wondering, "What the heck is the Preggo Belly Rule??"
Alrighty folks! This post has been in the making for quite some time now! It's a sassy post, so beware! Here's the magical question of the day:
When is it appropriate to ask a woman if she is pregnant? when she is due? how much longer till she pops?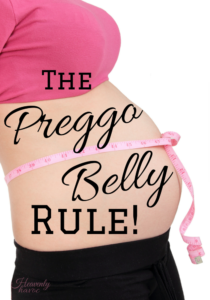 If you've been pregnant, you know how frustrating this can be during and AFTER a pregnancy! Let me just humor you with my life experience on this topic so far to date….
My body just naturally tends to gain weight more in the belly. It always has. Most women can get away with being pregnant for the first time without many people even noticing they're pregnant. Then , when their baby 'bump' finally emerges and people start to ask, they say,
"Oh yeah! I'm 8 months along!"
I envy those women.