We just got home from a lovely Carnival cruise with my husband and 2 other couples. It was wonderful and refreshing to be with my husband each day and not have other distractions. I felt spoiled as I didn't have to cook or do dishes once for an entire week. They definitely spoil you on the cruise ship and cater to your every need. We went on a Carnival Cruise which did not disappoint.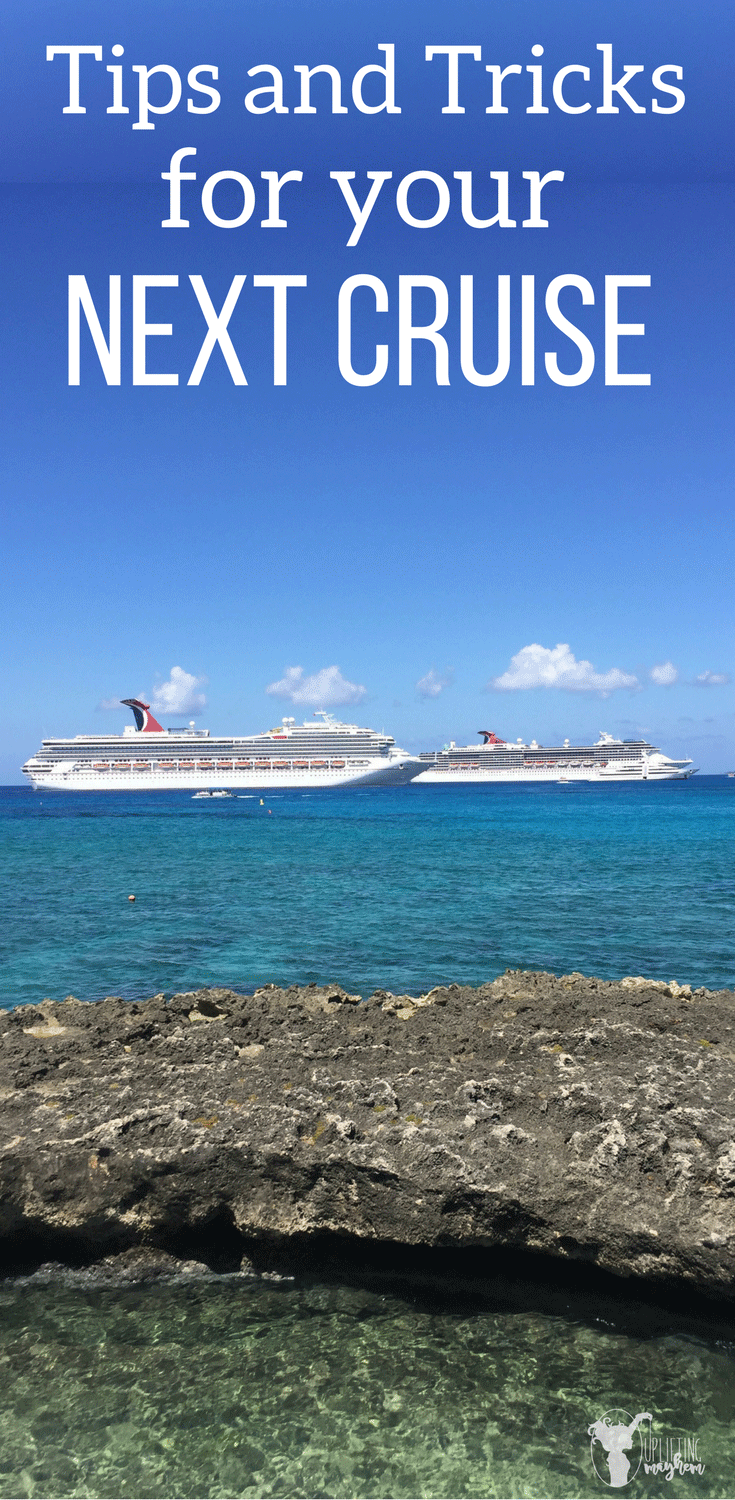 Through out the trip I have put together a list of tips and tricks for you and your next cruise. We cruised with Carnival, but many of these tips work for any cruise line. These are tips to help make it go smoother and more enjoyable. We learned some of these the hard way, and others we just did and worked out really well. So here you go…28 tips for your next cruise in no specific order!
Tips and Tricks to going on a Carnival Cruise
#1 – Check in your bags before you get on the ship.
When you are dropped off in front of your ship, they will have lots of people there ready to check your bags on if you want. They will be delivered to your room later. I highly suggest doing this. Once you are on the ship you may not be able to get to your cabin immediately. Lunch is available however, to you and the other 3600 passengers. Finding a table is difficult and having luggage makes it even more crazy. It doesn't cost anything extra, just check them in.
#2 – Before you leave do a little research on excursions at each port.
There are many options for excursions. On a Carnival cruise you will have lots of options where you pay through your cruiser. They provide a big book of different excursions for you to check out. If an excursion is full, know that there are lots of options off the ship. You will have many local companies ready to take you as well. These excursions are many times cheaper. Carnival Cruise did tell us that if we found something cheaper, they would match it. (DO YOUR HOMEWORK BEFORE YOU LEAVE!).
#3 – You will be charged gratuity at the end of the trip
At the end of a Carnival Cruise you will be charged around $100 per passenger for gratuity for all the wonderful servers that make your trip relaxing.
#4 – If you want all you can drink soda plan on paying for it
A soda card on a Carnival cruise is $60 per person for the week. You can get as much soda for this as you want. For those of you interested, an alcohol card is $350 per person for the week.
#5 – Save money by ordering room service!
Sounds crazy but really! On excursion days, to save money, you can order a peanut butter and jelly sandwich to be delivered to your room early in the morning. Then you can use that food for your lunch on your excursion. Some excursions have lunch included, so just be aware of that. I would bring some ziplock bags to put some in it.
#6 – Take the stairs!
It is faster, and makes you feel better about eating a lot!! There is a ton of yummy food! One thing my husband and I chose to do was to NEVER take the elevator……he cheated once while bringing me hot chocolate. This justified eating the yummy food HA HA.
#7 – You need to carry around your room key everywhere.
On a Carnival Cruise this is your ticket to get on and off the ship, and of course to get in your room. If you want an easy way to carry around your room card (especially with a swimming suit), bring a lanyard to carry around your neck. If you get one with a plastic case know that you will have to take it out each time to scan.
#8 – Print out your boarding pass before going on your trip.
If you forget to do this…don't stress too much, they have a really nifty machine that makes it easy. This just makes it a little easier for you.
#9 – Know that you can change your dining room and and time.
If you are traveling with another couple make sure you mention the booking number as you book your own. We didn't initially do this and we weren't placed with each other. However, we gave them a call and they were very accommodating.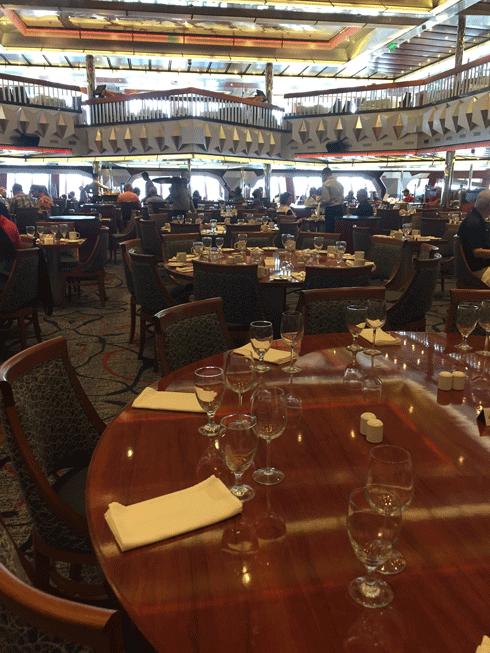 There is a 6:00 pm (early) dining time and at 8:15 pm (late) dining time. The 6:00 pm dining goes fast and we got stuck with 8:15. However, once we were on the ship we were able to get that changed.
#10 – Download the Carnival Hub app on your phone.
This app was REALLY helpful. It had a schedule available for the activities going on each day, and it also had available excursions at each port. There is also a chatting feature for $5 allowing you to text other members in your group. We did this but found it to be very slow. We would get some of the text 12 hours later so not super reliable. You just become really good at creating meeting times with your group.
#11 – Want a behind the scenes tour…act fast!
If you are wanting a tour of the boat then you have to sign up quick. There is a tour of all of the back scenes available to only 14 people. You can schedule this online or when you first get on the boat. They say this fills up fast on the first day.
#12 – For a 7 day cruise there are 2 elegant nights where you can dress up and get all pretty.
This is fun, but if you aren't into this don't stress! If you don't want to dress up you don't need to, you just can't eat in the dining room. WHAT?? HA HA but it is true! A man was turned away for coming to dinner with a t-shirt and shorts on. A collared shirt, dress pants and dresses are the minimum, needed for elegant night. There are lots of other places you can eat other than the dining room, so if you don't want to pack for the elegant night, don't worry, you will still be well fed.
#13 – For dinner you are assigned a dining room and a dining time.
You usually have an early dining at 6:00 pm and a late dining at 8:15. The dining room is relaxing and enjoyable. You can order whatever you want and as much as you want. You want to try the frog legs and the shrimp cocktail…perfect! Do it!
#14 – Return flight home information.
For your return flight, they let the people who have early flights off the ship first. We had a flight that left at 11:45 and we arrived 2.5 hours early to the airport.
#15 – Shuttle, taxi, UBER or LYFT?
When you get off the ship there are different options to get to the airport. Carnival had a bus that shuttled people back to the airport for $20. You can also use UBER for cheaper which is an app for taxis in your area. It is convenient, you don't pass any money hand to hand. Everything is done through the app. Each driver has reviews and have to pass a background check amongst a series of other checks to become an UBER driver. We used UBER in Paris, so it is in many places around the world. Convenient and easy.
#16 – Bring a water bottle.
If you like cold water, it is nice to bring a water bottle that you can fill up and carry around with you. This is nice for excursions and even taking back to your room. They do have bottled water in the rooms…BEWARE they may charge you for it! I have this water bottle and LOVE it! Keeps my water cold for a long time!
#17 – What drinks are free (or included in your initial price)?
There is ice, water, lemonade (and at times other flavors of juice), hot chocolate and coffee for free at all times. There is also all you can eat soft serve ice-cream.
#18 – Bring an electrical strip so you can have more plugs.
There is only ONE plug in your cabin. That is it! If you are trying to curl your hair and charge your phone at the same time you will need a electrical strip. This electrical strip has a USB port as well.
#19 – Bring a portable phone charger.
You could get away with not bringing an electrical strip if you have one of these to charge your phones. This one is awesome and charges your phone 10-12 times before it dies.
#20 – NO CELL PHONE SERVICE!
On the ship you will not have any phone service unless you pay for it, which is pricey. It is cheaper if you keep your phone on airplane mode until you port. I know many phone carriers only charge $5/day for international calling/texting. Check with your carrier verify what your rate will be.
#21 – When you get on the ship, set your phone time to stay on the current time.
You may have a couple stops where the time on the island is different than ship time. Your ship will stay on the time of the city you departed from. Make sure you pay attention to the time so you do not return late…..THEY WILL LEAVE YOU if you are late.
#22 – Breakfast is served as a buffet or in the dining room.
We preferred the dining room over the buffet. The buffet you are fighting lines and table space. In the dining room you are able to sit and enjoy your meal. It is fun getting to know your servers. Many times they are from many different international countries and have fascinating stories.
#23 – Everything was really clean.
I was SUPER impressed at how clean everything was. They have hand sanitizer outside each dining room and through the ship. In each bathroom they have a napkin holder and garbage cans outside the door to use to open the doors without having to touch the handles. I continuously saw staff cleaning, wiping down handrails and doing a great job on keeping everything clean. All I can say to that is THANK YOU CARNIVAL CRUISE!
#24 – BRING SUNSCREEN.
If you are cruising to the Caribbean you will get fried without sunscreen, and you will be miserable! Trust me…..lather on that sunscreen. When we go to Mexico each year, I hardly ever put sunscreen on. I burn slightly and then just tan! Don't do the same thing I did. My first cruise I wasn't diligent about keeping sunscreen on really good and I WAS MISERABLE for a couple days. If you are snorkeling, make sure you get your back and the backs of your legs REALLY GOOD!!
Here are 3.4 ounce containers that you can use to fill your sunscreen with if you are not wanting to check your bags on the airplane. We didn't want to check on any bags, and we had to buy sunscreen when we arrived which was way expensive. Skip that part and fill these containers up.
#25 – Here is fast tip to get you from the front of the ship to the back (or vice versa)
I have been on a couple Carnival Cruise ships and the layout is basically the same. If you are wanting a quick way to get from the front to the back of the ship, go to a level with only rooms. We would always go to the 2nd floor and go across through the halls. It made it so much faster, we weren't fighting crowds, stairs or dining rooms we couldn't pass through.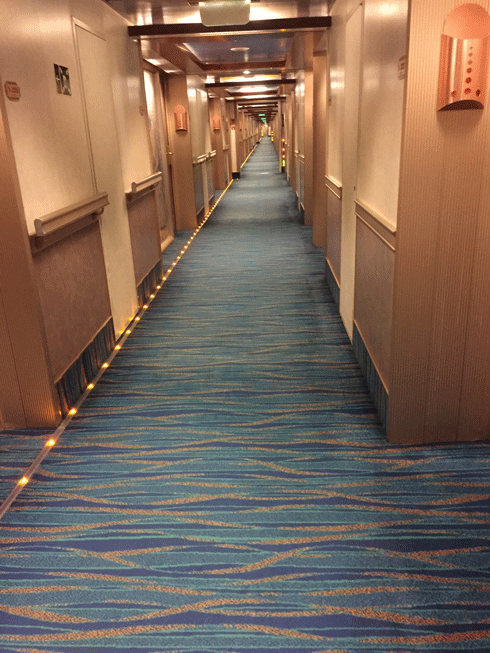 #26 – Should you bring kids??
If you are thinking about whether or not you should bring kids on a cruise, this information might be helpful. There is not a dress code regarding swimming suits…..resulting in a lot of flesh that is exposed (which is kind of predictable right?) Depending on your ship the pools are not very big and usually very crowded. It seemed like there was standing room in each pool. LOL There is usually a couple water slides that are fun, but always have long lines.
Lines and waiting is a huge part of the trip. You have 3600 guests on a huge ship, and getting from place to place, especially on port excursions can take a lot of patience. Depending on the ship there is a casino on board. The ship does a pretty good job at creating smoking areas, so if smoking bothers you, there are plenty of places you can go where smoking isn't allowed. The casino floor is one floor that allows you to pass from the front of the ship to the back. To avoid this just follow tip 25 and go down a couple levels and cross on a level with rooms. Also, alcohol is everywhere making for very interesting people.
#27 – The only thing that is constant is change!
Be prepared for change of plans! Be prepared for grumpy passengers around you. They are doing the best they can. Should of, would of and could ofs are nothing you can do about.
#28 – Remember that everyone is trying to sell you something.
There will be photographers all over the ship…….smile and strike a pose. If you want to buy those pictures you can. They will be on display in a section of the ship. The excursion pictures can be deceiving so beware. We were promised a great snorkeling trip and was taken to a place close to the cruise ships. LOL. Just know they do this for a living. They are there to make money, not to give you the experience of a lifetime. Do your research before you leave to find the hidden gems in each port.
If you want a great snorkeling mask where you don't have to put something nasty in your mouth…CHECK THIS ONE OUT!! It is fantastic!
Overall we loved going on this Carnival cruise to the Western Caribbean. We had great time laughing, and spending some much needed time together with great friends and family! Good luck!
You want to schedule your next Carnival cruise or check out Carnival Cruise excursions? Trip Advisor is a great place to find reviews and excursions at each stop.
If you are not taking kids, here is a fun way to include them on your trip still. I do this each time we go on vacation, and my boys love it!