I am all about QUICK and EASY when it comes to meals at my house. I'm not a foodie or a pinterest perfect mom. Heck, I don't even like to cook! (but I have kids and a husband so I do it anyway) So if you're looking for gourmet meals with ingredient lists a mile long, then you're in the wrong place. However, if you're a crazy mom like me and absolutely love simple, easy meals that take less than 30 minutes to prepare, don't come from a box labeled KRAFT and still taste good, then welcome! I try to post at least 1 easy meal a week (usually on Saturdays). You'll either laugh at my silly meals or want to add them to your recipe app cause they're so stinkin' easy!
Last night we had one of our stand-by's, nachos. I decided to make it a little more fun for the kids by making a build-your-own nachos bar (fun for them, easier for me!)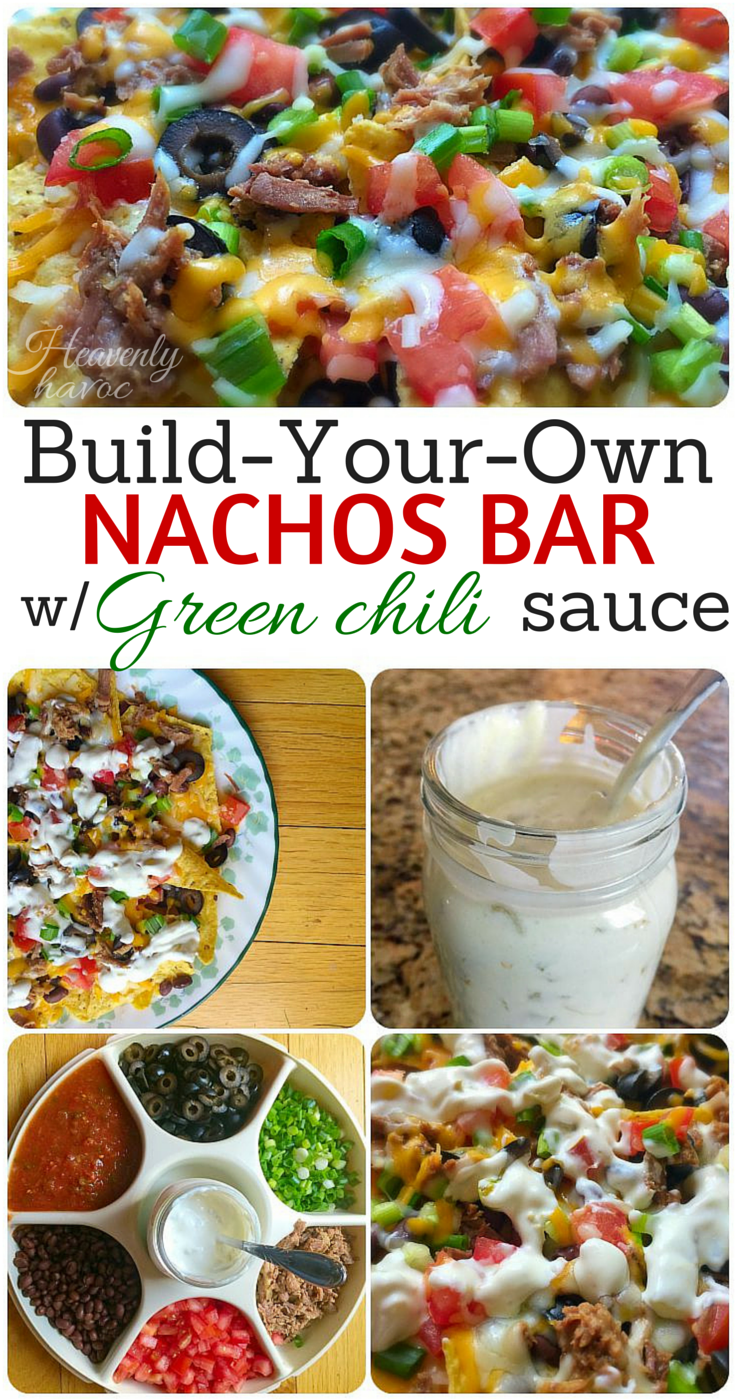 It's always fun when the kids can make their own plates and actually eat their food too! The greatest part was when my son, who always refuses sour cream, decided to try the green chili sauce and liked it! (You'll chuckle when you read how easy it is to make!
First I chopped up and prepared all the toppings (Tomatoes, black beans, salsa, olives, green onions, & roast beef)
Then I quickly mixed up the sauce, which was just sour cream and green chilies! (I know, I can hear you chuckling)
And it's time for dinner in less than 15 minutes prep! (which is awesome, because I love cooking dinner about as much as I love waking up a toddler early from their nap!)
Build Your Own Nachos with Green Chili Sauce
Prep time:
Cook time:
Total time:
Ingredients
1 Bag of Tortilla Chips
16 oz. Monterey Jack Shredded Cheese (or any other cheese you like)
1 Can of Black Olives. sliced
3 Large Tomatoes, diced
1 Cup Green Onions, chopped
1 Cup Salsa
1-2 Cans of Black Beans
2 Cans Kirkland Roast Beef Chunks (or any other brand you like)
1 Cup Sour Cream
1 small can of diced green chilies
Instructions
Prepare all of your topping and serve in separate bowls or platter with dividers. Combine sour cream with green chilies and mix well (you could blend it in the blender if you would rather have it smooth.) Dump chips in a big bowl, and shredded cheese in a big bowl. Place everything on the table and let everyone go to town! We layered our nachos with cheese first, then toppings, then more cheese. Microwave for about a minute or until cheese is melted and then top with salsa and green chili sauce!