IT'S THE FIRST DAY OF SUMMER!!! Summer is a magical time for kids. No school, no homework, no waking up early- they really have it made! Summers for parents, on the other hand, aren't usually as carefree. Even for those of us that homeschool our kids and are used to seeing their lovely faces every day, summer calls for some extra special activities to keep them occupied and enjoying themselves.
There are so many easy ways to entertain your kids, like taking them to the movies or a museum, but here are some unique ideas that will have your kids saying this is the best summer ever!
CHECK OUT THESE 8 Activities for the BEST FIRST DAY OF SUMMER!!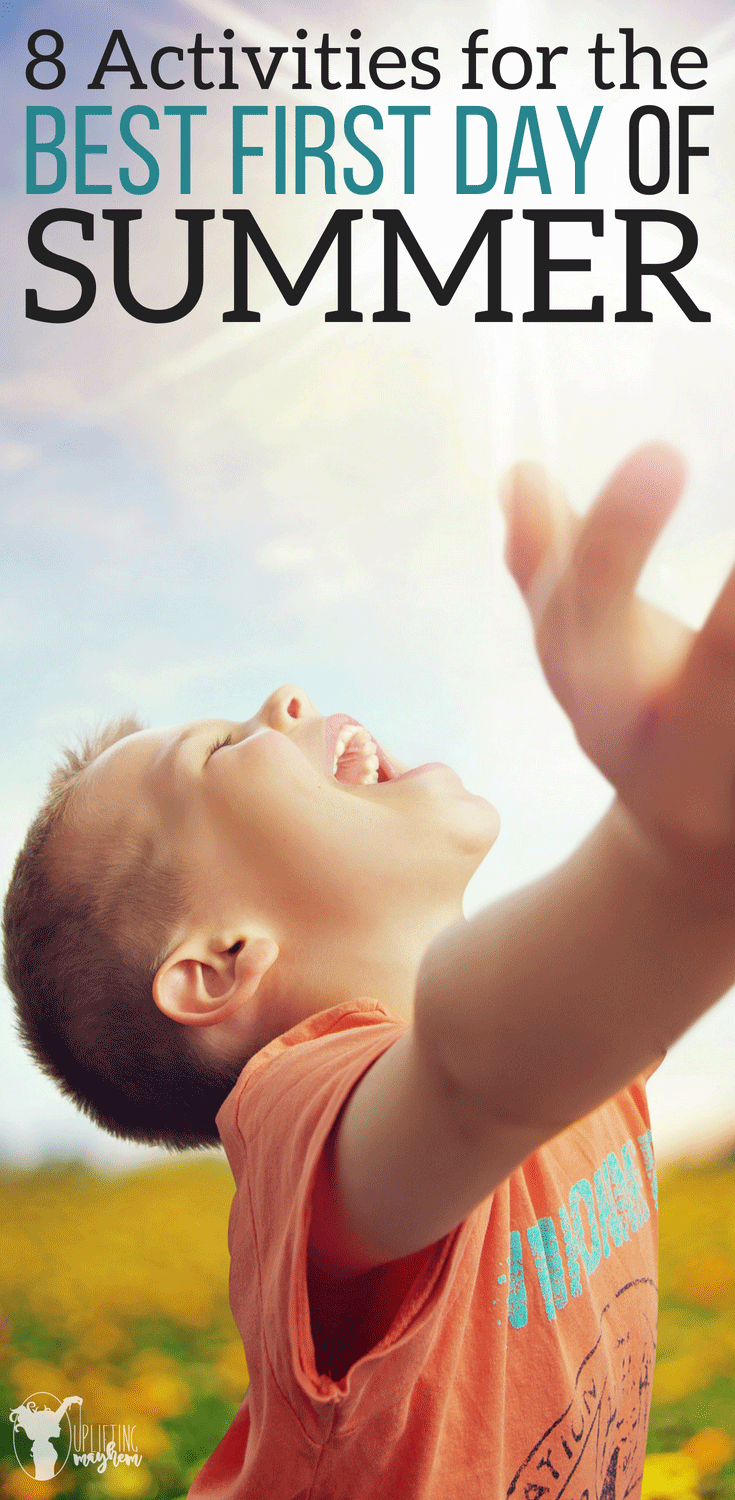 #1 – Camping Trip
Most kids these days- mine included- would prefer to watch their favorite TV show or play on their precious iPad than adventure in the great outdoors. I let my boys watch some of their favorite TV shows and play a video game here and there, of course, but in the summer, when the weather is perfect, I try to limit their electronic time.
What better way to show them the beauty of the great outdoors than bringing them on a camping trip! Depending on where you live, there are several options for camping from a local forest to a lake or beach. And if you don't have the funds to get away or don't live somewhere close enough to a camp ground, why not set up camp in your backyard? All you really need is a tent, some fun games and some yummy snacks.
#2 – Backyard Luau
Summer is an amazing blessing because it usually brings warm, breezy weather along with it. When planning summer activities for your kids, there are so many more options thanks to this beautiful weather! What better way to kick off the first day of summer than with a backyard luau? You can even invite some of their friends and turn it into a party!
You can buy some cheap leis, blast the Hawaiian music and do the limbo! Make it even more unique by cooking some kid-friendly "luau" food like coconut shrimp and pineapple upside down cake.
#3 – Lemonade Stand
If you're looking for a fun kid-friendly activity that can teach them the value of hard work, why not help them prepare a lemonade stand? Selling lemonade on the street corner really is such a quintessentially "summer" activity. You can show your kids how to make some good old fashioned lemonade and send them outside to make some sales! Who doesn't love a cold glass of refreshing lemonade on a hot summer day?
If you want some other ideas to sell check this post out for more ideas to sell other that lemonade. Bonus tip: You can tell your kids that they can use their money to buy a toy of their choice the next time you go shopping.
#4 – Talent show
Talent shows can be such fun and interactive activities for kids of all ages. You can have your kids pick any activity to show off from singing and dancing to telling jokes. To make it even more fun, why don't you invite over some of their friends? You and the other parents can catch up while taking bets to see which kid will be the cutest! Warning: every parent will vote for their own child!
#5 – DIY Slip and Slide
Nothing screams summer like water activities! But if you don't live near a body of water, it can be hard to stay cool in the summer heat. The easiest (and most fun!) solution is to create a slip and slide for your kids in the backyard. Slip and slides are so easy to make! You can check out this tutorial on making your own Ultimate Slip and Slide.
You can lay the sheeting out anywhere in the yard and anchor it down with the pins. Then you just apply a very light coating of liquid soap, wet the slide with the backyard hose, and your kids have something to keep them busy for hours!
#6 – Theme day
Do your kids have a favorite book or movie that they're completely obsessed with? Mine have several. Why not take that book or movie and create a day designed around it? If your kids love the disney movie Moana, you can buy some cheap leis and play the soundtrack all day. You could even act out some of their favorite scenes? Or, if they like the "If you give a mouse a cookie" books, you could dress up as mice and bake some yummy cookies.
#7 – Extreme fort-making
As fun as daily outings and excursions may be, they can also be extremely exhausting. There are some summer days where you just don't want to leave the house- and that's okay! But that doesn't mean that you need to give up completely- there are still plenty of fun activities to do on the first day of summer that don't involve sitting on the couch watching TV all day. One of the best ideas I've come across is building an extreme fort. With a few cardboard boxes, your kids can turn the entire backyard into a fortified castle fortress!
Never underestimate the love kids have for forts. Traditional forts, like those made of sheets and kitchen chairs, can be fun, but when you give your kids the opportunity to build an entire cardboard fort from scratch, they'll be occupied all day. It's also an activity kids can do by themselves- the only help they'll need from you is to secure the cardboard boxes together (duct tape should do) and cut out some "windows" so they can see out while they're crawling around.
#8 – Library events
Did you know that most local libraries host summer events for kids? Some offer prizes for reading a certain amount every day and others have fun events like magic shows and storytellers! I love to encourage reading with my kids, especially over the summer when they aren't being exposed to an academic program. What better place to be than the local library?
I hope you try some of these fun ideas for things to do on the first day of summer! I made the mistake of already telling my boys some of the fun things we'll be doing over their summer break and now they ask me every day how far away the first day of summer is! They're even keeping track on the calendar! Let me know in the comments if your kids enjoyed the activities! Which was their favorite?