Is it just me, or does it seem like time just flies by? Especially around the holidays. It is just a whirlwind of activity and then suddenly it is gone and I'm left wondering what just happened. I don't want it to be like that. I want to have time to take in the holiday and really enjoy it. I want to have time to just sit by the tree with my cup of hot cocoa and read stories to my kids, you know? So, I've been working on some time-saving tips to help me do just that. Hopefully they will help you as well.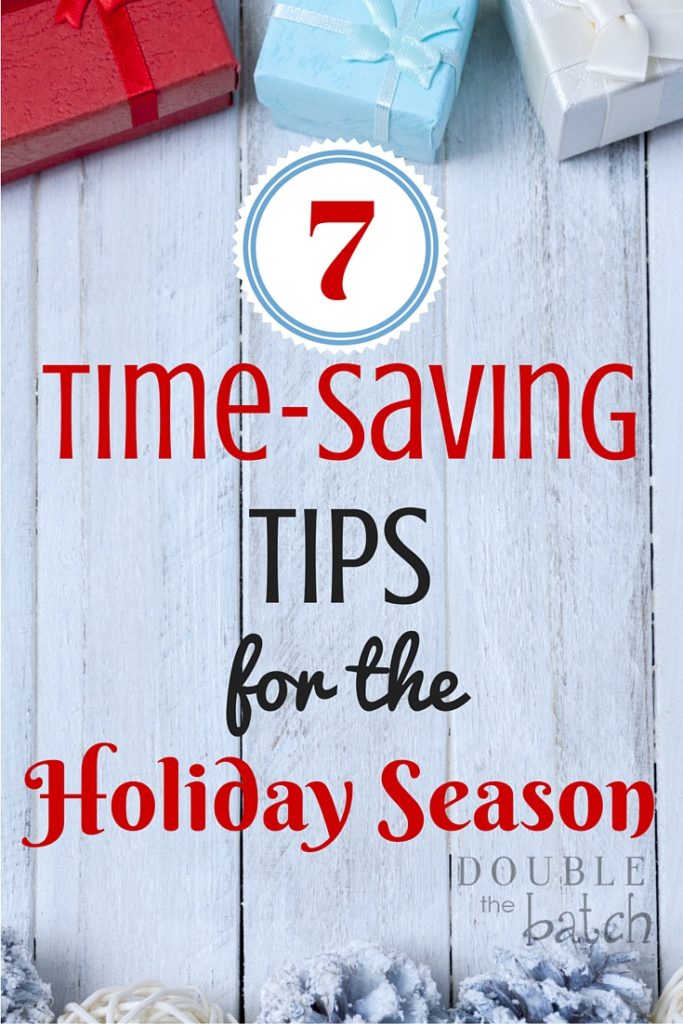 1- One-day Online Shopping Blitz. Seriously. I know this is an obvious one, but what if you just committed like I did to take ONE day and get all your shopping done online so you could be done with it and enjoy the rest of the season? Get a babysitter if you have to and get it done. You can waste so much time running from store to store looking for the perfect gift for everyone on your list. It can suck the life right out of your season. Sometimes you have to let go of the idea of a perfect gift and just get a gift card to save your sanity, you know what I'm saying? One day and done. Awesome time saver.
2- Make-ahead food. When you are taking your food assignments for the different parties you will be attending, try to come up with a recipe you can make ahead when you have the time instead of having to rush last minute to get it done in time for the party when you have a million other things you need to do. Crockpot recipes are also a great option that require less time and can be made ahead.
3- Let the Samsung POWERbot Essential take care of the vacuuming for you.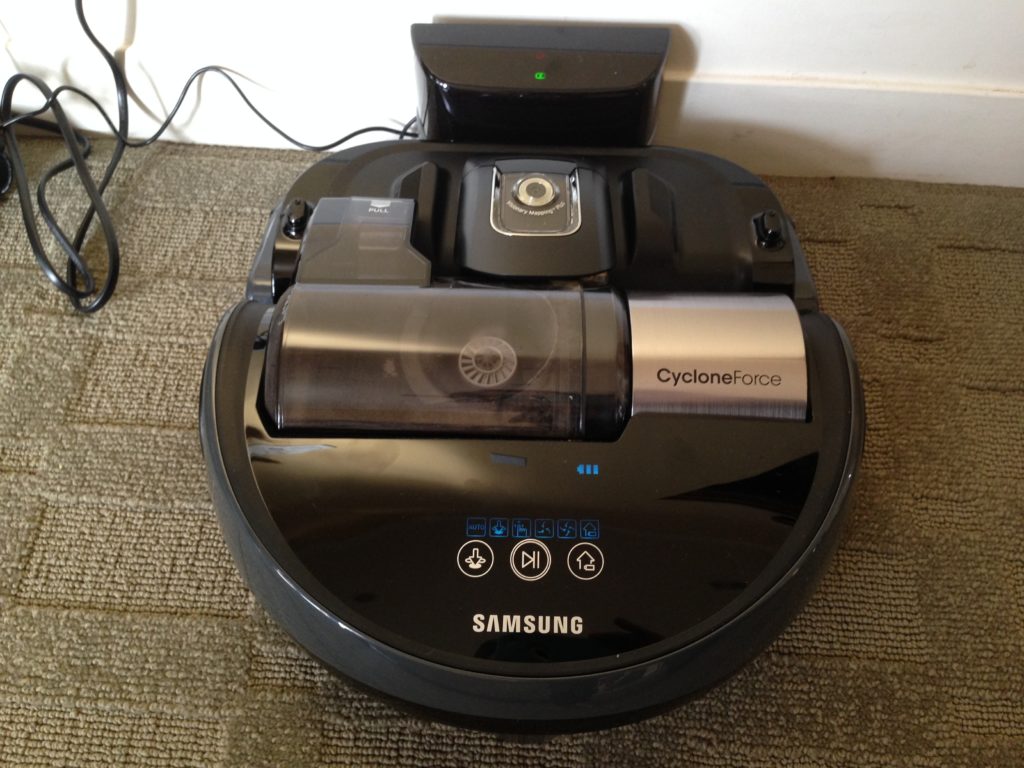 Here is one I am super excited about! What if I your vacuum was like, "Honey- you go make your eggnog for the Christmas party. I got this." I had no idea this was possible until I was given the opportunity to try out the Samsung POWERbot Essential from Samsung Home Appliance. Friends- it is so amazing! And it works on both hard surfaces and carpet. You just push the auto-clean button and it starts vacuuming the room all on its own. It maps the ceiling and covers every inch, at the same time avoiding anything it is in its way. If you have the time it is honestly fun to watch it go. It has a spot clean mode to clean a specific area intensely or you can control where it goes with a remote if you'd like. When it's battery starts to run out it drives itself back to its charging port and plugs in to recharge. You can even program it to vacuum automatically at a certain time everyday. And the Samsung POWERbot Essentinal is 10x more powerful than the leading robot vacuum brand.
Not only is it great for people like me who need to find ways to save time, but it will be amazing for my mom who has bad knees to take away the pain she experiences vacuuming, or think how awesome it would be if you have an office space that needs to be vacuumed everyday! Such a cool product. Here it is in action:
Samsung POWERbot Essential Demo
You can learn more about the
Samsung POWERbot Essential
by following them on twitter at @SamsungTweets and on Instagram at Samsung USA.
4- Don't overdo it on the decorations. Sometimes we just pick up way too much stuff at irresistible after-Christmas sales without thinking about what it will take to put up, take down, and store it all. Simplify your indoor and outdoor Christmas decor. Decide on a reasonable number of bins for the storage space and time you have available and commit to only have enough to fill those bins. If you get something new, get rid of something else so it all still fits in the bins you've limited yourself to. You don't have to deck every hall to bring the Christmas Spirit into your home.
5- Organize a neighborhood dessert night to replace neighbor gifts. I don't know about you, but this is one of the biggest time sucks and stresses of my season. Trying to take treats to take to all my neighbors and worrying that I will miss someone who will show up with a treat on my doorstep. I heard about this idea from my sister who lives in a neighborhood where they do this. I love it! One dessert, one night=end of stress and huge time saver. Besides, we end up wasting so much of what is given to us because we get so many sweets all at once. This reduces waste and gives us time to spend together as neighbors which is even better than the sweets.
6- Choose what is most important and eliminate the rest. It is okay to say no to things that don't help you and your family feel the joy of the season. Don't feel obligated to do attend every event, be in charge of every program, or repeat every tradition of your childhood because it is something you've always done or because you feel pressured by others to do it. Choose a few core traditions that are important to your family and stick with them. Attend the events that bring you closer together. It really is okay to say no if you are asked to do something or be in charge of something this holiday that you know you don't have time or energy for.
7- Shop ahead for groceries. There is nothing worse than ending up at WalMart on the eve of a holiday because you forgot the whip cream. Trust me. I have a lot of experience in this area. Do everything in your power to avoid this scenario. Triple check your shopping list if you have to. Get it done as far ahead as you can and you will save at least an hour waiting in the check-out line and more importantly your sanity.
What are some of the things you do to save time during the holidays?
This is a sponsored conversation written by me on behalf of Samsung . The opinions and text are all mine.