I must confess I had never even tried Naan bread until about 6 months ago. My sisters started raving about how amazing it was after they found some at our local Costco. I decided to give it a go when I saw some on a shelf by the deli while doing my grocery shopping. It was a HIT! My kids loved it too and I found myself running to the store for more. I have even been known to leave a package in a neighbor's mailbox with the note,
"This will change your life!"
Since then, I have been finding Easy Naan Bread Meals that not only are frugal and simple, but taste amazing!
Here are 10 that will change your life for the better!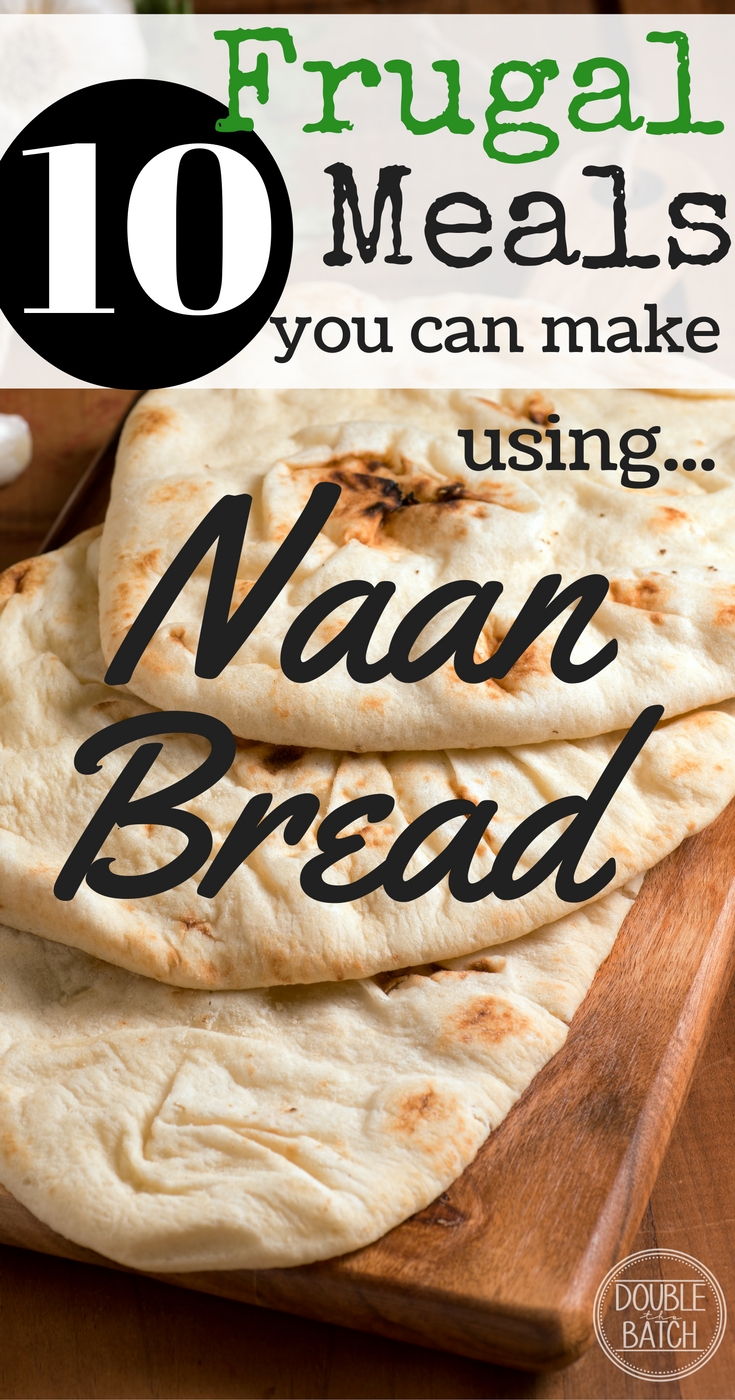 Naan Bread Pizza. Forget homemade pizza dough! Just whip out some mini or regular sized naan bread and toppings and your dinner is done in less than 20 minutes! Just top with sauce, cheese, and your favorite toppings and bake @ 425 for 10 minutes! My favorite is bbq sauce topped with mozzarella cheese, grilled chicken, bacon, and pineapple!
Naan Bread Navajo Tacos. Just think "glorified tostada" folks. So easy! Warm the Naan bread in the oven and top with hot refried beans, cheese, lettuce, tomatoes, sour cream, and salsa! Done!
Sandwich Wraps. Top with your favorite cheese and deli meats or tuna or whatever you like on a sandwich! I like to toast mine first! Can be rolled or eaten flat like a pizza! These are great to make the night before too!
Breakfast Pizza. Toast and butter the bread and then just add eggs and cheese or go crazy and also add sausage and hash browns! Are you getting hungry yet?
Dessert Naan Bread. This is a Naan Bread MEAL post but believe me, my kids eat this as a meal sometimes! It is our favorite way to eat Naan Bread. Toast the Naan bread, and add Nutella, strawberries, and whipped cream. You will feel like you've died and gone to heaven! Here is another great Strawberry Dessert Pizza by Liluna.com that also includes a recipe to make the Naan Bread from scratch!
Easy Chicken Shawarma. If you've never made this, today is the day. Don't let the name throw you off, it's delish and I even found a simple recipe for you right HERE onbudgetbytes.com!
Naan Bread Fajitas. Grill up some sliced onions, peppers, and grilled chicken with your favorite fajita seasoning (I just use taco seasoning). Throw it on some warm mini Naan bread and top with cheese, sour cream, and salsa!
Naan Bread Quesadillas. Top with cheese and black beans (and other toppings if you like), toast in the oven till cheese is melted and top with sour cream, salsa, and guacamole!
Naan Bread w/ Hummus. Warm the Naan Bread and cut into smaller pieces. Dip into your favorite hummus!
Naan Bread with Cinnamon and Sugar. This is my kids absolute favorite and I love it because they can make it themselves. Toast the Naan bread, spread on the butter and sprinkle cinnamon and sugar! Even better if dipped in cream cheese frosting!
If I haven't convinced you yet to try some Naan bread, just do yourself a favor and TRY IT! IT has become a staple at our house and I love that you can buy it and throw it in the freezer for later. So stock up, save yourself some time and money in your meal prep and make some EASY Naan bread meals!!