Randy is a man that you couldn't help but love! He left an impression on me that will never go away. He was like another father to me and his actions still continue to leave an imprint on my heart. You see, about a year and a half ago, Randy passed away from an infection in his brain stem. His death, as you can imagine, shook the entire family and he is sorely missed. Even though he is gone, his example and life stories continue to teach us.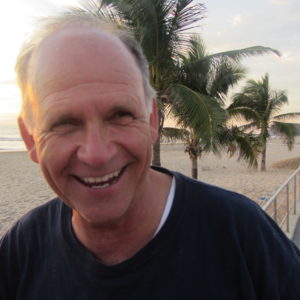 There are stories that pierce you right to the heart. Stories where divine intervention is the only explanation why something happens. This is one of those stories. It's a story of honesty and that it is never too late to make things right. It is a story that will stand the test of time and influence many because of the actions of this one man. This story began 5 years ago and happily ended this past week.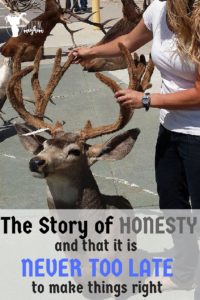 My husband's family are avid hunters, and great story tellers! Hunting season begins in August and goes throughout the Fall. There is an unspoken law that no one is to have a wedding, or have a baby during this time! It is serious stuff, and a time the entire family cherishes.
Five years ago, Randy, had a story that only a handful of people knew the details of. It all began when Randy was hiking up to a tree stand, which the family named Old Faithful. It was getting near to the end of the bow hunt and he was anxious to get his elk tag filled. It was a Wednesday, so him and his cousin were the only ones hunting at the time. As he walked into the clearing of Old Faithful he saw a huge 5-point trophy buck with the velvet still on the antlers which is rare to see! Randy didn't have a deer tag, but he wanted to get a closer look and take some pictures.
Randy always would say, "I get more excited about seeing a trophy buck, then an elk with huge antlers."
The buck was near what they called the marshes. The marshes is a large area that is covered in thick, large thistles. He was about 60 yards away and decided to take off his backpack and shoes and try to get a closer look. With his shoes off, Randy starts crawling on his hands and knees through the thistles without any shoes. A miserable experience, but worth the sacrifice to get closer to this buck! He crawled towards the buck until he was about 30 yards away. He could not believe the buck hadn't seen him yet. One just doesn't sneak up on a deer! He watched the deer for a while as it grazed, and took many pictures.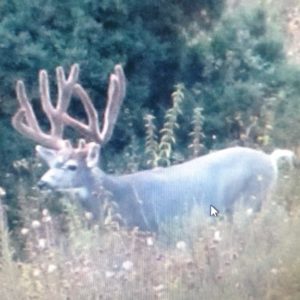 At this point in the story, you need to understand something about the hunting world. In hunting there is a thing called party hunting. Party hunting is when you shoot an animal that you don't have a tag for, but you use your son's tag or brothers tag for the animal you just shot. Party hunting is technically illegal but a common practice in the hunting world. It is usually done to fill the freezer full of meat for the winter, and not for trophy animals.
As Randy continued to watch the buck, it turned broad side (the best angle to shoot an animal) and stayed that way for a time. Randy couldn't resist the temptation anymore! His son Dave drew a deer tag that year, but was unable to hunt a lot due to work and school. He made a decision and pulled back his bow and set the deer in his sights. His adrenaline was running, he had the perfect shot and released the arrow. After he shot it and got the deer off the mountain he called his son in-law Brandon who recalls him saying,
"YOU SHOULD SEE THE DEER DAVE JUST SHOT!"
He goes on excitedly retelling the story, but carefully replacing his name with his son Dave. He kept hootin' and hollerin' how good of a hunter Dave was! How cool he was that he crawled on his hands and knees in the thistles to get closer, and how amazing it was that the deer didn't spook and run away! Truly a great hunting story! It wasn't until a couple days later that Brandon and some closer family members knew the real truth that Dave didn't actually shoot it.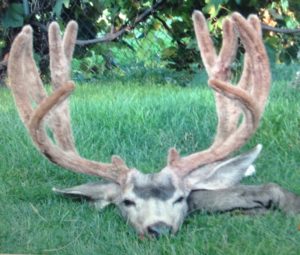 Randy sent the deer head in to get mounted, and after 8 months they hung it up on their wall downstairs in their home.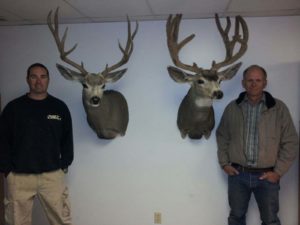 Randy's deer is on the right, and Brandon (left) shot his buck at the same tree stand about 200 yards away the day after Randy killed his deer. Hence why they call that stand Old Faithful! At least one animal is always shot on that stand every year!
As time went on, Randy began to feel guilty about shooting the buck. Every time he would look at it, it brought back all the memories that came with it. Brandon made the comment, "When people look at a deer on a wall, all they see is a dead animal. It's so much more for the hunter who shot it. It is a snapshot of their hunt. The experience is replayed over and over again. Lots of emotions surface each time you look at it!" Every time Randy looked at this buck he was reminded that what he did, even though it may be common practice, was wrong.
Randy called a neighbor who worked for the DWR and said, "What would happen to someone if by chance they shot a trophy deer illegally?" This friend replied that it would go to court, charged a fine, items used to hunt it may or may not be confiscated, and the buck would be taken away. Randy then told him the story about what happened. He was told not to worry about it. They had a tag and filled it. Its illegal but everyone does it.
This still didn't sit well with Randy, so he turned himself in. He went to court and was fined $1500.00 and got the buck taken away.
His daughter Lisa remembers him saying, "If I ever have the chance to buy the head back at an auction, I will.
Lisa asked, "How much would you spend?"
His quick reply was, "Whatever it takes!"
A short time later Randy was called as a bishop of his ward in the Church of Jesus Christ of Latter Day Saints. His wife strongly believes the spirit was prompting him to take care of everything in his life so he would be worthy to accept that calling.
The real miracle to the story unfolded a week ago, nearly 5 years after Randy shot the buck. Until a week ago there were still many people who didn't know the full story of what happen. Doug, Randy's son in-law, was sitting at home doing paper work when he decided to watch the news. As he was watching, he saw a 30 second little blurp, announcing that the Division of Wildlife Resources (DWR) would be having an auction on various pelts, and antlers. He turns to his wife Lisa and says, "I wonder if your dad's deer mount will be sold?"
Through another miracle, Doug had received the number of the DWR officer that Randy had contacted initially, about a month earlier. Doug called him and asked him if Randy's deer head was going to be auctioned off the next day. He was not sure, but told them he would find out! It wasn't until the next morning when Doug received a call saying, "This might be your dads buck. I'll send you a picture so check it out." Through a couple phone calls and sending the officer past pictures, he said, "I think this is it! You better get up here fast, the auction starts in 10 minutes!"
There was a problem however, Doug was a good 45-50 minutes away from the auction. This was their conversation,
Doug- "I'm not going to be able to get up there that fast! You are going to have to bid on it for us!"
DWR officer- "How much are you willing to go on it!"
Doug – "Whatever it takes!"
DWR Officer – "What's your limit!"
Doug – "$10,000!"
DWR Officer – "You better get here fast, I can't bid on it that high!"
After picking up his wife, Doug raced up to the auction going 100 mph. Meanwhile, at the auction, they had started to auction off the head mounts. After a couple heads had been auctioned off, the sun came out, which created a problem with all of the pelts. They began to rot and to stink. Because of this they decided to auction those off first. It is because of this small tender mercy that Doug and Lisa made it to the auction in time. They arrived just shortly before they started the heads. Lisa didn't start bidding on her dads head until it hit $600.00. The bidding came down to her and one other lady. Lisa ended up winning the bid and was able to buy her dads head back for $1200.00, double the cost of what any other head went for!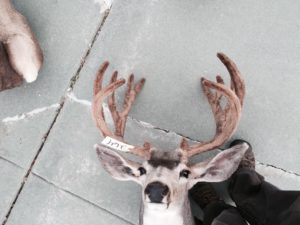 Overwhelmed from all of the emotions that began to surface, Lisa burst into tears. A man nearby noticed and came up and asked, "What is the story behind this buck?" Lisa told him and word spread like wildfire around the auction. The lady who bid against Lisa came up and apologized for bidding up the price. She said,  "I wouldn't have bid on it had known the story, but it was such a beautiful buck!"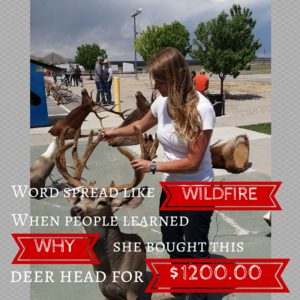 A news team came up to her shortly after and wanted an interview of the story behind the buck. Lisa said that the buck was a symbol of her dad's honesty. Everyone makes mistakes, it's what you do to correct those mistakes that determines the kind of person you are. It is never too late! The trophy buck that once was placed in their basement, was given a promotion! Marie, Randy's wife, now hangs her husband's symbol of honesty, on the wall, upstairs in their front room!
I don't believe in coincidences. Things happen for a reason, and this story will be told over and over again. It will make us laugh, cry and remember a man that was and continues to be a light in our lives.