My sister in law, Tina, made these Sweet Ham and Swiss Sliders at a recent family together and everyone LOVED them! I was standing in line for a THIRD one before they even came out of the oven! My husband made sure I got the recipe so that I could make them at home. These are perfect for feeding (and pleasing) a large crowd. I also love that they are quick and easy to throw together.
Delicious,
Quick and
DONE!
Those are the only 3 qualifications for a recipe in MY house!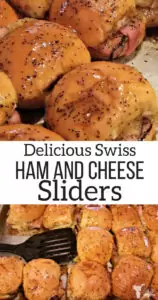 The great thing about these Sweet Ham and Cheese Sliders is that you can use whatever kind of rolls you want. These taste great with Hawaiian rolls, Rhodes rolls, or just your ordinary rolls from the bakery at your grocery store.
These would also be great for freezing leftovers and reheating in the microwave for lunches. They are small enough they wouldn't take long to reheat. I don't know about you, but I know my husband would much prefer some of these for lunch compared to the other lunches I've made for him. 
Enjoy!! 
Swiss Ham and Cheese Sliders