I recently moved to the south and after going to several potluck dinners, I have to say, these people can COOK! Anything I can cook would quickly be put to shame by these ladies out here, I will tell you that for sure!! So, last Sunday after church, we had another potluck, and this time I decided to just bring a dessert. It's a lot easier to make a delicious dessert, right?
I remembered an amazing strawberry dessert salad that I had eaten at my sister-in-law's home over a year ago. It was SOO good, everyone in my family was going back for seconds and begging for the recipe! We asked her what it was called.
Strawberry "Crack" Salad.
Crack has two meanings. First, this strawberry dessert salad is ADDICTING and second, it has a lovely toffee like crunch that will make your taste buds dance!
My plan was a success and everyone loved it so much I actually have made it twice this week! I decided this was too good to keep a secret. If you want to to make everyone's mouth happy at your next potluck or family gathering, this salad will not disappoint!
STEP #1
I started with my favorite ingredient…strawberries. You can slice or dice but I like to dice so it feels like there are more of them in the salad!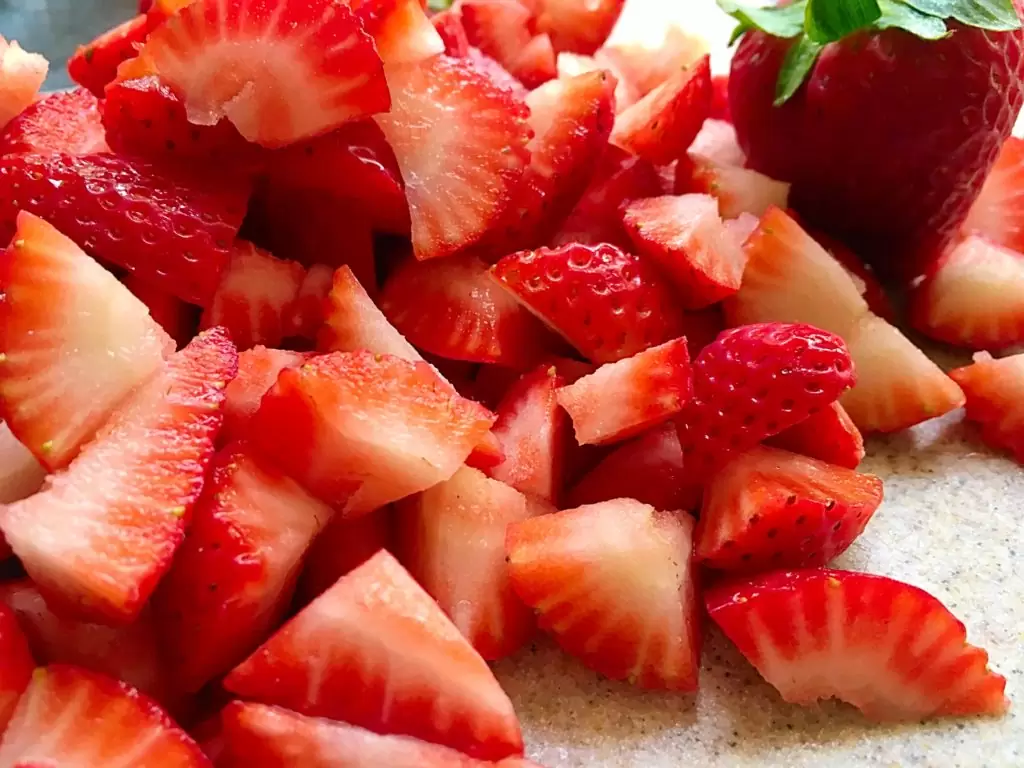 STEP #2
Then I started whipping up my cream cheese, and  added some sugar and vanilla. Easy right? I haven't even gotten to the best part yet!
STEP #3
The toffee like crunch that makes this salad sing is so easy to make. Simply chop up your pretzels (I put them in a bag and beat them with a rolling pin) and chop your pecans. Then mix with melted butter and brown sugar.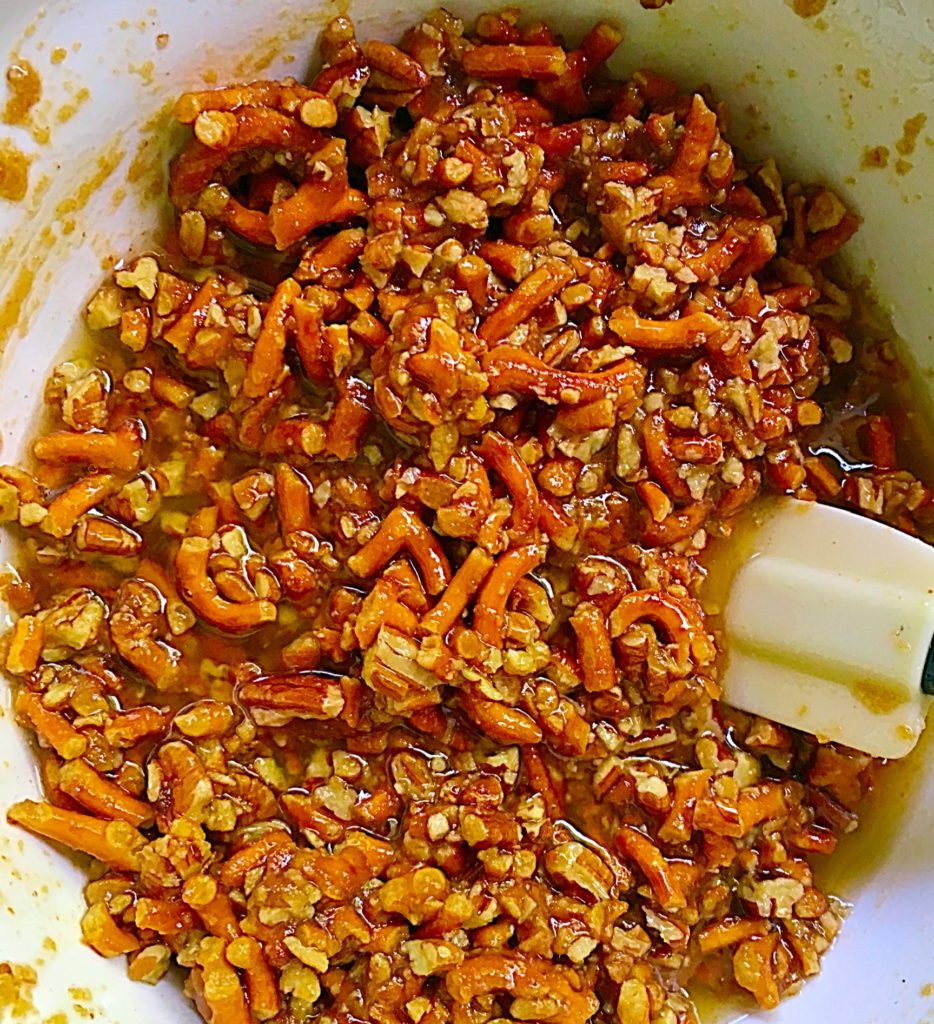 STEP #4
Spread on a jelly roll pan or cookie sheet with edges that is lined with parchment paper. Bake in the oven and allow to cool. Break apart into small pieces.
STEP #5
Fold your cool whip into your cream cheese mixture, then add strawberries and pretzel pecan crumble. Stir gently.
STEP #6
Last but not least, print out this recipe several times because I guarantee you everyone will be asking you for it! The following recipe is a little on the small side. I double it for a big potluck sized bowl. Enjoy! For other amazing potluck recipes, check out this post here.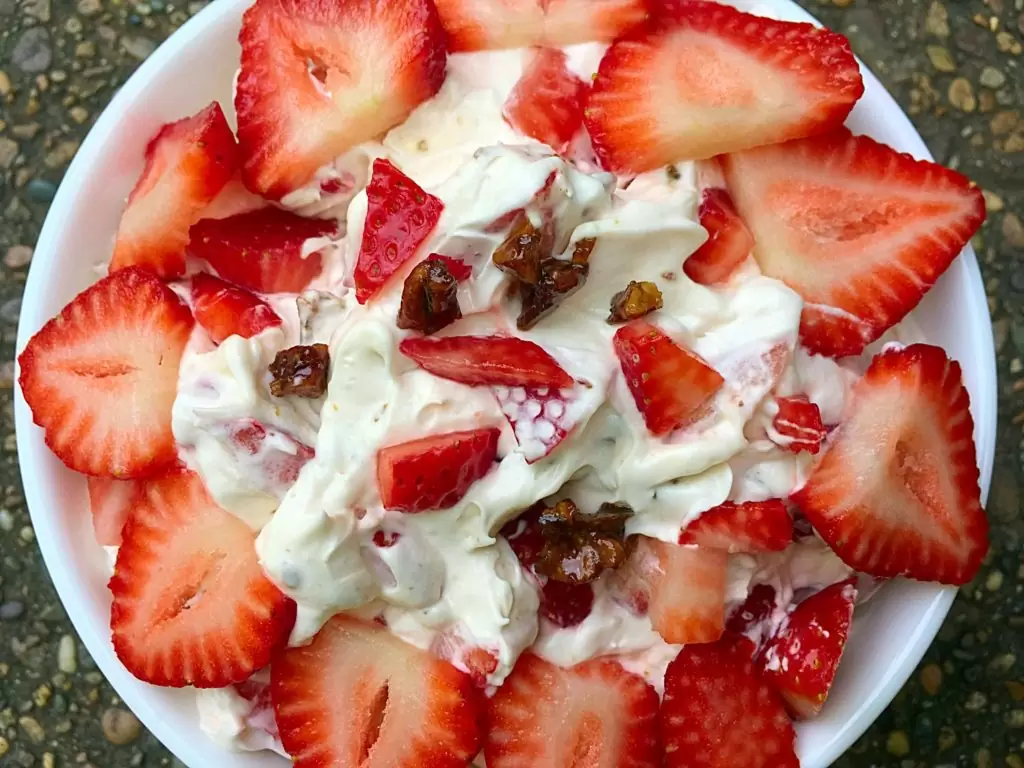 Strawberry Dessert Salad (with Toffee)
Author:
Doublethebatch.com
Ingredients
8 oz or 1 package of cream cheese, softened
½ cup sugar
1 tsp. vanilla
8 oz. whipped topping
1 cup pretzels, chopped
½ cup pecans, chopped
¾ cup brown sugar
¾ cup melted butter
2-3 cups strawberries, diced
Instructions
Preheat oven to 400. Wash and dice strawberries. Set aside. Chop pretzels and pecans and combine with melted butter and brown sugar. Spread on parchment paper on a cookie sheet with edges (otherwise you'll have melted butter dripping off your pan...no Bueno!) Bake for 7-9 minutes. Watch it carefully so it doesn't turn dark and burn. Pull out of oven and allow to cool while you mix up the cream cheese mixture. Whip cream cheese, vanilla and sugar together until fluffy. Gently fold in whipped topping. Right before you are ready to serve, fold in strawberries and pretzel, pecan crunch. (Make sure it has had plenty of time to cool) Enjoy!
PIN FOR LATER