This post will teach you how to bottle cucumbers to make delicious pickles. Read this post for CANNING TIPS AND TRICKS to help you in your canning process.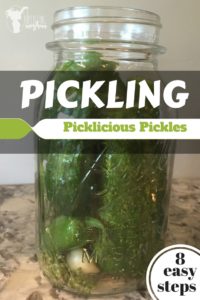 Step #1 – The night before you bottle your cucumbers, you need to cut the end stems off. This improves taste, and makes the pickles crispier.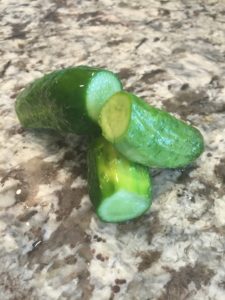 Step #2 – Place your pickles in a bowl of ice water and leave in fridge over night.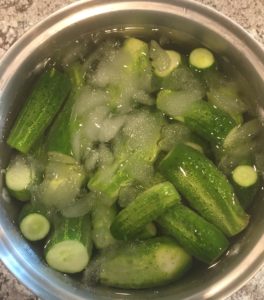 Step #3 – The next day start by making the brine for the pickles.
For one batch of pickles (7 bottles) begin by mixing together
2 quarts of water
1 quart of Apple Cider Vinegar
1 cup of pickling salt
Bring this mixture to a boil.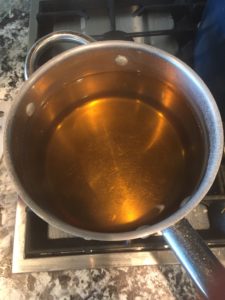 While that is getting ready to boil got to the next step
Step #4 – In each bottle put
1-2 jalapenos (depending on size and how hot you want your pickles)
1-2 garlic cloves
2 heads of fresh dill (You can use dry, just use a little more)
1/8 tsp of alum (this helps increase crispiness)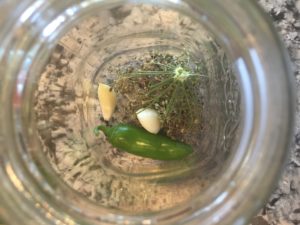 Step #5 – Place as many cucumbers as you can inside the jar! This becomes a jigsaw puzzles. Shove them in tight. When they are processed they will shrink a little bit. Fill it up as much as you can!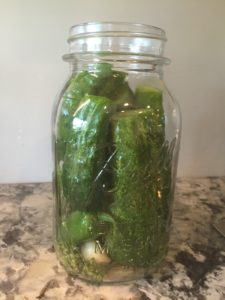 Step #6 – Fill the jar up with the brine that you made first. It should have come to a boil by now. If it came to a boil before you are done stuffing your jars, just turn in down on low. Fill them up when you are ready!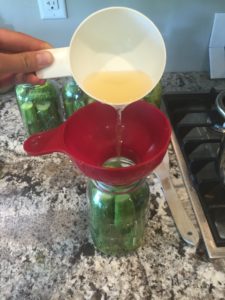 Step #7 – Clean the rim, place the lid and ring on. Remember don't tighten too tight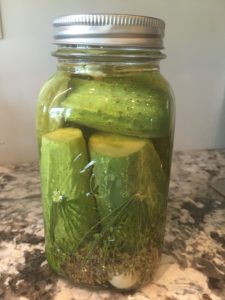 Step #8 – You are now ready to process your cucumbers. Process for 20 minutes PLUS added time for increased elevation. Visit my CANNING TIPS AND TRICKS post for needed added time. Place them in your water bath canner. Make sure the water is covering all of the jars. Start time when steam is coming out of the 3 holes on the lid.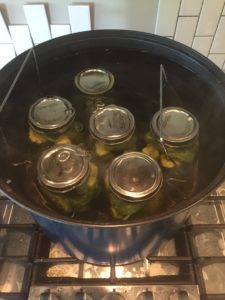 ENJOY YOUR PICKLES!!
IF YOU HAVE QUESTIONS DON'T HESITATE TO ASK!  [contact-form][contact-field label='Name' type='name' required='1'/][contact-field label='Email' type='email' required='1'/][contact-field label='Website' type='url'/][contact-field label='Comment' type='textarea' required='1'/][/contact-form]