Years ago, when I was trying to get my family to eat less refined foods, I experimented and ended up making this recipe. My kids never noticed the switch from white flour to oats and it is now one of our favorite meals. Make sure to add the berries and cream and I guarantee it will be a winner! I have also included a grain free version at the end.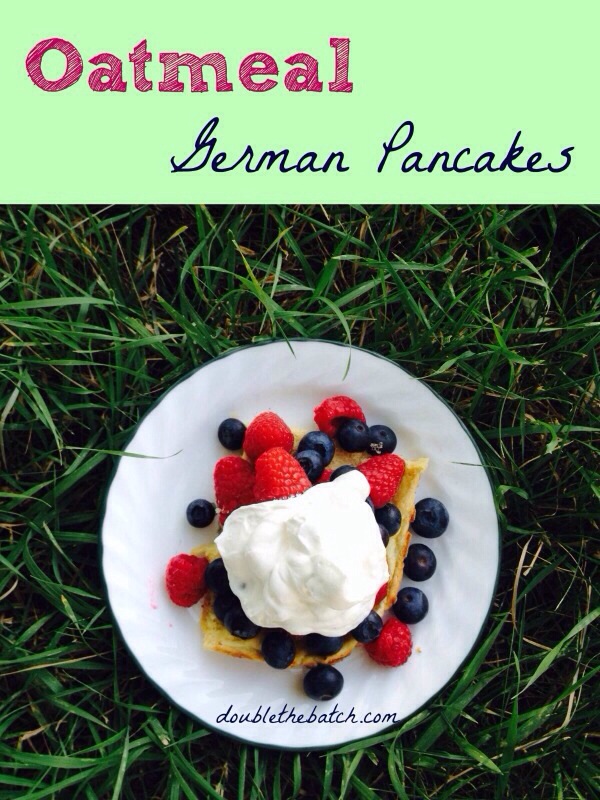 Oatmeal German Pancakes
2 tbls. Butter
1 cup milk
1 cup + 2 tbls. Oats (quick or rolled)
6 eggs
1/2 tsp salt
Whipping cream
Berries (frozen or fresh)
Grease 13×9 pan and add butter. Put in oven while it is preheating (400 degrees) so the butter can melt. In the meantime, blend milk, oats, eggs, and salt in blender on high for 1 minute or until smooth. Pull pan out of oven when butter is fully melted. Pour batter into pan. Bake for 20 minutes. Top with berries and whipped cream. I always add a little sugar to my whipping cream and berries because we don't use syrup. They taste great with syrup too. I've also thawed out frozen mangos, heated and blended them up and used that instead of berries. It was delicious! Enjoy!
Grain Free German Pancakes
Use the same recipe above but replace the oats with 1/4 cup of coconut flour instead. Coconut flour absorbs a ton of liquid so you don't need as much as the oats. I've made this version for myself when I was on a grain free diet and they were also delicious.