This is a sponsored post written by me on behalf of Walmart. All opinions are 100% mine.
I love being a mom. I love it so much, I just had my 5th child and the magical experience of having a newborn never gets old. There is just nothing like holding that little innocent angel in your arms and marveling that you and your sweetheart created this amazing little person. It is humbling and amazing and exhausting and awesome. (-:
Are there any new mom's-to-be out there eagerly anticipating the arrival of their little one and, at the same time, overwhelmed with the thought of what it will take to be prepared to take care of another very dependent human being 24-7? I am amazed at how much things have changed since I had my first daughter 11 years ago. There are so many great resources out there now to help you prepare for the amazing experience of parenthood. Taking advantage of them will help you feel more relaxed and peaceful when your big day arrives. Instead of running around frantically trying to make sure you have everything you need (like I usually did in the past), you can just sit and stare at the amazing little person you created which is a much better use of your time, I assure you. (-:
One fantastic option you should look into is Walmart's online baby registry. It is very easy to create an account and start adding items that you would love to have when your new one arrives. I always have a hard time deciding what to get a new mom because I never know what they have already purchased or received, what color their nursery is, etc. The baby registry makes it easy on your shower guests and you end up with what you actually need which works out great for everyone.
But, maybe you don't even know what you actually need. Well, Walmart's baby registry has you covered with their baby registry checklist. It will give you a great idea of where to start and help you make sure you haven't missed anything. After you create your list, you can remove things as you receive them or buy them until you have everything you need.
You can view my registry here. I have included the essentials- diapers and wipes. You can never get enough of these. I have a two year old and a newborn and I swear my garbage dumpster was half diapers last week. I am particularly fond of Pampers® Swaddlers. I have used a wide variety of brands, but the hospital I delivered in carried Pampers® Swaddlers and my aunt gave me some as a gift. I noticed a real difference in the softness of the material they are made with compared to other brands. I haven't had any leaks and they have a very pleasant baby scent. You can get them here: Pampers Swaddlers Super Pack
What you will actually need is going to be different for everyone. Some things are more important to you than other moms. You may have been given a lot of the things you will need already. For me, the must haves are: lots of diapers, tons of wipes, a diaper bag, swaddling blankets, burp clothes, washcloths, a baby bath, baby soap and lotion, clothing- especially sleepers, some sort of soothing bouncer seat or swing, and the sleeping set-up of your choice. I have loved using this for my last two babies to sleep in.
Another thing I really enjoyed on Walmart.com is their New Mom Stories and Tips section. They have wonderful videos of new moms telling their stories that are really heart warming and you can relate to the things they are going through. They are not all the typical story- one is expecting twins, another woman's son was born prematurely. If you ever just need to feel like you aren't alone in this pregnancy/new mom thing, this is a great resource. And they offer great tips for new moms as well.
My best advice to you as a new mom is to just slow down and enjoy your baby as much as you can while they are little. They grow so fast- I know it is cliche- but it is just so stinking true! I look at my 11-year-old daughter who fits in my shoes and wants my hand-me-downs and I think how in the world did you grow up so fast? The newborn stage is particularly fleeting and each new stage is has its own little element of awesomeness. So, take it all in and let your house be messy sometimes if you need to so you don't miss it. Trust me- your house will always be there waiting for you to clean it. But, your baby won't hold off being adorable so you can scrub the tub. (-:
Speaking of adorable babies…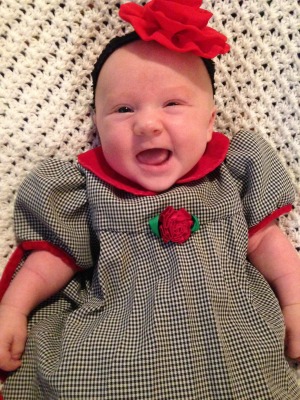 Pampers Baby Basics for Any Mom on Walmart.com's Parent & Baby Center