Ever feel like every member of your family is always plugged into a different world? How is it possible to limit screen time and have fun as a family too? Life today is NOT the same as it was 30 years ago. Now, we have computers, tablets, smartphones, iPods and plenty of other devices to keep us busy 24/7. As useful as all these devices can be, they have a tendency to draw us into an unrealistic world and take us away from what is most important in life. I personally don't feel like I need to eliminate technology in my home, I just need to limit screen time and find a healthy balance. After all, screen time will always be a part of my kids life, so they need to learn how to use it wisely. Screen time can also be a GREAT resource for teaching my kids. That being said, I also feel like we there also needs to be time to strengthen our family by just TURNING IT ALL OFF!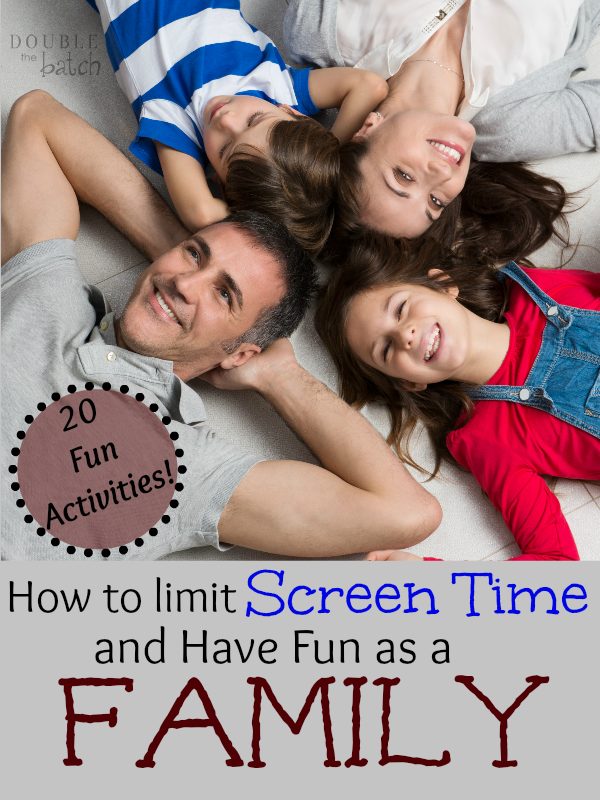 It's a god idea to set a specific time each day to limit screen time or maybe even a specific day each week to unplug. You could even tell each member in your family to come up with an 'unplugged' or 'screen free' activity to share during this time. Here are some of my favorites that I have found:
1. Prepare and eat a meal together. Come up with a meal you know your whole family loves and have everyone pitch in to help prepare it, then sit down and enjoy eating and visiting with each other.
2. Go on a hike or short walk. My family likes to walk to the park since our kids are still young. We all get some good exercise and the kids get to have fun too!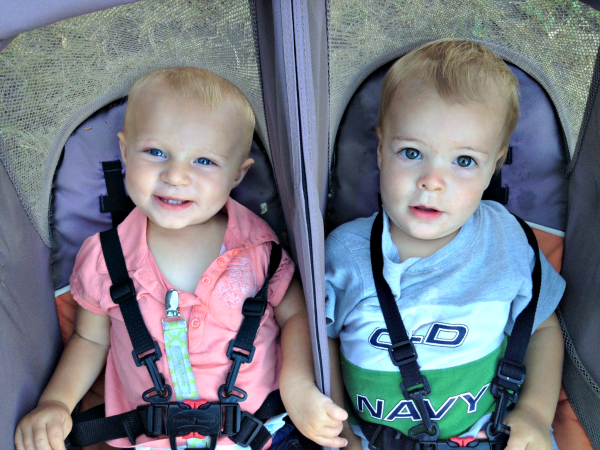 3. Campout in the Backyard. Quick and easy, you don't have to pack up the car, build a fire, or dig a latrine!
4. Have a Reading Marathon.
5. Puzzles. Our favorites are the Melissa and Doug Floor Puzzles.
6. Pictionary. (Always a family favorite)
7. Busy Bags. These are genius for keeping younger kids busy! Here are some great ideas from one of my favorite blogs.
8. Glow in the Dark Scavenger Hunt. You can either hide things that glow (such as these, or these) or for older kids, make a random list of objects you've hidden and give them flashlights to go and find them. My neighbors have a glow in the dark easter egg hunt for their older kids every year and it's always a hit! Who says it has to be Easter? These look awesome!
9. Play Charades.
10. Building contests. Forts, towers with sugar cubes and frosting or saltines and peanut butter, legos, you name it!
11. Blackout Night. Lights out with flashlights or candles only. (I vote for flashlights) I haven't actually done this, but my kids would LOVE it! They would also love story time with flashlights, I'm sure!
12. Pick up Sticks. I HAD to add this one because it was one of my favorite games growing up!
13. Mailbox day. This is fun! Have your family members each make their own mailbox out of recycled boxes and scraps, decorate them and hang them on their bedroom doors. Then you can have a 'mail station' with colored paper, fun envelopes, stickers, colored pens and markers, glitter…whatever! My kids love writing letters to each other and their friends. We're talking HOURS of fun here!
14. Field trip day. Go to a local museum, visit a petting zoo or even a pet store. Just get out of that house!!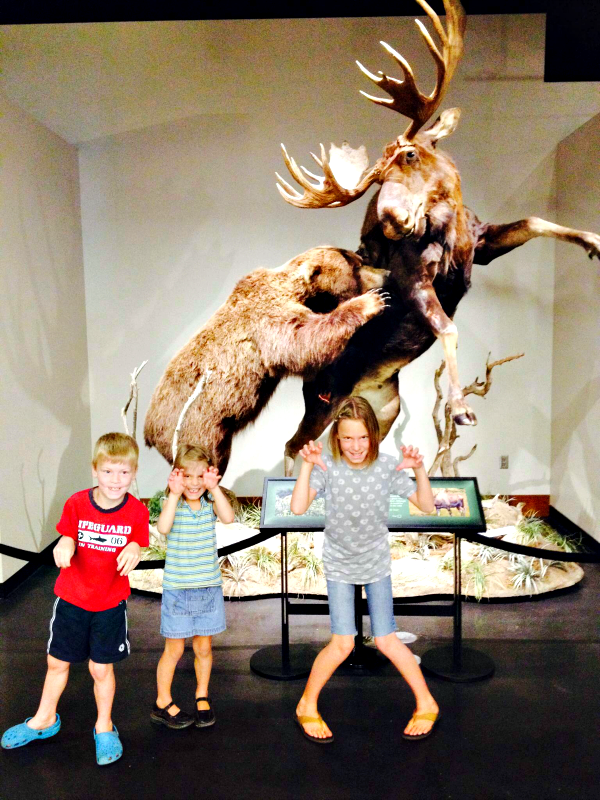 15. Go Bowling. If you don't want to spend the extra money to go to a bowling alley, make your own. Use water bottles, 2 liter bottles, or empty cans with small balls or bean bags. The kids could even decorated the 'pins' before to make it more fun!
16. Board and Card Games. Here are some of our favorites for family fun: Sorry, Yahtzee, Monopoly jr., Ticket to ride, Settlers of Catan, Farkle, & Phase 10.
17. Bug Hunt. This would obviously be for younger kids. My kids will do this for HOURS. They love to use recycled containers to make bug homes and then comb the yard for creepy crawlers. These are also fun. Also, if you're looking for more activities to do with younger children, I highly recommend the following books: The Toddler's Busy Book & The Preschooler's Busy Book. Both are jam packed with fun activities that are super easy and most of the activities you can do using materials laying around your house!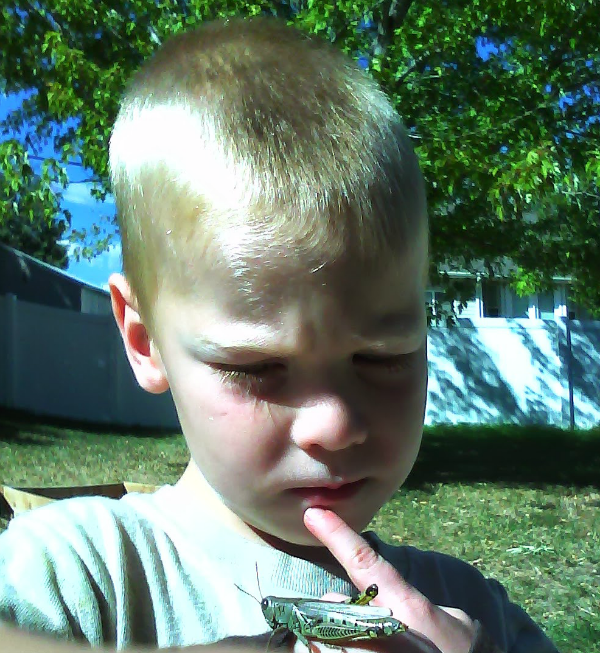 18. Grocery Store Scavenger Hunt. Great way to make shopping fun for kids and get it all done faster. Give each person a list and have them 'hunt' for that item. 1st person to find all their items gets to pick the treat after. You can also have a contest to see who can guess how much everything will cost. Some of my kids are too young to let loose in the store, so I let them look for things as I am walking down the isle with them. This would be fun with teenagers.
19. Dance Party. I know that technically, this isn't a totally unplugged activity but…do it anyway!! It doesn't involve sitting in front of a screen and is great for staying active! So crank up the volume and go for it!! No skills needed. Just have fun!
20. Service Project. This is great for helping your kids to be more compassionate to others, and to help strengthen your family. Volunteer at a soup kitchen, rake leaves for an elderly neighbor, weed someone's garden, the sky is the limit here.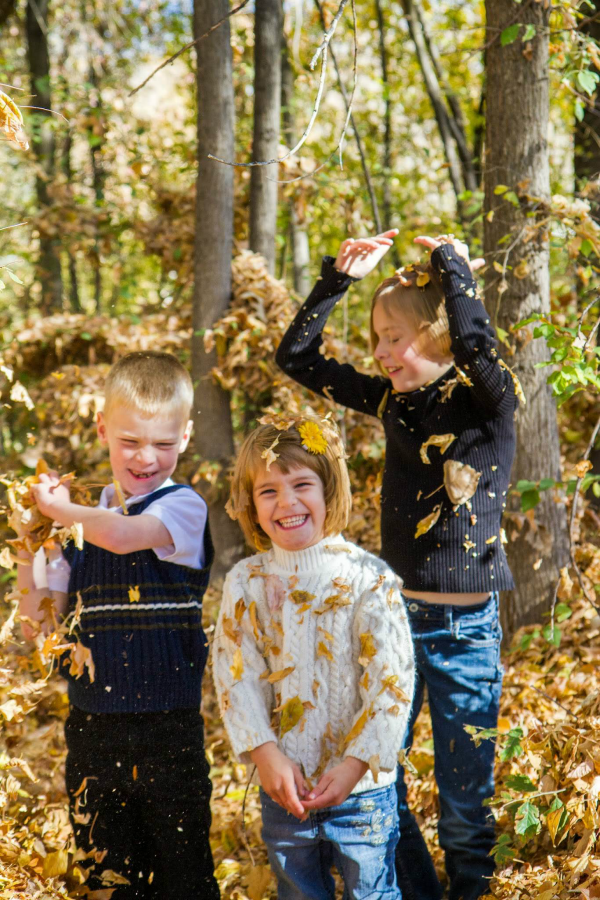 Best of luck! Just remember, when you limit screen time and spend more time as a family, you are building lasting relationships and creating memories! Your kids will thank you someday!