These muffins are a family favorite and are delicious! We got this recipe from my aunt and when my mother makes them they are the first thing gone!! So delicious! We like to make these in mini cupcake pans. This batch makes 48 mini cupcakes, perfect for little kids mouths. The mini cupcakes make it ok to eat 3-4 of them without feeling guilty! Win/Win!!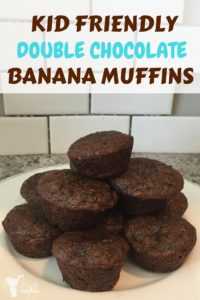 Here is the recipe
1 1/2 cups flour
1 cup sugar
1/4 cup cocoa
1 tsp baking soda
1/2 tsp salt
1/4 tsp baking powder
1 1/3 cup mashed bananas
1/3 cup oil
1 egg beaten
1 cup mini semi sweet chocolate chips
First things first- turn your oven on to 350. This recipe does not require a mixer. It is gently hand mixed! It is very fast and easy and don't forget delicious!!
STEP #1   Combine all Dry Ingredients – Flour, sugar, cocoa, baking soda, salt, and baking powder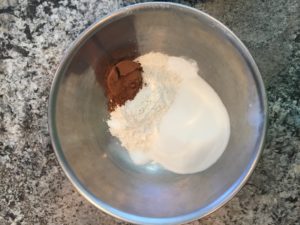 Step #2 – Combine mashed bananas, oil and egg in another bowl and mix!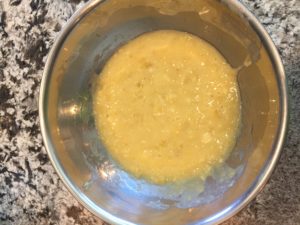 Step #3 – Add the mini semi sweet chocolate chips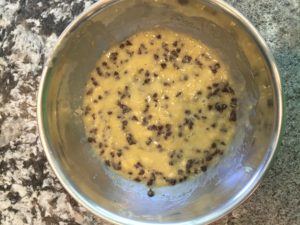 Step #4 – Make a hole in the dry ingredients and pour the wet ingredients in the hold and gently fold the ingredients together. Use a back and forth motion. Don't use a circular motion, this will activate the gluten and create tougher muffins.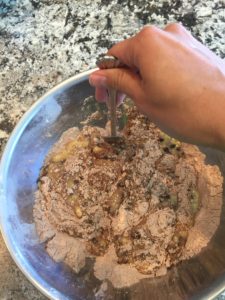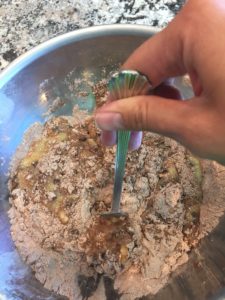 Mix it just to the point that everything is moist. Don't over mix!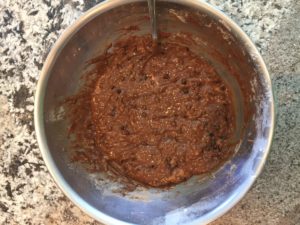 Step #5 – Fill up the mini cupcake pans 3/4 full. You can spray the pans with non-stick spray or use these mini cupcake wrappers.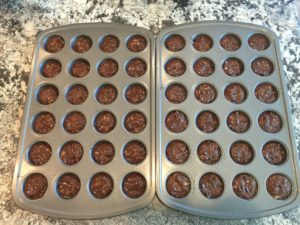 Step #6 – For the mini cupcake size muffins cook them at 350 degrees for 10-12 minutes. If you are doing regular sized muffins cook them for 20-25 minutes.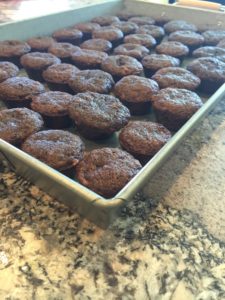 Step #7 EAT AND ENJOY!!