[contact-form][contact-field label='Name' type='name' required='1'/][contact-field label='Email' type='email' required='1'/][contact-field label='Website' type='url'/][contact-field label='Comment' type='textarea' required='1'/][/contact-form] In my church I have a calling to teach the women in our local ward. I love this calling and I learn so much from preparing these lessons. This last Sunday, my lesson was based around a talk called, "Standing with the Leaders of the Church" given by Elder Ronald A Rasband.
This talk is a great read and tells of the importance to "Reach out and take the Savior's hand that He is extending us!" Often this is accomplished through our leaders, who are called by God, who lead and guide us in our daily endeavors. As the gap gets wider between what the world teaches and what our Prophet, Thomas S. Monson teaches, we must know with a surety that what our prophets teaches is true.
One of the quotes in this talk that hits home for me is,
"Relationships with leaders are so important and significant. No matter what age leaders may be, how close or far away, or when they may have touched our lives, their influence reflects the words of the American Poet Edwin Markham, who said this, 'There is a destiny that makes us brothers; [No one] goes his way alone: All that we send into the lives of others, comes back into our own.'"
I had an amazing experience with a leader, who at the time, I had never met. The first time I met him he gave me some inspired advice. Advice that at the time didn't seem like much. In the end however, that advice ended up saving a part of myself I may have lost.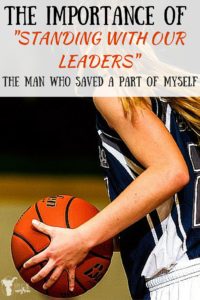 After high school, my first Sunday away from home, I attended my singles ward. I was excited and ready to begin this new adventure. I had a scholarship, I was playing basketball at a college level. Life was good. During the meeting, I noticed the bishop (the leader of our ward) keep looking at me. I brushed it off and didn't pay much attention. After the meeting, this bishop came up to me and asked if he could meet with me. Of course I said yes, but also wondering why in the world he would want to talk to me.
You can imagine what is going through my mind at this time. Why did he pick me out of the crowd? He didn't even know who I was. Was I receiving a calling to serve? Did I do something wrong? Lots of different reasons were running through my head. What he did tell me though, was nothing close to what I had imagined.
He sat me down and looked at me and said, "I'm not sure why, but I received a very strong impression that I needed to talk with you."
I just slowly smiled and said, "Ok?"
He gently goes on to warn me, to be careful, as I interact around guys on the men's basketball team. He warned me to stay in public places at all times, whenever I was with them.
That was the shortened version. This kinda shocked me. Yes, being on the women's basketball team, we would see the boys team a lot. I didn't know what to say. I asked myself, "Why would this man feel inspired to tell me this?"  I told him I would be careful, we talked for a little while longer and then I left.
I could have laughed this advice off, thinking I could take care of myself. Thankfully, I had wonderful parents who taught me to follow my leaders, and to trust them. Though I didn't dismiss his council, I admit I didn't worry much about it, and put it in the back of my head. I didn't think about it for a couple months. School was going full swing, basketball practices every day, and games had started.
One night, I was in the common area in our dorm, talking with one of the guys on the basketball team. I had gotten to know quite a few of them and became friends with many. We were chatting about life, and he was asking me about my faith and what I believed. He acted so interested, and I was just excited to share my beliefs, (Looking back now, I was so NAIVE!).
It began to get pretty late, and the common room began to empty quickly. My bishop's words jumped out of the back of my mind. I stood up and told my friend, "I'm getting tired, I need to go to bed."
He grabbed my hand and said, "Ahh come on, just a little longer."
I looked around the common room and noticed it was empty. I quickly shook my head and said, "No, I need to get to bed. I'll see you tomorrow."
It wasn't until practice the next day that I found out some news that shook me to my core. Some girls told me that one of our teammates was raped the previous night……by the same guy that I was talking with in the common room. The feelings that went through my mind at the time is difficult to describe. My heart broke for my teammate. I felt shocked, scared, concerned, but mostly I felt an overwhelming feeling of gratitude for my Savior. Gratitude that my bishop, who didn't even know who I was, received a prompting from our Heavenly Father to talk with me.
In Elder Rasbands talk he says,
"The leaders of this Church are no strangers to your issues, to your concerns, and to your challenges. We have children. We have grandchildren. We are often meeting with youth all over the world. And we're praying for you, we're talking about you in the most sacred places, and we love you."
My bishop didn't pick me out of a crowd. He was touched by the spirit to talk with me. I know without a doubt that our Heavenly Father loves us, and cares about us AS INDIVIDUALS. This experience added to my testimony the importance of standing with our leaders. If you follow their council, you will be protected. It is not enough anymore to follow only some of what our prophet says. Now, more than ever we need to know, without a doubt, that you will follow him 100%.
As parents we need to teach our kids by example to support and sustain our leaders! You never know when our Heavenly Father will want to help your child, through one of his inspired leaders. He did for me and I am forever grateful that my parents taught me to stand and trust in my leaders.  
If you would like to know more about my faith, feel free to contact me. I would love to answer any questions you have!