Hi. I am Trisha Coleman, and I am an Oreo addict. It is true. I love them… minus the cream filling. I know. I'm weird. But I think it tastes like sugar flavored lard… probably because that it what it is. (-: So, I scrape it out and dip the cookie in milk like the rest of America. Or even better, I crush it up and make a peanut butter, Oreo, chocolate shake- my dessert of choice.
But, if there is a filling I can get behind it would be cream cheese frosting, which is why Homemade Oreos are such a fantastic alternative to the store bought cookie! And this recipe is not new, but I have seen several failed attempts at making these cookies turn out. Often they are too hard, too thick, or over-cooked. After years of practice, I consider myself a bit of a Homemade Oreo master- I can be counted on to bring them to any and every occasion when I am called upon to provide a dessert- (mostly because they require very basic baking skills, which I indeed possess.) Read on if you want to know my secrets to the perfect Homemade Oreo Cookie-The Cookie for Every Occasion!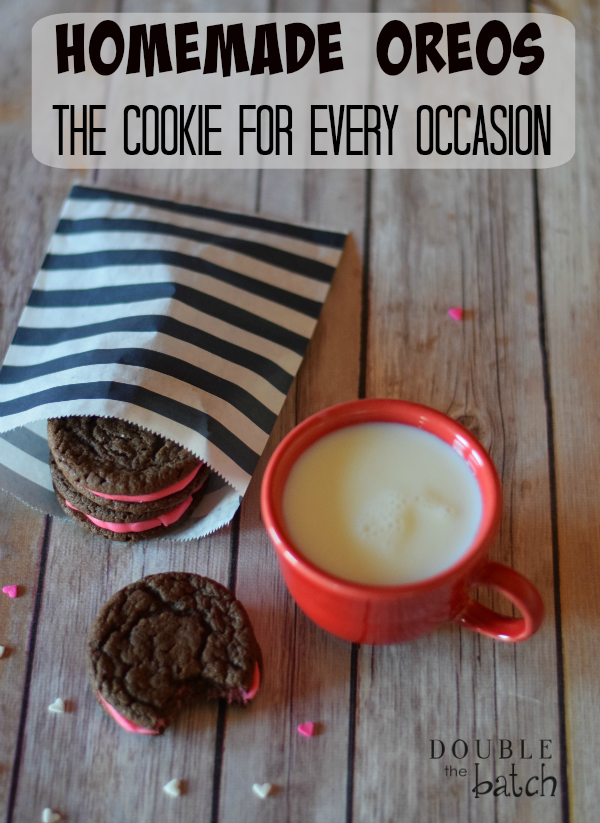 Homemade Oreo Cookies
3/4 cup of Butter Flavored Crisco (because everything's better with butter)
2 eggs
1 Package Devil's Food Cake ( I have had particularly good results with Pillsbury Brand, but any will do.)
Preheat your oven to 375 degrees (or 350 degrees if you feel most recipes are giving you too high a heat for your elevation.) Mix together the eggs and Crisco with your hand mixer or Kitchen Aid. Add the Devil's Food Cake package and mix until well blended. Your batter should be moist, but not so sticky that you can't roll it into balls. It will be softer than most chocolate chip cookie batters. If it isn't you've done something wrong.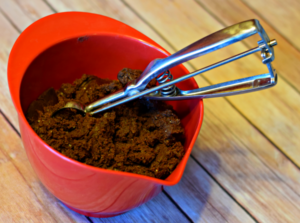 Roll the cookies in balls about an inch and a half wide or use an ice cream scoop that size (if you want them to be the size of normal Oreos) and place them evenly spaced on a cookie sheet. I often flatten them just a bit with my fingers before placing them in the oven. Now for the most critical part. These cookies need to come out of the oven before you think they are really done. You should check them after 6 or 7 minutes. The key is to take them out just as they are starting to crack on the top. If you wait to long- they will turn out overcooked with crispy texture and we are going for soft yummy-ness here. They will look a little rounded in the oven, but when you set the cookie sheet down, the impact will flatten them out. If they don't flatten out, they may need another minute. Or sometimes if they are just a tiny bit rounded, I will flatten them with my spatula and let them sit on the cookie sheet for a couple minutes more before I put them on the cooling rack.
Now for the…
Cream Cheese Frosting
1 Stick of butter softened
A package of cream cheese softened
1 tsp. vanilla
1 cup to a cup and a 1/2 powdered sugar (depending on how sweet you like it)
Blend together the butter and cream cheese until smooth. Add the vanilla. Gradually pour in powdered sugar until well blended.
This will give you around two cups of frosting which will do at least two batches of cookies.
You can add food coloring to the frosting to make it festive for the different holidays. I even add a little mint extract and color it green at Christmastime on occasion just to mix things up a bit.
An easy way to apply the frosting is to put a nice dab of frosting right in the middle and then gently squeeze the two cookies together until it spreads out to the edges. This is much faster than trying to spread it around evenly.
Now- to keep them deliciously soft and delectable, put them in an air-tight container or a zip lock bag with a little piece of bread until you are ready to serve.
If you are in a hurry and don't have time to make frosting and frost the cookies, or if you need a larger number of cookies fast, I sometimes just add chocolate chips to this recipe and make chocolate chocolate chip cookies which are delicious as well.
Now pour yourself a glass of milk and enjoy!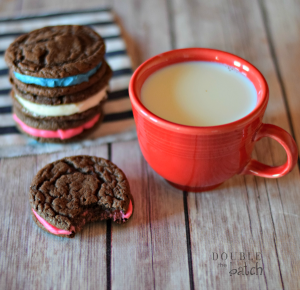 Check out this post on how to make ICE CREAM SANDWICHES using this cookie recipe! YUM!
And Check out this post on the 20 Best Cookie Recipes on the Web for other great cookie recipes.