You looking for an incredible hike in a picturesque slot canyon? Perfect! Hiking Peek-a-boo Gulch and Spooky Gulch slot canyons are perfect to hike at the same time. They are right next to each other making a fun loop that gives you a little different experience in each one. This is one of the hikes that we did while visiting the Grand Staircase-Escalante National Monument. Check out the other hikes we did. The Lower Calf Creek Falls was one that is a must!!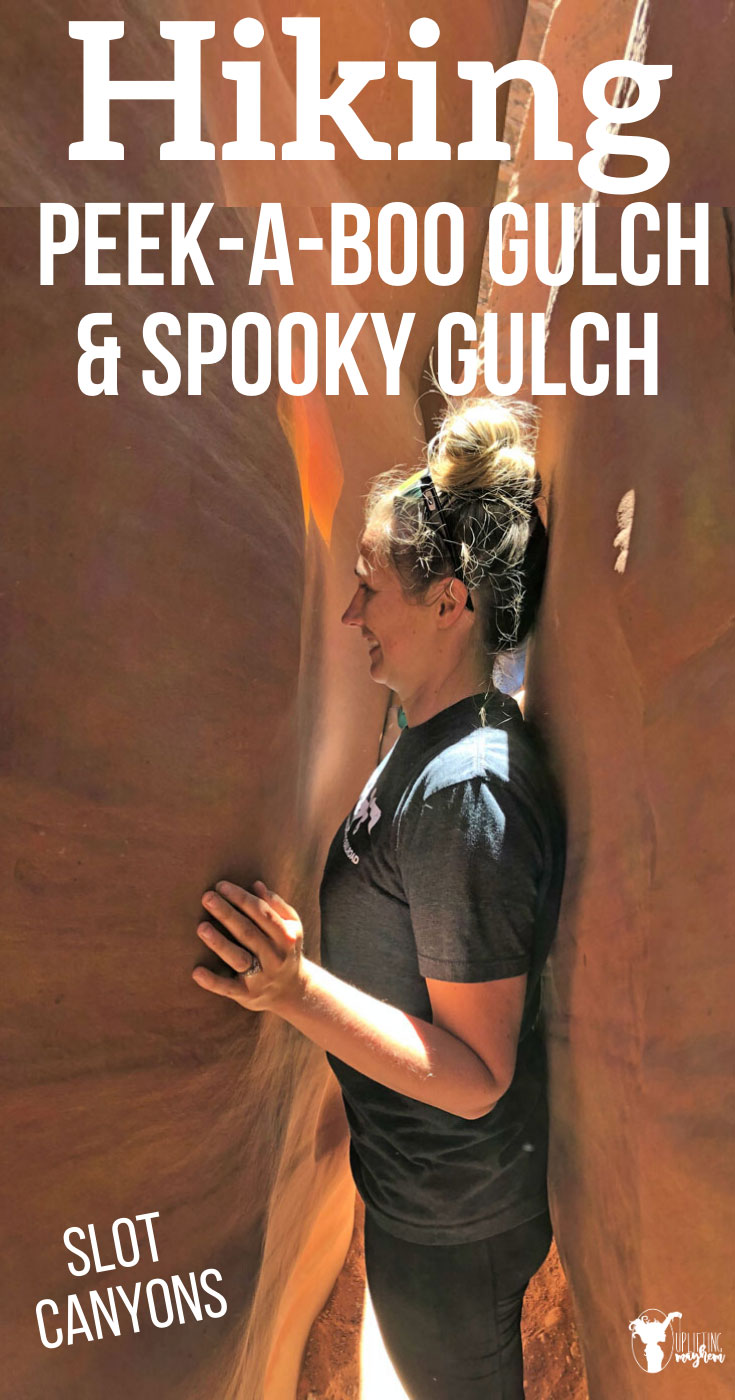 Hiking Peek-a-boo Gulch and Spooky Gulch Slot Canyon
Location – The trailhead is located on the Hole-in-the-Rock Dirt Road, 26 miles south of the town of Escalante.
Length – Total is around 4.5 miles. 1.4 Miles to the opening of Peek-a-boo Gulch. Peek-a-boo gulch is very close to Spooky, so you usually do them both to make a loop and is 1.7 miles and then the 1.4 miles return to the parking lot.
Terrain – Desert rock with steep parts as you descend down into the canyon. The slot canyons have some rock climbing that require some rock scrambling. My children needed help with a lot of them. I needed help on one 10 foot drop.
Difficulty – Moderate-Difficult. The only reason I would say difficult is because of some of the climbs and drops within the slot canyon.

These two slot canyons were definitely the highlight for me while visiting The Grand Staircase-Escalante National Monument. I LOVE slot canyons and the unique beauty that each canyon provides. These two slot canyons are very close together and you usually do both of them during the same hike.
Preparing for hiking Peek-a-boo Gulch and Spooky Gulch Slot Canyons
The trailhead for this hike is 27 miles down The Hole In the Rock dirt road. It is very wash boardy (is that a word? :)) and would be really rough in a motorhome. We all piled in a truck and it took us an hour and 20 minutes to get to the trail head.
It was well worth it!
Make sure you have PLENTY of WATER!! There is no water at the trailhead so don't hesitate to pack more. We ran out and our kids were thirsty. The problem came because when we left our motorhomes our water bottles were full, but after an hour and 20 minute drive many of the kids and guzzled half of their gatorade, if not more.
I would suggest bringing a cooler of water with you in your vehicle, and make sure you are full before you start the hike. The descent down to the slot canyons and then climbing back out can get really hot. We also packed lunches and had lunch in-between the two slot canyons. It was a great break for everyone.
We went here on Memorial Day and it wasn't busy at all, so we were able to park close to the trailhead. However, the day before they had cars lining the road all of the way along the road to the trailhead.
Hiking the two slot canyons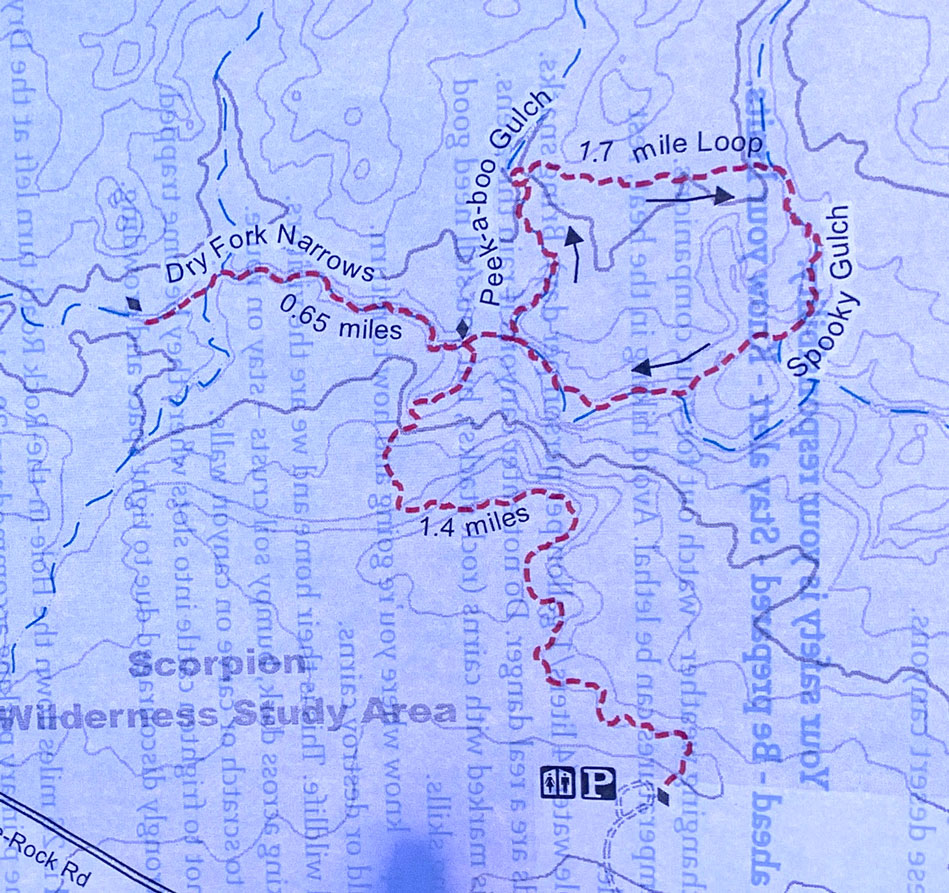 From the bathrooms, you will hike 1.4 miles to the opening of Peek-a-boo Slot Canyon. You will walk along the rim of a canyon. If you look close you could see the entrance to Peek-a-boo Gulch from the top.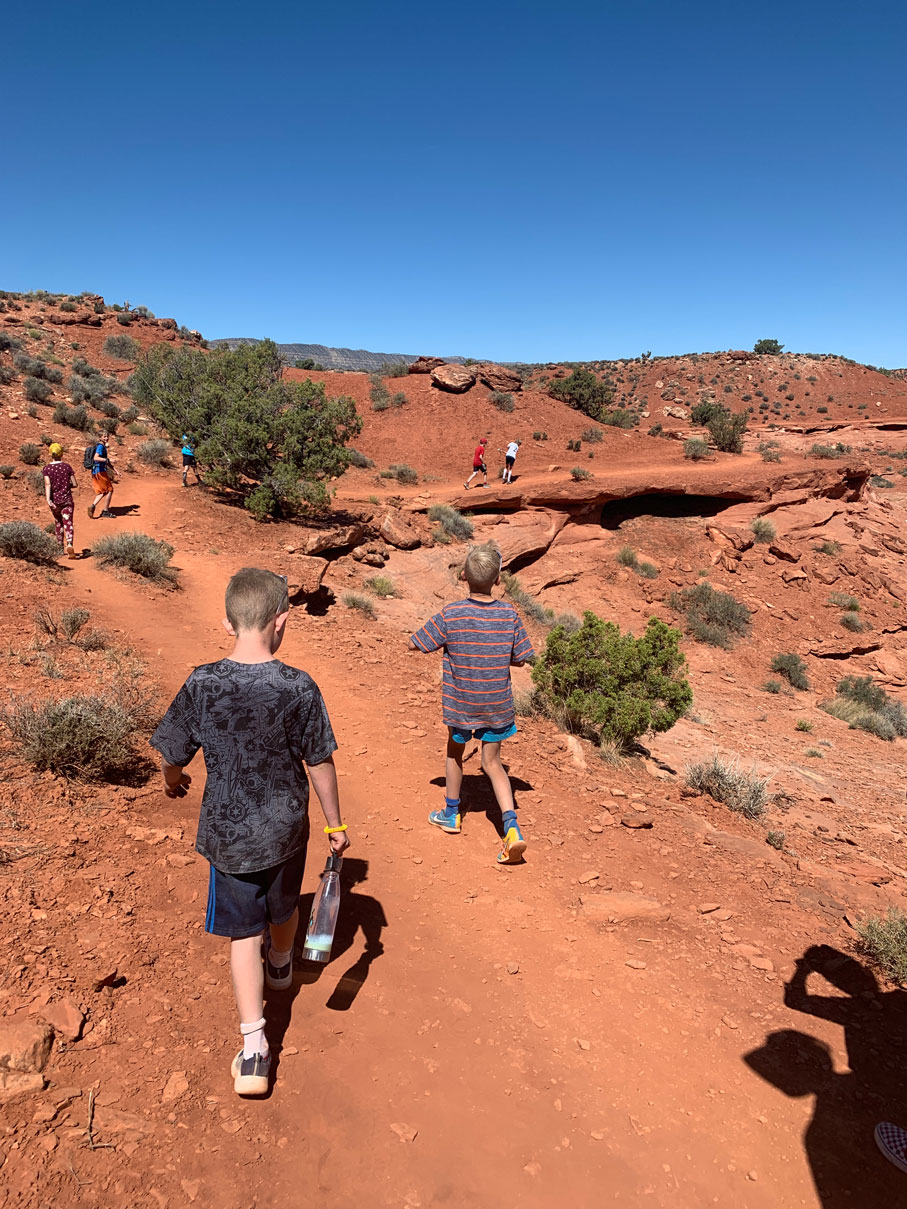 Because of COVID-19 they asked everyone to enter into Peek-a-boo and to exit out of Spooky. We did this and I can't imagine doing it any other way. There are some slots that are so narrow that turning around is extremely difficult if not impossible. If you ran into people going the opposite direction, there is no chance you can pass each other in some areas. Someone would have to backtrack to allow the other groups to pass.
We got lost trying to find the entrance to Peek-a-boo so here are a couple tips to help you not get lost. 🙂 After the first 1.4 miles, you will find yourself at the bottom of the canyon. You will see this sign.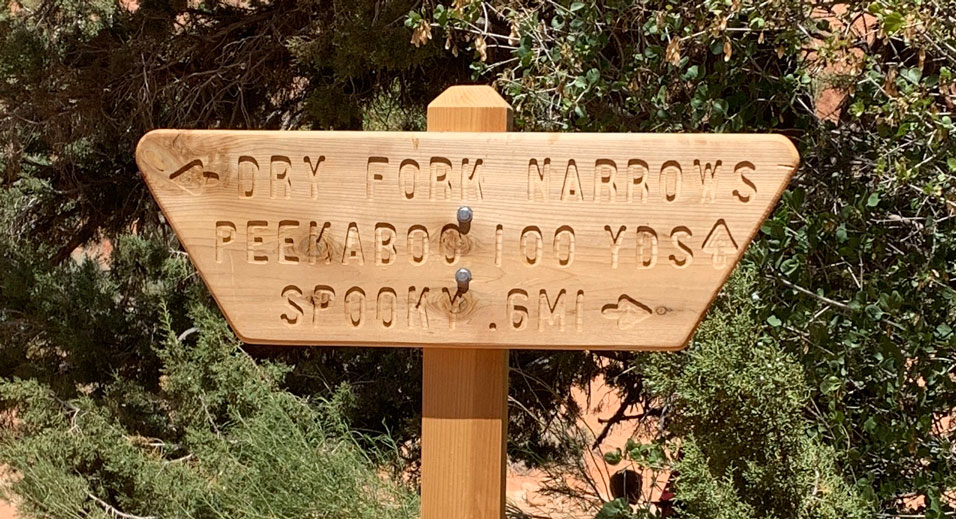 If you go left, you will pass the entrance to Dry Fork Narrows, if you pass Dry Fork Narrows you will see trails going up the canyon. DON'T take these trails, these are cattle trails and will not take you where you want to go.
Make sure you stay to the right, next to the sheer cliff, and keep moving forward. You will see the entrance to Peek-a-boo just across the riverbed. There is a 10-12 foot climb to enter the slot canyon.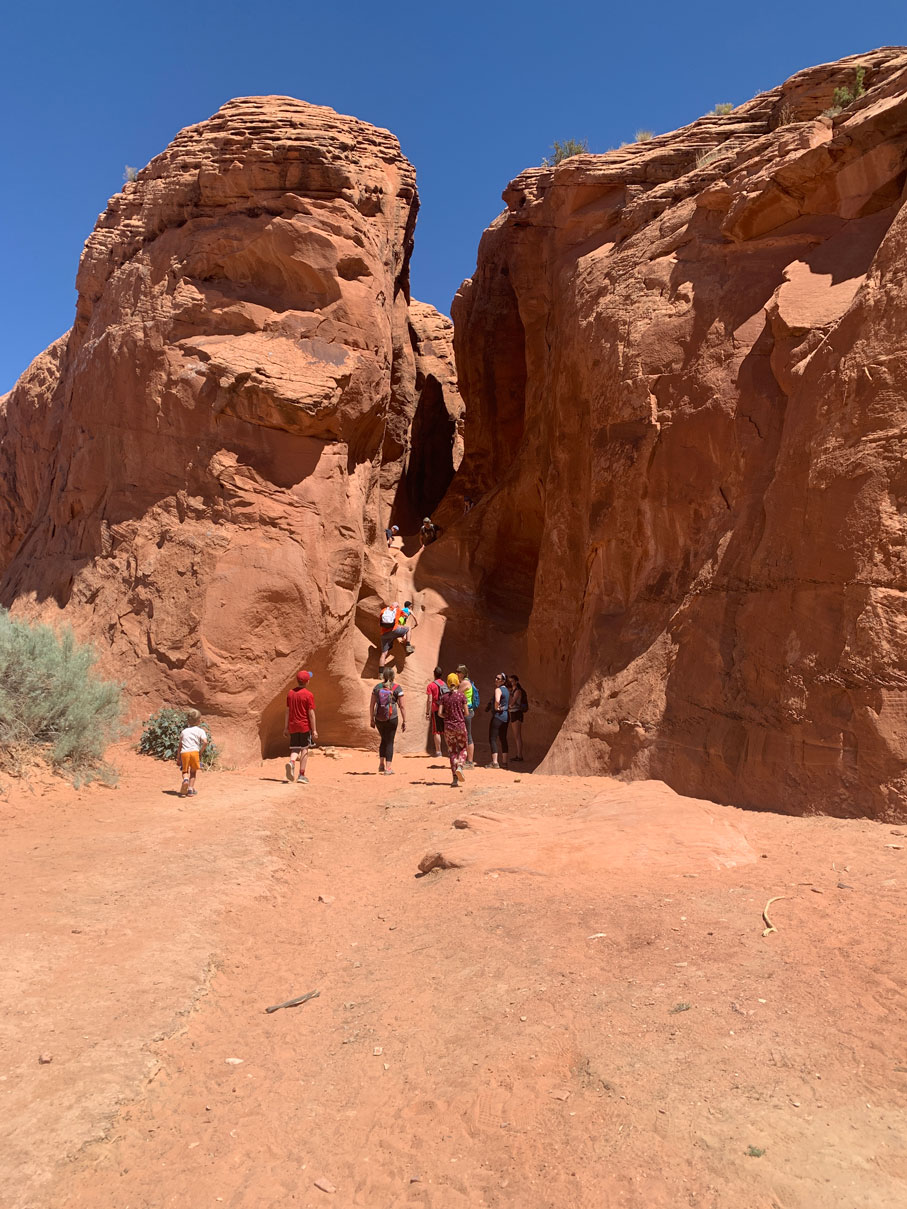 You enter in Peek-a-boo and at the end of the slot you will climb out and walk a short distance and climb down into Spooky. This loop is 1.7 miles long. It doesn't seem very long, and our kids loved every second of it!
PEEK-A-BOO Slot Canyon Description
To get into Peek-a-boo you have to climb some rock that some people may need help getting up. The dad's in our group helped everyone up but it wasn't too technical. When sand gets on the rock, it can get really slick.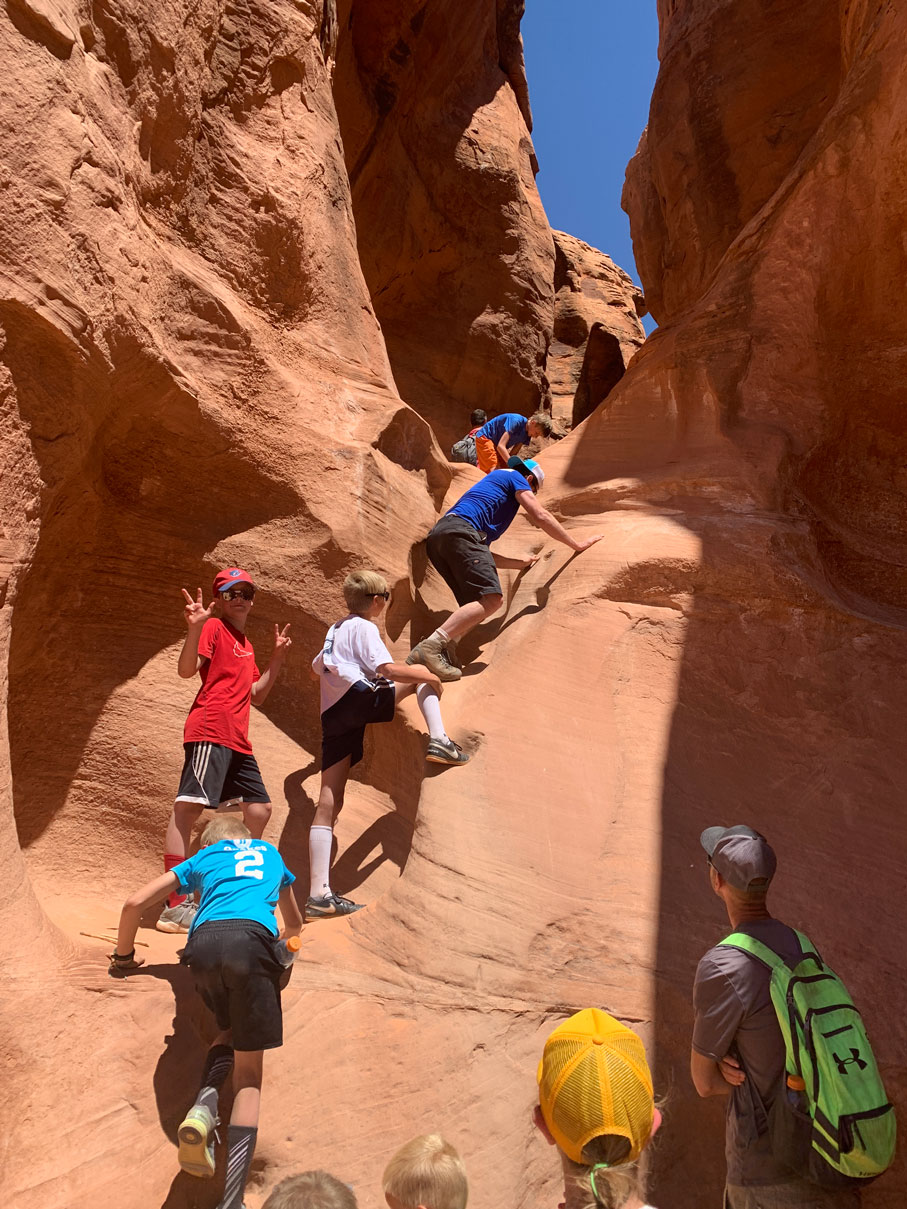 The beginning of Peek-a-boo is beautiful and you will quickly understand why this slot canyon has it's name. There are continual S curves that open a sense of adventure inside of you!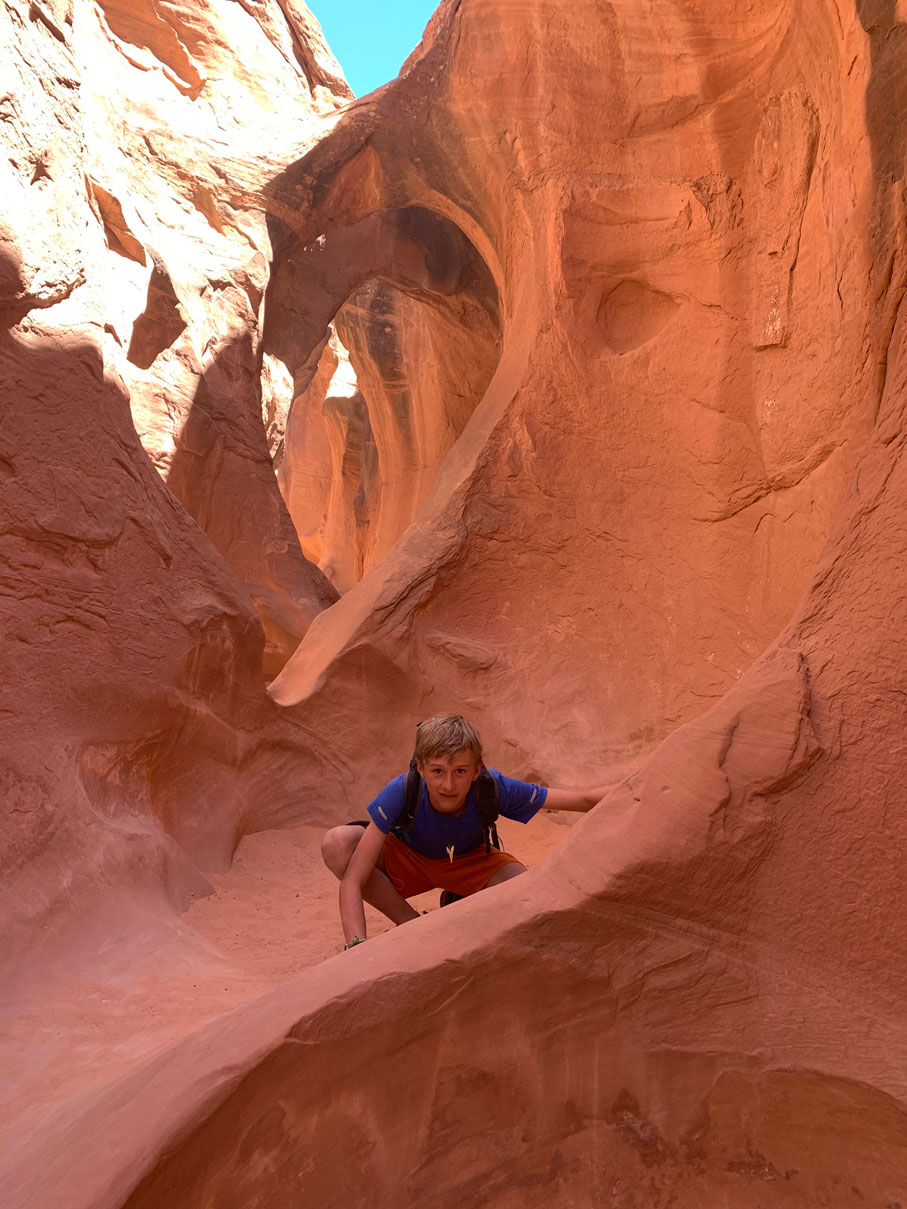 There are a few places where it gets narrow, but it isn't too bad. You can still turn around without too much trouble. Once you get out of this slot canyon, you follow the cairns and pathway to lead you over to Spooky Gulch slot canyon.
Spooky Gulch Slot Canyon Description
This canyon is by far more technical, deeper and much narrower. There were some areas that I couldn't turn my body around. Backpacks had to be taken off in order for you to squeeze through some areas.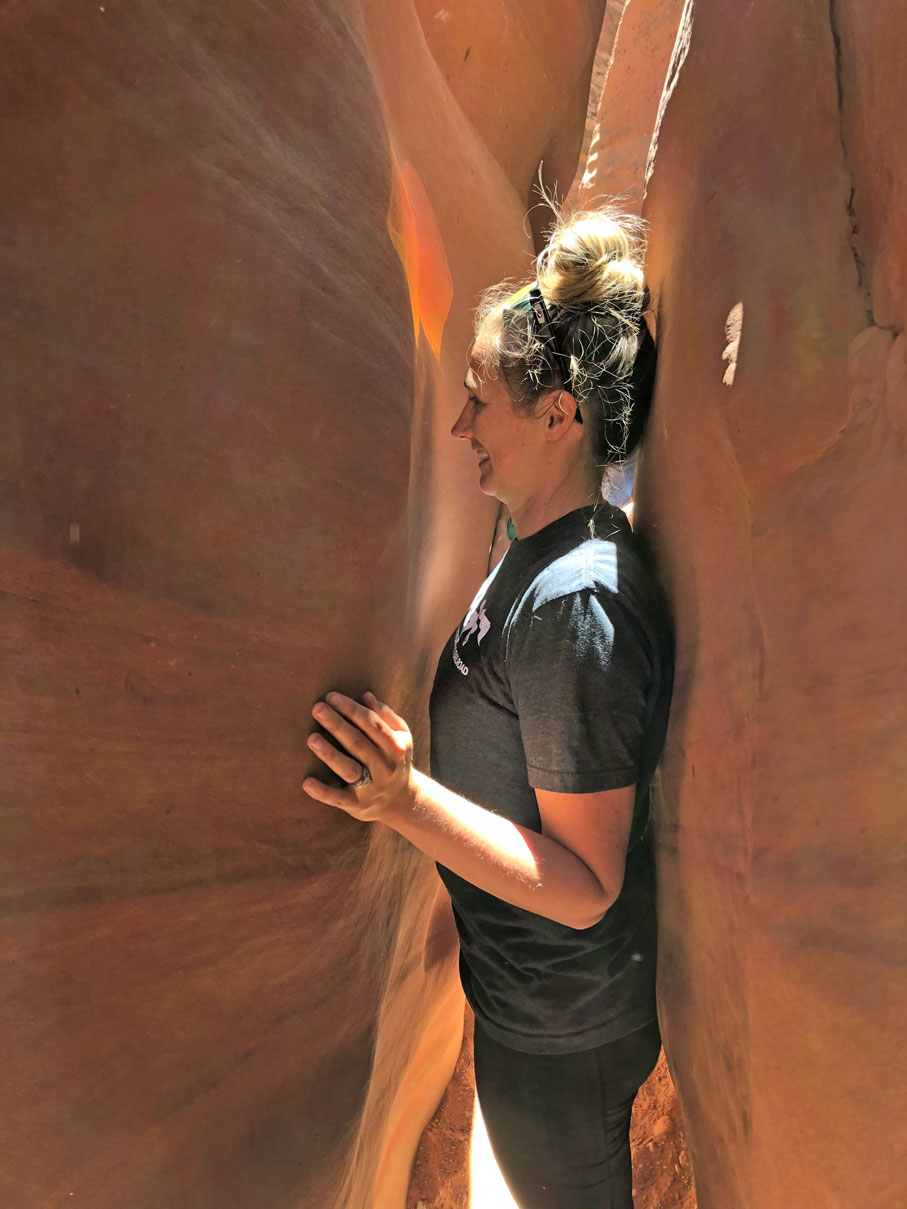 There is one area in this canyon that has a 10 foot drop that gets a little tricky. We had a guy on top handing down kids to a guy down to the bottom. There was a rope to help you get down, but that was one spot that I didn't feel confident doing without some help.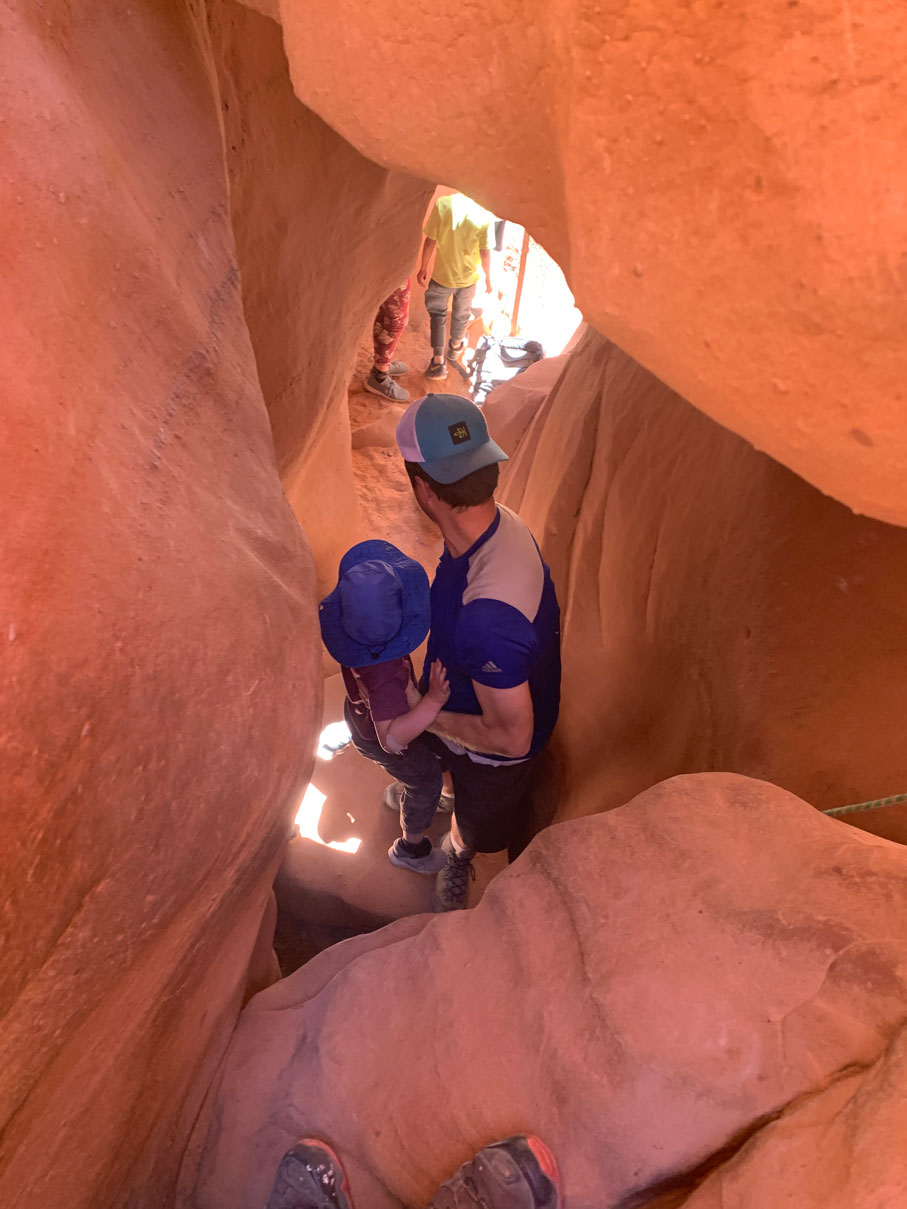 The narrow part is near the end and it is a long stretch. I LOVED every second of it. We did have someone in the group that is claustrophobic so this hike was difficult for her. However, she made it and did AWESOME! It was cute to watch the younger kids just walk normal through the narrow parts. We never heard one word of complaint from the younger kids. They loved it!
After getting out of the slot canyon, the hike back was hot but it was totally worth it! I hope you enjoy it as much as we did!!