I am continuously amazed at the amazing scenery Utah has to offer! Hikes in the Grand Staircase-Escalante National Monument are such an incredible opportunity to fall in love with nature and God's creations! The Grand Staircase-Escalante is huge and there is so much to do and see that it is difficult to choose what to do during your visit.
Hopefully this post will provide you will a beginners guide to help you choose some great hikes in the Grand Staircase-Escalante National Monument. You probably can't go wrong with a lot of the different hikes out there, but the hikes we did were AHMAZING! I thoroughly enjoyed every second of it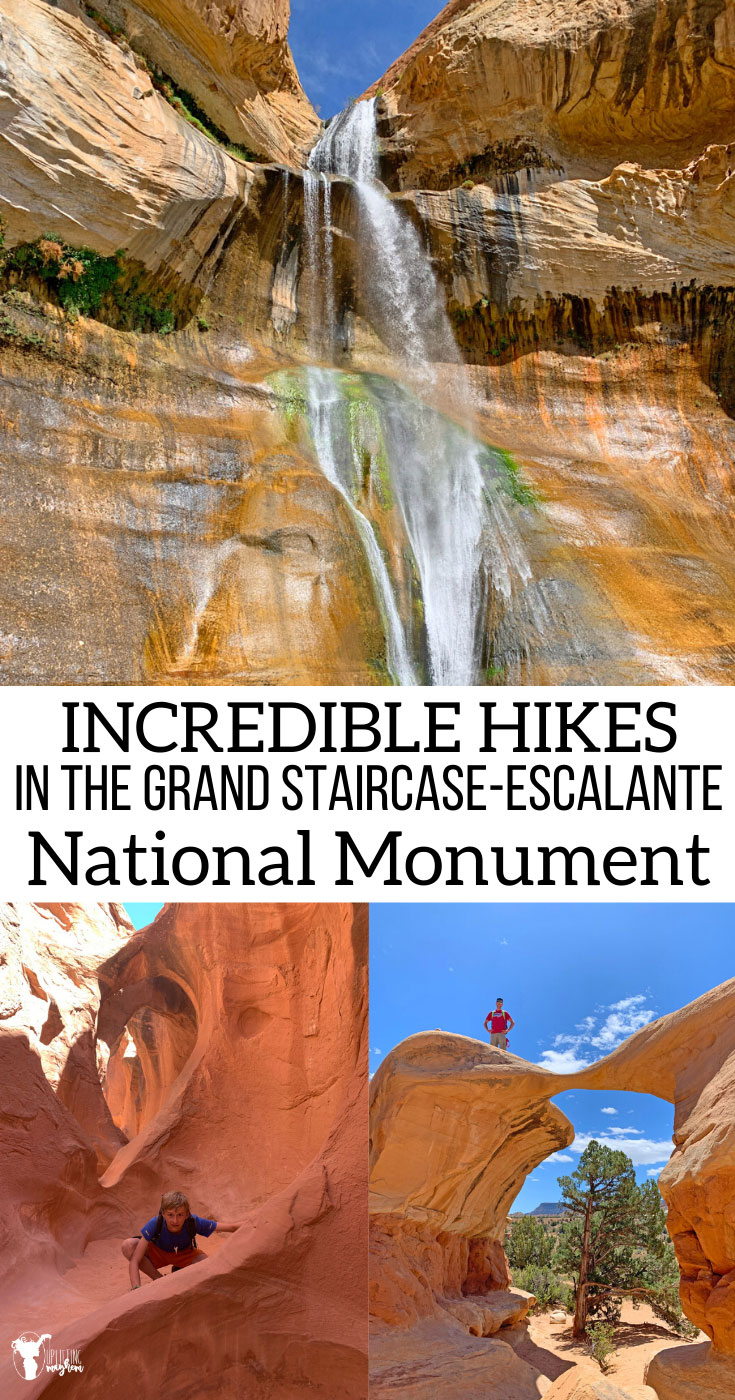 We arrived on a Friday night and went home on Monday afternoon. During the three days we were able to hit 3 hikes. We had 4 families and 14 kids total so we usually did a hike in the morning and hung out at camp during the heat of the day. If you don't have kids, you could probably do more hikes over 3 days
We went over Memorial Day Weekend and it was pretty busy but not overwhelming.
A little hint for you if you are visiting over a holiday, like Memorial Day, Monday was A LOT less busy than Saturday and Sunday so I recommend doing the slot canyons on Monday because there was a 45 minute wait for people to enter the slot canyons on Sunday. On Monday we didn't have to wait at all and there was not very many people at all.
HIKE #1 – Lower Calf Creek Falls
Location – The trailhead is located at the Calf Creek Campground on Highway 12, 11 miles south of the town of Boulder, and 15 miles east of the town of Escalante.
Length – Just under 6 miles round trip
Terrain – Sandy with very little elevation change. There are some rocky parts to climb over, but not difficult.
Difficulty – Moderate (I would say it is moderate because of the distance)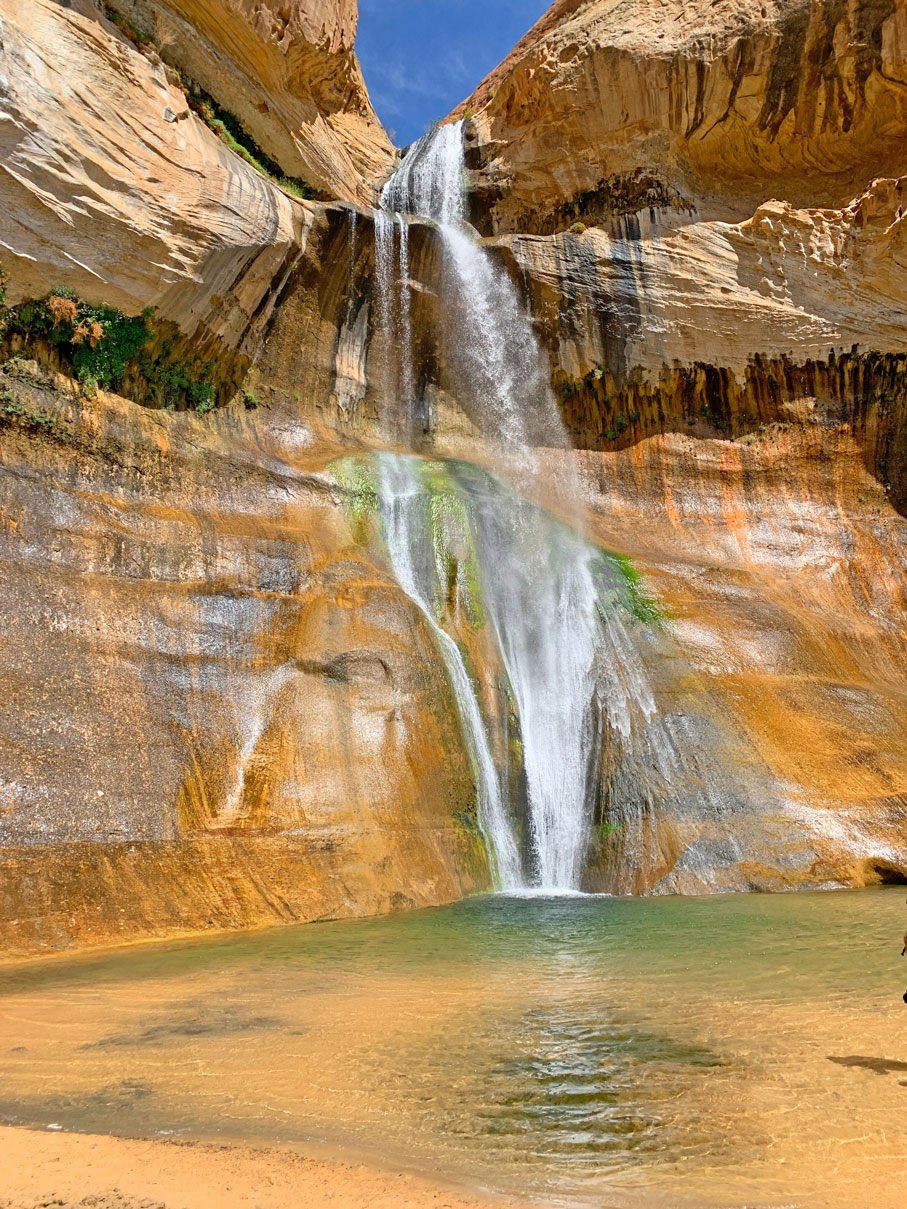 We hiked this with 14 kids. There was a 4 year old that was carried much of the way, and my 6 year old was pretty tired by the end. However, it was still such a fun hike. It is a 6 mile hike round trip and located on the highway that enters Escalante. The parking can be tricky if there are a lot of people. You may have to park on the highway at your own risk.
To prevent this post from being ridiculously long, the rest of our adventure, and the find out more information about this hike, check this post out.
HIKE #2 – Devil's Garden
Location – Devils Garden is located on Hole-in-the-Rock Road in Grand Staircase-Escalante National Monument. From Highway 12, drive 12 miles down Hole-in-the-Rock Road. There will be a sign identifying Devils Garden and a parking lot located just off of the road.
Length – As little or as long as you want. There isn't a designated trail, you just explore.
Terrain – Rocky and lots of opportunities to climb on different crazy shaped rocks.
Difficulty – Easy (Great for kids)
If you are looking for a short hike that still has lots of ooooh's and ahhhh's this is the perfect hike. The Devil's Garden is like Goblin Valley (if you aren't familiar with Goblin Valley). The Devil's Garden isn't very large, but the hoodoo rocks are so fun to explore and climb on. There are multiple arches throughout the garden and lots of opportunities for climbing.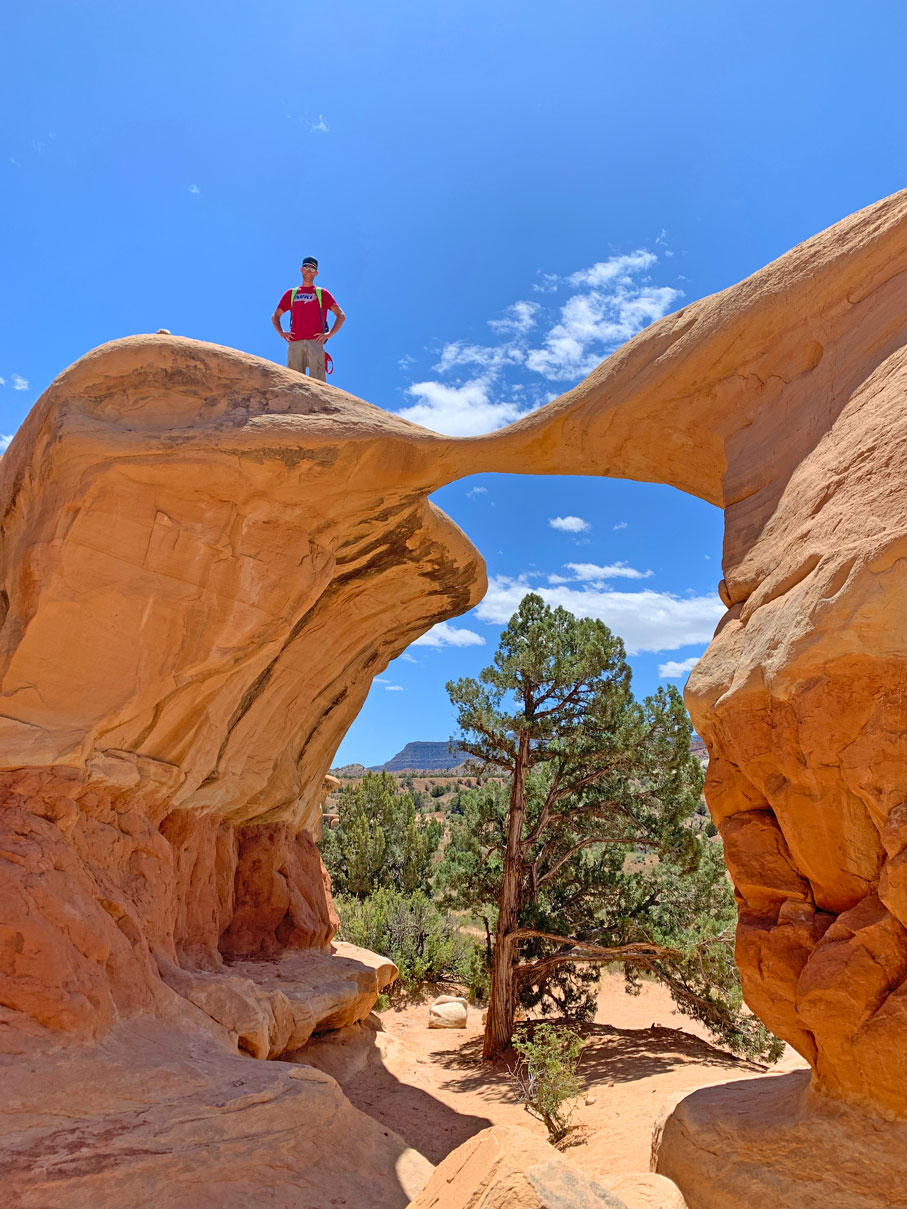 This hike can be as short or as long as you want. The parking lot is tucked right next to the towering rocks so the walk to these are short. You can hike in an out of all rocks and then return to your car. We did take a trail farther down the canyon but the highlight is definitely at the beginning.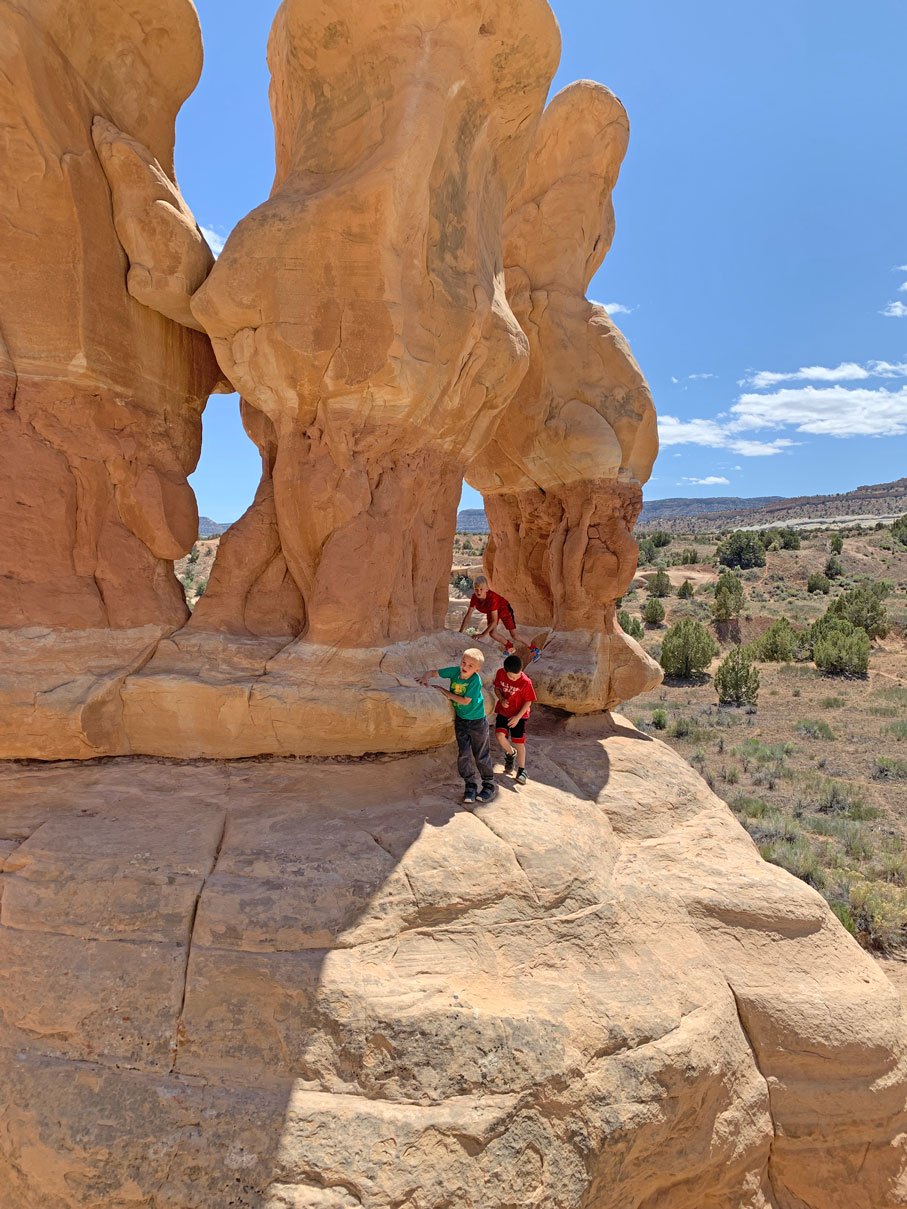 We were there around 1.5 hours which I think was longer that most take. Our kids loved climbing and exploring all around the rocks. We enjoyed siting in the shade of some of the rocks which was significantly cooler that in the sun.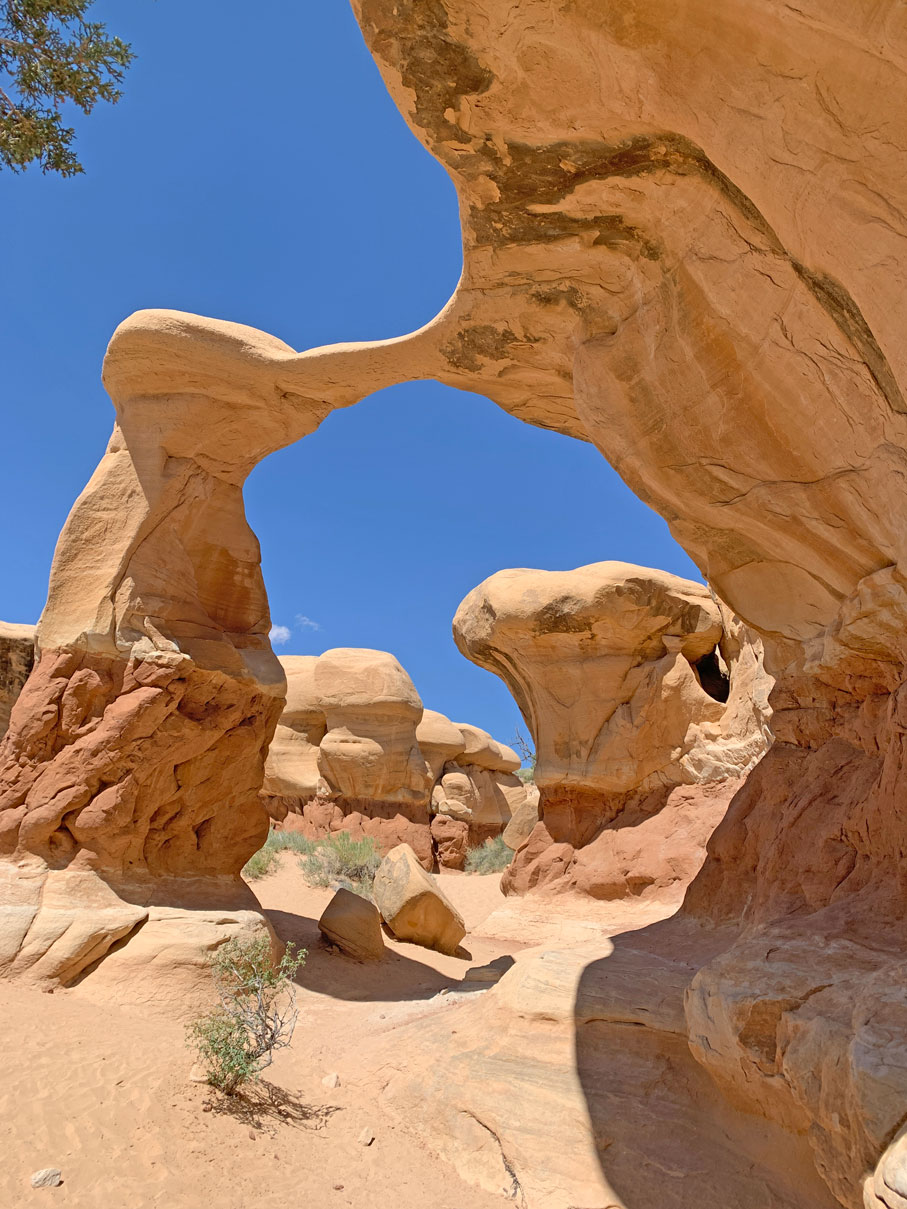 HIKE #3 – Peek-a-boo Slot Canyon and Spooky Gulch Slot Canyon
Location – The trailhead is located on the Hole-in-the-Rock Road, 26 miles south of the town of Escalante.
Length – Total is around 4.5 miles. 1.4 Miles to the opening of Peek-a-boo Gulch. Peek-a-boo gulch is very close to Spooky, so you usually do them both to make a loop and is 1.7 miles and then the 1.4 miles return to the parking lot.
Terrain – Desert rock with steep parts as you descend down into the canyon. The slot canyons have some rock climbing that require some rock scrambling. My children needed help with a lot of them. I needed help on one 10 foot drop.
Difficulty – Moderate-Difficult. The only reason I would say difficult is because of some of the climbs and drops within the slot canyon.
These two slot canyons were definitely the highlight for me. I LOVE slot canyons and the unique beauty that each canyon provides. These two slot canyons are very close together and you usually do both of them during the same hike.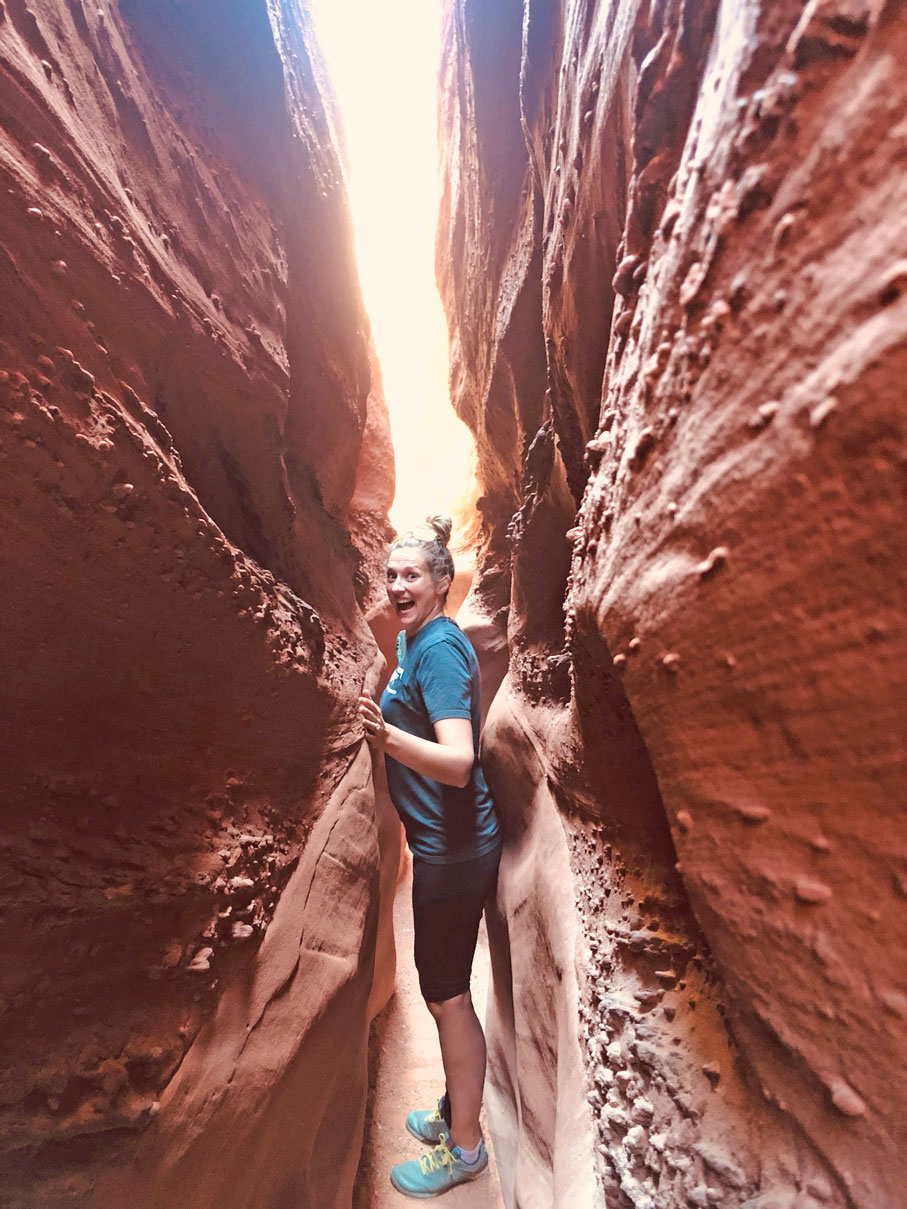 To find out more about this hike in greater detail, check this post out. It tells you everything we did and should have done!!
I thoroughly enjoyed our weekend and discovering these amazing hikes in the Grand Staircase-Escalante National Monument! It will definitely be something we do again!