This is a sponsored post written by me on behalf of Wendy's. All opinions are 100% mine.
A little while ago, my husband shared with me a little tradition his family used to do when he was little for Halloween. After they finished their trick-or-treating, each of the children in his family would divide up half off their candy and deliver it to a homeless shelter. I thought that was so sweet and such a good lesson on thinking of others who may not be as fortunate as them. A lot of people aren't very big fans of Halloween and understandably so. I think there are countless ways though, that we can turn an ugly and scary holiday into something sweet and loving like my husband's family did.
One really simple way you can turn the holiday around is supporting a good cause. Did you know, there are over 130,000 children in North America who are sitting in foster care just waiting and searching for a loving family to call their own? Well Wendy's does. In fact, Dave Thomas, the founder of Wendy's, was adopted himself and therefore believes that we need to take the responsibility upon ourselves to help find these children loving homes that they can stay permanently.
In 1992, He founded the Dave Thomas Foundation for Adoption, an organization based on the ultimate goal of finding permanent homes for the numerous children in the foster care system. For over 22 years, Dave and the Wendy's family have been fighting for this wonderful cause and this year, for Halloween, YOU can aid in this effort as well.
They have provided us with such a fun and easy way to participate. From now until November 1, they are selling Halloween Coupon Books at all the Wendy's locations. For only $1, you can receive 5 to 10 free Jr. Frosty coupons (while supplies last).* And on top of that sweet deal, when you buy these Halloween coupon books, you are supporting finding forever families for foster children. For every $1 dollar spent on them, .85 cents goes to the Dave Thomas Foundation For Adoption.** This will help fund programs such as Wendy's Wonderful Kids (a program that increases the chance of a child being adopted by up to 3x).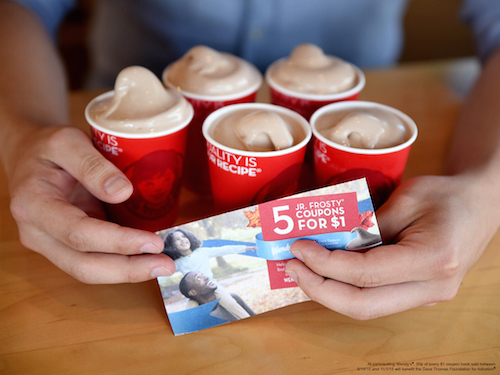 This is the first year I may actually get trick or treaters and i'm excited to buy a few of these coupon booklets to pass out! I think they're especially great for handing out to trick-or-treaters because it's different than all the candy kids usually get and because they can use it anytime.
A few other ways you can use them are for: cheap after school treats, prizes for Halloween games, and they would go great in party favors bags. The best part though is that you can enjoy a frosty and feel good knowing you're supporting finding forever families. 😉
Have you bought your halloween candy yet? Consider supporting this great cause and add Wendy's Halloween Coupon books to your spooky holiday this year. Listen to a few of the adoption success stories here on the Wendy's adoption page.
* Number of coupons per book vary based on location
** $0.85 cents of every dollar from the Halloween Coupon Books will go to support the Dave Thomas Foundation for Adoption.