I am starting to create Family Home Evenings that families can pull up each week and have little preparation in providing a meaningful night. In my church, The Church of Jesus Christ of Latter Day Saints, Family Home Evening is one night that our leaders have asked us to spend with our families. It is usually on Monday night and what you do is entirely the families choice. My family tries to have a spiritual thought, game, and always some kind of treat.This weeks Family Home Evening Lesson will focus on a talk given by President Henry B Eyring of the First Presidency. He gave this talk in the April Women's 2017 conference.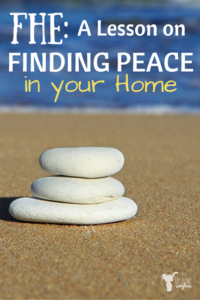 You can choose 1 or more of the following activities to suit what works best for your family. Some activities will work better for older kids, some may work better for younger kids.
Opening Song – Peace is a Feeling (you can download the sheet music free)
#1-Ask your kids these question:
What is peace?
Give an example of peace.
In their worlds what do they see that is peaceful?
Where can they find peace?
What do you feel inside when you have peace?
Read from President Eyring's Talk: "You will at times have your faith challenged by Satan; it happens to all disciples of Jesus Christ. Your defense against these attacks is to keep the Holy Ghost as your companion. The Spirit will speak peace to your soul. He will urge you forward in faith. And He will bring back the memory of those times when you felt the light and the love of Jesus Christ."
#2 – Prepare 5-6 sounds ranging from chaos to peaceful!
Find different sounds (example: your ringtones) and have your kids determine which ones are peaceful and which ones are not. Have them explain why they feel that way.
After this, read to your children the 2 scripture stories referenced in the talk. The first being, John 14:26-27 and Alma 17:10, Alma 26:27. Talk about how the Lord comforts in his own way and not the ways of the world. Just like the ring tones above, we get many different messages from all directions. Peace that comes from Heavenly Father is a comfort.
#3 – Have your children write or think about a time they felt the spirit
This activity will be easier for older children but can still have the same affect for little kids. For younger children ask them when there was a time they felt happy, or felt that Heavenly Father loved them? It is important for parents to help their kids recognize the spirit and its influence in their lives.
Share President Erying's story beginning with the words, "Remembering may be one of the most precious gifts…." Share in your own words or read his story of the sacrament meeting held in a metal shed in Austria. Focus on the part that this is a story that the Spirit brings to his remembrance in moments he needed extra peace.
#4 – Share President Eyring's story of when his son was jumping on the bed.
Have your kids close their eyes and think about a time they felt frustrated or angry toward their brothers/sisters. How did they react. As they are thinking about this tell President Eyring's story beginning with, "I remember once a seven or eight year old so of ours……". Talk about unity and the thoughts he shares on this topic.
The unity we seek in our families and in the Church will come as we allow the Holy Ghost to affect what we see when we look at one another—and even when we think of each other.
Print out 1 What Heavenly Father Sees in You Printable for each child. Write each child's name on the top of 1 page. Have each member of the family write a couple things on each printable LOOKING THROUGH HEAVENLY FATHERS EYES. Younger kids could draw a picture. You can do this same activity by going around and talking about each child too. Because I'm a mother of 5 crazy boys, and I'm sure your family are angels, we had to emphasize that only nice, positive things be said. Have them close their eyes and really think about how Heavenly Father views each family member.
Play a game as a family that builds unity. A good one is to stand in a circle and reach across and grab 2 different hands in front you.  Now get untangled without letting go. This helps you work together and communicate which in turn builds unity.